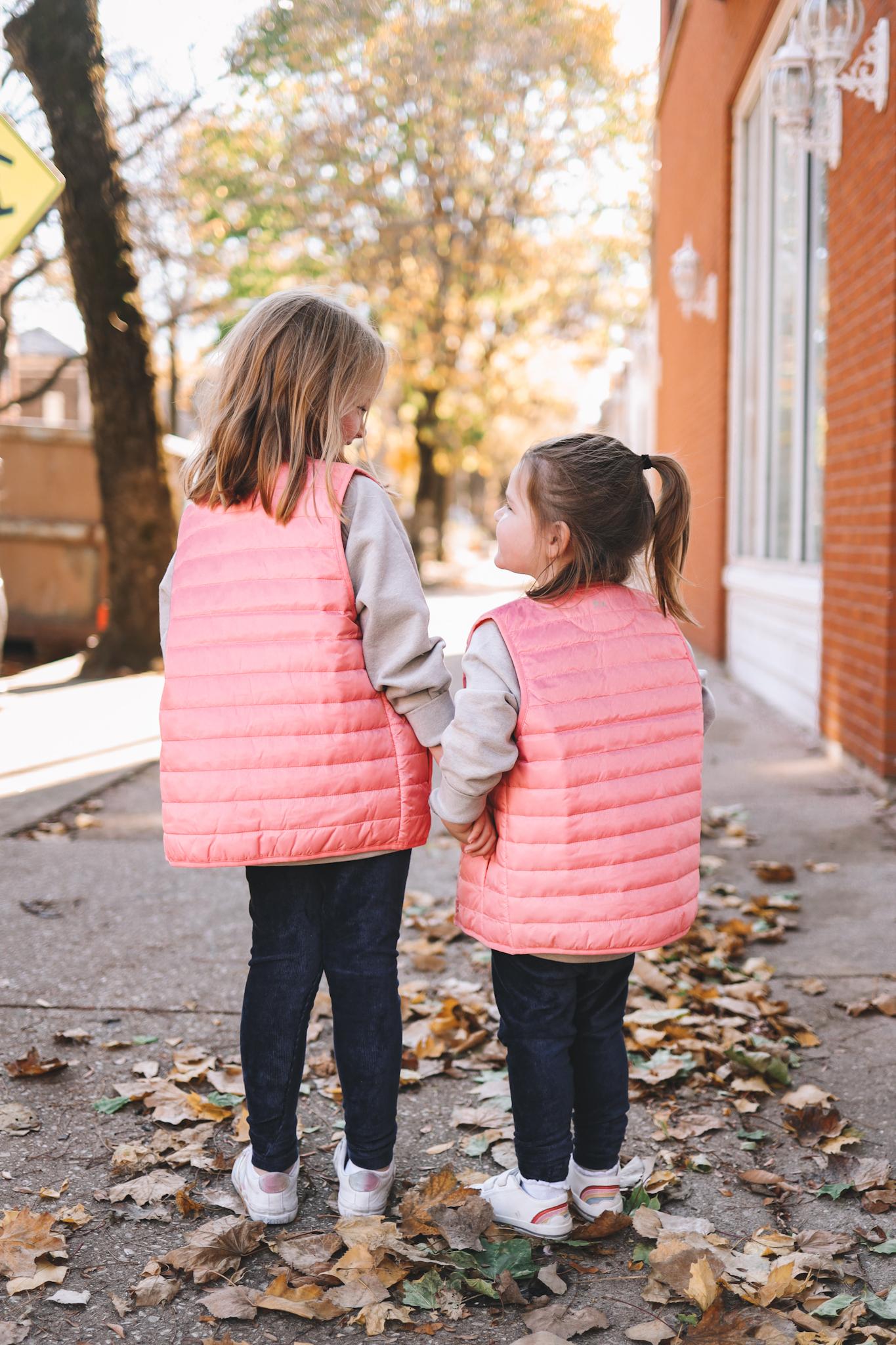 Velour Corduroy Leggings / Sweatshirts / Puffer Vests / Lucy's Sneakers
Mitch flew to New York City to visit his best friend/business partner recently, so we had a little girls' weekend here in Chicago.

I'll be honest: We ran ourselves ragged. 😆 We got the news on Friday afternoon that Lucy was the "Star of the Week" at school (Go Luce!), so we had a celebratory dinner for her. And then on Saturday, Emma had a playdate and and afterwards we grabbed dinner—chicken fingers, of course—at Willow Room: a Larkin Girls tradition when Daddy's out of town. Sunday morning I had to do a small work project (with two kids in tow 🙈) and then we got "coffee." (Another tradition.) After that, we made a mad sprint uptown to make it to a birthday party on time.
I know, I know. Doesn't seem like a ton. But oh, it was—when dealing with regular tantrums and nursing a sinus infection. 😜 It was, however, a great weekend. We did crafts, we ran errands, we watched movies, we blasted Taylor Swift and had dance parties. And we did a whole lot of giggling.
Lucy's assignment as "Star of the Week" is to document her adventures with the class stuffy: Rosie the Rabbit. So I brought my camera along whenever I thought of it, and oh, man. I got the cutest photo of her hugging Rosie outside of La Colombe. Stay tuned for that! But these pics of the girls in matching Free Assembly are pretty darn adorable, too.
If you're new here, Free Assembly is a sustainable brand for the whole family, known for its well-made and affordable timeless pieces. (The prices can be absolutely insane.) Most products land on your doorstep within three days, and I love how classically preppy everything is. The hero piece in today's post is obviously the pink puffer vests, which come in four colors/patterns and are extremely packable. (They roll up and tuck into a little interior pouch!) And did I mention that they're only $22?! (SEE?)
The velour corduroy leggings are a great find as well. Both girls can get them on themselves, and they feel wonderfully soft and cozy. Their dark navy color also hides stains, making these pants a travel must-have. ;) Btw: Lucy is 3, and can wear the size 4/5 no problem! Maybe a little big, but I always buy the girls' clothing a size or two up so we can get a couple of years' wear out of it.
We've had these sweatshirts for a while now, and they always come in handy. A great basic. Did you see that they now come in a little girls' version for only $18?! *Adds to cart.*
Anyway, please enjoy these photos of Emma and Lucy enjoying their vanilla steamers in the Chicago wind. Fun fact: They drank them so quickly and then were devastated so we had to go back for seconds. 😆
Shop the post:
Velour Corduroy Leggings / Sweatshirts / Puffer Vests / Lucy's Sneakers
This post is sponsored by Free Assembly; all opinions are my own. Thank you so, so much for supporting the partnerships that keep Kelly in the City up and running!