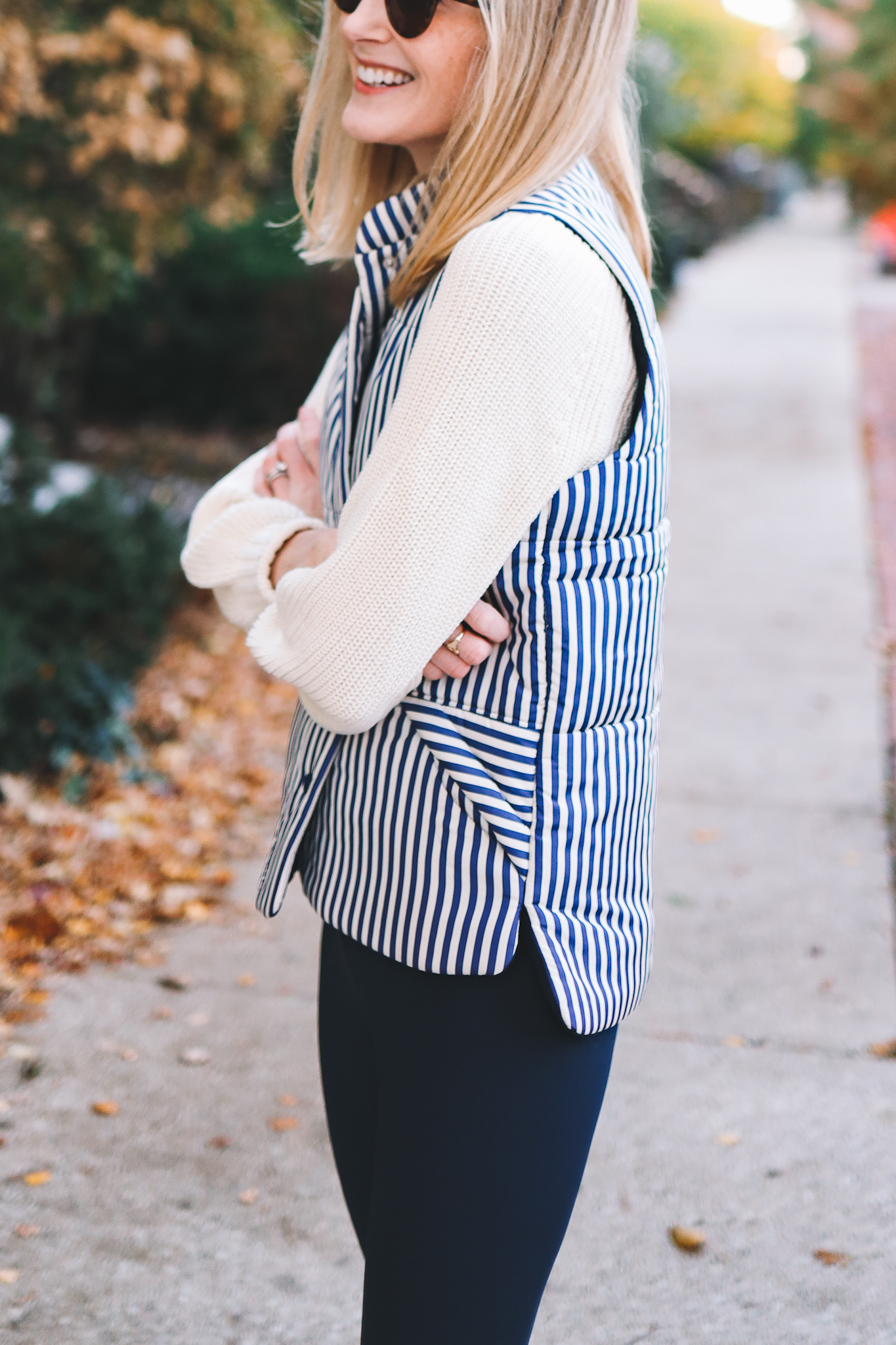 $38 Striped Puffer Vest ($50 Striped Puffer Jacket version here.) / $18 High-Waist Legging (In so many colors!) / $24 Chunky Sweater / Suede Sherpa Sneakers (Order a half size up.)
If you remember this fabulous $50 striped puffer jacket, let me introduce you to its other half: the $38 striped puffer vest. 😍
The vest is great. Note the side pockets—it's why I put the above photo first—and how they're diagonal, thus avoiding any added bulk to the silhouette. I love how the back is slightly longer than the front, allowing me to wear it with leggings (size up, btw!), and that the collar stands up on its own, blocking out wind and adding to general cuteness. ;)

Free Assembly is in every closet of every member of our family. It's a sustainable line of clothing known for its quality and affordability. Every time I order something, I'm in awe of how soft or warm or cozy or comfy the product is for the price. (Note: We adore the little girls' leggings and the men's t-shirts. Grab them the next time you check out! So soft.)
And I've been getting a ton of wear out of this pair of C.Wonder sherpa sneakers. I would recommend going up a half size.
Anyway, we've been riding our bikes to school drop-off in the morning, and this outfit is perfect for just that. Gotta get in all that outside time before the snow hits. ;)
Stay toasty, friends!
Shop the Post:
$38 Striped Puffer Vest ($50 Striped Puffer Jacket version here.) / $18 High-Waist Legging (In so many colors!) / $24 Chunky Sweater / Suede Sherpa Sneakers (Order a half size up.)
Sponsored by Free Assembly; all opinions are my own. As always, thank you so, so much for supporting the partnerships that keep Kelly in the City up and running!