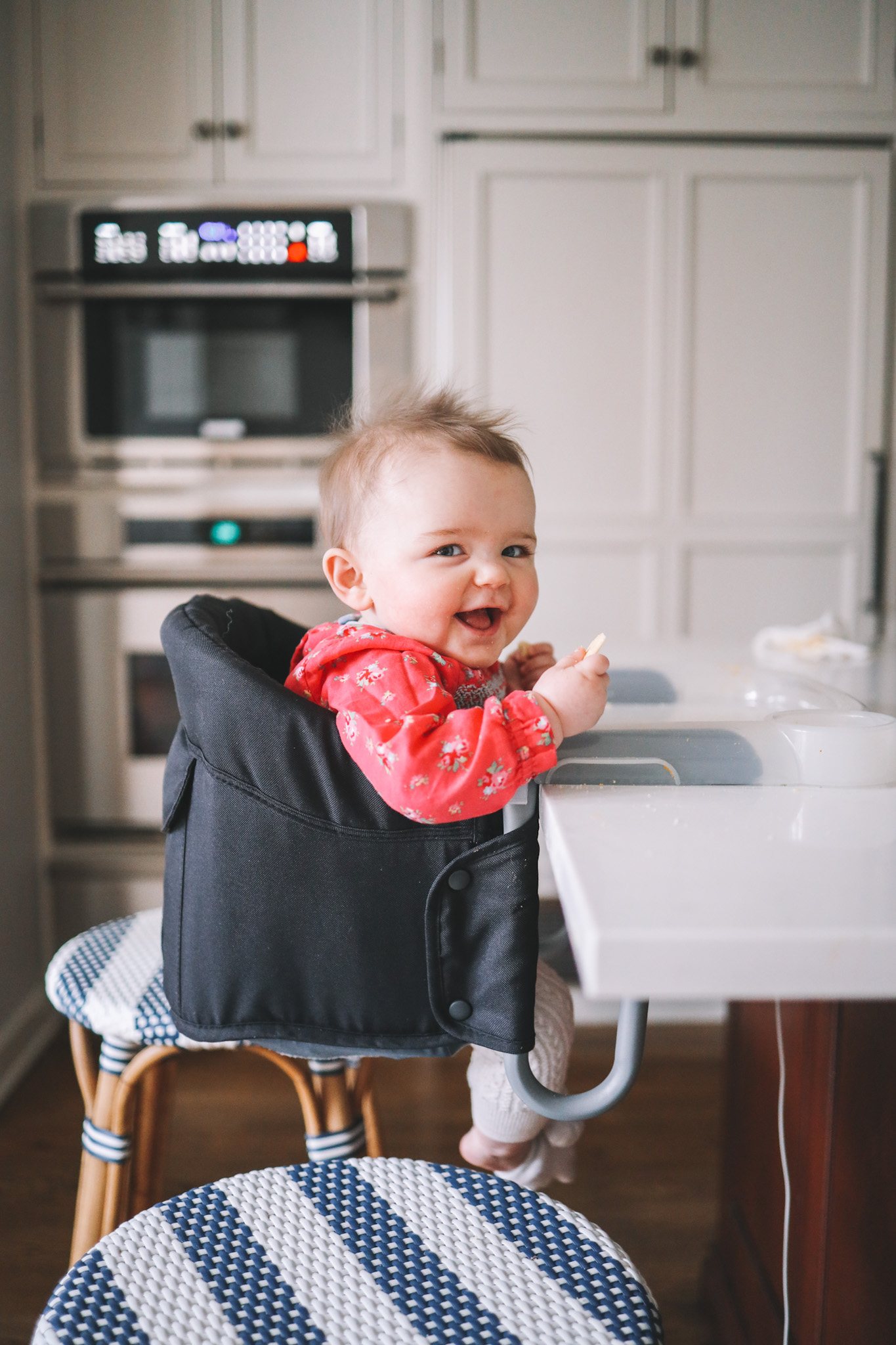 Inglesina Fast Table Chair / Also available via Amazon with the tray and without the tray / With Emma, we had the Phil & Ted Lobster Chair / You can buy the tray separately for $15 here
My next-door neighbor recently passed down her Inglesina Fast Table Chair to us because her girls had outgrown it. And it's changed our lives. Thank you, Nicki!
While the chair isn't perfect (and I'll get to that in a bit), it's made life in the kitchen a thousand times easier and better. It's GREAT. So let's dive into the details!
What is the Inglesina Fast Table Chair and what's so great about it?
It's a high chair of sorts that uses clamps to attach to surfaces. It allows you to skip the traditional (bulky) high chair and regain use of that space while also helping Baby be part of the action. Since we started putting Lucy in it, she fusses far less when she's in the kitchen because she's more involved in what's going on! And just like her sister, she can now eat at the kitchen island. The chair also allows me to fix meals or clean because I can set up Lucy with a snack or activity and she's totally occupied, safe and happy!
What ages is it meant for?
From six months up to 37 pounds. Which is a LOT. For some perspective, Emma is 35 pounds, and she's 3.5 years! So in theory, we could have had her in this seat up until fairly recently. Of course, she much prefers to sit on a stool or kitchen chair because come on: she's a big girl. But it's pretty awesome that the chair is so robust!
Where can you use it?
It's for use with most counters, tables and surfaces up to 3.5″ thick. That's nearly three feet! (Confused as to what surfaces are that thick, but whatever, haha.) We use it with our kitchen island countertops which are about 1.25″ thick, and with our kitchen table, which has a surface that's about the same thickness.
Is it safe for baby and my countertop/table?
Yes! It's completely safe for Baby. To attach the seat to a surface, you simply twist the clamps until they're tight… and you can make them VERY tight. Whenever Mitch attaches it, I can't remove it without his help. 😂
That said, I'd obviously recommend making sure the table is sturdy enough to handle the chair before attaching. For example, a small or flimsy restaurant table meant for two might tip over. Again, most surfaces work just fine, but better safe than sorry!
As for the countertops, we have white quartz and an faux marble table (made of MDF, I believe) and the chair has left zero marks. I won't lie: I was definitely a little apprehensive at first. We'd just had our countertops installed when we got the chair, and damaging them was not something I wanted to do quite yet. ;) But again, the chair hasn't left behind any marks, and I remove it at least once per week so I'm checking regularly!
Does it travel well?
We have yet to take it on a trip, mostly because we try to travel with as little gear as humanly possible. (It just makes life so much easier!) I do think, however, that we're going to take it with us to Florida next week because we're meeting my parents at baggage claim in the airport, which makes transporting all the gear a LOT less daunting. (We highly recommend checking anything you can, btw! We actually recently checked the stroller and just wore Lucy in a baby carrier, and it worked surprisingly well.)
But yes: I'd imagine that the chair does travel well. Underneath the seat, in a little hidden pouch, is a travel bag that's attached to it so you can't lose it. I really appreciate this feature. Traveling with babies is wild, and we've misplaced and forgotten stuff all over the country on account of being frazzled. It's tough to remember everything! The attached pouch is a godsend, and I love that it has such a small footprint and that the chair folds up into the pouch quickly.
There's also a small cord that you can throw over your shoulder in case you're alone and not hands-free, and a small patch on the back of the chair that you can tuck bibs and spoons in. Nice features!
Is getting the tray worth it?
The tray is supposed to help prevent messes and keep a bottle or sippy cup in place. But you know: babies are basically miniature drunk humans, and if there's a potential mess to be made, they'll make it. ;)
In our experience, a ton of food still ends up off to the sides of the tray and on the floor below Lucy's feet. But it IS worse when we don't use the tray, and therefore I'd say that while it's certainly not essential, we're happy we own it. I also imagine that as Lucy gets older and gains more dexterity with her hands, the mess will be more contained. But for now, it's chaos, and all the baby gear in the world couldn't change that.
You can buy the tray for separately for $15, though, so if you buy the tray-less chair and regret it, you can always add it to the setup after the fact!
How do you clean it?
I will start by saying that this thing gets disgusting. I mean, we have a nine-month-old using it… so should come as no surprise that by the end of the day, it's covered in grime. Normally, I simply wipe it down as best I can and call it a day. And then once per week, I throw it in the washing machine which is incredibly easy!
Mitch and I weren't great with baby gear. Frankly, we dream of the day when we can get rid of all of it. Not to wish these years away; it's all just so complicated and it's everywhere. But the Inglesina chair is VERY easy to take apart and clean and because of this, I don't despise it. 😂 I figured it out in roughly three minutes just by watching a quick YouTube video, and that's saying something because I usually have to call in backup when I'm assembling and disassembling baby gear.
In short, though, you simply unsnap the buttons on the sides, detach the bars by pressing a button, and then slip the metal out. The material part goes right into the washing machine–I'd recommend putting it in a large mesh bag–and you run it on delicate. Comes out perfectly every time! Don't put it in the dryer; just wash it after the baby goes down for the night and reassemble it while it's damp, and it'll be dry in time for breakfast.
Does it have any drawbacks?
Over the years, I've found that most baby products aren't without fault. And the Inglesina chair is no exception. There's a pretty substantial gap between the actual seat and the tray, which means that good amount of food slips through and onto the floor.
I'm of two minds about this.
On one hand, it's ridiculously annoying. We have to sweep nearly every time we use it. How hard would it have been to make the tray extend a couple more inches to close the gap?! On the other hand, though, this design had to be intentional. I suppose that the gap prevents the food from falling onto the baby's lap, which I do appreciate.
One way to get around this problem is to buy a "catch all" bib, and insert the pocket part in the gap. That gets the job done.
But come on, Inglesina! Come out with a gapless chair or tray that fixes this issue.
Are there alternative products out there?
Yes! Phil & Ted's Lobster Chair, which we had with Emma. It's priced similarly, and features a design that's pretty close to that of the Inglesina chair. It's been a while since we used the Lobster, and we no longer own it because we donated it once Emma outgrew it. But if I remember quickly, the gap between the tray and the countertop is less significant. However, getting Emma in and out of it was more difficult because the leg holes weren't very large. Sometimes it would take two people, whereas it's very easy to get Lucy in and out of the Inglesina chair.
You can also do a quick Amazon search and find even more affordable options! The Chicco version is under $50.
Hope this is helpful! Let me know if you have any questions!