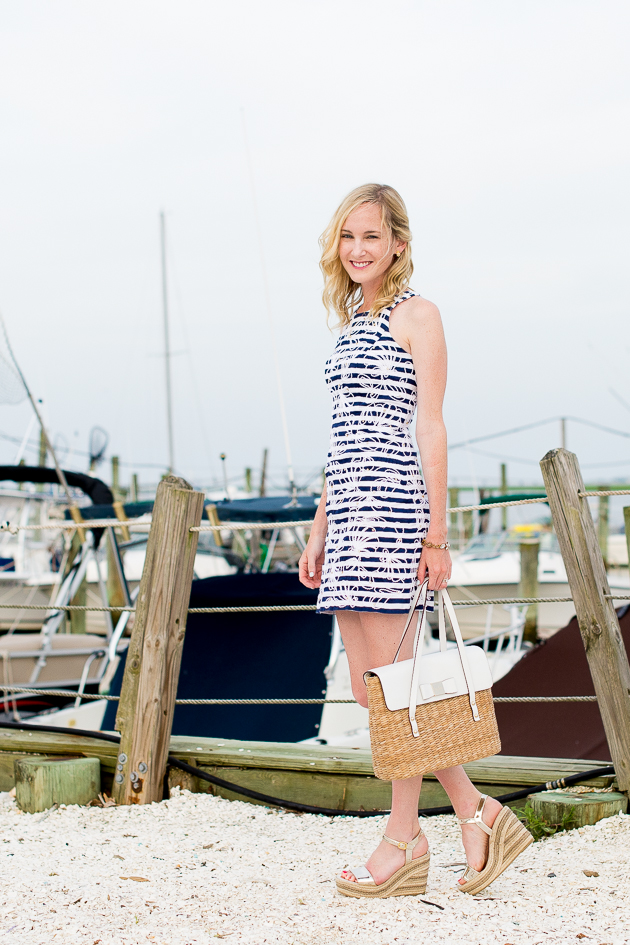 Lilly Pulitzer Dress (Old, but love these dresses in the same cut!) / Kate Spade Bag (Borrowed from Mom, but check out the current KS handbag collection) / Andre Assous Sandals c/o / See Blair Earrings c/o / J.Crew Bracelet (Old, similar here) / Helen Ficalora Necklace c/o
One of my favorite Jersey Shore family traditions is going to Smitty's Clam Bar in Somers Point, just over the bridge from OC on the mainland. We've been going there since I was a little girl, and I took Mitch there in the very early days of our relationship. (#happymemories) The wait can be a little crazy, but it's completely worth it. I mean, you can have wine on the docks or boats–or the seating area–during that time. Is that not the absolute best?!
The food is both fabulous and reasonable, too. (Which are two words that typically aren't paired together when describing seafood establishments!) My favorites are the New England Clam Chowder and Steamed Clams… and I get 'em every time. ;)
Okay.
Cutting this short, because I need to go to bed.
It's off to Chicago in the AM!
(Which is bitter sweet, for sure. I miss the Windy City like whoa, but will also likely cry as I leave the island tomorrow. The struggle.)
See you in a few weeks, OC! Don't forget about me.