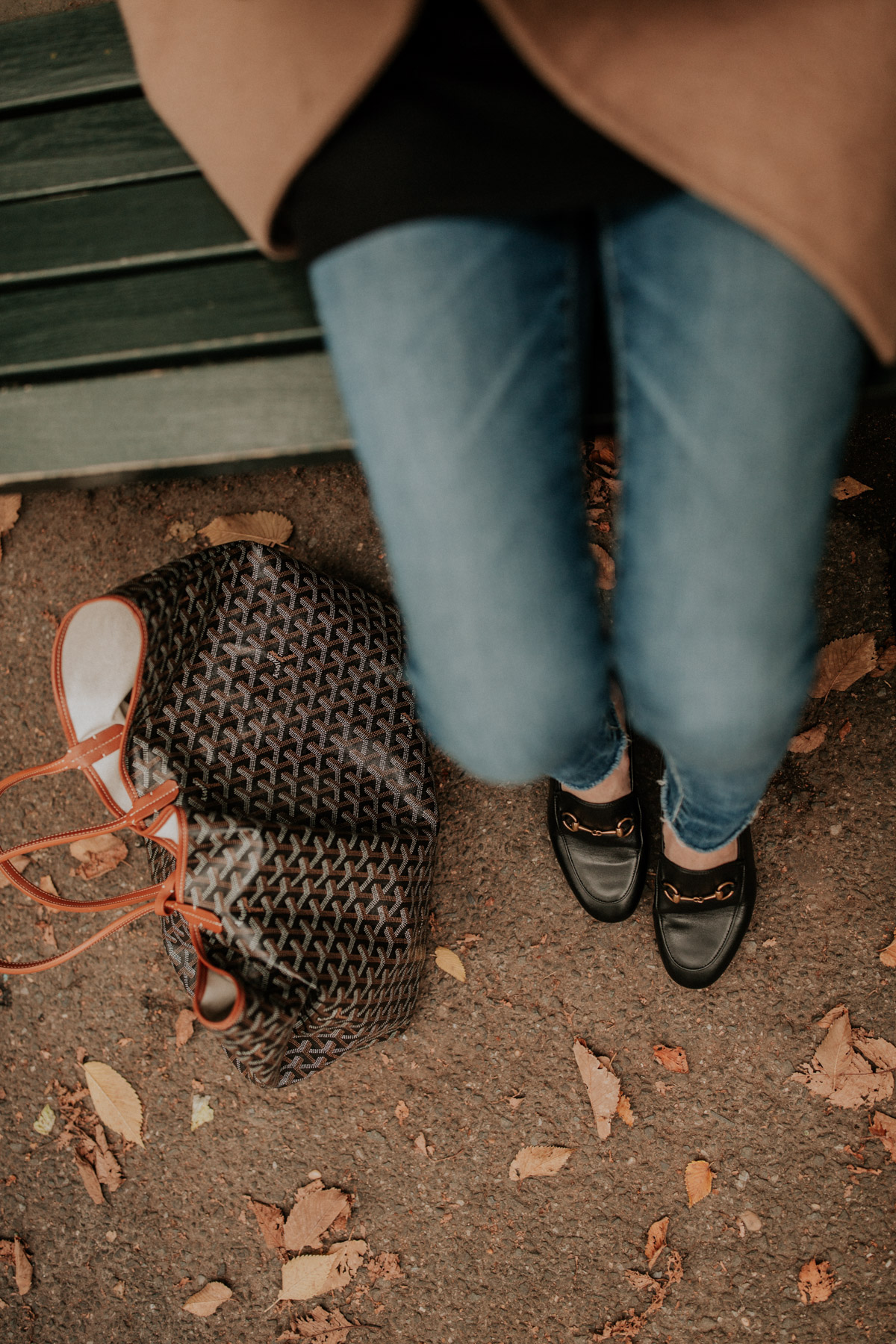 Mitch surprised me with the Gucci Brixton loafers. Eeeee! (Thank you, Love.) To be completely transparent, though, we had a leftover gift card from a collaboration that covered most of the purchase. And if I didn't have this blog, the loafers likely wouldn't be in my closet. That isn't to say that they're not utterly AMAZING. (It's true. They are, for the reasons I outline below.) But their price tag is, admittedly, a little jaw-dropping.
In case you're considering them, though, here's my review, which includes lookalikes/alternatives at the end!

Gucci Brixton Loafer Review
The two styles of Gucci shoes I see the most (in my preppy world, haha) are loafers and mules. (The Brixtons loafers, Jordaan loafers and Gucci Princetown mules being the most popular.) I love the look of mules, but I often find myself accidentally kicking 'em off while I'm walking. And because it takes a bit of work to keep them on my feet, I tend to reach for loafers more often. Also, my feet get cold really easily, and loafers are warmer than mules!
Decision made.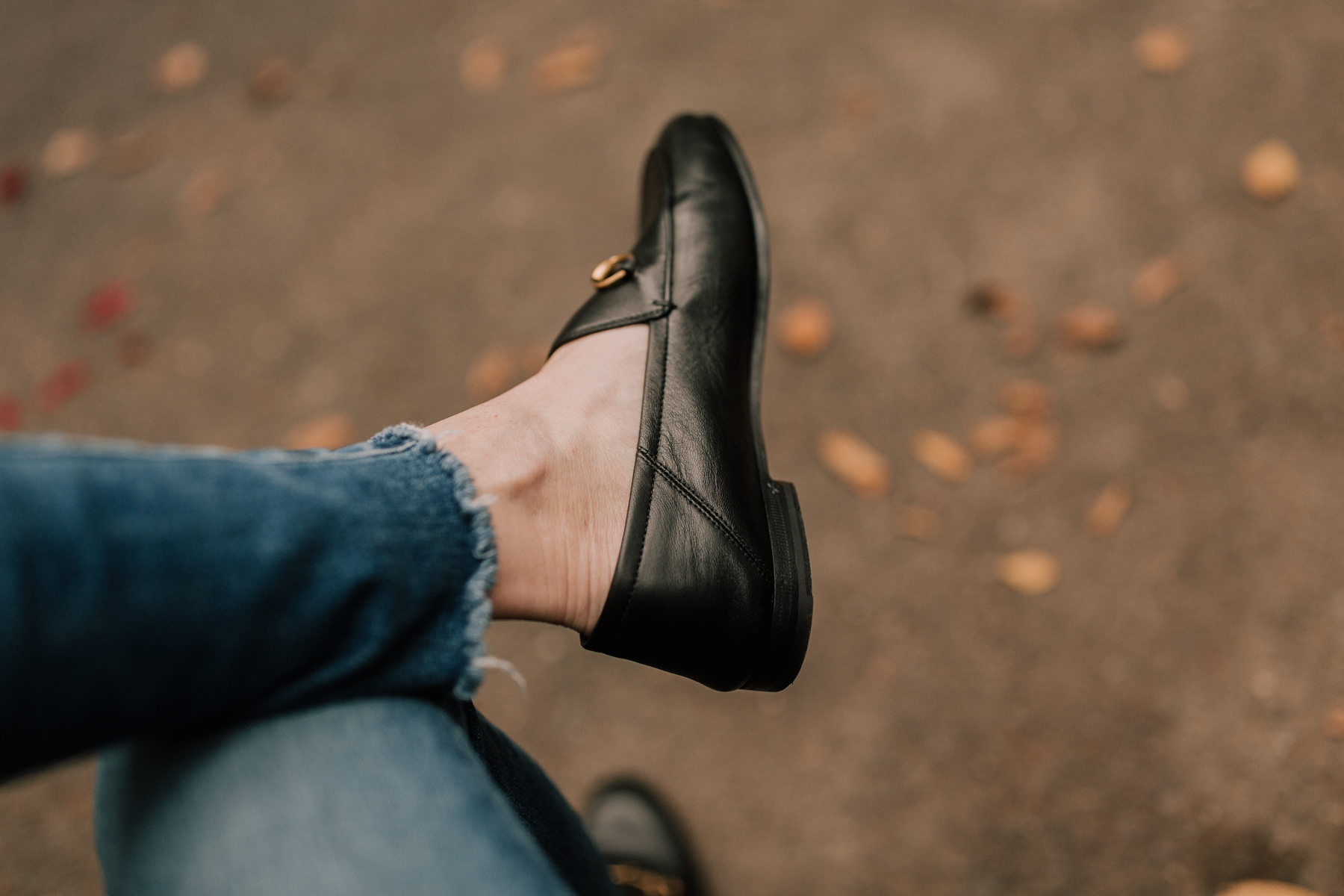 I was between the Brixton convertible-back loafers and the Jordaan loafers. I wanted brown loafers, which is why I considered the Jordaans for a while, but I ended up going with the black Brixtons because they were SO comfortable. This is because the Brixtons have flexible backs that you can step down on, turning them into mules (or convertible loafers). I think they look a little weird when I do this, so I wear them as loafers only. But those soft leather flexible backs? MAGIC on my feet.
My feet give me a lot of trouble, and backs of shoes regularly cut into my heels. But I literally walked five or six miles around New York City on my first day of Brixton loafer ownership, and I experienced zero pain or rubbing. They felt like I'd broken them in years ago. (The Jordaans weren't uncomfortable, btw; they were actually pretty great! The Brixtons simply felt incredible. Sadly, the Brixtons don't come in brown right now, but I'm hoping they will in the future. If not, I might end up going for a pair of Jordaans eventually! Maybe.)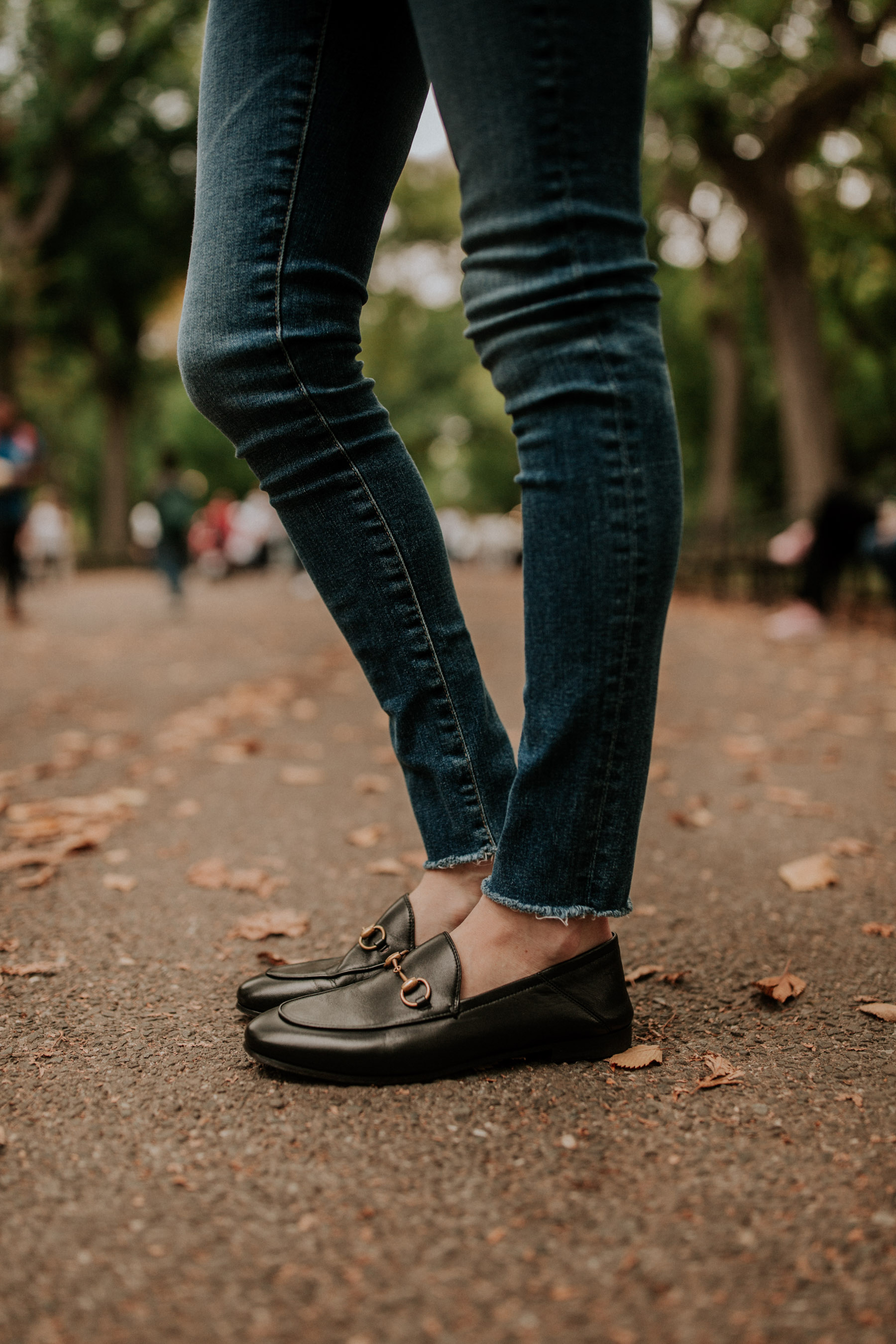 Sizing
I normally wear a size 7.5 in flats, but I took a size 7 in the Brixton loafers because of the flexible backs, which stretch and give. My friends who own the shoes also went down a half size, so I can recommend with confidence that you should go down a half size in the Brixtons. In the Jordaans, however, I wore my true size. (7.5) In the mules, I wore a 7.5 as well.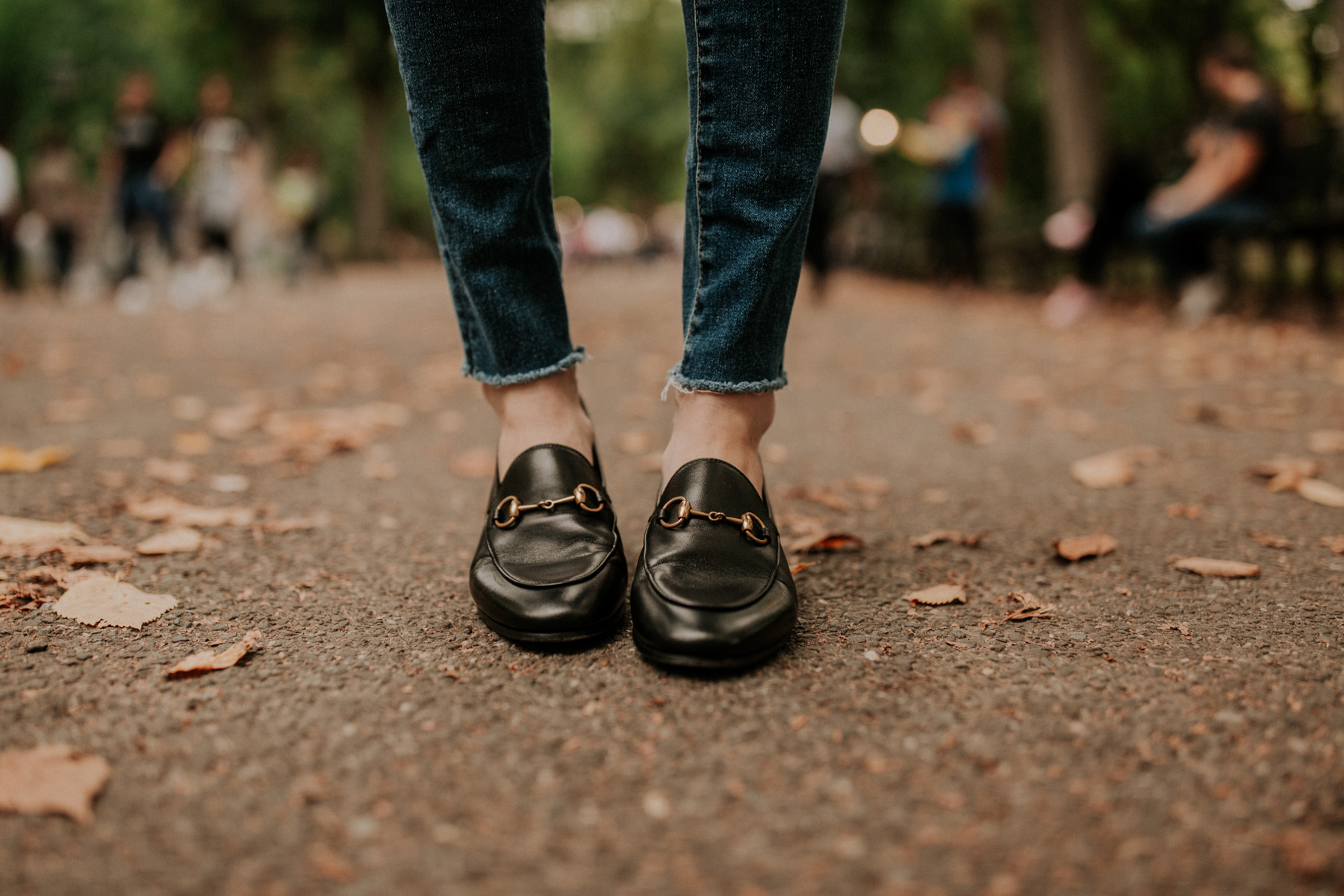 Pricing
As far as I can tell, the Brixtons have one drawback: the price tag. $730 is a LOT for a pair of loafers. Too much, most would say.
And they don't go on sale.
Why they might be worth it
Yes. The Brixtons are pricey. But they're the most comfortable and well-made loafers I've ever owned. And I know they'll last for many, many years to come. I've also noticed that when I own investment pieces–like my Louis Vuitton and Goyard totes, for example–I tend to not buy much else. Investment pieces almost always stand the test of time, and because I love them so much, I'm not tempted to shop for new things. Who needs another tote or a new pair of shoes when you have those that you adore… am I right?! I find that owning investment pieces actually saves me money.
Side note: the father of one of my best friends has a few pairs of Gucci loafers, and he's the most down-to-earth guy in the world. He swears that they're worth it because they hold up for years, they're incredibly comfortable, and they never go out of style.
And, I mean, I trust dads. ;)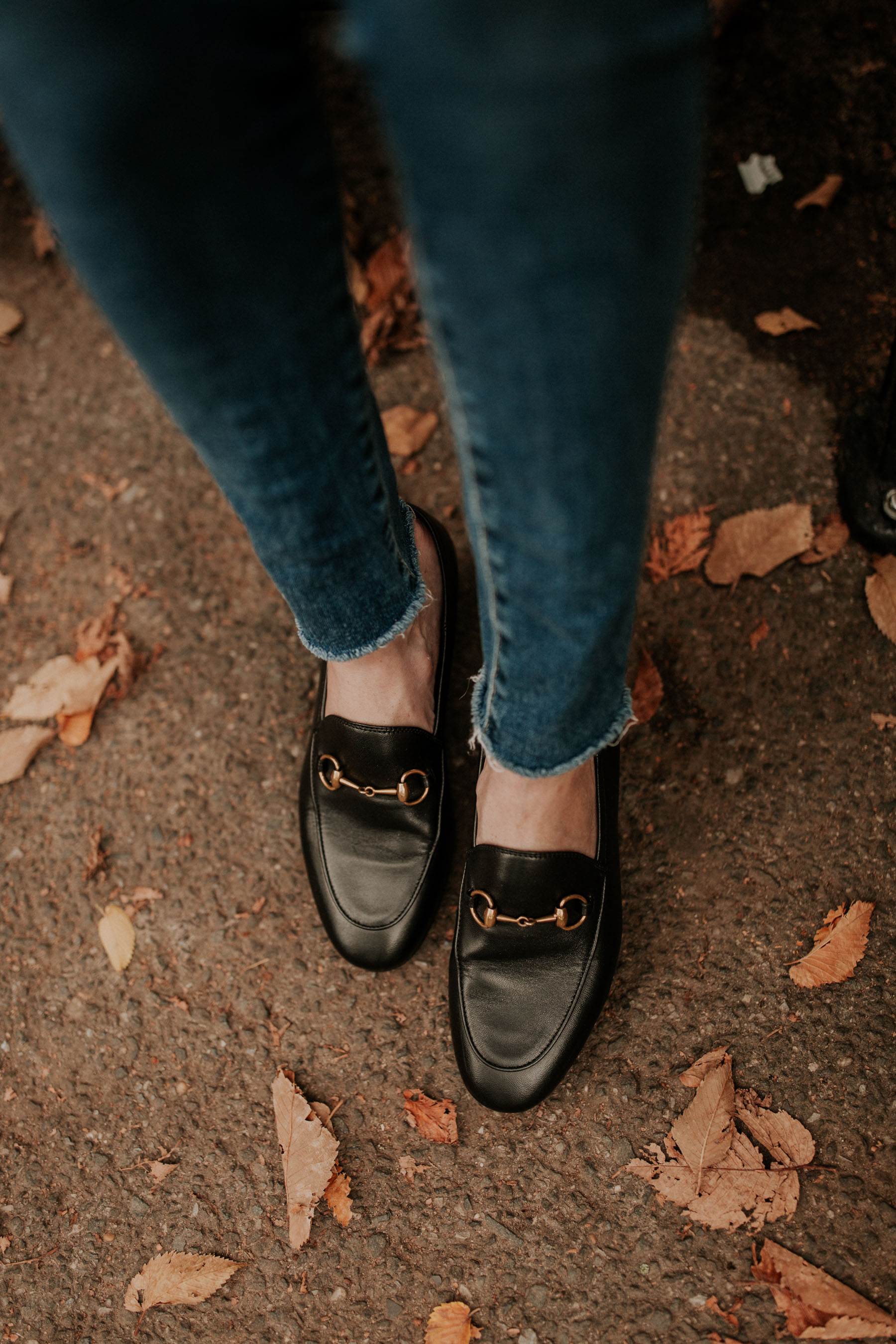 Alternatives and lookalikes
I'm going to do a full post on Gucci loafer/mule alternatives and lookalikes, but I thought I'd highlight a few of my favorites for now.

Loafers:

Mules: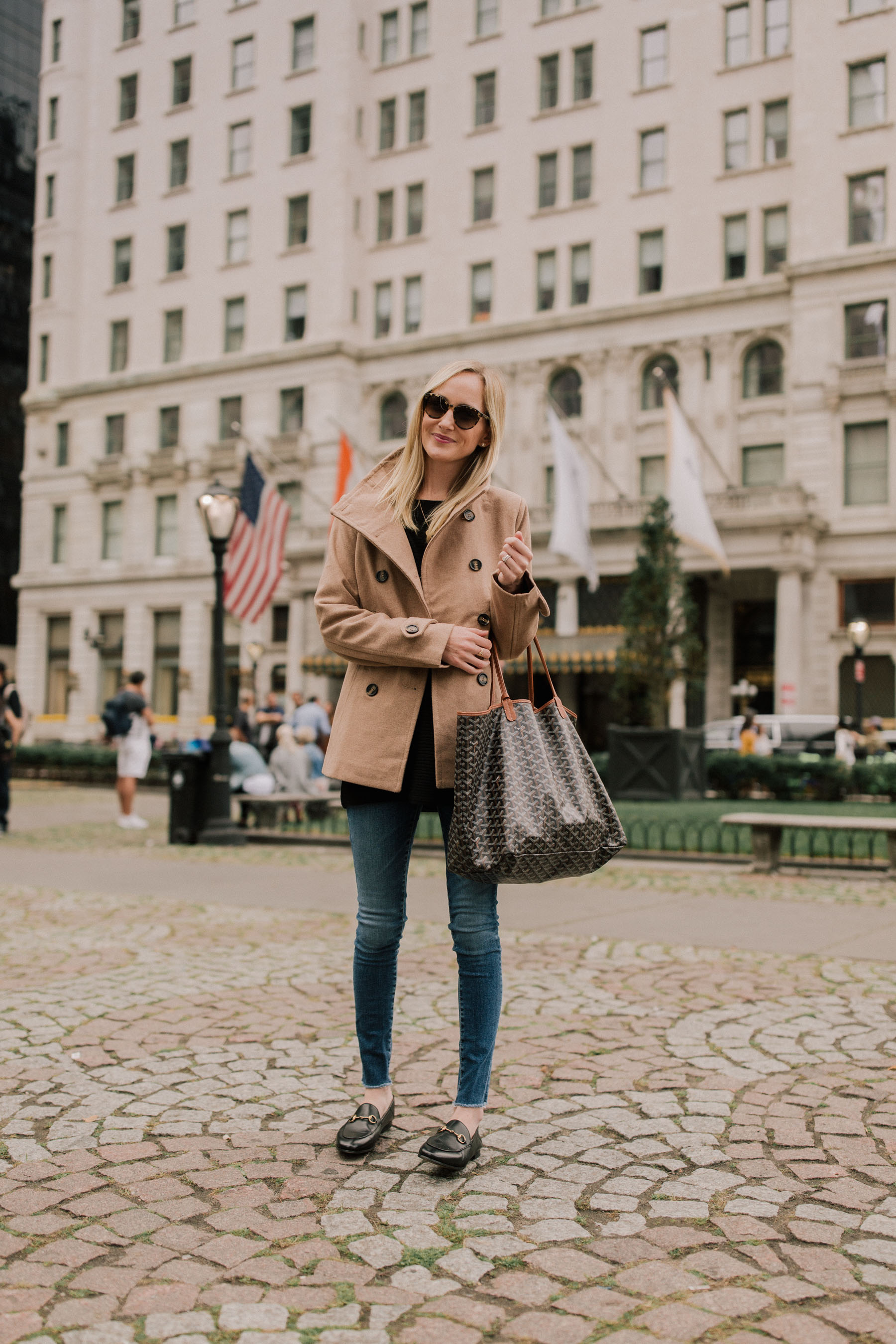 $38 Peacoat (Runs small; go one size up. Also love this peacoat, on sale as well. And this is the classic camel coat that you can't go wrong with!) / Halogen Sweater (Sold out, but so many other Halogen sweaters are on sale right now. I love this camel boatneck sweater, this tie-hem sweater I've worn on the blog before, this cashmere tunic, and this long white cardigan. I also love this cashmere duster coat, which is definitely still a splurge, but gorgeous and something you'd wear forever.) / AG Jeans (On sale! These are awesome, too. And can't believe this pair is finally on sale!) / Gucci Brixton Loafers (More affordable here and here, and in leopard here.) /Kate Spade Initial Necklace
Closing thoughts
I LOVE my Gucci loafers. No regrets, and I couldn't recommend them more. Will I be buying any other pairs of black loafers in the next decade? No. My husband would kill me. ;) But that's fine! (The whole not-buying-more-loafers thing. Not the murder thing.)
Would you splurge for Gucci loafers?! Or do you think this particular investment piece is insane?
Would love to have you weigh in!