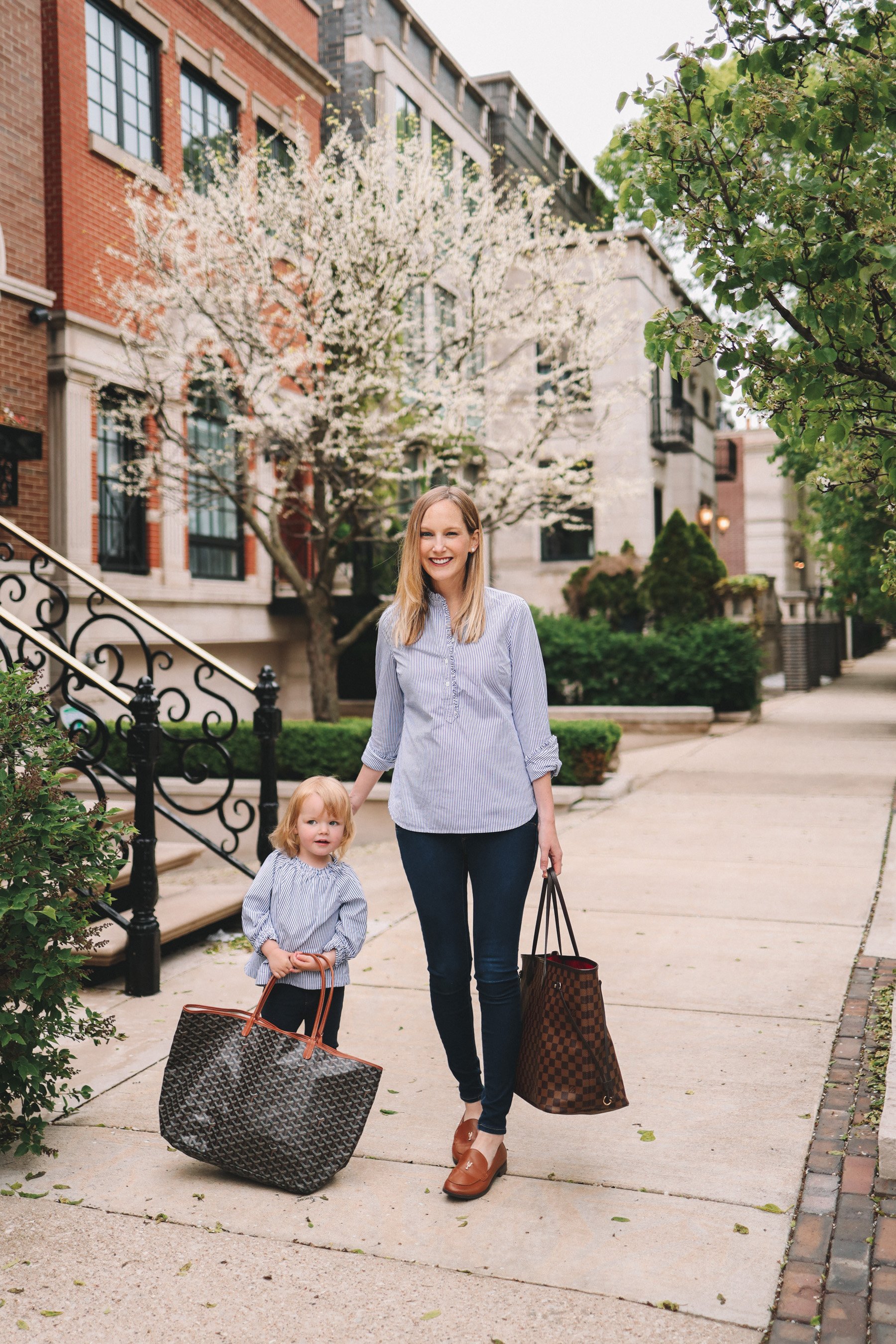 One of the most-requested blog topics I receive is a comparison of the Louis Vuitton Neverfull tote and the Goyard Saint Louis tote. I own both, which I realize is a little ridiculous 🙈 but I'm a totes a tote girl–see what I did there? 😂–and I get SO much use out of each. For reference, I own both bags in the large ("GM") size because I find that size to be the most versatile, and therefore that's what I'm talking about today!
Before I get started, though, I want to highlight eBay's amazing authenticate program, where you'll find bags from both Louis Vuitton and Goyard for fantastic deals. (You can also find Chanel, Burberry and Gucci there!) The authenticate program is incredible, and one of the safest ways you can purchase a pre-owned luxury bag, just like the Louis Vuitton handbag I'll be highlighting today. I go much more in depth with this below, so be sure to keep reading.
Onward!
Louis Vuitton Neverfull vs Goyard Saint Louis Totes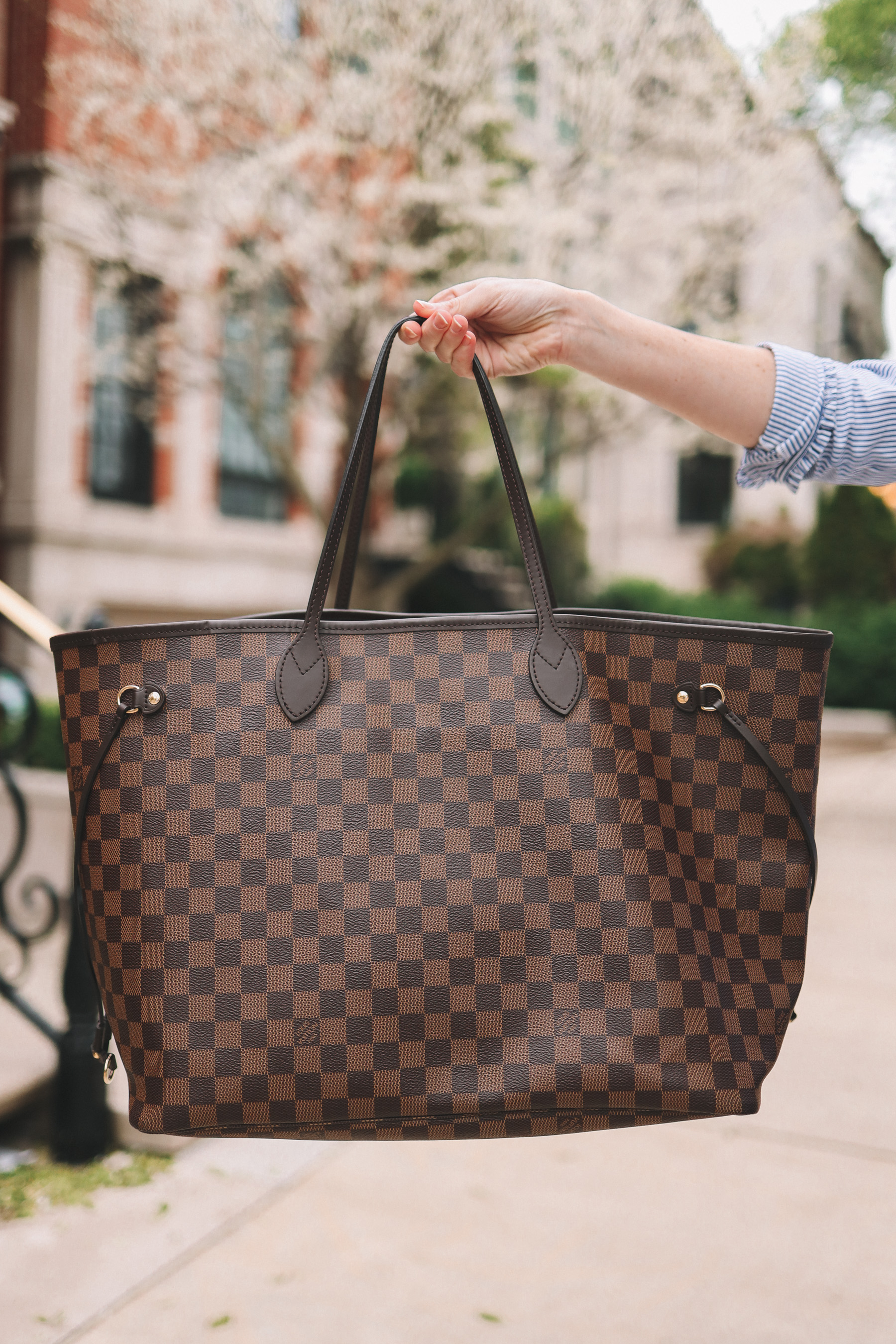 The dimensions
The Louis Vuitton Neverfull GM measures about 15.5 (length of the base of the bag) x 12.5 (top of bag to bottom of bag) x 8 inches (depth), and the length of the top of the bag is around 22 inches. (That's an important measurement, as that's how big the bag will really feel.) The straps measure a little over 8 inches, making it very easy to toss it over your shoulder.
Similarly, the Goyard Saint Louis GM measures about 15.5 (length of the base of the bag) x 12.5 (top of bag to bottom of bag) x 7 inches, and the length of the top of the bag is around 22 inches. The straps also measure a little over 8 inches. So the only real difference is that the Goyard tote is slightly less wide than the Louis Vuitton–but just by one inch.
Note:
I can fit my 15-inch laptop in both bags, and both totes work great as baby bags. (I actually don't own a true baby bag because I found myself reaching for these totes way more often! This organizer, btw, is the best and you NEED it. Works with both the LV and Goyard!)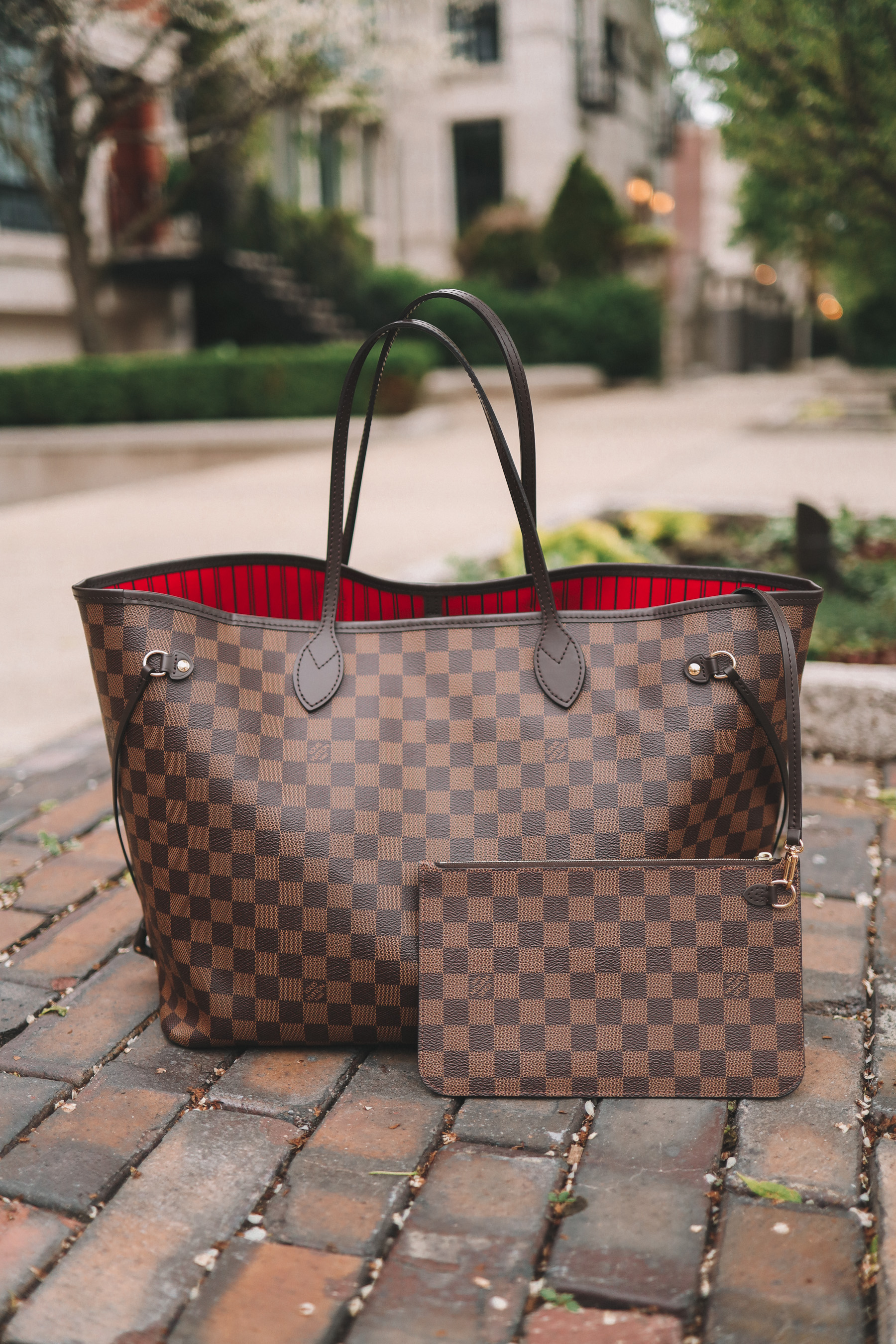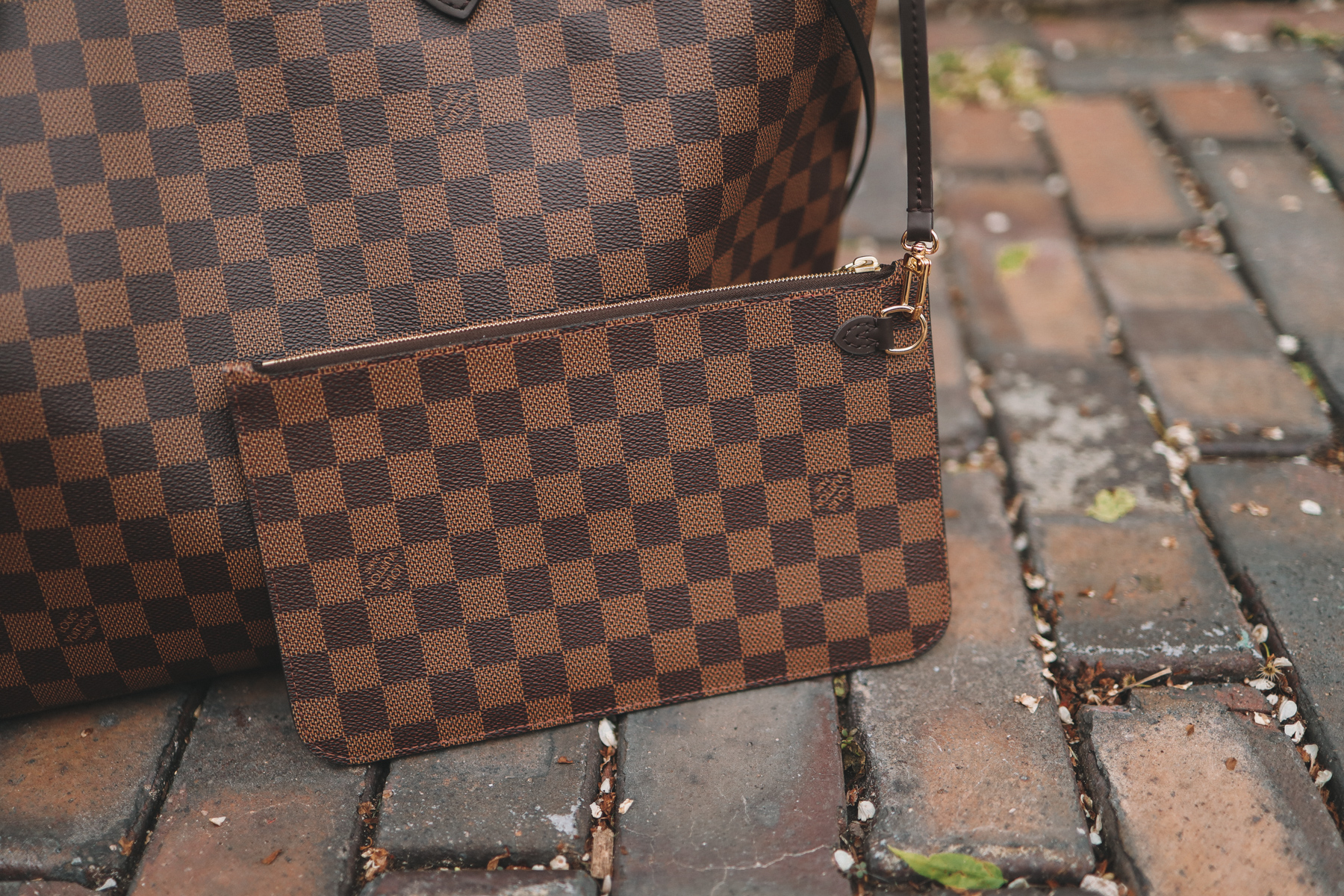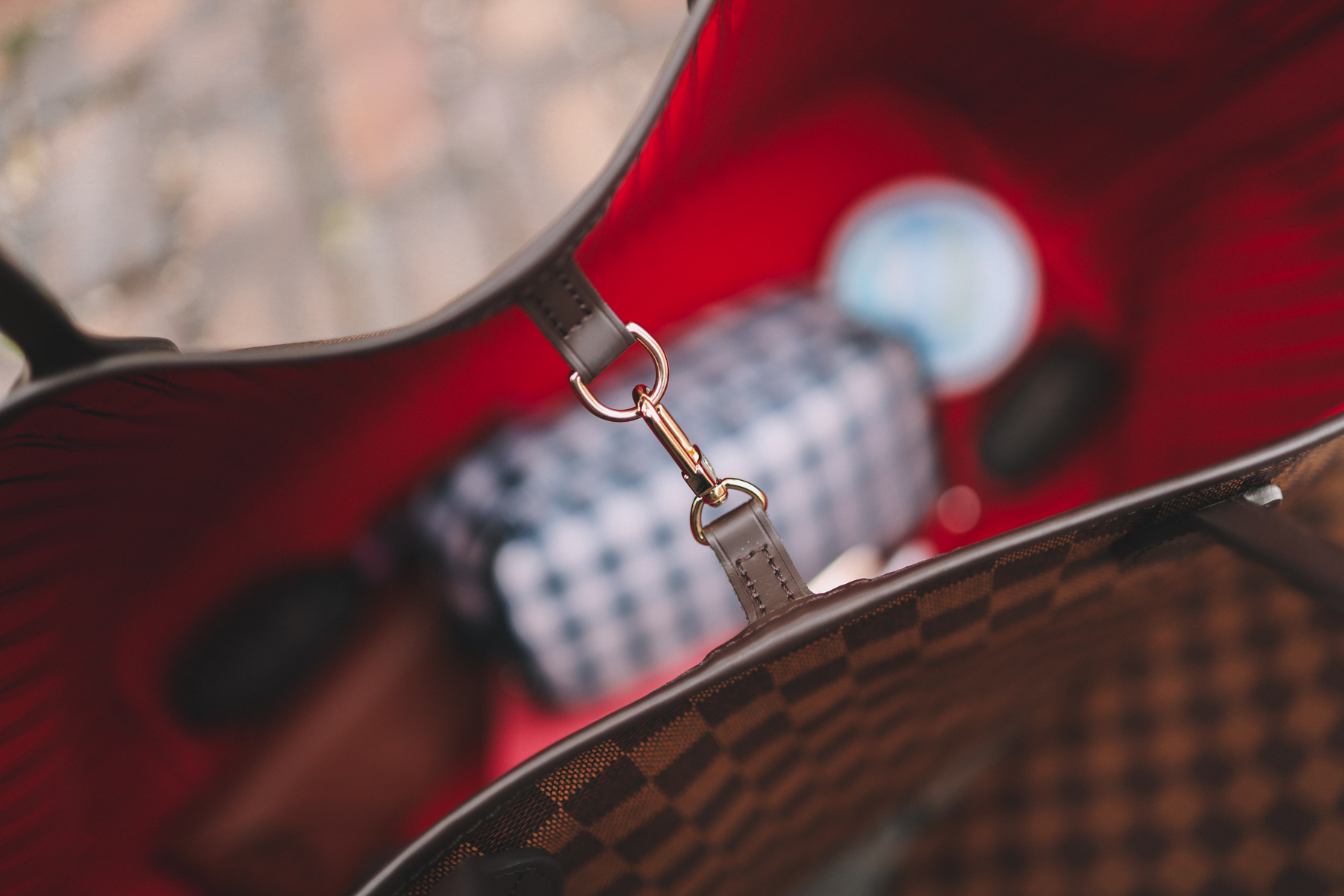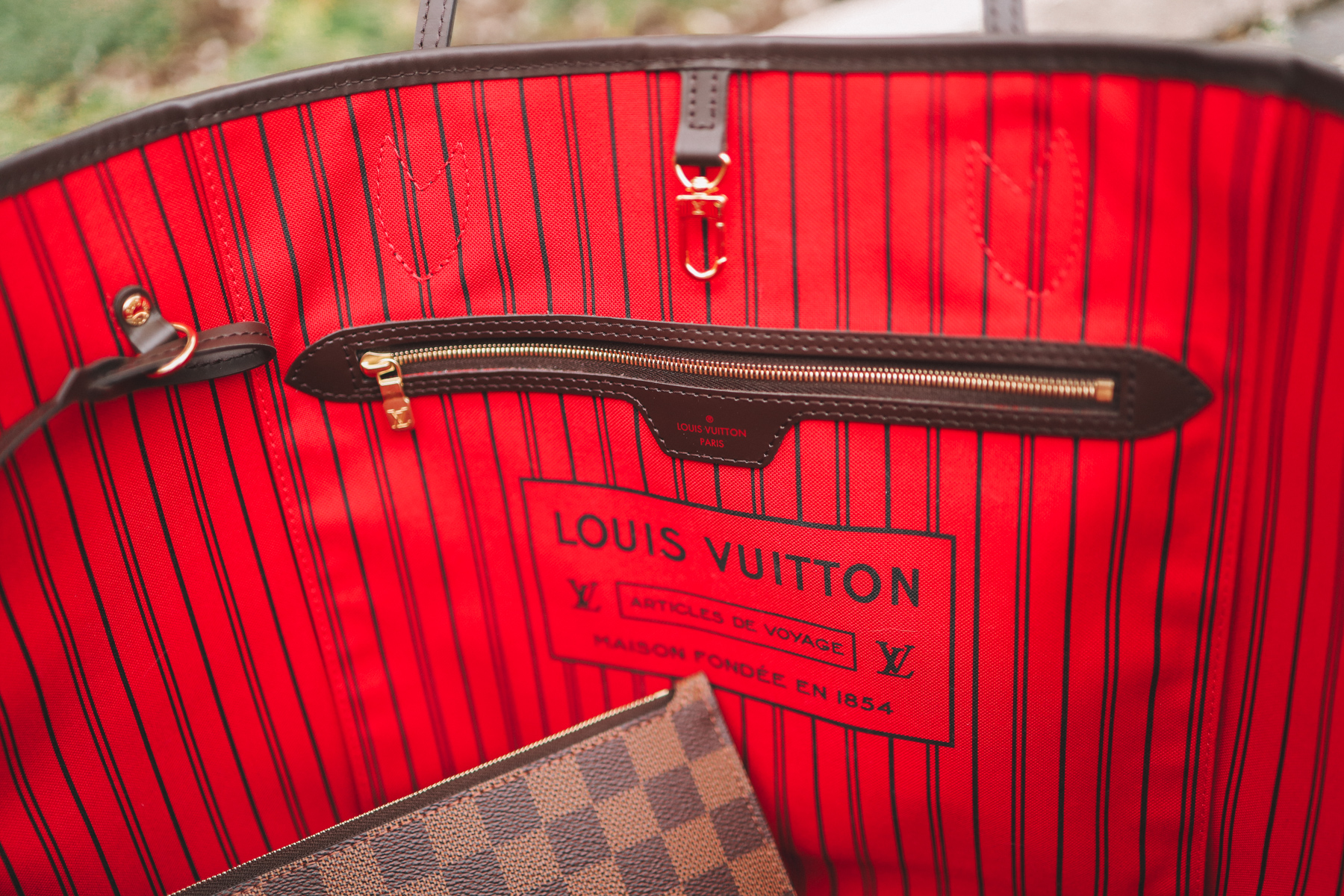 Included accessories
Each tote comes with a detachable pouch in the same pattern as the bag. I had my Goyard one stolen at Lollapalooza a few years ago 😭, which is why I can't include a photo of that… but you can see an example of the Goyard pouch here, and both the LV and Goyard pouches are very simple and attach to the bags with a leather strap. (Btw: you can remove the strap from the Louis Vuitton, but you cannot do so with the Goyard.) I know a lot of people use the pouches as wallets or clutches! The Louis Vuitton one zips closed and the Goyard one snaps. (Zipped, I think, is obviously better so stuff isn't falling out all the time.)
Cost-savings tip:
Unless you're completely in love, SELL THE POUCH! I sold the Louis Vuitton pouch to my MM tote on eBay years ago for $400 (!), and it significantly cut down on the cost of the tote.
On a somewhat related note, the Louis Vuitton Neverfull has a lot of bells and whistles, as opposed to the Goyard Saint Louis, which has none. For example, the Goyard is completely pocketless… while the Louis Vuitton bag has a large zipped pocket, a clasp at the top of the tote that kind of closes it up, and side laces that can be cinched together to make the bag smaller in size.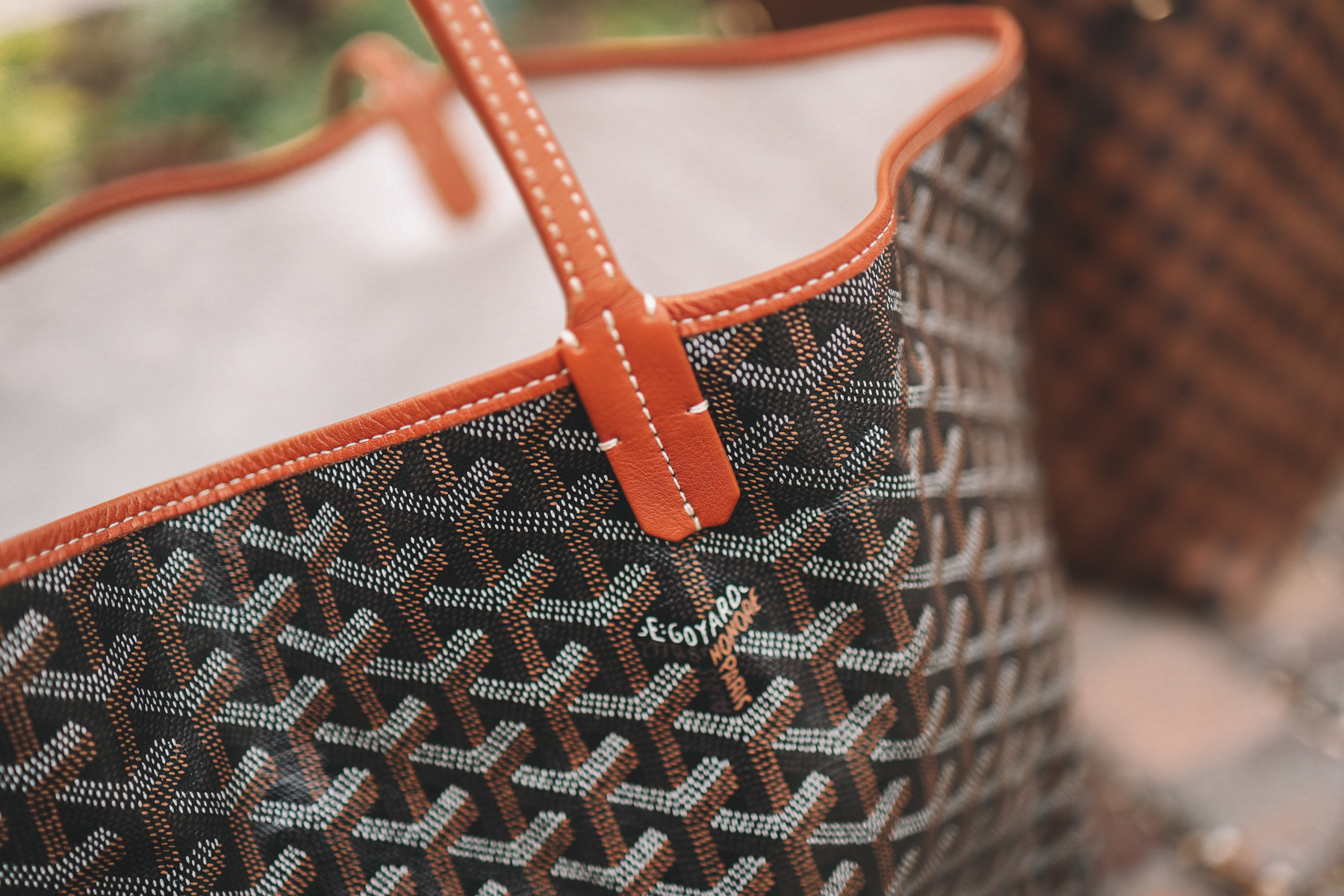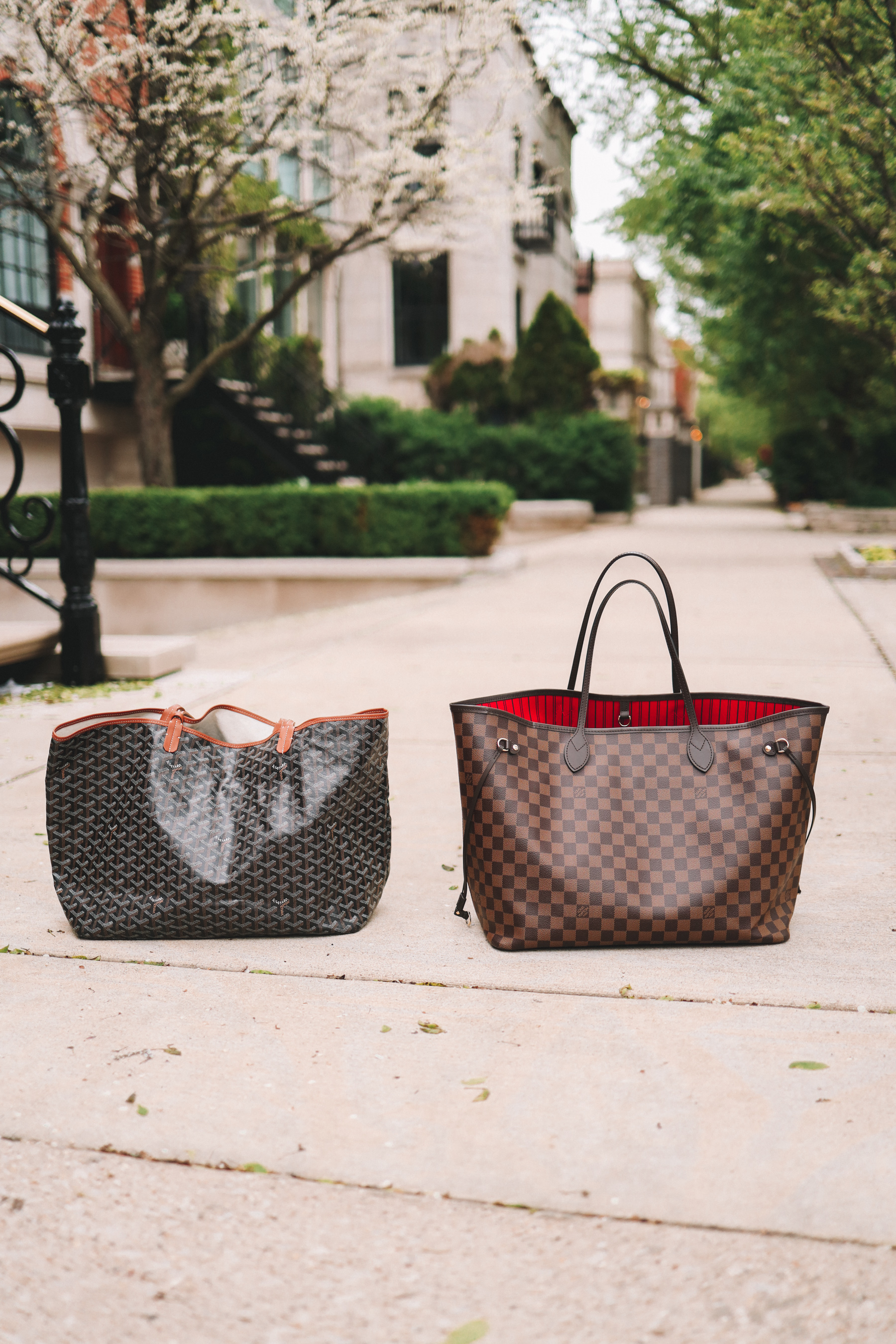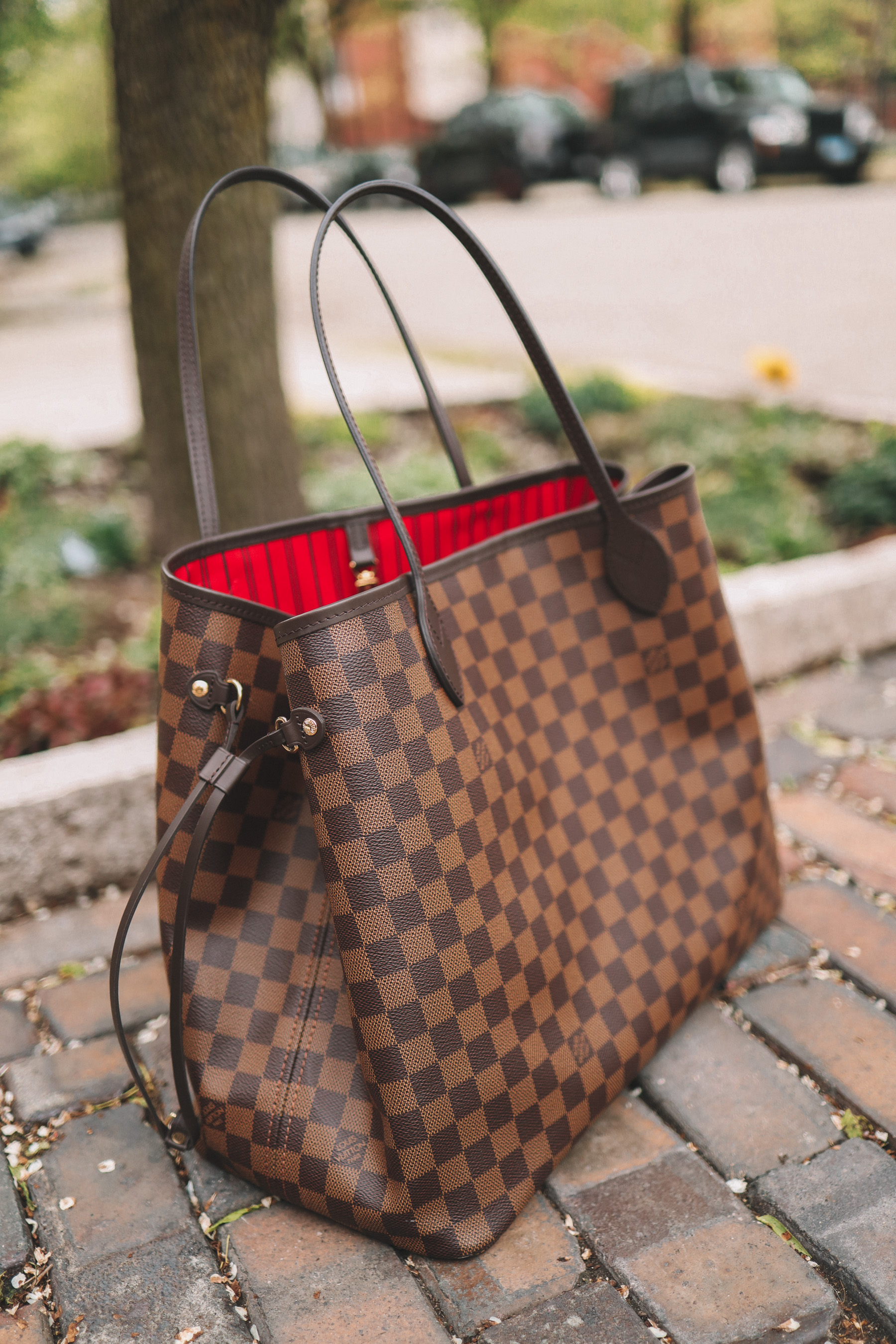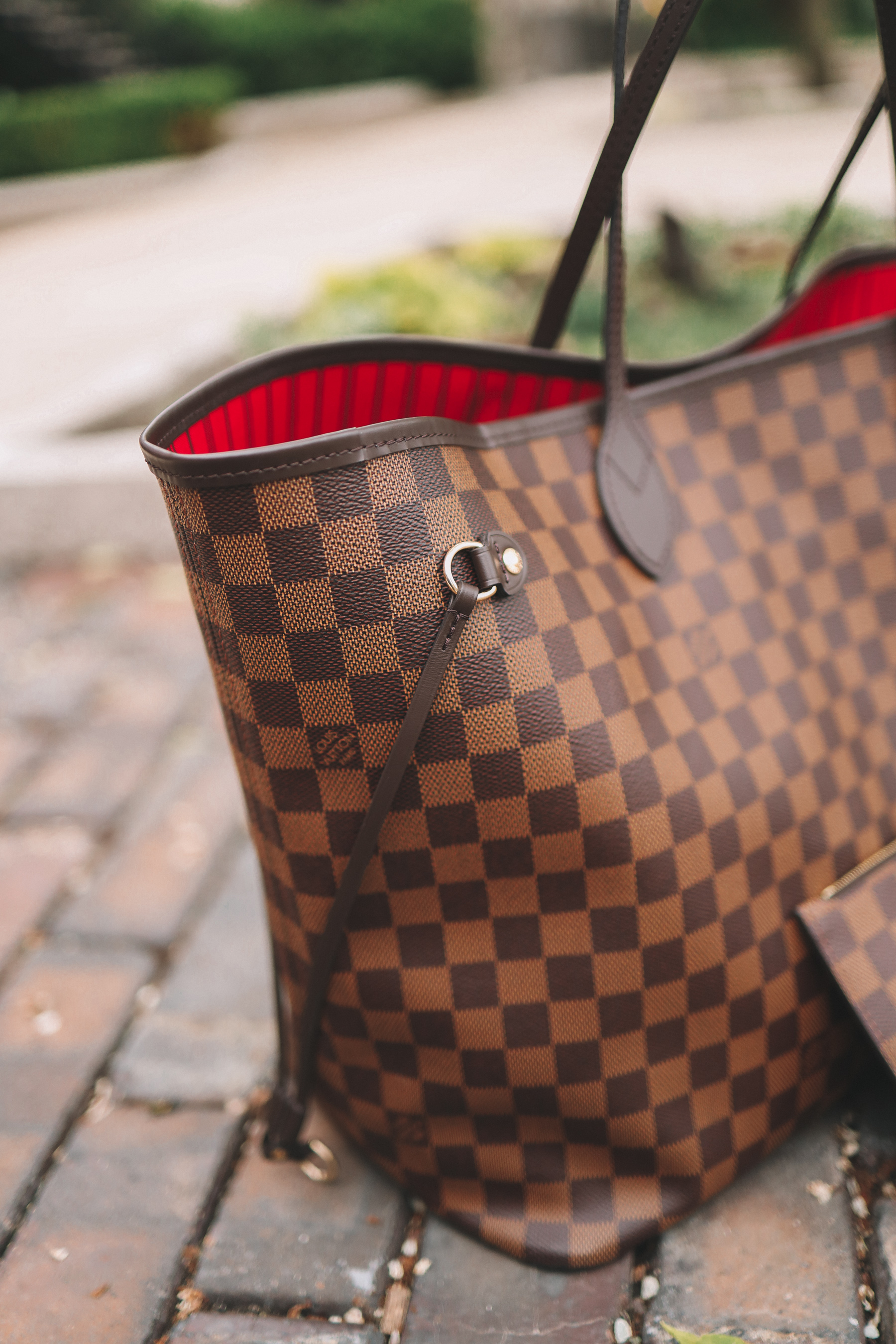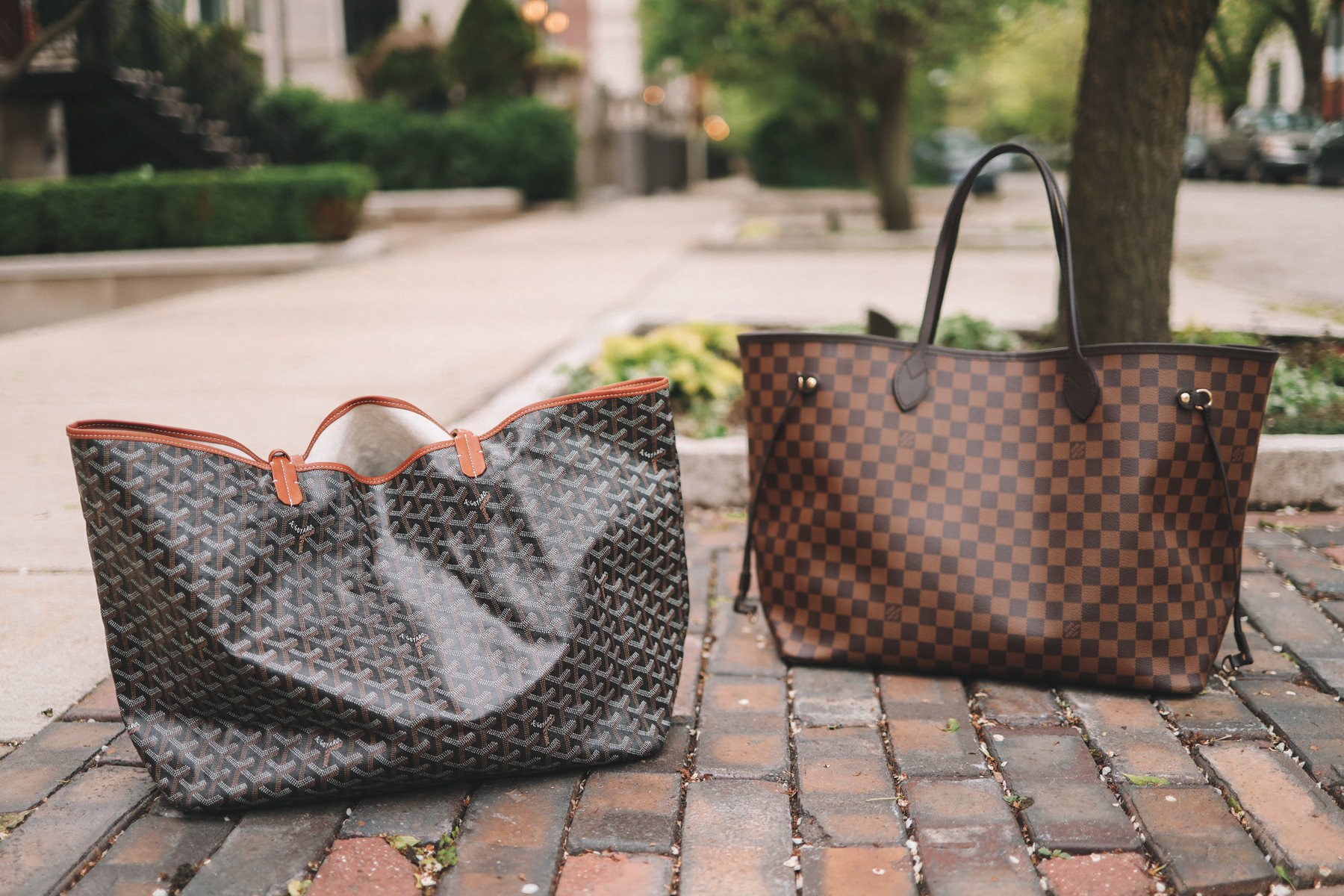 Louis Vuitton Neverfull Side View
Without a doubt, the quality of the Louis Vuitton Neverfull is better, though this isn't exactly a fair comparison because the Goyard Saint Louis tote was originally designed to be used as a beach bag. (No joke!) The Goyard is structureless and flops over, and it's made out of a naturally coated canvas (a mix of linen, hemp and cotton) that looks like leather but repels water. (Which is why it's a little shiny.) The straps are actual leather.
The Louis Vuitton is also made from canvas, but a much thicker canvas, and the tote stands up on its own. (Far more structured than the Goyard, and definitely not a beach bag!) The straps on the Louis Vuitton are cowhide leather as well.
The quality
That said, I've had both bags for years (though the LV in the medium size), and both have held up exceptionally well and look 100-percent brand new. It's just the lining of the Goyard that's a little stained, and that's because it's white.
If I had to choose between the two based solely on quality, I would probably go with the Louis Vuitton, if only because it's a much sturdier bag.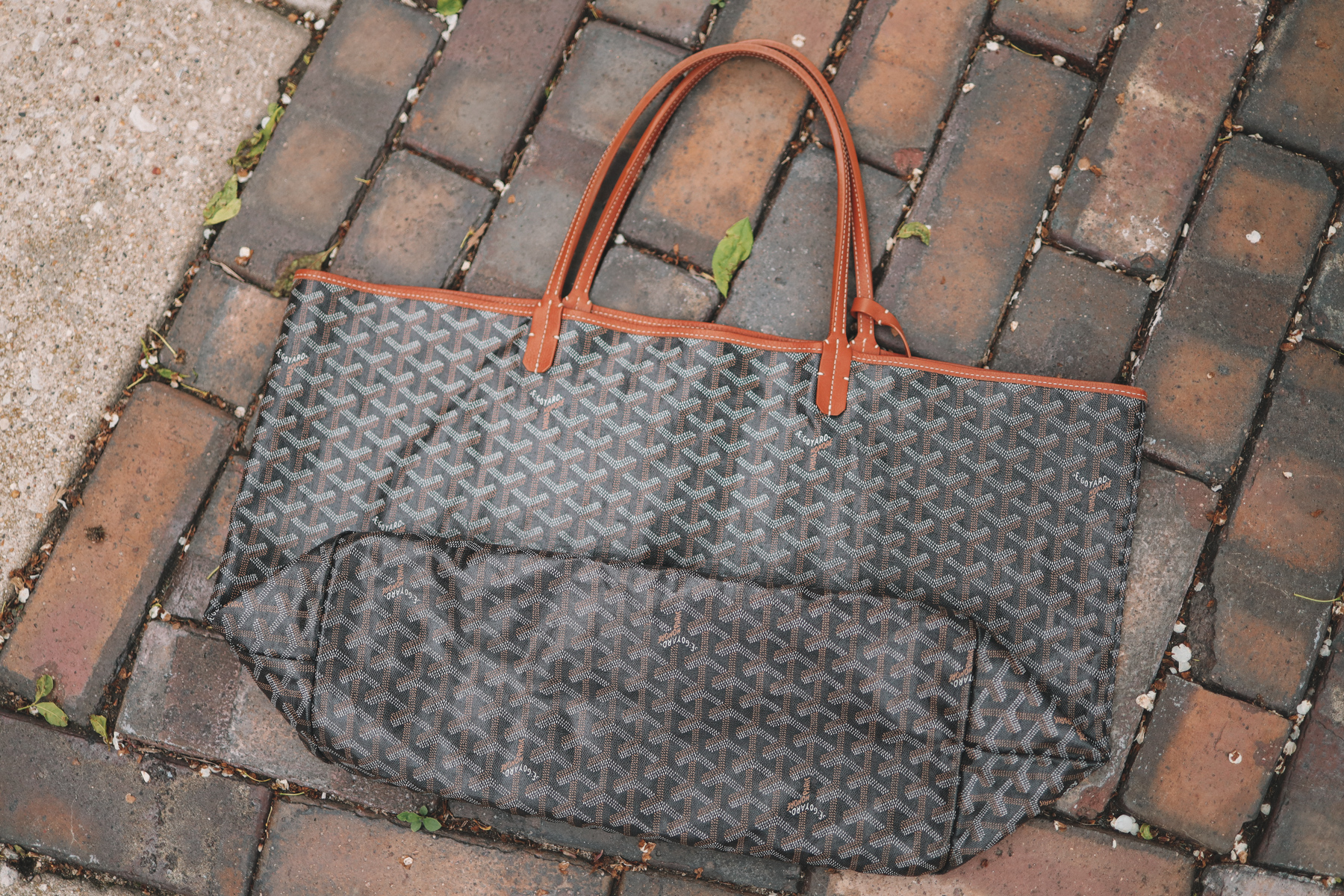 Packability
In this category, the Goyard Saint Louis wins. The tote bag lies completely flat, and therefore can easily be packed into a suitcase just as a t-shirt would. It takes up next to no space! The Louis Vuitton cannot do this on account of it being far more structured.
But both fit under a plane seat in case you're wondering! I know I mentioned this before, but it's worth noting again that neither zip close. The Louis Vuitton does, however, have a small clasp at the top which "closes" the bag to some degree.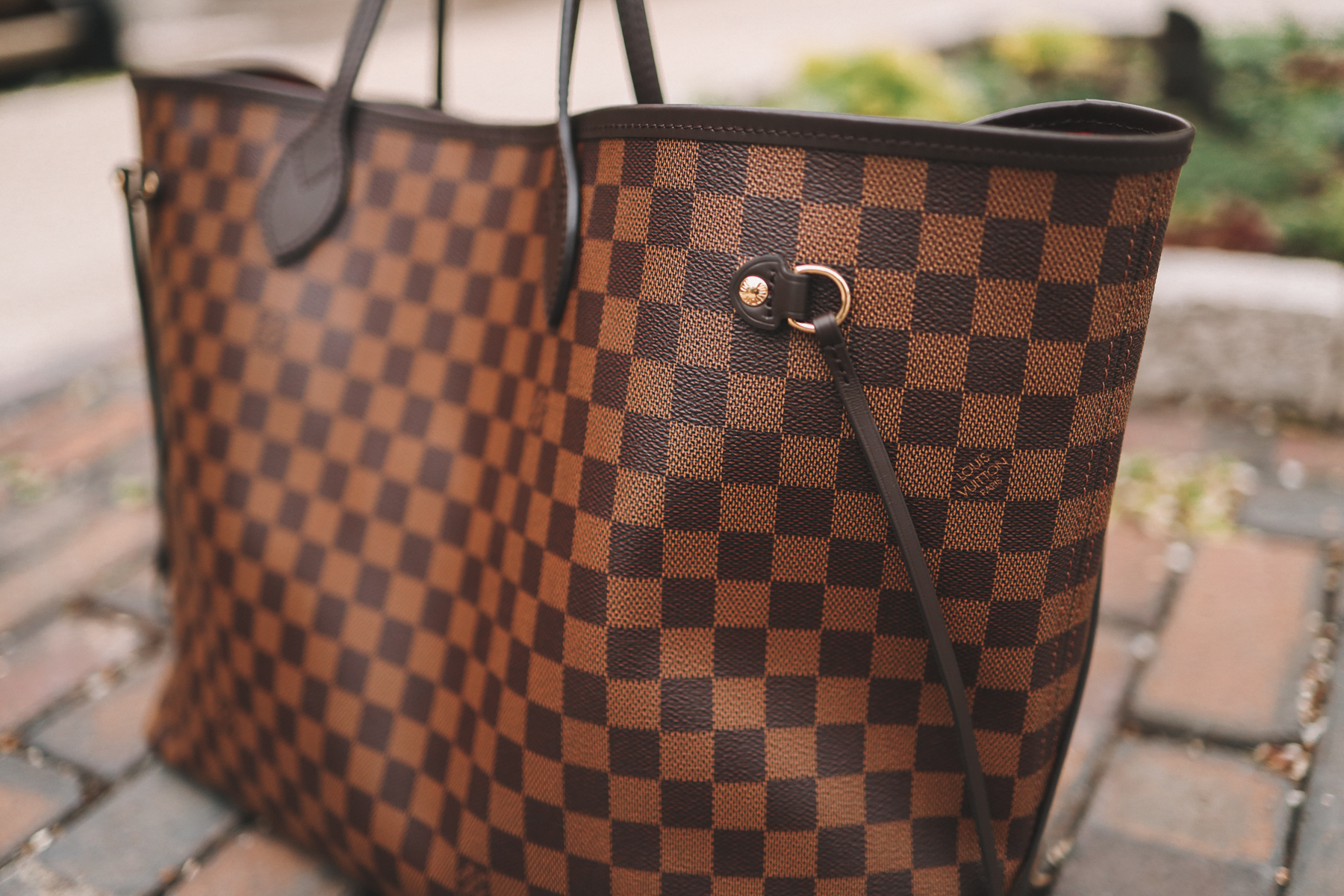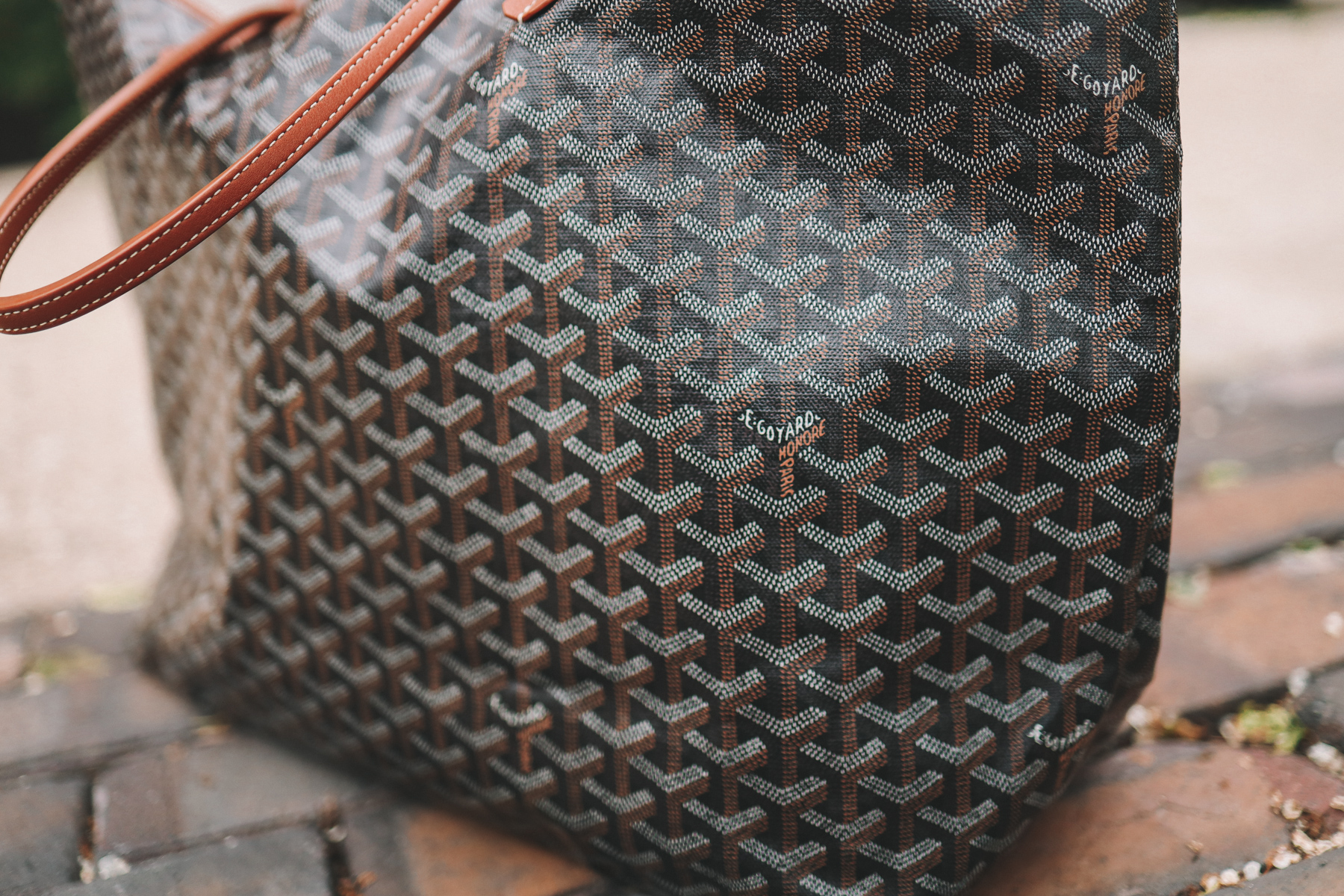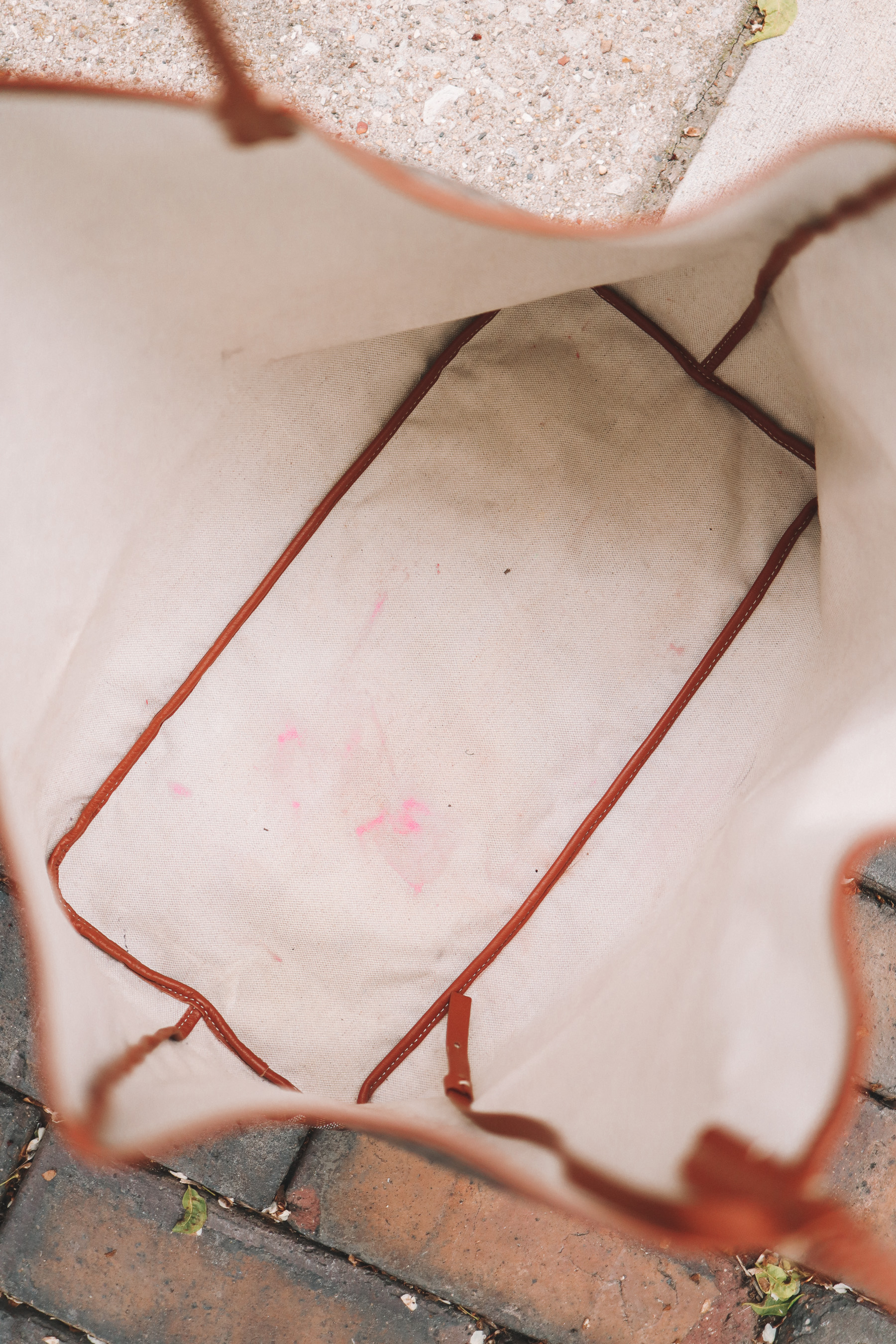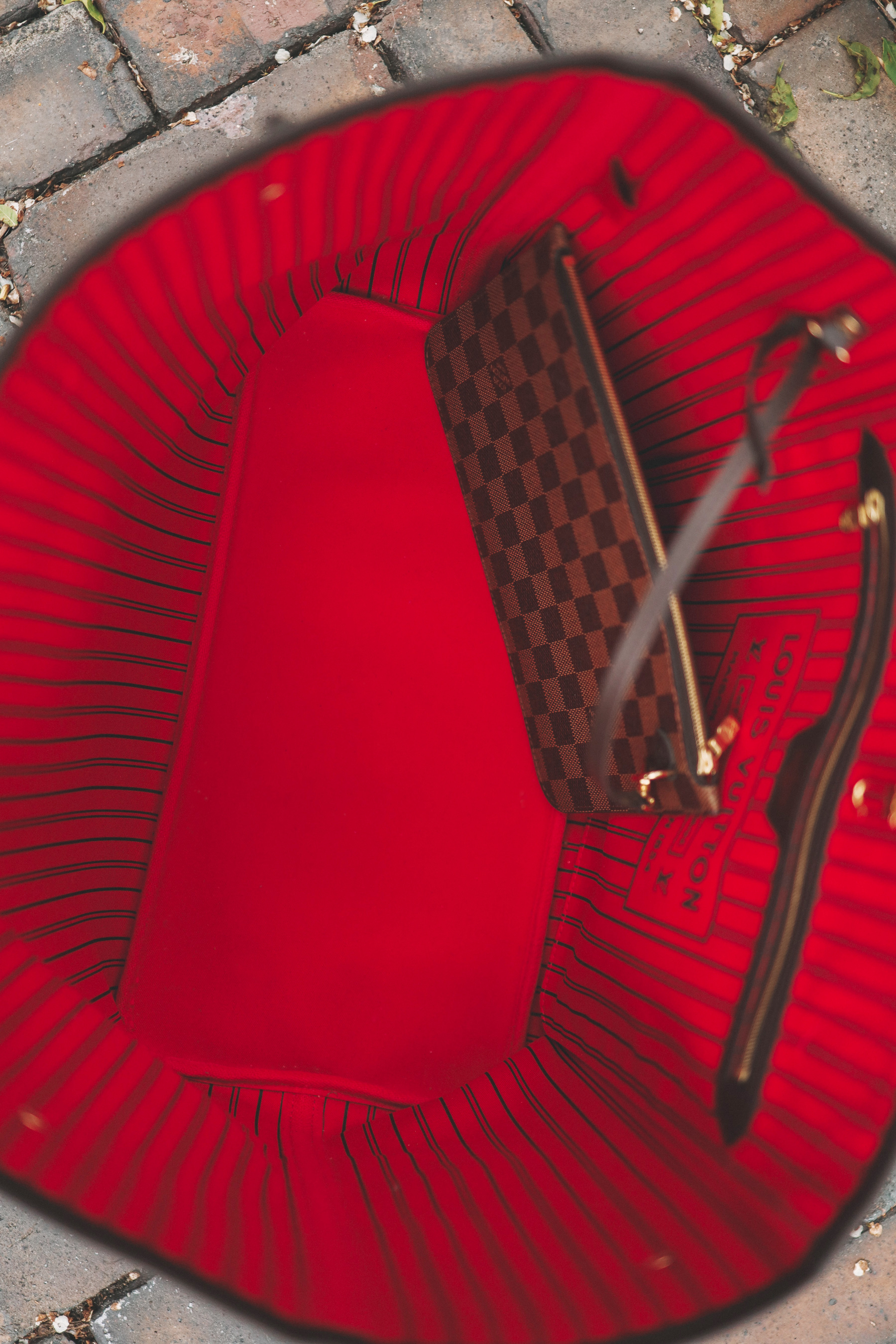 The style + patterns/colors
Choosing between the two brands is difficult! Both are extremely popular, and I see them everywhere in Chicago and New York. That said, the Goyard print is a bit less prevalent (a BIT), which I really like.
The Louis Vuitton comes in a monogram canvas, brown "Damier" check, and white Damier check. Goyard's "classic" colors are black with either black or light brown trim. (You can get the Goyard in different colors, too, but those are significantly more expensive… and in my opinion, not worth it since they don't go with as much! Except for the navy. Swoon!)
A little note about the Louis Vuitton options:
I highly suggest going with the brown Damier check because of the dark brown straps which don't discolor or stain. My aunt has the monogrammed tote, and she was deeply disappointed in how quickly the light tan straps discolored and became dirty-looking. Same thing for friends who own the white Damier check. (Though I LOVE that bag!)
Inside Louis Vuitton Neverfull
Again, the Goyard "classic" colors (which are more affordable than the "specialty" colors) are black with either black or light brown trim. However, the light brown straps do NOT discolor like the Louis Vuitton's do. I've had my Goyard for several years now, and no issues there. One thing to consider, though, is that the interior lining of the Goyard is white, unlike the Louis Vuitton, which features a red, beige or pink lining. (Very customizable.) My white Goyard lining is stained, but my red Louis Vuitton lining looks brand new!
Both bags work with black and brown outfits, but the Louis Vuitton works better with navy since it doesn't have any black in it. So it's a tough decision, and you really need to weigh you print preference vs. what colors you gravitate to most with your wardrobe. (If you wear a lot of navy, for example, I might go with the Louis Vuitton over the Goyard! Then again, the Goyard does come in navy… but it costs significantly more than the classic black… and then what would you do when wearing black?! The STRUGGLE, haha.)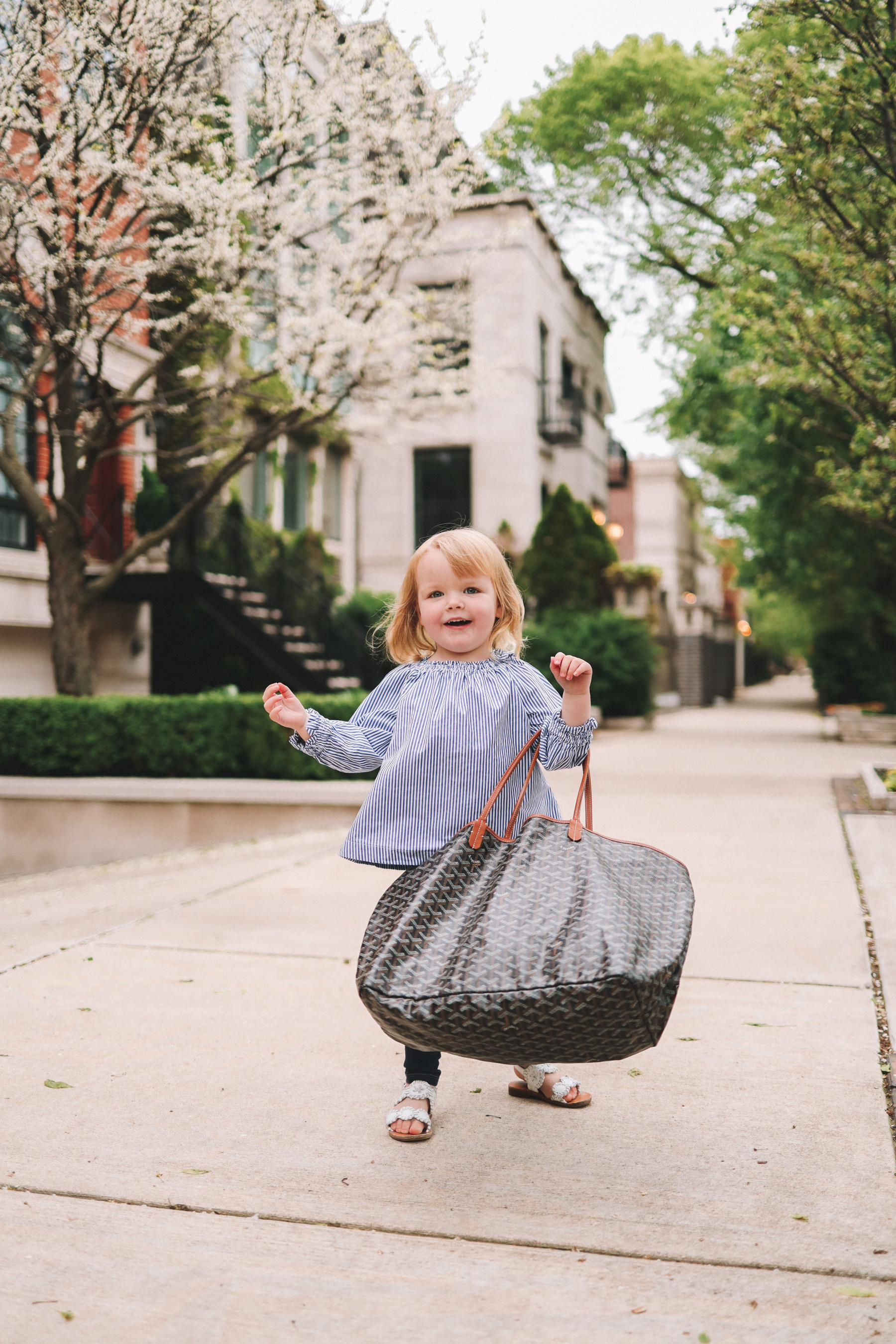 How much does Louis Vuitton cost vs Goyard Saint Louis Totes?
The Louis Vuitton Neverfull GM retails for $1,400 and the Goyard Saint Louis retails for $1,375. (Goyard's "special colors" retail for $1,795, which is kind of insane… so I'd just stick with the classic colors–black with black trim or black with brown trim–if I were purchasing!) Given all the above information, I would say that the Neverfull is priced well, while the Goyard is a bit overpriced for what it is. But, you know: it's Goyard, so I completely understand if you're dead-set on it! (I mean, clearly I love Goyard as well, since I own and use a Saint Louis tote all the time!)
Looking for a deal?
Louis Vuitton and Goyard don't go on sale, but you can save a LOT by buying via eBay's amazing authenticate program, which I mentioned before. Every bag found on that page, as long as you see "Authenticity Verified" in red, is expert-verified before it's listed, so you can be sure that you're getting the real thing. All the bags come with eBay's "money back guarantee," too, so you can shop with confidence!
If you're on the hunt for a luxury brand, especially luxury handbags, definitely start with eBay's authenticate program.
(NB: I would say that a good bag price for a pre-owned and authenticity-verified LV Neverfull GM or Goyard Saint Louis GM is between $800 and $1,200 depending on color and condition. And remember to SELL THE POUCH if yours comes with one! Huge savings.)
Read my quick-and-easy guide to buying on eBay here!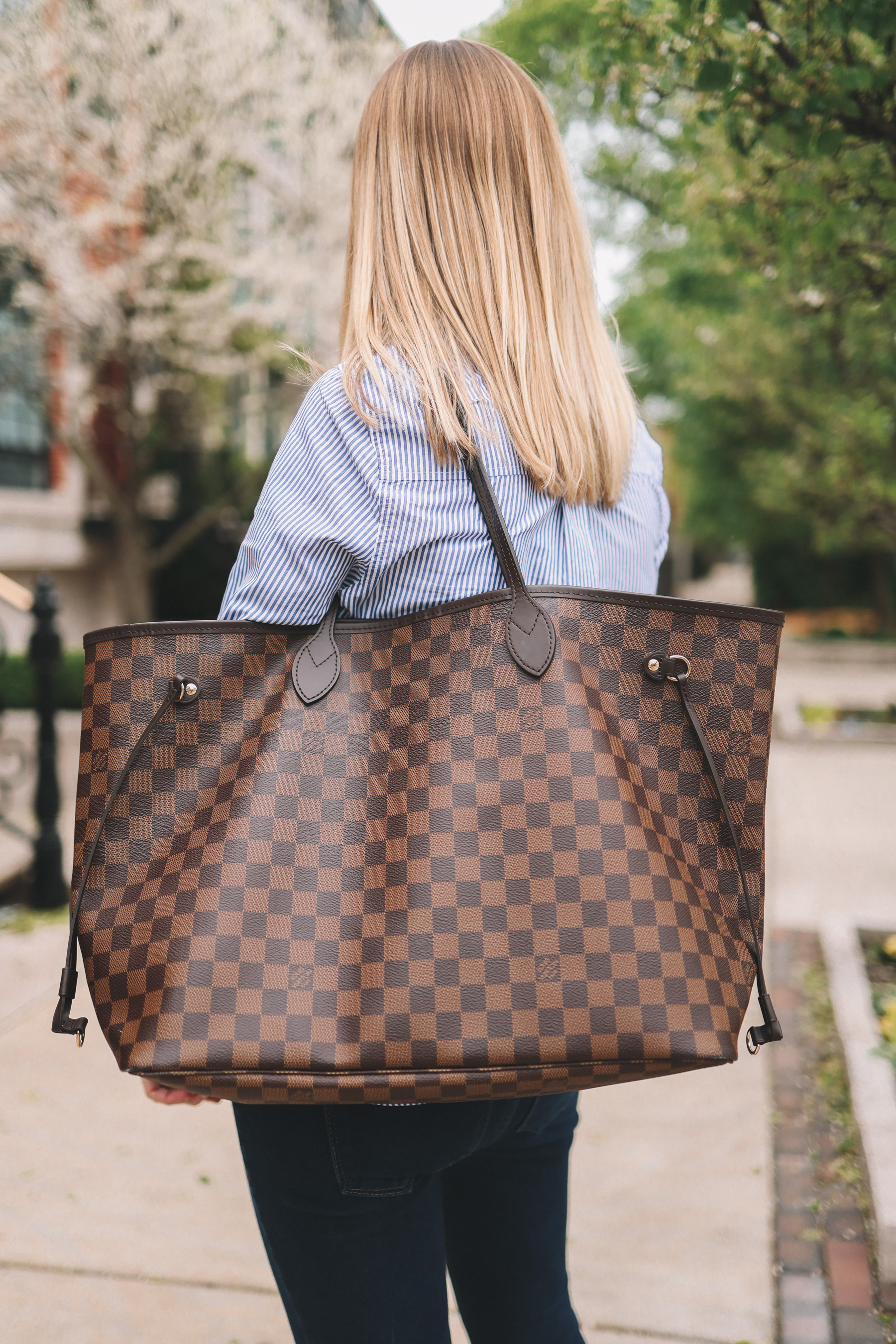 I vote Louis Vuitton Neverfull! Which tote would you choose?!
If you're a fan of the Neverfull, I am sure you will enjoy the Onthego GM, the Louis Vuitton Speedy, the Damier Azur, the St. Louis Tote, and the Damier Ebene as well. Which suites your needs and lifestyle the best? Drop the details below!!!

Shop Louis Vuitton and Goyard on eBay above!
(While most of these bags are authentically verified, a few are not. All, however, look like great options and appear to be authentic based on past seller reviews!)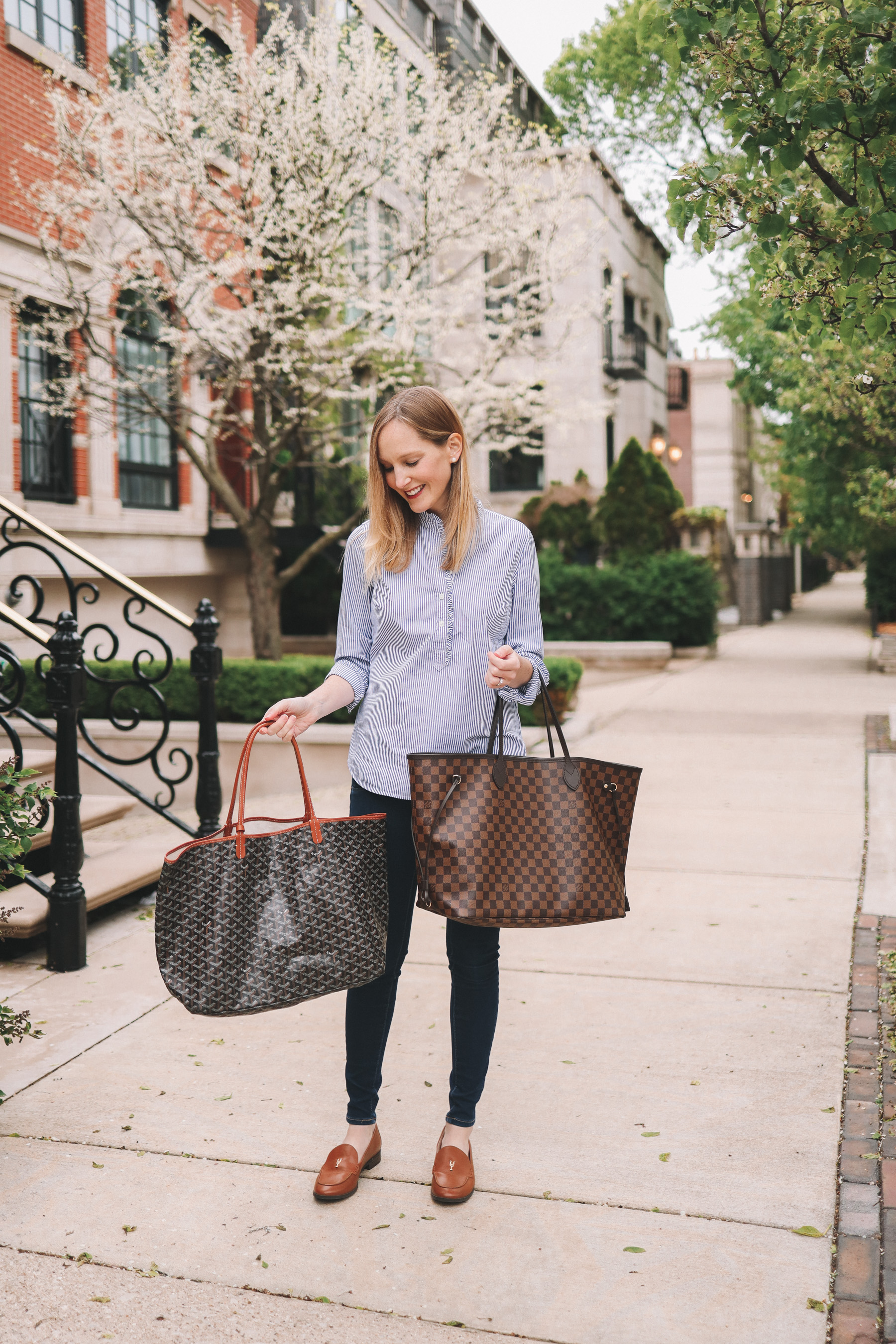 This post was sponsored by eBay, but all opinions are my own. As always, thank you so, so much for supporting the partnerships that keep Kelly in the City up and running!