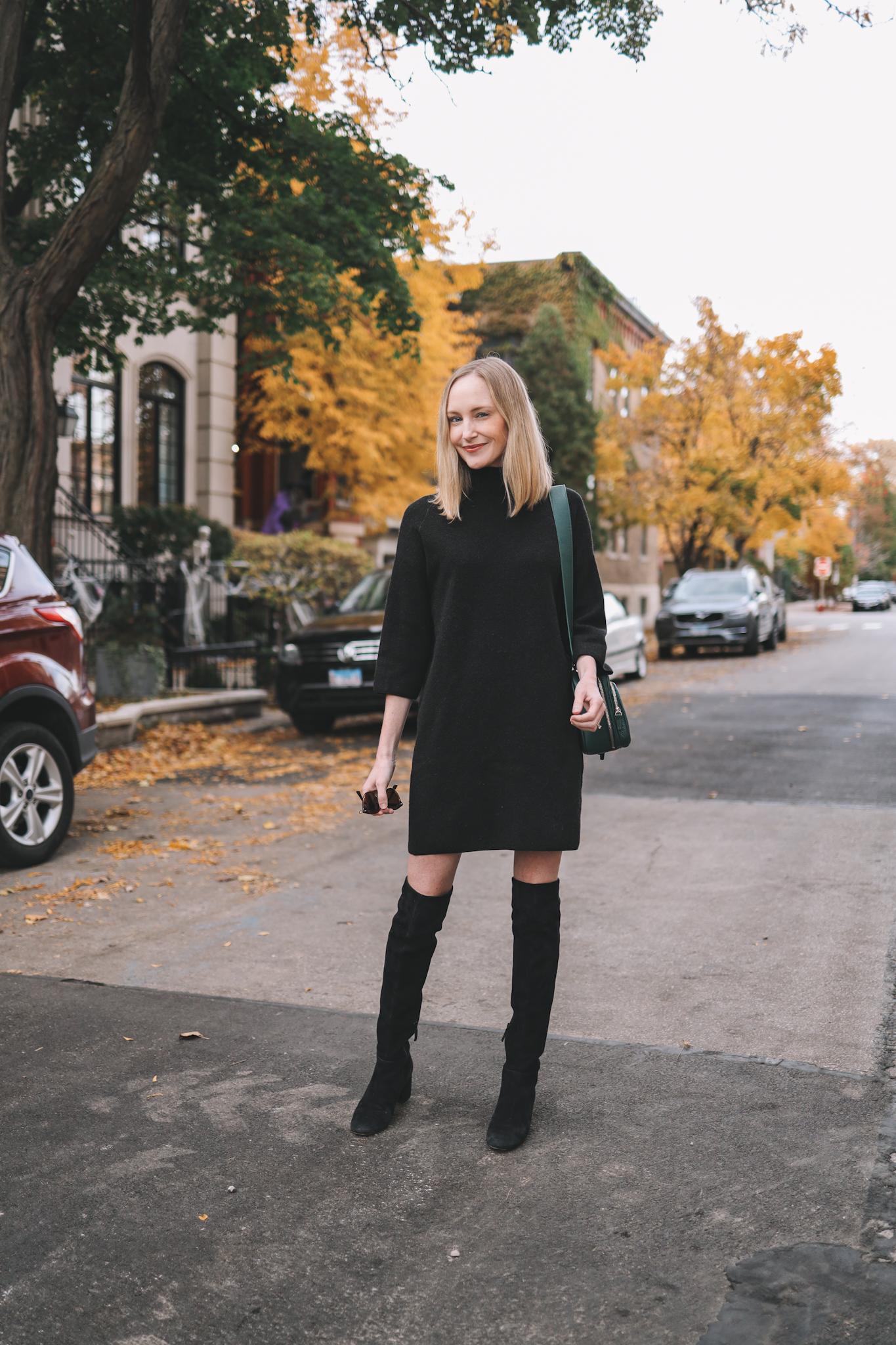 Tuckernuck Vivianne Sweater Dress / Bag with Trapunto Lettering / Newer Version of Over-the-Knee Boots (On sale for $49.99!)
My life falls apart every November, without fail. Between holiday collaborations and holiday events with family and friends, so much falls through the cracks—LIKE THESE PHOTOS. I took them with the intention of writing a post and then apparently lost them on my computer desktop. 😆 Classic. So please excuse the off-season backgrounds, but Tuckernuck's Vivianne Sweater Dress deserves its moment in the sun!

No-itch, wrinkle-resistant material: First, let me call out the fact that this sweater dress has no wool in it. Which is such a nice thing for ladies whose skin can't handle it. (Me!) Yet it's amazingly cozy and warm, without being bulky. And it travels great. I never have to iron/steam it when I take it out of my suitcase. Similarly, I never have to iron/steam it when I take it out of the wash! Finally, it's really warm. It's my go-to outfit when I need to look nice in Chicago during the winter.
Flattering and TTS fit: It hangs beautifully. It's one of those dresses you could wear while eating a whole pizza 😜 yet still look fabulous while doing it. And despite its silhouette, it's actually not oversized whatsoever and somehow gives me a bit of figure! I ordered both the XS and small as I'm often between sizes, and ultimately went with the small. The length is obviously on the shorter side, but it's not too short (and I'm 38!), especially when I pair it with over-the-knee boots! (In the winter, I wear it with sheer black tights.)
Versatility: I love that the dress can be dressed up or down. It can be worn with boots, pumps or even sneakers for a more casual look.
Multiple colors: It now comes in red (perfect for Valentine's Day) and blue (lovely for spring or warmer climates). My fingers are crossed that Tuckernuck soon comes out with camel and off-white!
Similar styles: If you love the Vivianne Sweater Dress and are looking for more warm dresses, check out the suede Clifton Dress and the velvet Kenzo Dress. They're wonderfully warm and flattering as well!
Anyway, take it from me. You need the dress(es). 😉
xx
Shop the post:
Tuckernuck Vivianne Sweater Dress / Bag with Trapunto Lettering / Newer Version of Over-the-Knee Boots (On sale for $49.99!)