Chicago is gorgeous during the winter, but it gets really cold. Wearing the right, high-quality winter coats ensures you stay warm and makes it easier to enjoy the city, even when cold air is whipping all around you. 
I'm sharing a roundup of the best winter jackets that are fashionable, functional, and perfect for the cold weather in Chicago (or anywhere else freezing cold!) during winter. Because let's face it, if a coat can hold up to the Chicago winter, it can take you almost anywhere!

15 Best Winter Coats For Chicago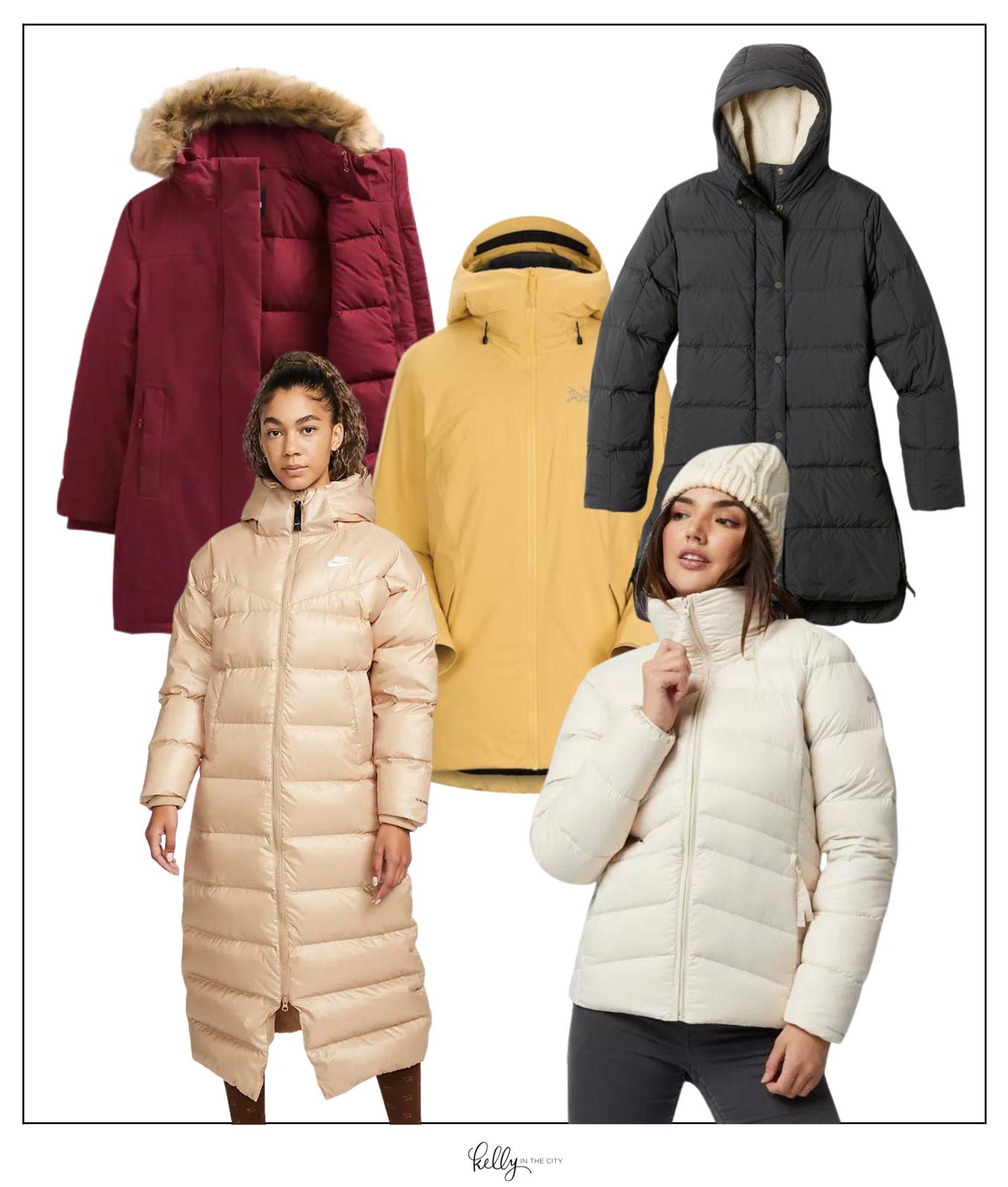 The Shelburne Parka from Canada Goose is the best splurge-worthy winter coat. I continue to stand by my claim that this parka is a godsend for Chicago winters because it keeps you super warm even on the coldest days in the city. And that's coming from someone who is always cold, no matter the time of year. 
There is so much to love about the Shelburne parka. It has fleece lined hand warmer pockets and built-in backpack straps for hands-free transport when you're not wearing it. The hood provides superior protection from the painfully cold Chicago air. And while it doesn't have a removable hood, the fur ruff can be removed for a more streamlined look. It also has a shaping wire that keeps it in place, even on the windiest days. 
The Canada Goose Shelburne Parka is made of 625 fill power, responsibly sourced duck down. It's designed to hit mid-thigh and is available in eight colors, and in sizes ranging from 2XS to 3XL. 
For a winter coat that will keep you warm, even in the extreme cold, look no further than the women's Sentinel Insulated Jacket from Arc'Teryx. If big mountain skiers and snowboarders can count on this jacket when they hit the slopes, you can be sure it'll protect you from unforgiving Chicago winter weather. 
The Sentinel Insulated Jacket uses 2L GORE-TEX fabric, which means it's waterproof and windproof, but still breathable. Coreloft synthetic insulation and soft knit lining effectively keeps you warm and comfortable. Plus, the Stormhood offers plenty of coverage, even in blizzard conditions. 
The Arc'Teryx Sentinel Insulated Jacket is available in three colors and in sizes ranging from XXS to XXL. 
The North Face is known for having some of the warmest winter weather essentials. Their Women's Arctic Parka is a top-rated, high-quality winter coat that most definitely has what it takes to withstand Chicago's harsh winter weather. 
This thigh-length parka is made of waterproof and breathable DryVent material. It's insulated with 550-fill down and 150g HeatSeeker Eco to offer a more flattering fit with plenty of warmth. You can keep your hands warm and protect your personal items in the covered, secure-zip wlt hand pockets and internal, secure-zip left chest pocket.   
The Women's Arctic Parka is available in ten colors (Gardenia White and Vanadis Grey are currently on sale for $245!) and in sizes ranging from XS to 3XL. 
Here's another top-rated parka designed to protect you from harsh winter weather. The Norseland Insulated Parka from REI Co-op features lightweight down insulation, extra length, and a fleece-lined hood.
This parka is made of nylon, recycled polyester, and 650-fill-power duck down insulation. Its nylon outer shell is water repellant and the down insulation provides plenty of warmth without a ton of bulk.
The REI Co-op Norseland Insulated Parka is available in three colors and in sizes ranging from XS to XL. However, the Dark Army Cot (green) color is currently sold out in every size except for XS. 
No other coat on this list provides as much coverage as the Sportswear Therma-FIT City Series Women's Parka from Nike. With a hem that hits mid-calf, this parka ensures that almost every inch of your body will be protected from Chicago's winter weather.
The Sportswear Parka has a 100% polyester body and lining. Its white duck down insulation is super light, so despite the size of this coat, it doesn't feel heavy.
Nike's Sportswear Parka is available in three colors and in sizes ranging from XS to 3X. Although it's designed to fit loose for a roomy feel, the Therma-FIT City Series Women's Parka runs large, so you might want to order down a size.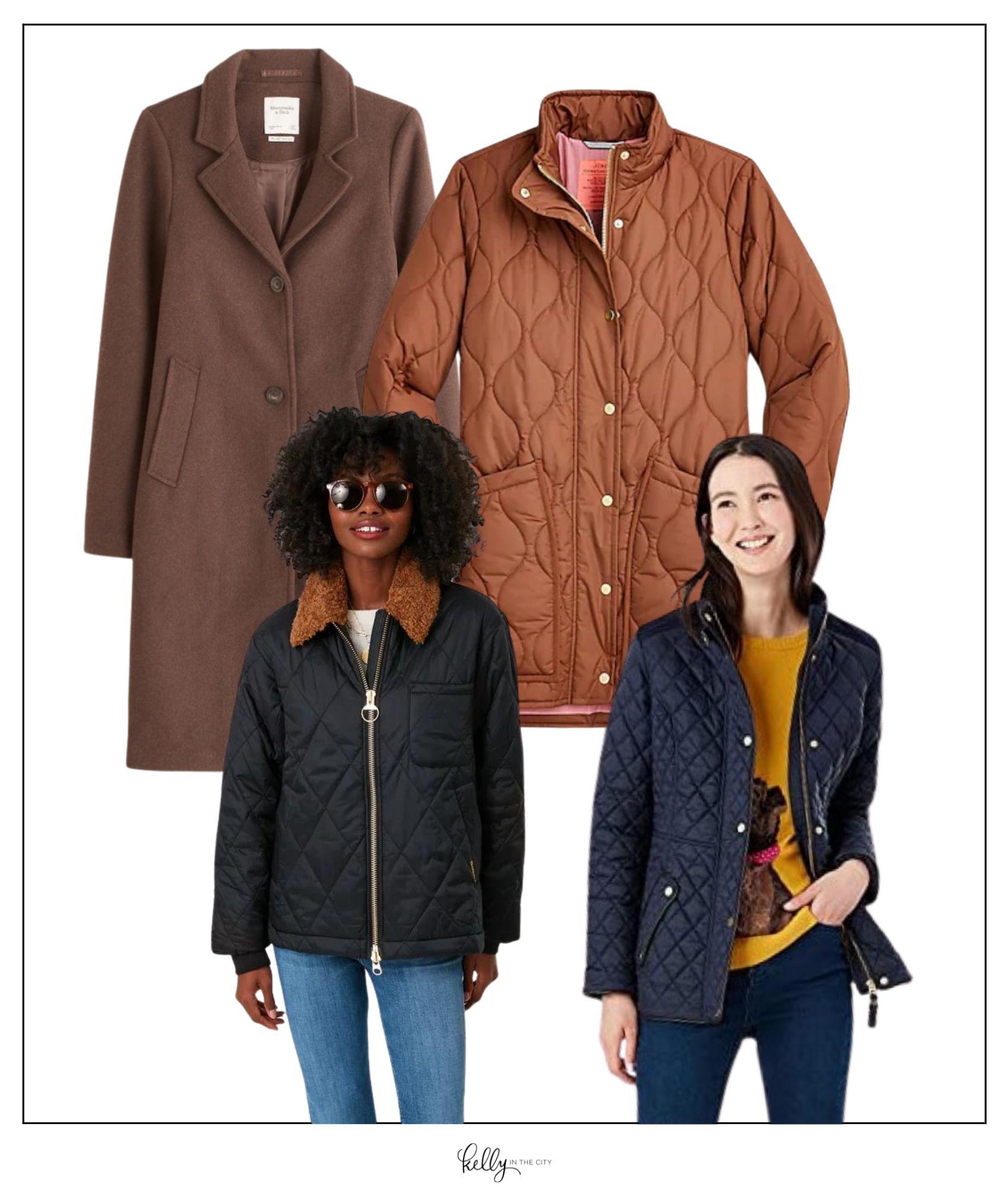 On the opposite end of the length spectrum is this waist-length jacket from Columbia. With a flattering silhouette, this puffer coat is ideal for someone who wants less coverage but maximum weather protection. 
The Autumn Park Down Jacket from Columbia features 650-fill-power down insulation and Omni-Heat thermal reflective lining, as well as two zippered hand pockets and a tall collar. The shell is 100% nylon and the lining is 100% polyester. 
The Columbia Autumn Park Down Jacket is available in four colors and in sizes ranging from XS to XXL. Per the site, this jacket runs small, so you might want to consider sizing up. 
Abercrombie has a surprisingly great selection of high quality winter coats. Their Wool-Blend Dad's Coat is just as chic as it is warm. It's perfect for days when you need to head out in the frigid temperatures, but want to maintain a look of simple elegance. 
Abercrombie's classic Dad Coat features a wool-blend fabric, tailored fit, and smooth polyester lining. 
The Women's Wool Blend Dad Coat is available in nine different colors and patterns. It comes in sizes XXS to XXL and in petite, regular, or tall lengths. Love the versatility here!
Oh, how I love a good J.Crew coat. The Quilted Cocoon Puffer Coat has been one of J.Crew's most popular coats for over a decade and for good reason! It provides plenty of warmth on its own, but on those especially cold winter days in Chicago, it can easily be worn as part of a layered winter outfit. 
The slim-fit Quilted Cocoon Puffer Coat was recently updated with a higher-standing collar for better wind protection. It's as if this coat was made specifically for Chicagoans. Even better, this 100% recycled polyester puffer coat is filled with PrimaLoft, a more eco-friendly, down alternative that provides plenty of warmth. 
Their gorgeous Quilted Cocoon Puffer Coat was recently included in J.Crew's Black Friday Sale and it's still marked down. So, you'll want to act fast to get one for yourself! This coat is available in five colors and in sizes ranging from XX-Small to 2X, with three different fits (classic, petite, and tall).
Isn't it wonderful when two of your favorite things come together? In this case it's two of my favorite brands, Tuckernuck and Barbour, with the Barbour Black Valia Quilt jacket available on the Tuckernuck website. 
The Barbour Black Valia Quilt is the ideal jacket for layering. It pairs perfectly with a cozy, chunky sweater. And it's great for those slightly warmer but still freezing Chicago winter days. It features a detachable spread collar in a ridiculously soft teddy material. 
The Black Valia Quilt is tartan lined and made from 100% polyamide (exterior) and 100% polyester (collar, lining). It's available in sizes 4 to 12 (it's currently sold out in size 14).
Here's another fantastic option if you love a good quilted coat. The Joules Women's Quilted Coat is an affordable, high-quality 100% polyamide coat. 
It has a cord collar and brass trims that add a touch of sophistication that I just adore. I especially love the way this jacket looks over a thick, cozy sweater.
The Joules Women's Quilted Coat is available in four colors and in sizes ranging from 2 to 16.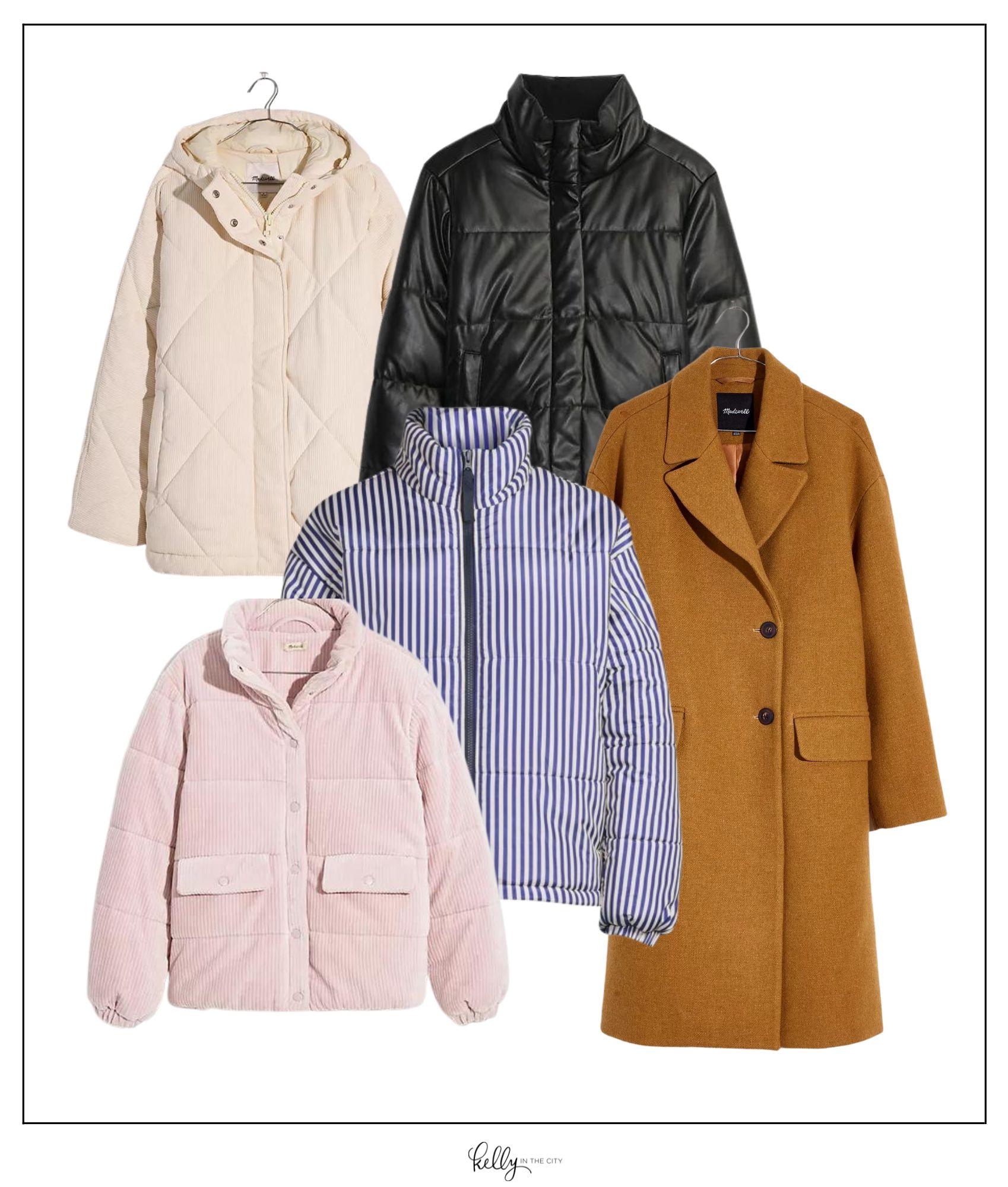 I love puffer jackets because there are so many ways to style them. This Faux Leather Puffer Jacket from Gap Factory is a gorgeous coat that keeps you both super warm and super on trend as you make your way around Chicago. 
The J.Crew Faux Leather Puffer Jacket features smooth, 100% polyester faux leather and 100% recycled wellon fill. It's fully lined and has a stand collar for extra protection from the bitter cold. 
It's available in three colors and in sizes ranging from XS to XXL. All styles are currently on sale!
I adore this Free Assembly Striped Puffer Jacket so much that I wrote an entire post about it. Even before I found this preppy jacket, I was a huge fan of Free Assembly. 
This mid-weight, 100% polyester jacket offers a good amount of warmth on chilly winter days. It has a stand collar as well as side and interior pockets.
The Women's Oversized Puffer Jacket from Free Assembly comes in 13 different colors and styles. I'm partial to the navy blue striped one, but would easily wear any of them. It's available in sizes ranging from XS to XXXL. 
The Wyman Quilted Corduroy Puffer Jacket is a stunning coat that is sure to earn you a few compliments. It's as luxe as it is warm, and this beautiful coat is super warm. 
This quilted corduroy puffer jacket features a high collar and flap front pockets to protect you from the elements. It's made of polyester, cotton, and elastane, which allows it to be surprisingly lightweight for a coat that's able to trap heat so efficiently. 
The Wyman Quilted Corduroy Puffer Jacket from Madewell is available in a gorgeous pale lilac color, and in sizes ranging from x-small to xx-large. 
Can we all just agree that there's no such thing as owning too many parkas? I mean, winter weather in Chicago is brutal, so it's important to have several options. At least that's what I tell myself as I consider buying yet another puffer parka to wear this season. 
This Corduroy Holland Quilted Puffer Parka from Madewell is crazy cozy with ultra-soft corduroy and down alternative insulation. With dolman sleeves, luxe side pockets, and an extra interior zip compartment perfectly suited to keeping your phone protected from the elements, this coat has everything you need to stay warm and on trend.
The Corduroy Holland Quilted Puffer Parka is made of polyester and comes in two colors. It's available in sizes ranging from xx-small to xx-large.
Last, but most certainly not least, is the Haydon Coat in Insuluxe Fabric from Madewell. This coat is considered a worthy investment piece thanks to the brand's signature fabric that is woven in Italy "of traceable and sustainable NATIVA certified wool (plus a touch of cashmere)". 
The Haydon Coat features a double-breasted fit with pockets on the outside as well as one on the inside. It's incredibly warm and naturally wind and water resistant. 
You can purchase the Haydon Coat in sizes ranging from xx-small to 2X. When selecting a size, keep in mind that this coat tends to run large. 
Which winter coat would you pick to wear around Chicago during the winter?
Do you own any of the jackets mentioned above? If not, what's your favorite winter coat? Tell me more about what you would wear if you were exploring Chicago during the winter!
For more outfit ideas and tips on how to survive even the worst winter weather in Chicago, head over to the blog.