c/o Vineyard Vines Hat / Dress / Clutch
1. My Derby outfit! Today, I'm hosting the Vineyard Vines "Coast to Coast" Kentucky Derby Viewing Party with Jess, Whitney Reynolds, James Goeke and Marcus Riley, and I'm so excited! The event is taking place at Del Frisco's in downtown Chicago from 3 to 6 p.m. — If you're not coming, follow along via Instagram!
And how cute is VV's Derby collection?!
c/o Jonathan Adler Dachshund Bookends
2. The Jonathan Adler Warehouse Sale in New York. I can't even tell you how bummed I'm that I'm missing it. Anyway, today is the last day, so if you live in the area, you have to go. It starts at 10 a.m. and goes to 4 p.m., and it's taking place at 885 East 138th Street in the Bronx, super close to where I used to teach. To get there, take the 6 to Cypress Avenue. (If you go, please take an Instagram photo and tag me. I need to live vicariously through you guys!)
Over 25,000 pieces will be available, including furniture, lighting, decor, rugs and fashion accessories… and products will be up to 75 percent off. Cash and credit are accepted, and there's limited on-street parking. (Better to take the subway, in my opinion.) Delivery is available for a fee.
Happy shopping, New York!
3. Henri Bendel 712 Eau De Parfum. It's the brand's newest fragrance, and I adore it! I've completely ditched my old perfume for 712 Eau De Parfum, named for Henri Bendel's Fifth Avenue location. I won't pretend to be able to describe how it smells, as I would fail miserably, haha. (Me describing wine? "Ohhh… So… Oaky? Crisp? Elegant? Am I making sense here?" #disaster) But take my word for it: It's amazing, and truly reminds me of my years on the Upper East Side. Sigh.
4. Bitmoji. My aunt and cousin recently introduced me to this app, and I've perhaps been using it a bit too much since then. I'm sure you all already use it and I'm just really late to the game, but it cracks me up. And so many of my friends have gotten on board! Though Mitch clearly doesn't get it. ;)
Anyway, it's a keyboard that you download through the app store. It allows you to design a cartoon character that looks like you, and then plop your little avatar into a variety of "stickers," much like the "Hey Hey Hey" one seen above.
It makes texting WAY more fun. (Though I do foresee this turning super annoying in a matter of months, haha.)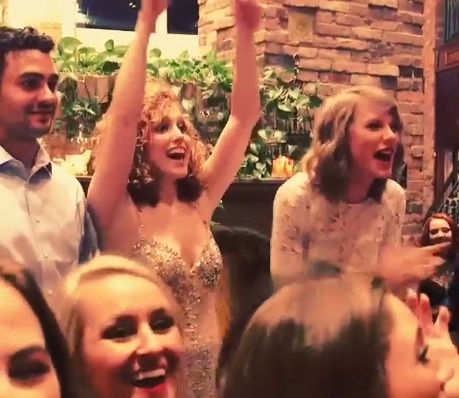 5. Hands down, this is the best day I can ever remember… Who didn't love that song–any song by Dashboard, really–back in high school? Taylor Swift recently surprised her best friend Abigail with a special birthday performance by Chris Carrabba, and it's the cutest. Watch it here!