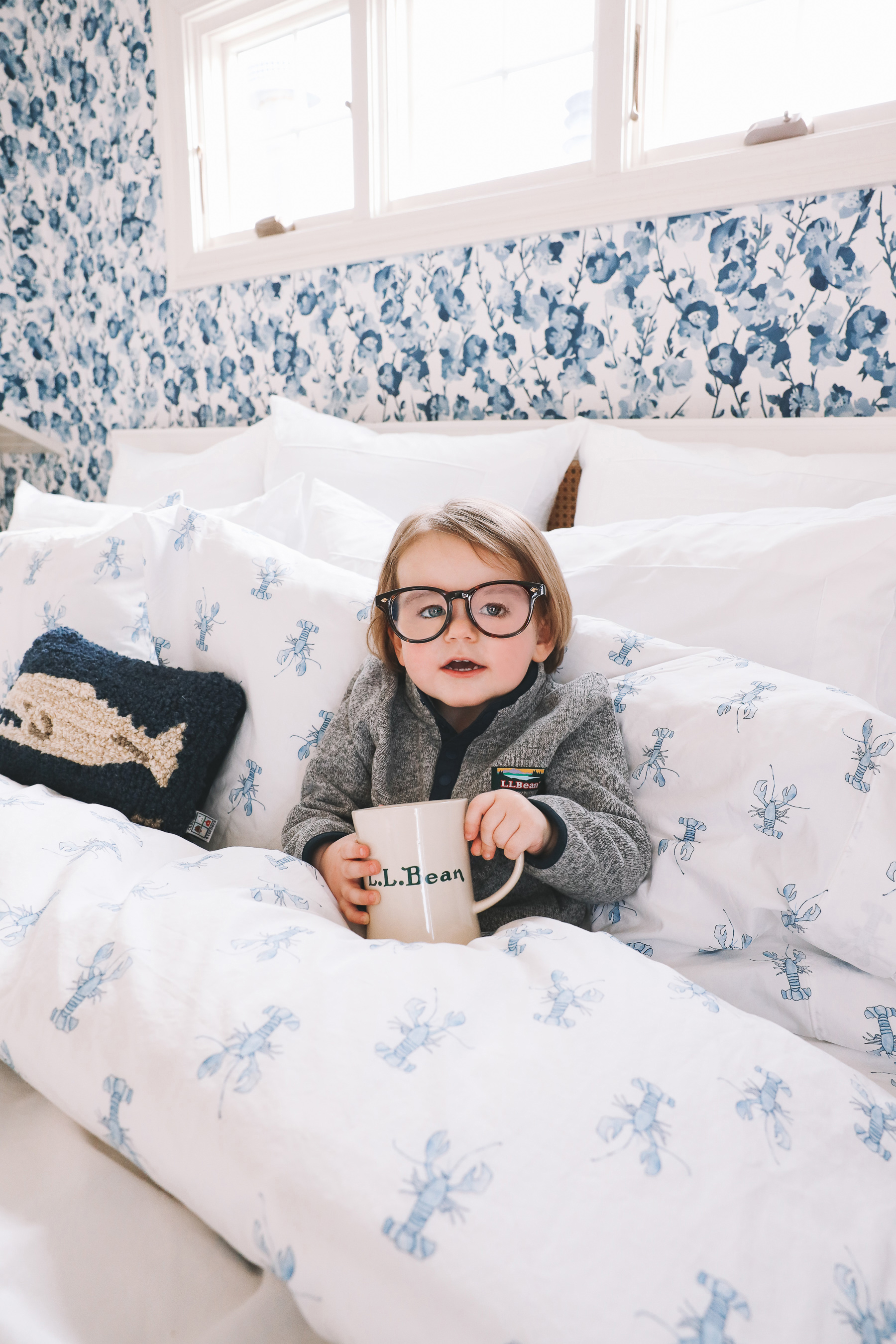 L.L.Bean x Sara Fitz Lobster Sheets (Here are the buoy ones!) / Wicked Good Chukka Slippers / Older Kids' Sweater Fleece (Women's version here.) / Retro L.L.Bean Mug / Hooked Whale Pillow / Blue Light Glasses / Cane Bed / Bench / Floral "Fairfax" Wallpaper / Large Basket / Pom Pillow / Cane Bed / Nightstands (Also available here and here.) / Chandelier / Jute Rug / Duvet Cover and Shams
The Sara Fitz x L.L.Bean Sheet Collection has landed!
I'm cracking up at these photos of "College Lucy," who is clearly wrecked from midterms, haha. I took the styled pics for an Instagram for L.L.Bean with my real camera, but then let Lucy go nuts and snapped away on the iPhone because she was having so much fun—and I love the dichotomy of the two sets. ;)
As you may know, we're huge fans of L.L.Bean and Sara Fitz, both of which are based in Maine. (You may have seen Mitch walking around Chicago last week sporting his fabled shorts-with-Bean Boots look, and we have so much Sara Fitz in our home! Her Nantucket basket prints in Emma's room are my favorite.)
The 100-percent cotton percale lobster sheets feature a 220 thread count, and I love climbing into them at the end of the day. They remind me of so many happy times back on the East Coast, too.
Have a great Tuesday, Friends!
Shop the post:
L.L.Bean x Sara Fitz Lobster Sheets (Here are the buoy ones!) / Wicked Good Chukka Slippers / Older Kids' Sweater Fleece (Women's version here.) / Retro L.L.Bean Mug / Hooked Whale Pillow / Blue Light Glasses / Bench / Cane Bed / Floral "Fairfax" Wallpaper / Large Basket / Pom Pillow / Cane Bed / Nightstands (Also available here and here.) / Chandelier / Jute Rug / Duvet Cover and Shams