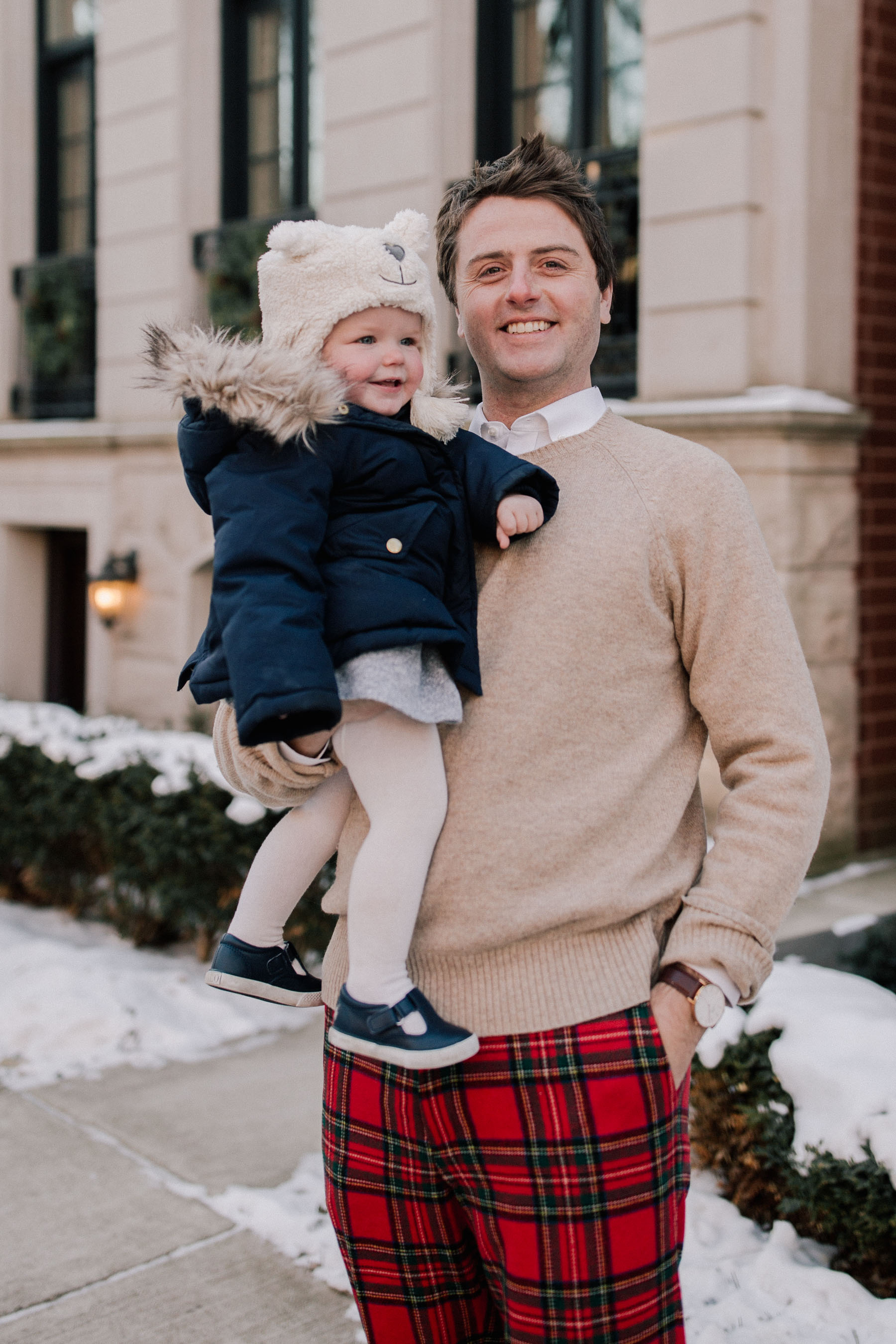 Vineyard Vines Tartan Breaker Pants c/o / Tuckernuck Royal Stewart Fancy Harbor Pants c/o / Bass Logan Penny Loafer / Vineyard Vines Classic Murray Shirt / J. Crew Alpaca Crewneck Sweater
Mitch here!
It's over. It's finished. This last month gave us quite the abundance of festivity: colors, excitement, warmth and fatigue. After a month of all that, I think we can all agree that it's time to move on! I speak–of course–about Kelly's #30daysofplaid challenge.
Many people our age run marathons, learn to cook, travel the world or even change careers when they're looking for some direction. My wife, instead, took pictures of plaid for 30 days in a row… and unlike every goal I've set for myself in my 30s, she actually pulled it off!
It's a plaid-plaid-plaid-plaid world out there, people. Stewarts, buffalos, black watches, tartans… I know all the names. I feel like a Scottish historian while walking through my living room. I'm a plaid scientist.
However, I did learn a few hard lessons:
Gingham is not a plaid. It's a pattern.
An outfit does not qualify for #30daysofplaid if one's plaid is worn exclusively as an undergarment.
When setting a plaid salad plate atop a plaid dinner plate aside a plaid napkin accompanying a plaid runner, one must decoratively alter the plaid orientation in order to achieve a stunning visual plaid maelstrom which, if done correctly, has the potential to distract from how bad one is at cooking.
"Breaking plaid" does have its consequences, though… and to be honest, I'm not sure how I feel in this moment. Technically, I'm the same Mitch I was 30 days ago, but my house is now filled with piles of plaid leggings, napkins, plates, leashes, socks, pants, sweaters, chargers, scarves, throws, jackets, pillows, ornaments, and duvet covers… and I feel somewhat lost now that it's all over.
Plaid has this unique quality of going with absolutely nothing, which is going to make the next 11 months of my life a struggle indeed. Steaming cocoa out of a plaid coffee mug? Sure, it's nice at this freezing moment, but summer lemonade in a plaid glass? Not so much. Keep an eye out for Lincoln Park's most festive "Three days of plaid Garage Sale" this June.
Anyway, shoutout to the plaid community who jumped on #30daysofplaid this season. If you search the hashtag, you'll still find a few plaid lads, dutifully posting their pix. If you comment on 'em, tell them Mitch sent you! As for me, I'm going to fold up these pants and place them in the deepest darkest tub I have. Until next Christmas, because I'd be lying if I said I didn't get incredibly excited when another plaid package arrived for me. (!)
Mitch. Out!
Shop the post:
Vineyard Vines Tartan Breaker Pants c/o / Tuckernuck Royal Stewart Fancy Harbor Pants c/o / Bass Logan Penny Loafer / Vineyard Vines Classic Murray Shirt / J. Crew Alpaca Crewneck Sweater