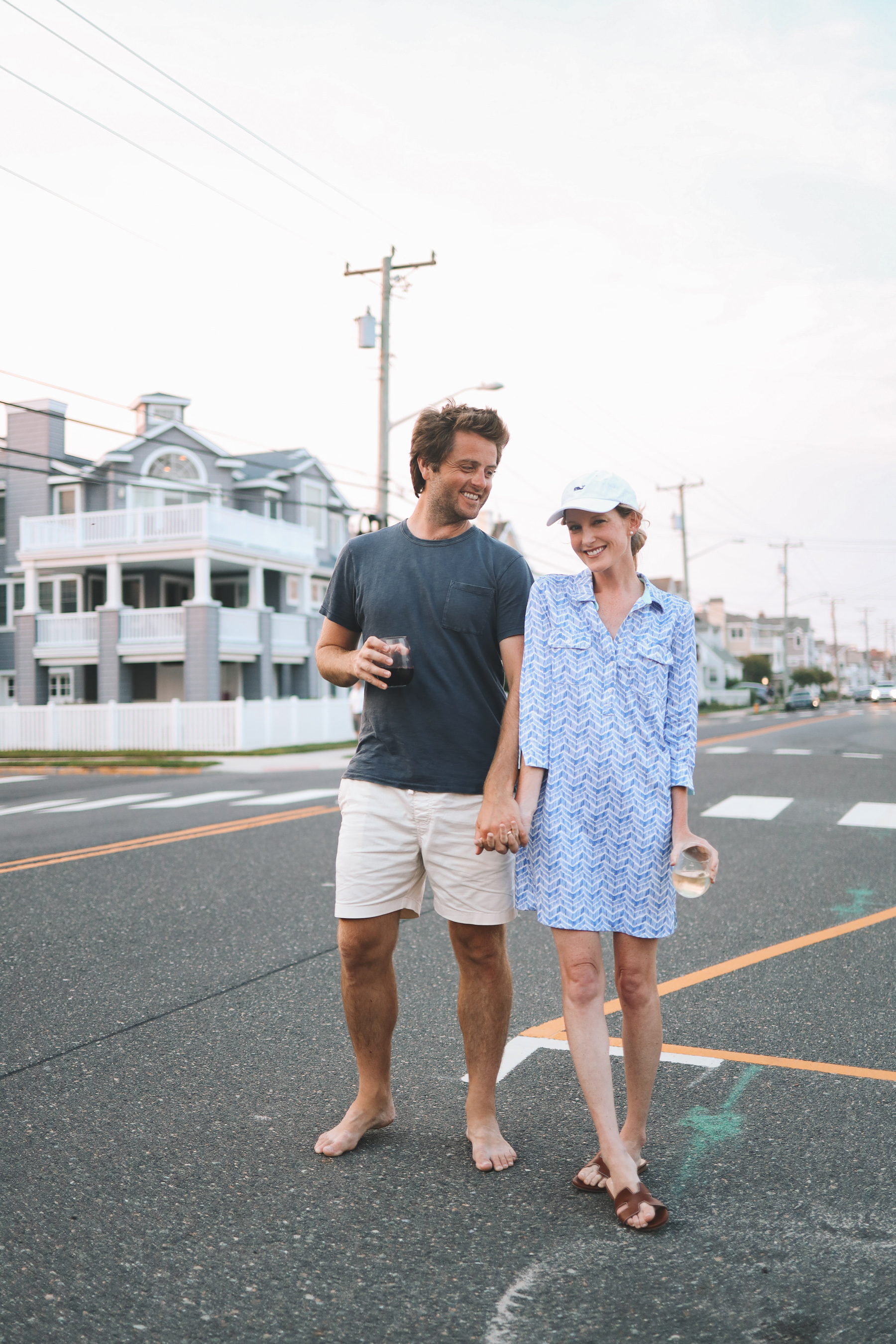 Vineyard Vines Dress and Hat / Sandals / Pocket Tee / Newer Shorts
OC throwback because I'm missing the Shore!
Mitch here!
Kelly is asleep on the couch, sick as a dog with a sinus infection, which means it's time for another "Verbal Vomit with Mitch" post, "Stream-of-Consciousness Edition"
I want a unique name for my 10 Things posts. I suggested "Mitch, Please!" but was rejected by my, um, my editor. Let me know if you have a better idea. Would love to hear it.
I bought a stationary bike on Craigslist. Buying pre-loved on Craigslist is a favorite pastime of mine. I love the chase. (And the savings.) In the exercise equipment department, I've scored a rowing machine, treadmill—and now a stationary bike!—for a total song… and I'm pretty proud.
I'm considering installing Trex composite boards on our deck. The maintenance that IPE wood requires has proven to be too time-demanding for us with two small children at home. So many of our neighbors have installed Trex over the last couple of years, and everyone glows about it. I love the idea of having a maintenance-free deck. Anyone here have it? What's your experience with it been like?
One area of my life that I've made significant improvements to is TV-watching. And before you get the wrong idea, my goal was to watch more TV than ever before. This season we've binged "Ted Lasso," "White Lotus," "Yellowstone" (just me), "Hacks," "This is Us," "Mare of Easttown," and "Woodstock '99" (just me). What are you guys watching? I need more shows!
Every space I'm in charge of in the house is a total disaster. My wife spent the pandemic purging and organizing every square inch of our home, with the exception of my office, my dresser, my closet, the garage and the car—which I claimed as my territory. And the tidiness of the rest of the house has really brought into focus how badly my territory needs help. Maybe tomorrow I'll get started. Or next week. Or next month.
Though this is progress: I threw out all our cords. Now, I'm one of those guys who has a closet full of zillions of wires in the rare chance that I need one for something. (Basically, I'm your dad.) So when I went looking for a USB cord the other day, I was sort of happy that I had an excuse to go into my wire closet. Specifically, I needed a USB-A to USB-C wire or adapter, and as I started sorting through the many piles of wires I've accumulated, I started to sweat. I couldn't find it anywhere. I pulled out wire after wire like a circus clown pulling scarves out of his sleeve. And ultimately, I gave up and bought the wire on eBay for $3. I then entirely gave up on the whole wire closet concept and threw away two full garbage bags of wires, gizmos, old electronics and lightbulbs. Don't cross me again, wire closet. I will end you.
I bought a Rasberry Pi as a hobby computer to play with in my free time. Raspberry Pi is a charitable computing foundation that designed a $35 computer which can be used for all sorts of stuff.  I know what you're thinking. Mitch, you have two children. You couldn't possibly have any free time. Also, every single one of your electronic hobby projects either sits in the closet or turns into a nightmare. Just let it be! Okay I know. But I've been starting projects to leave them unfinished my entire life! It's who I am and I'm too old to stop now.
As I guy who's watched hundreds of hours of "Little Baby Bum" this year, I found this interesting. (Though if you don't know what "Little Baby Bum" is, you likely don't have kids and won't find this interesting in the slightest. 😂) The world's fifth-most popular YouTube channel apparently started when Derek and Cannis Holder saw just how bad children's content was on YouTube. Their first video, "Wheels on the Bus," has more than 2.4 billion views and counting. Both Emma and Lucy adore "Little Baby Bum" and it's great to know more about its founding.
The paint on our house is peeling and I'm having a dilemma. If I need to have my house touched up every year or professionally painted every 10 years, it could make sense to bite the bullet and replace our wooden siding now before I waste a bunch of money on painting it. But replacing siding is a huge and expensive project and I'm not sure whether I'll like the hardie board or fiber or cement siding as much as the wood. Also, we're terrible at selecting colors. What if we hate it? Kelly votes touchup. Home ownership is fun!
Chicken fingers are magic. I'd like to end this week's "10 Things" post by discussing a little secret that nearly every parents knows but doesn't talk about. One of the all-time best perks of being a parent is having default chicken fingers on the table at restaurants. Restaurant chicken fingers are amazing, but a grown man can't order them for himself every time he goes out lest he look like a child. With kids in tow, though, they're always there. And the kids never eat them all, so I get the leftovers. This gives me the freedom to order whatever wild, whimsical meal I feel like trying without hesitation or fear that I won't love it. Because there are always chicken fingers on the table. Much like there's always money in the banana stand.
Mitch, OUT!