EMMA IS FIVE!
I'll start with the honest truth: This birthday has been an emotional one. I don't know; it just seems like five is when a toddler officially becomes a kid. And it's hard to wrap my mind around the fact that Emma will never be truly little again. Of course, life just keeps getting better with each and every stage. (It really does!) But how is my baby five? I definitely teared up a few times over the last few days! The sweetest thing is that I think Emma could sense it because she kept hugging me and telling me she loved me. 😭
But that's very in keeping with Emma and who she is. She cares so deeply for others, and "filling people's buckets," as she says. (This means doing kind things to make someone feel loved.) She's also spunky, hilarious, fun-loving, inquisitive and hard-working. We're just so proud of the person she's become. The past five years have been the best of our lives, and she makes us better people. We're very lucky parents!
Anyway, wanted to share a few photos from the festivities.
Happy birthday, Emma. We love you so much!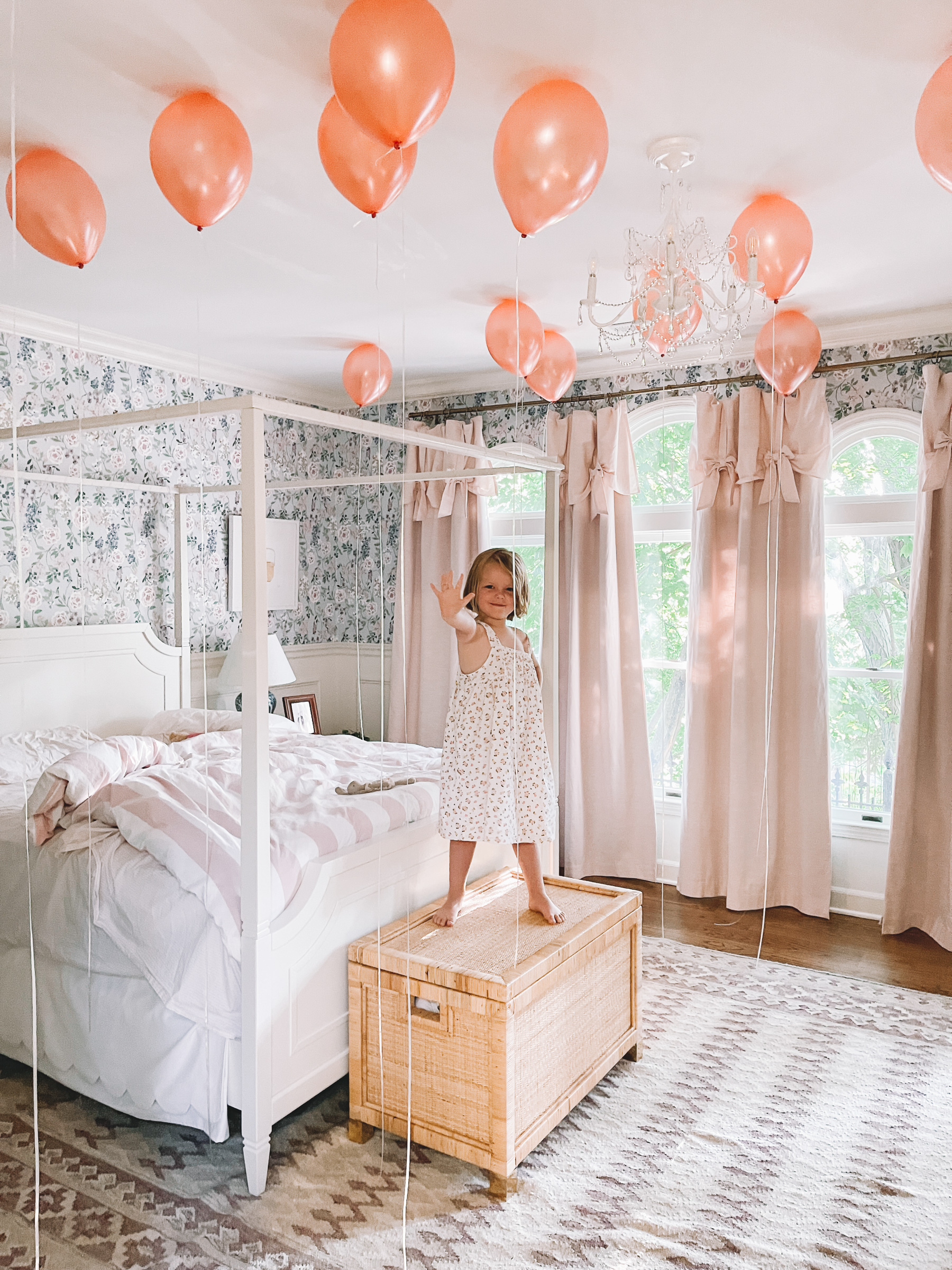 Petite Plume Nightgown (Women's version here.) / Chandelier / Bow Drapes in "Blush" / Blush Rug (Newer version. ) / Canopy Bed / Scalloped Bed Skirt / Floral Wallpaper / Sara Fitz Nantucket Basket Framed Print / Trunk / Duvet Cover (Newer version.) / White wall/trim paint color: Benjamin Moore "Ivory White" #925. (This is a creamy white, and works well for old homes. I do, however, think I love Benjamin Moore "Dove Wing" even more! That's what we used for our kitchen.)
The night before the big day, Mitch ran to Party City to get the balloons! This is a tradition started by my brother- and sister-in-law, John and Sarah, when their daughter Parker turned two or three, I believe. It was the cutest thing: Parker woke up in the morning surrounded by balloons, and she looked up and sweetly said, "Oh my goodness! Why did you did this?" We swore up and down that if we were one day blessed with kids that we'd do it for them on their birthdays, too.
Our girls adore it! They dance under the balloons and run around the house with them all morning. (Tip: If you want to do this, just make sure to get the protective coating on them that makes them last a full day!)
I should note that I did want to do something with the local company Luft Balloons for the big #5, but I came down with a bad sinus infection and I'm just impressed we were able to pull Party City off at the last minute. Next year, though, we're going to do Luft!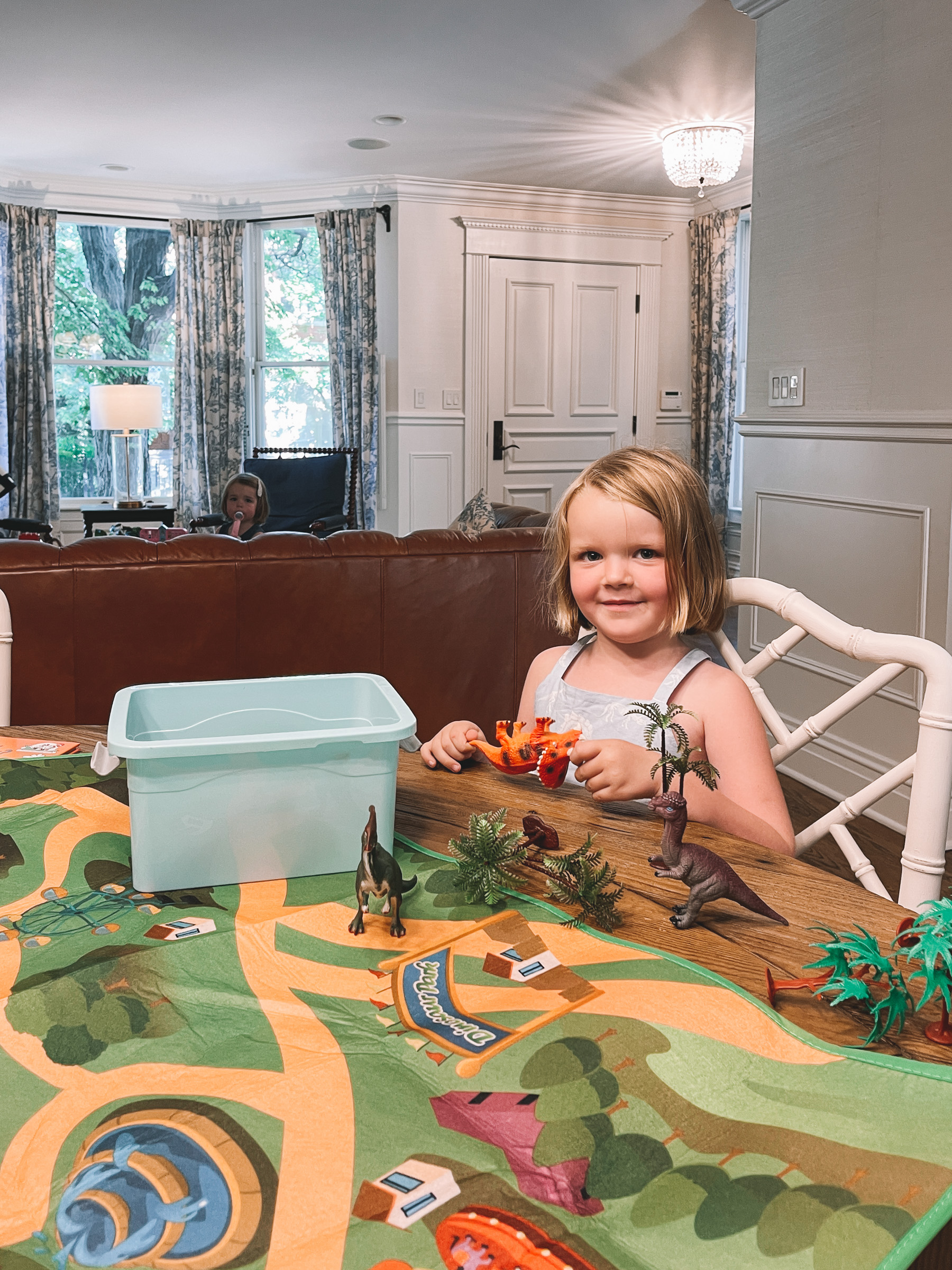 Etsy (Chick Lane) Dinosaur Dress / Chippendale Dining Chairs / Flushmount Light Fixture / Spool Chairs / Dining Table (Also via Target.) / Grasscloth Wallpaper in "Cream" / Toile Drapes in "The Miller, Blue" / Toile Pillows in "The Miller, Blue" / Leather Chesterfield Couch in "Steamboat Chestnut" / Glass Lamp / Side Table
The first thing we did in the morning was OPEN PRESENTS. I had it in my head that we'd wait until cake because that's what we always do (and what both Mitch and I did with our families growing up), but it was made clear very early on that there was no way Emma would be able to handle that. 😆 So whatever! Over my five years of parenthood, I've definitely learned that things like this just don't matter, and *going with the flow* with young children usually makes for a happier life. And as it turned out, opening the presents in the morning made the day so much more fun because the girls got to play with them for longer periods of time—and not just for a few minutes after dinner! So there you go. I guess our new tradition is to open gifts in the AM. :)
Emma's big gifts from us were a couple of Polly Pockets and some Playmobil dinosaurs, which she got so excited over… and Lucy gave her a REAL makeup kit. (Huge hit.) Aunt Michelle also sent her this awesome dinosaur activity mat which I can't recommend more! The girls played with it for hours. Funniest story about that: When I read the card to her, which ended with "love, Aunt Michelle and Uncle Chris, and all the Priors" Emma goes, "AUNT MICHELLE'S KIDS ARE PIRATES?! WHY?!"
DEAD. 💀
(We did, however, save Gamma and Pa's gift for cake! Scroll down to the bottom of the post to see that!)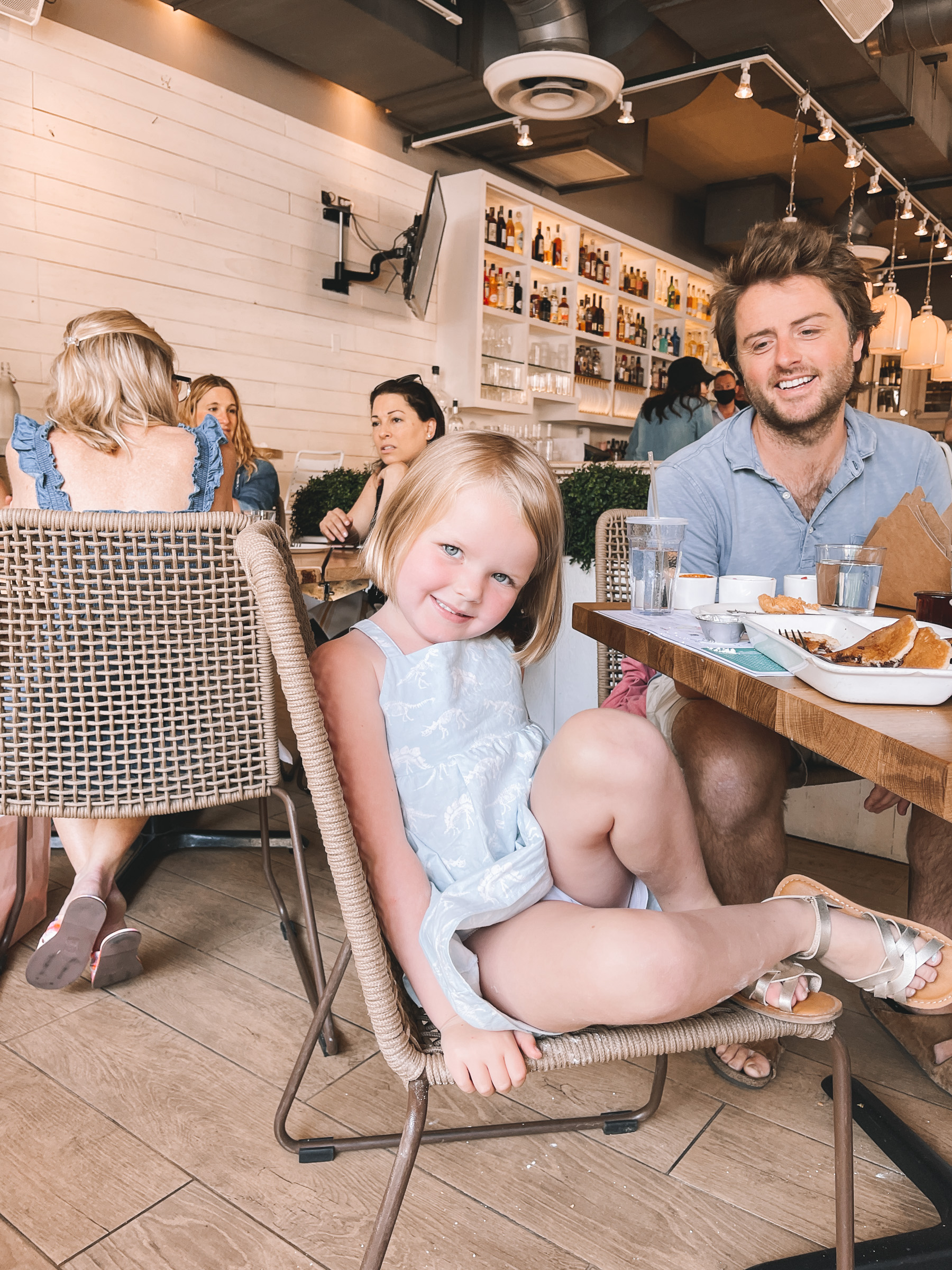 Etsy (Chick Lane) Dinosaur Dress / Amazon Sandals
After presents, we took Emma to Summer House, her favorite restaurant in Lincoln Park, for her favorite meal: "Pancakes for Dinner." (This was brunch, but that's what it's called on the menu, haha.) She was so happy. (Please note the powdered sugar underneath her.) We also met a bunch of adorable readers who wished her a happy birthday, so that made things extra special! (Thanks, guys. ♥️)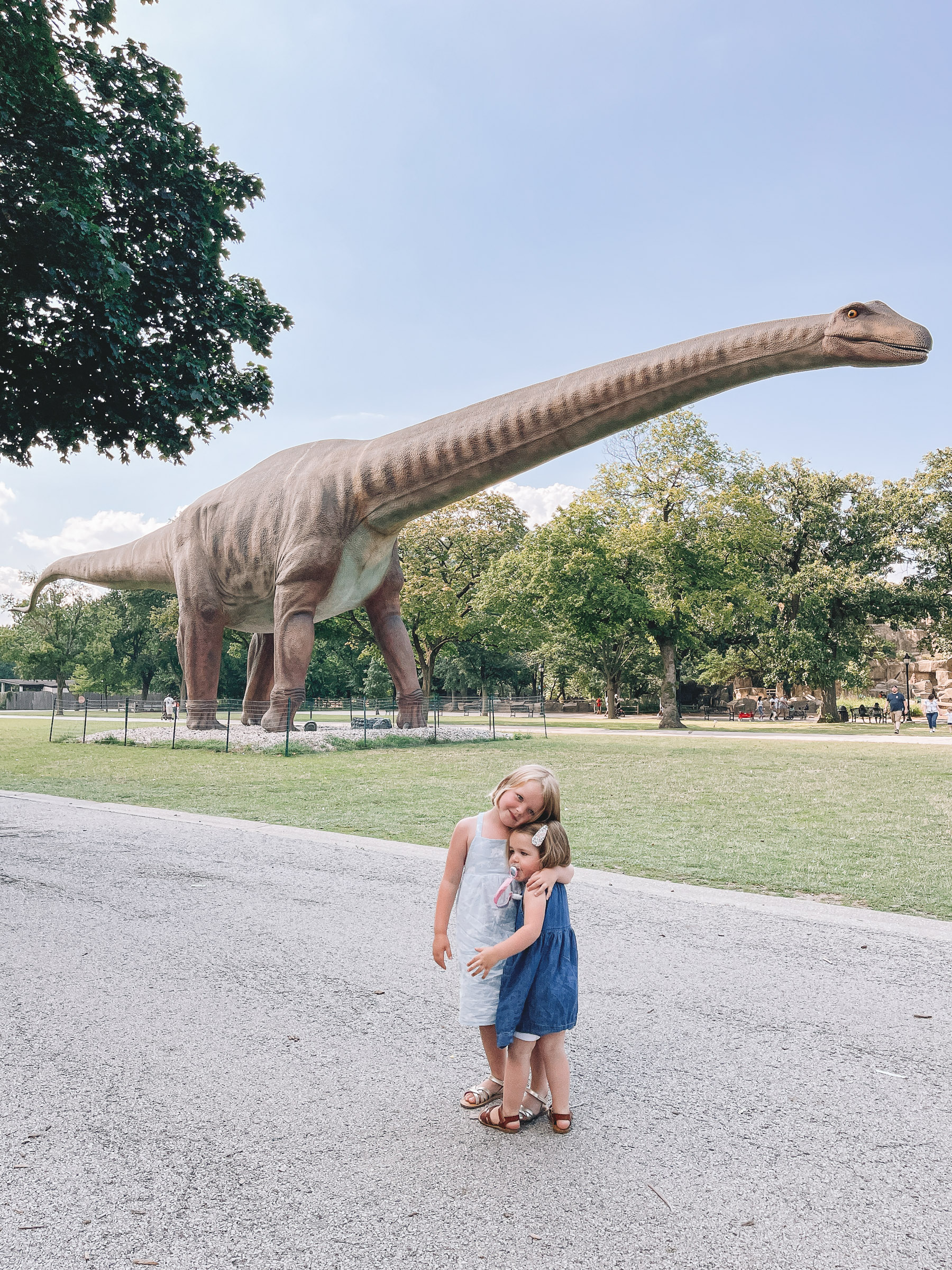 Etsy (Chick Lane) Dinosaur Dress /Amazon Sandals / Lucy's Denim Dress (Newer) / Lucy's Clip
And then we headed to the Brookfield Zoo for the "Dinos Everywhere" exhibit! Mitch and I had been seeing it on billboards for a while and thought it would be the perfect family activity for her birthday. She was thrilled! Definitely took a minute to warm up to the idea, as most of the dinosaurs are animatronic and thus move and roar. But after a little while, she was "tracking" the dino footprints all over the park and leading us from exhibit to exhibit. Above is Benita the Brachiosaurus, which was her favorite!
Clever girls.
(Couldn't help myself.)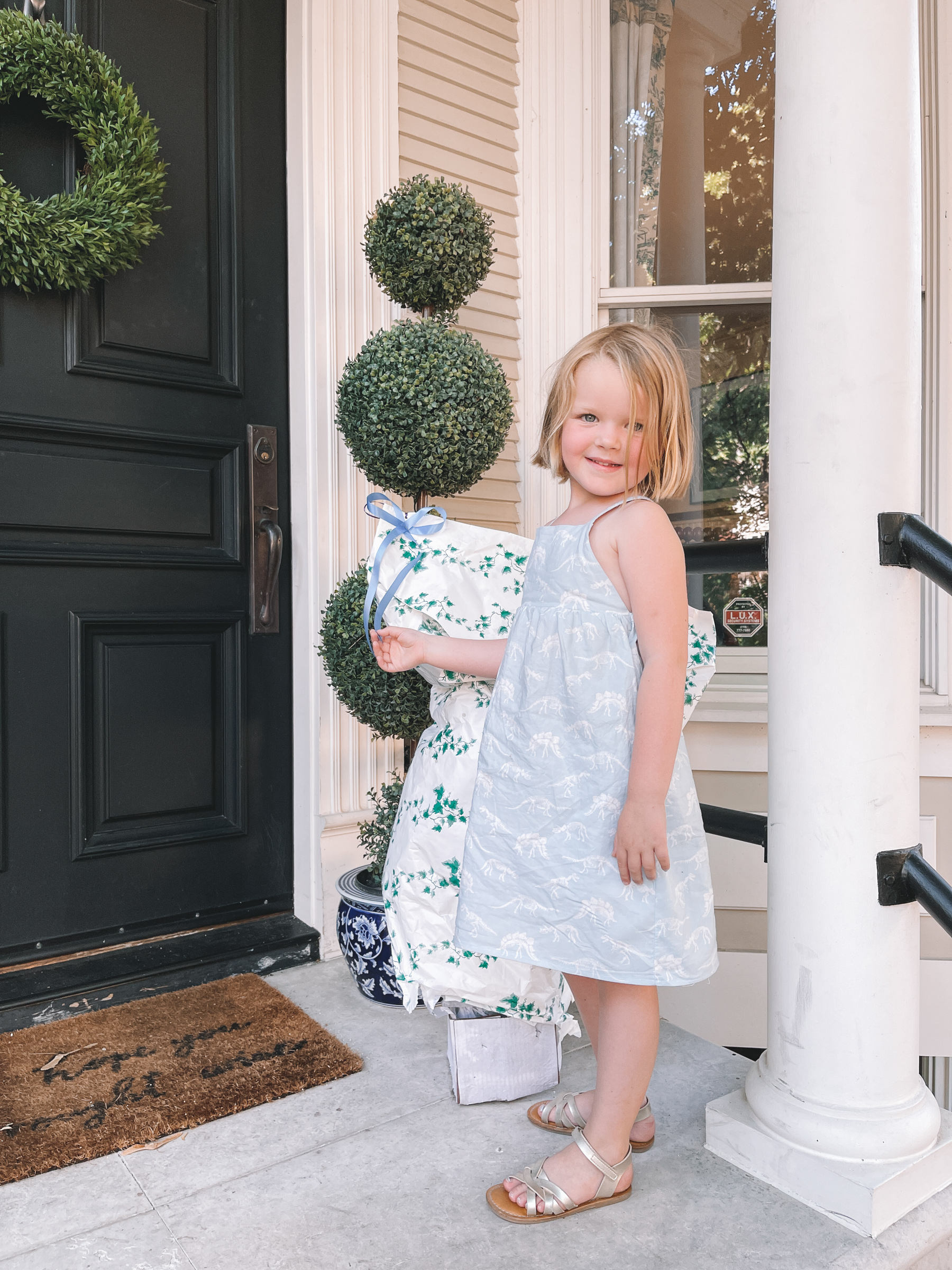 Etsy (Chick Lane) Dinosaur Dress / Amazon Sandals / Blue and White Planters / Topiaries / Boxwood Wreath / "Hope You Brought Wine" Door Mat
We got McDonald's on the way home (Emma's request), which was great since we had to sit in a little bit of traffic. The best, though, was when we arrived at the house. The prettiest flowers were waiting from our friend Ali of Rouzati Rugs, but Emma thought they were birthday flowers from her friends. She was jumping up and down with excitement, so THANK YOU, Ali! Haha!
(Also, if you're looking to install a stair runner in the Chicago area, please check out this post on ours which we did with Rouzati Rugs. They're known for their insane quality and affordability, and they hold your hand through the process and make things so easy. Mention "Kelly and in the City" and they'll give you a 15 percent discount, too!)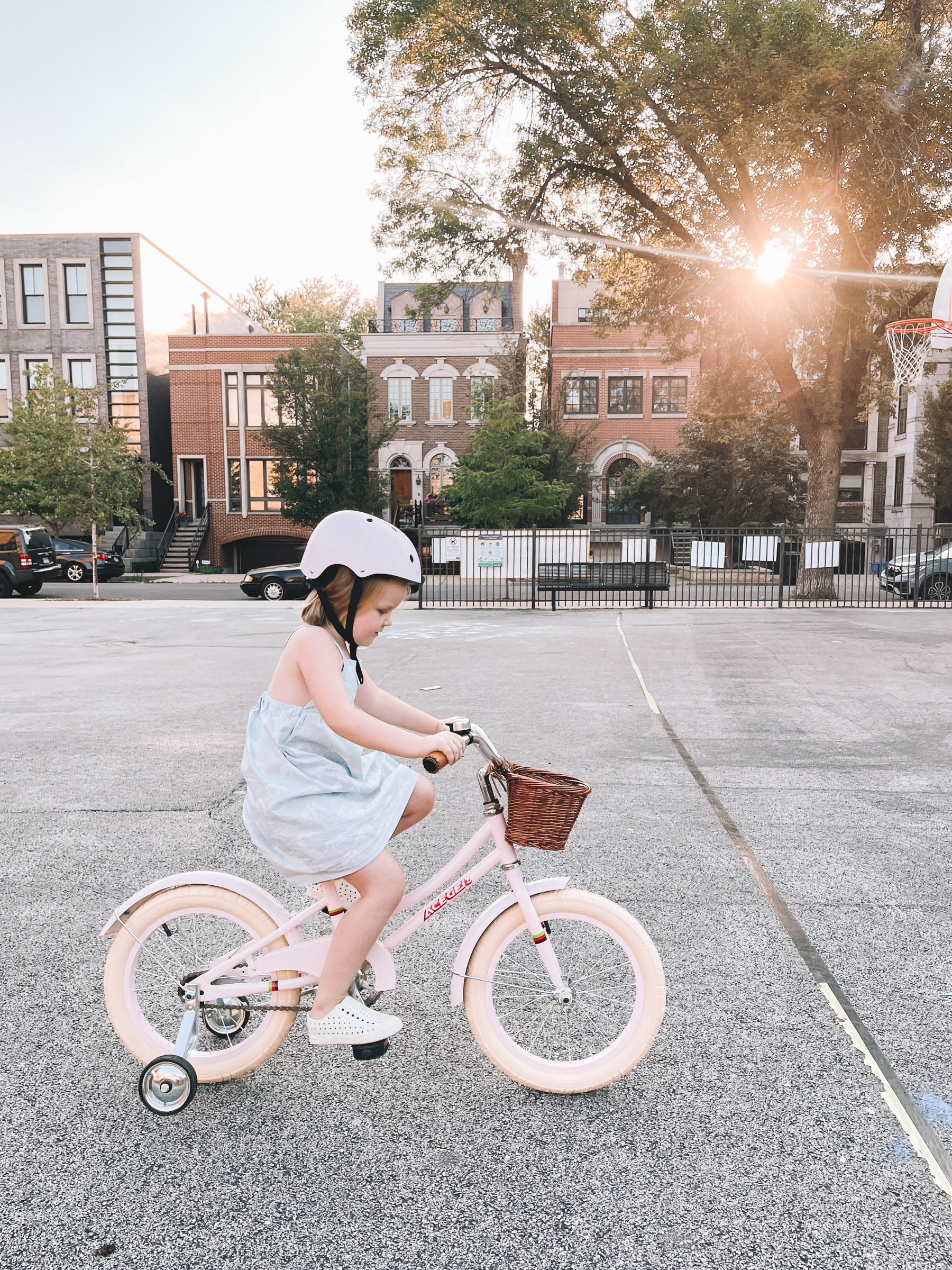 $139 Amazon Bike (Amazing find, right?!) / Helmet (Amazon version here) / Native Shoes / Etsy (Chick Lane) Dinosaur Dress
This was probably the best part of the day! After ice cream cake, Mitch brought up her new 16″ bicycle from Emma's grandparents. ($139 on Amazon. I was having a hard time justifying spending an arm and a leg on a children's bike, and new there had to be affordable options that were just as cute as the "designer" rides. Can you believe it?!)
Emma had physically outgrown her old 12″ Elsa bike, and it was time to pass it down to Lucy. Both girls were over the moon riding to the park and back, and I was amazed at how quickly Emma adapted to the new height! (Still need to adjust the seat and handlebars; this was just a quick ride before bed.) She can't wait until her besties on the block—Abby, Lucy M., John and Emily—get back from their family trips so they can start up their little biking club again.
Thank you so much, Mom and Dad!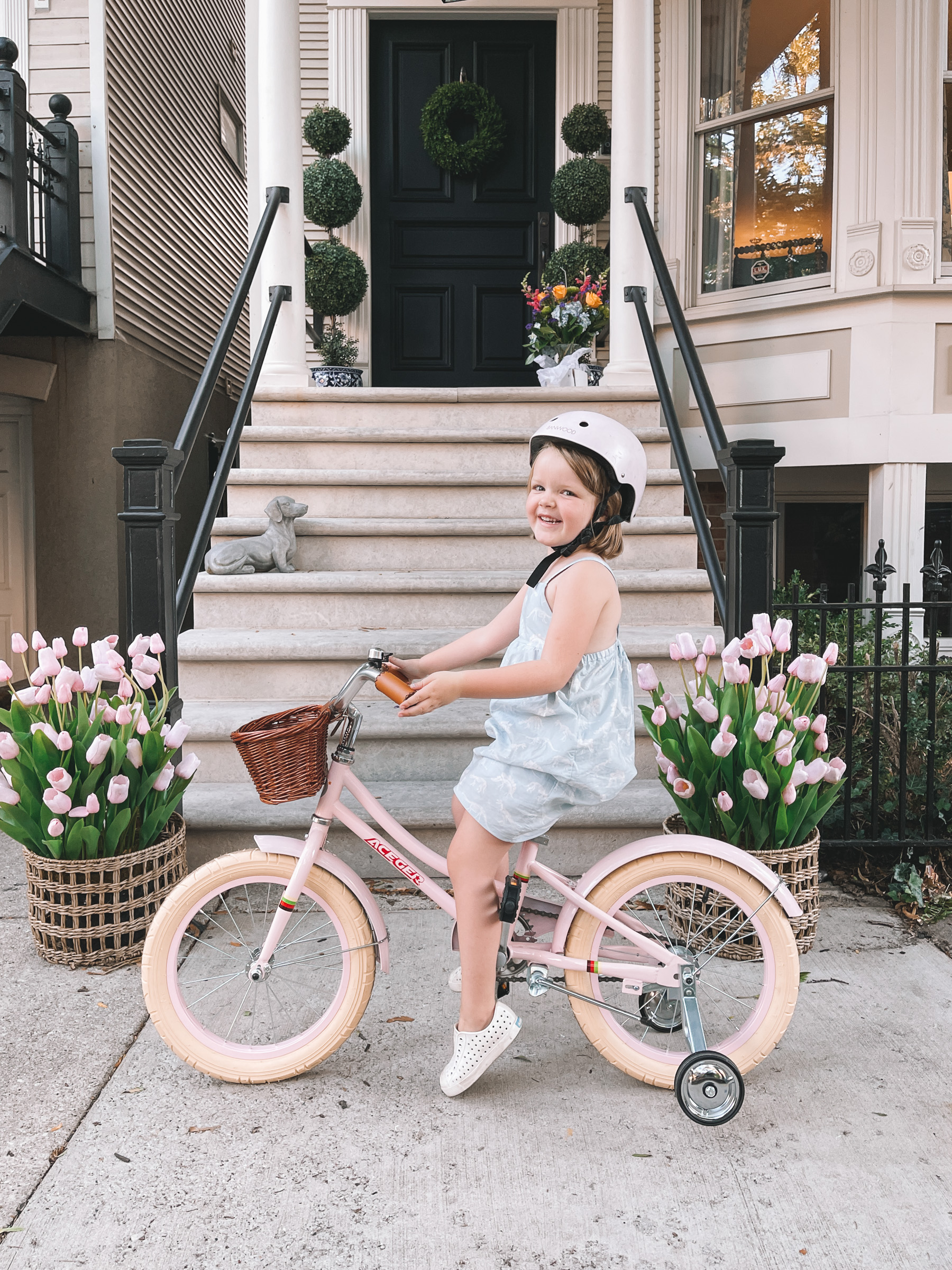 $139 Amazon Bike (Amazing find, right?!) / Helmet (Amazon version here) / Native Shoes / Etsy (Chick Lane) Dinosaur Dress / Tulips and Waterproof Baskets / Stone Dachshund / Blue and White Planters / Topiaries / Boxwood Wreath / "Hope You Brought Wine" Door Mat
New wheels pic for Gamma and Pa!
The best birthday.
We love you, Emma! THIS IS FIVE!