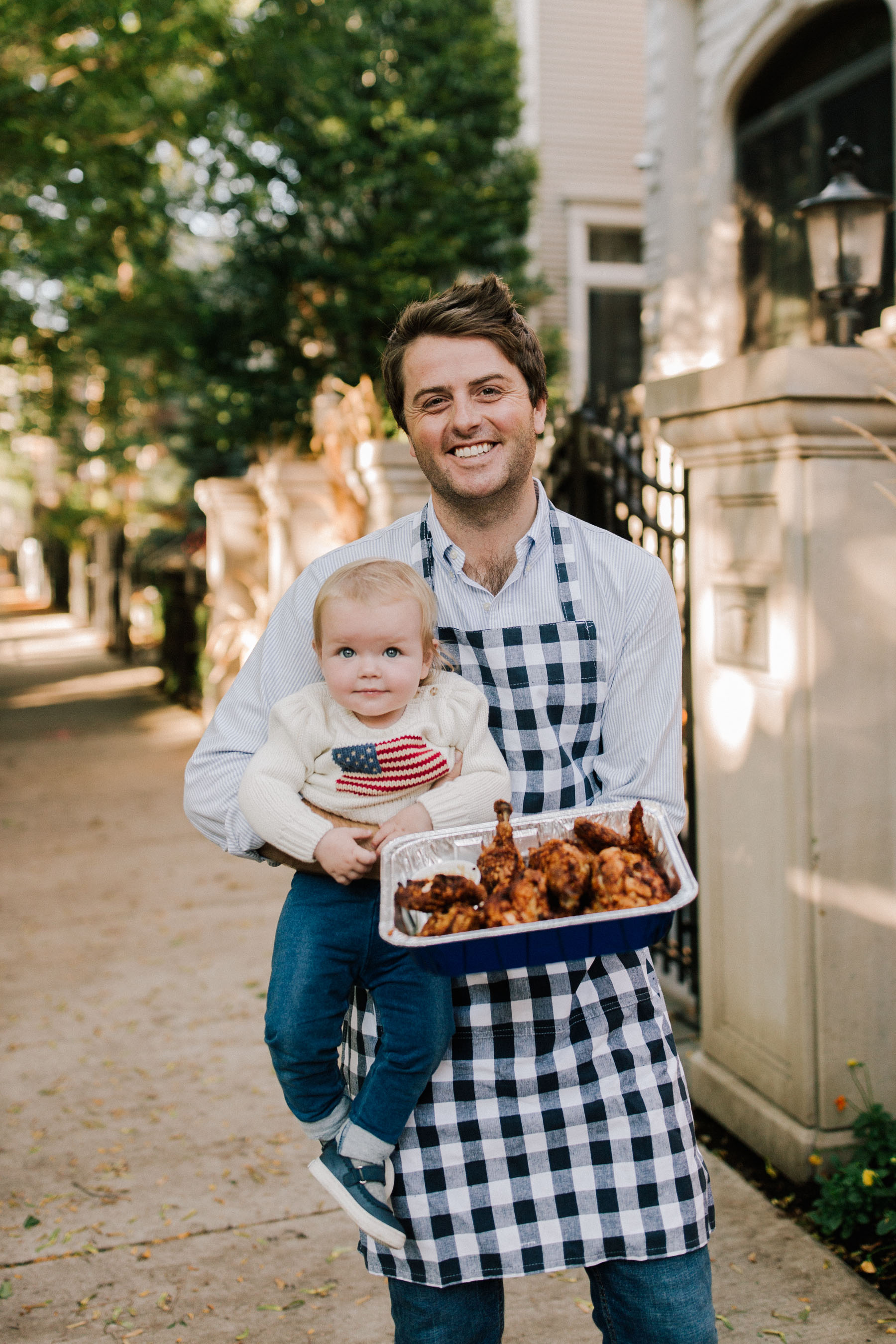 Mitch here!
Listen, I don't mess around. I, Mitch Larkin, have a cooking column on a blog, and today I'm sharing my favorite recipe of all time. This is the meal my mom makes for me on my birthday. If Kelly cooked, this is the recipe she would make for me… um… I can't finish this sentence because the concept of Kelly cooking me dinner is too bizarre to imagine. 😝
Today's recipe isn't going to get you far in our generation's muscle-toned, waistline-conscious, kale-smoothie-loving, stationary-bike/dance-class-obsessed culture. You can wear your fitness tracker in the kitchen if you must, but I'm not sure whether the heart rate monitor works when covered in salty grease. This is a "cheat day" recipe, full of deep fat-fried birds and carbohydrates. And a side of sugared fat dip. This is the kind of recipe you should probably cook outside. It'll also be the best thing you eat all month.
So there's that.
As the son of a corn farmer and the brother of a chicken farmer, I feel uniquely qualified to put this recipe post together for you. Granted, I live in Chicago, and I'm terrified of my brother's chickens. The plants both inside my house and in my "garden" are all dead due to gross negligence, too. But still. I come from a farming background!
Luckily, I have Peapod. To prepare for today's meal I:
Realized I desperately wanted fried chicken.
Filled my Peapod cart with the ingredients needed to make fried chicken.
Selected the earliest possible delivery time. (The next morning. Amazing!)
Rejoiced when I realized that Peapod would simply leave everything on my doorstep in coolers and not even knock on my door. (Any time someone knocks on the door, Noodle freaks out and wakes Emma up.)
Cheered when I realized I wouldn't have to return the coolers anywhere. (They'd simply come and get them was I was done with 'em.)
Went back to daydreaming about fried chicken.
I also bribed Kelly with a bottle of wine from Peapod so she would take care of me after I ate a whole fried chicken smothered in honey butter.
It's best to plan these things in advance.
Peapod has legitimately changed my life, and if you're a fan of "Cookin' with Mitch," I hope this message has come across: Save the trip to the grocery store and access Peapod's unrivaled selection of honestly priced, high quality groceries. It is a win-win-win-win, especially if you're short on time like I am.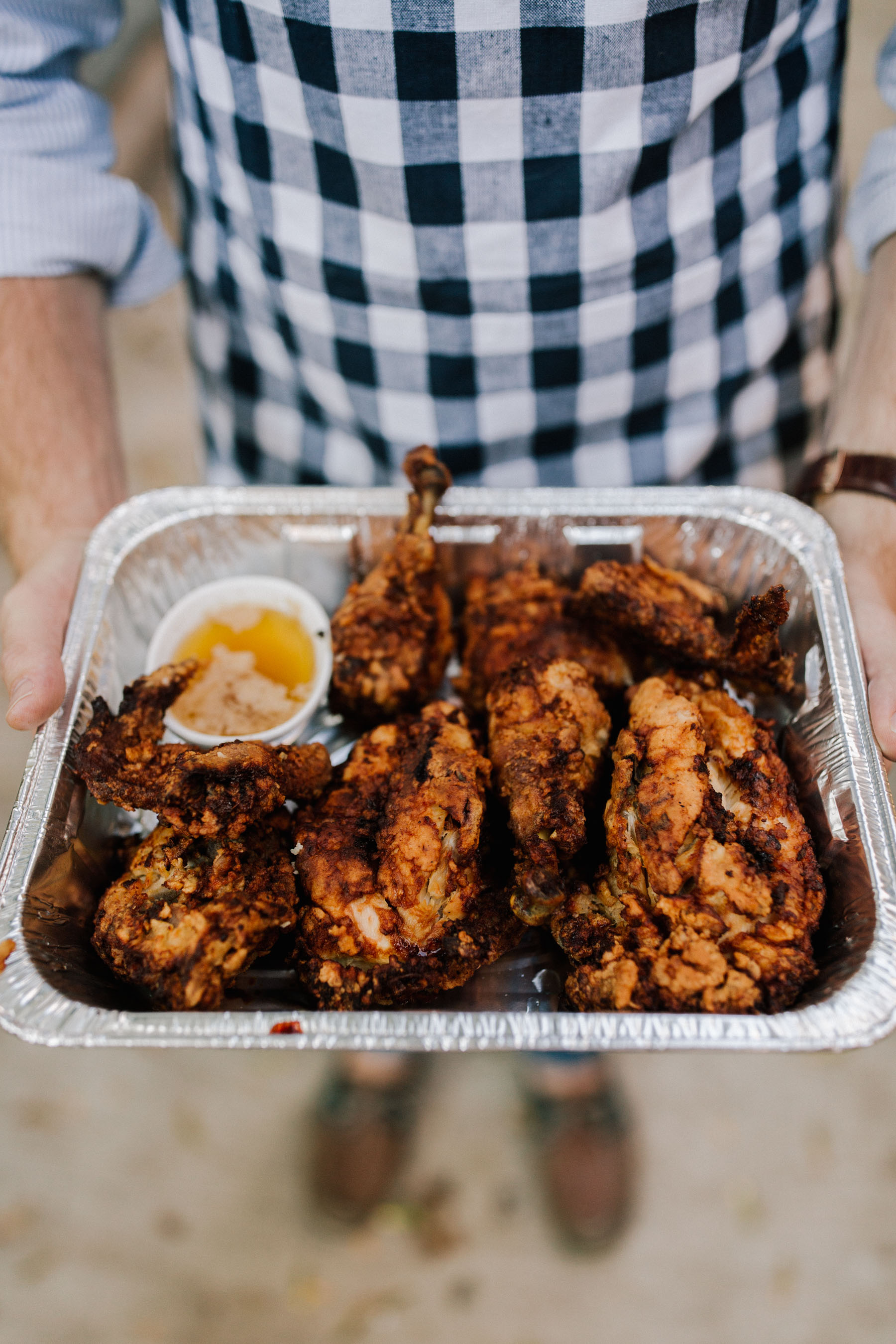 Honey Butter Fried Chicken
This recipe is simple, but I wouldn't describe the process as easy. You'll need to plan far enough ahead to soak the chicken in buttermilk overnight, and you'll need to prepare your body for deep fat splatter. (Smock, gloves and welding mask are highly recommended.)
I also highly recommend doing this outside so 1) You don't splatter oil all over the kitchen and end up eating fried chicken in the dog house, and 2) Your house doesn't stink like oil for a week.
I ran an extension cord to the back porch and used a Hamilton Beach ceramic electric skillet to get the job done. Exactly three neighbors asked what I was doing. It also started raining during the fry session.
Life Pro Tip: Pass the time while the chicken cooks by frying a bunch of stuff you have laying around the house. Don't let that extra "coating mix," the sizzling vat of oil, and the 45 minutes of disposable time you just reserved for yourself go to waste! I fried the chicken livers, a few mushrooms I had in the fridge, and a handful of battered peanut butter cups from Kelly's candy stash.
Honestly, the livers won!
I also used a Reynold's Wrap disposable roasting pan to transport everything from the back porch to the kitchen, and to keep it warm before dinnertime. This is essential when your fried chicken is going to have a full-on photo shoot before it hits the table.
This meal blew our collective minds. (Even Emma loved it!) I think it's positioned itself as a candidate for the Kelly Larkin Food Pyramid, and I've already ordered another whole chicken for round two. I feel like we may have opened up Pandora's Box now that I can fry stuff at home, as I've spent a good amount of time going through our cabinets devising experiments for our next deep fat frying voyage of discovery. But hey: we sure are having fun.
Mitch. Out!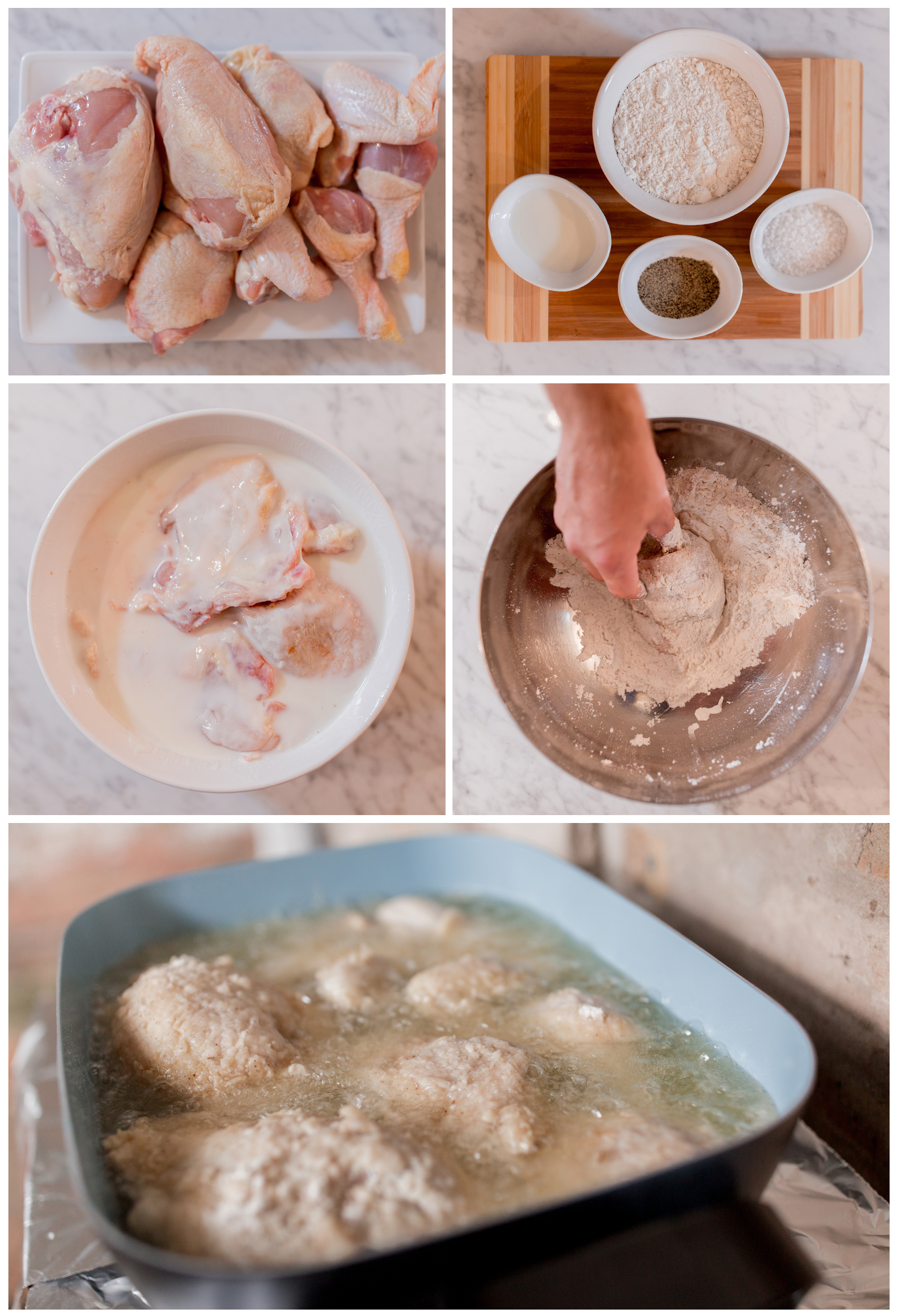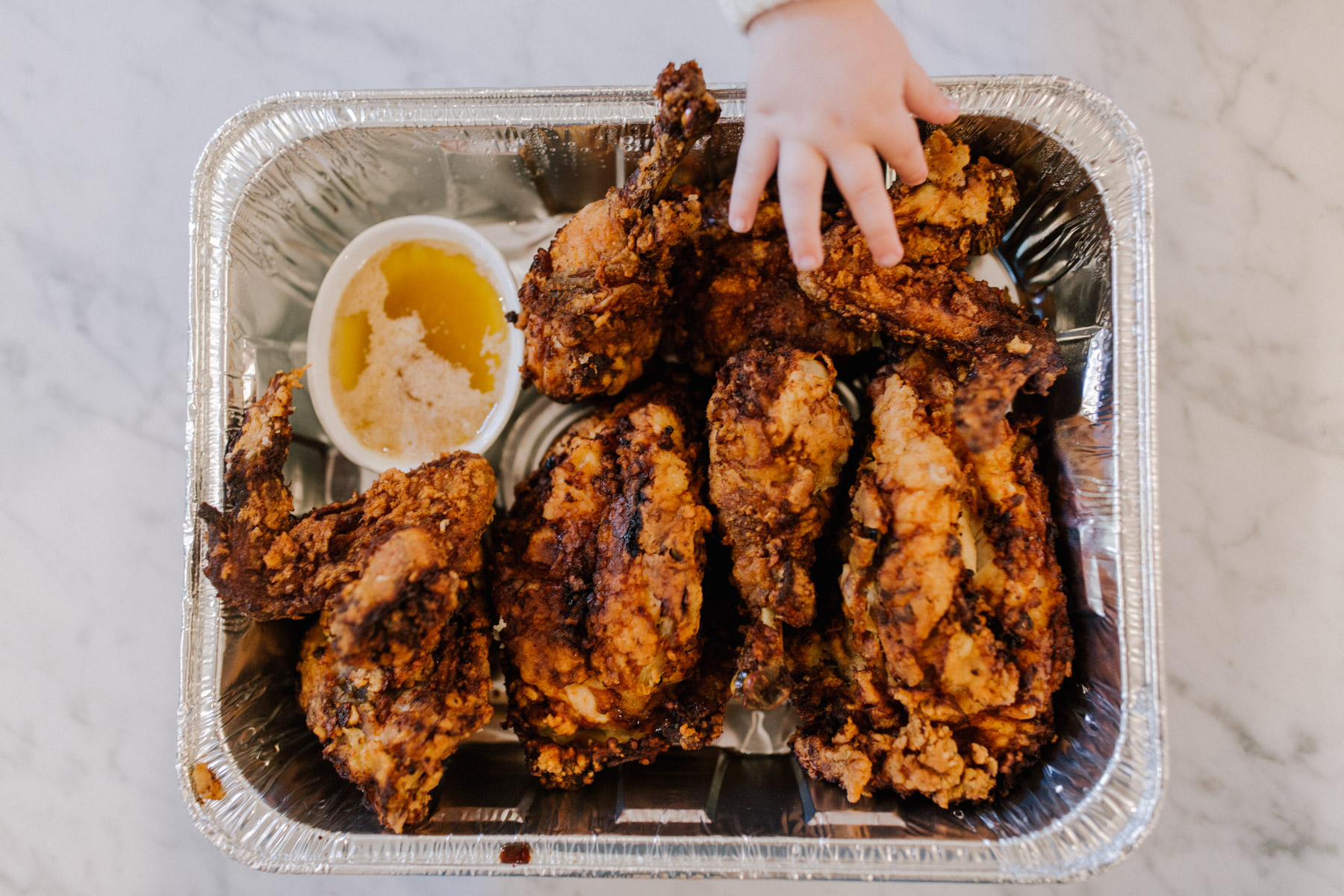 The Recipe: Old Fashioned Fried Chicken
Ingredients:
Whole cut-up chicken
32 oz buttermilk
1 cup flour
1 1/2 tsp salt
1/2 tsp pepper
Peanut oil
Directions:
Soak chicken pieces in buttermilk overnight.
Stir together coating mix (flour, salt, pepper) on a plate or in a wide bowl. Add a drizzle of additional buttermilk to coating mix to help bring it together.
Drain chicken and generously apply coating one piece at a time.
Heat 1/4 inch of peanut oil in Hamilton Beach Deep Dish Ceramic Skillet. I recommend frying outside.
Fry chicken until browned on all sides. Avoid overcrowding the skillet.
Cover and simmer for about 30 minutes until the juices run clear.
Uncover and cook additional for 5 minutes until chicken is crisp.
Remove and place in disposable roasting pan.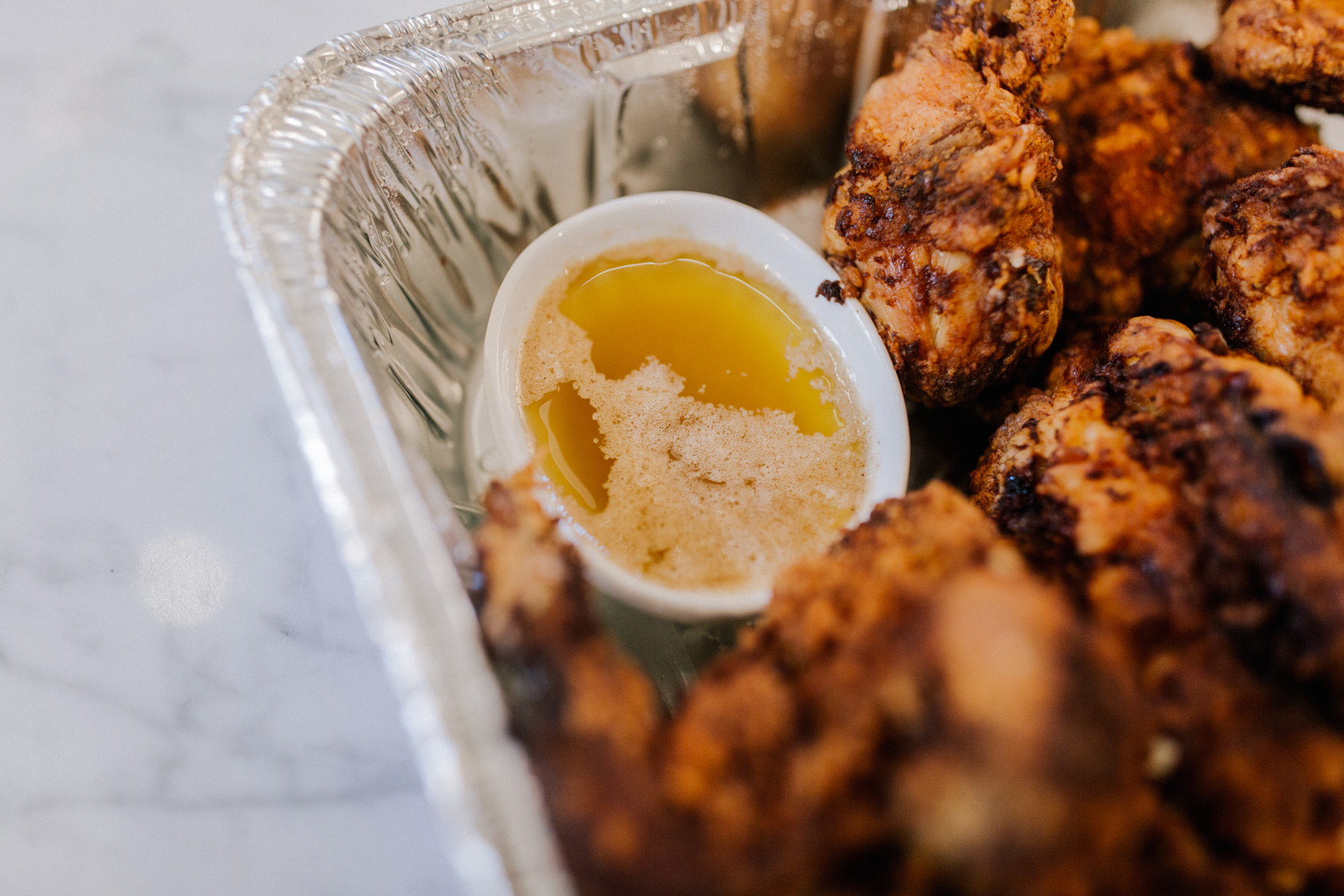 The Recipe: Homemade Honey Butter
Ingredients:
1 stick of butter (4 oz)
Salt, cinnamon, vanilla–or any other flavorful spices to taste
1/4 cup of honey
Directions:
Melt butter.
Whisk 1/4 cup of honey into butter until well mixed.
Optional: Add additional flavorings (salt, cinnamon, vanilla, etc.) to taste.
SaveSave