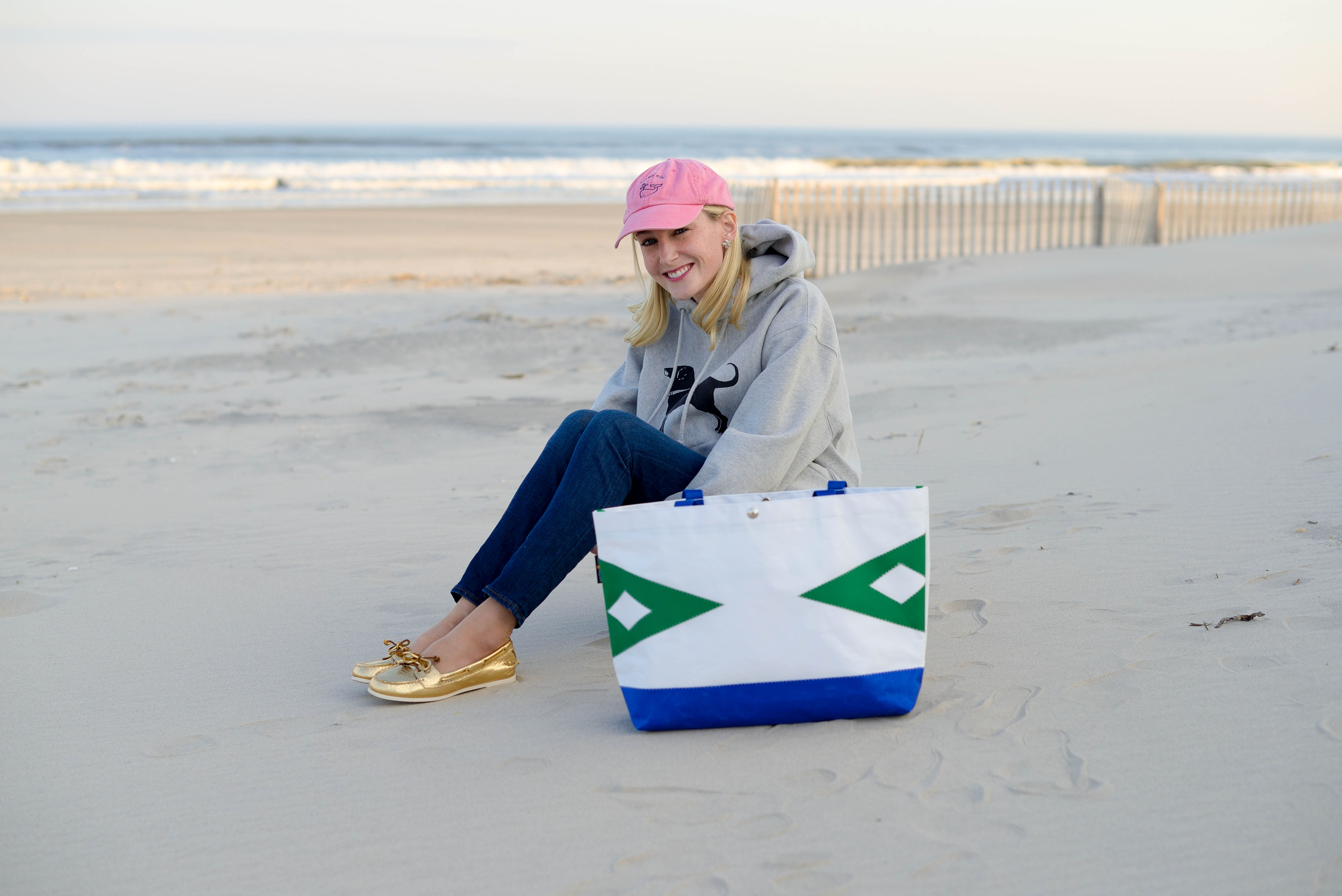 Beach bag: Hayden Reis (c/o) / Wristlet: Hayden Reis (c/o) / Sweatshirt: The Black Dog / Jeans: J.Crew (I clearly haven't taken these off in weeks, haha… They really don't stretch out! The "Toothpick" jean–which is stretchy and shows off some ankle–also comes in railroad stripe, dark resin, white, ecru, black, classic and silver.) / Shoes: Sperry / Hat: Ocean City, New Jersey Boardwalk ;) / Lipstick: Clinique / Earrings: J.Crew Factory (Sold out), but loving these Kate Spade starfish earrings!
A couple of weekends ago, Mitch and I headed to my parents' beach house in Ocean City, New Jersey for a little getaway. The weather was so nice that we actually spent some time on the beach! (Miracle!) We packed my new Hayden Reis beach bag with lunch, towels and some celebratory –err, ahum– "coffee," and sat in the sand for a couple of hours. It was absolutely lovely.
I'm sure you've heard this before from me, but I'm obsessed with the Jersey Shore. It's been a part of my life for as long as I can remember, and for me, it's a place that represents family, love and joy. I've been a bit down in the dumps recently (more on that later), so I'm making a concerted effort to get down to my happy place as much as humanly possible over the next few months. (Get prepared for a lot of beach photos! Perhaps we should change "Kelly in the City" to "Kelly on the Beach" or something? Heh.)
But back to my beach bag and wristlet by Hayden Reis. So cute and preppy, right?! Made out of Dacron Sailcloth, it's lightweight, water-resistant, lined with pockets, and folds flat for easy transportation. (Which is essential for beach totes, in my opinion.) My stuff–including my Kindle and iPhone–stayed completely dry when I allowed high tide to encroach on my little sitting area, too. (Oops. Haha.) Needless to say, this bag is coming everywhere with me this summer! Get yours today! (My favorites right now are the Palm Beach Lately and the One Fish, Two Fish. Adorbs.