Hi friends! Today, I'm back with another capsule wardrobe just in time for spring!!!
For those that are new to the whole idea of a capsule wardrobe, let me tell you why they're so popular. 
A capsule wardrobe is a collection of versatile clothing that can be mixed and matched to create many different outfits. 
Capsule wardrobes are popular among minimalists because they use less trendy, statement pieces and more classic, high-quality items. They can also help you save time, money, and effort. Plus, they're better for the environment! So many benefits!!
While working on my own capsule collection, I've discovered the added benefits of a seasonal capsule wardrobe. For one, they let you focus on the seasonal items you have, while also ensuring that you'll be appropriately dressed for the weather. 
Because it's made such a big difference for me, I want to dedicate this post to helping (and hopefully inspiring!) you to build your own capsule wardrobe for spring! Let's get into it!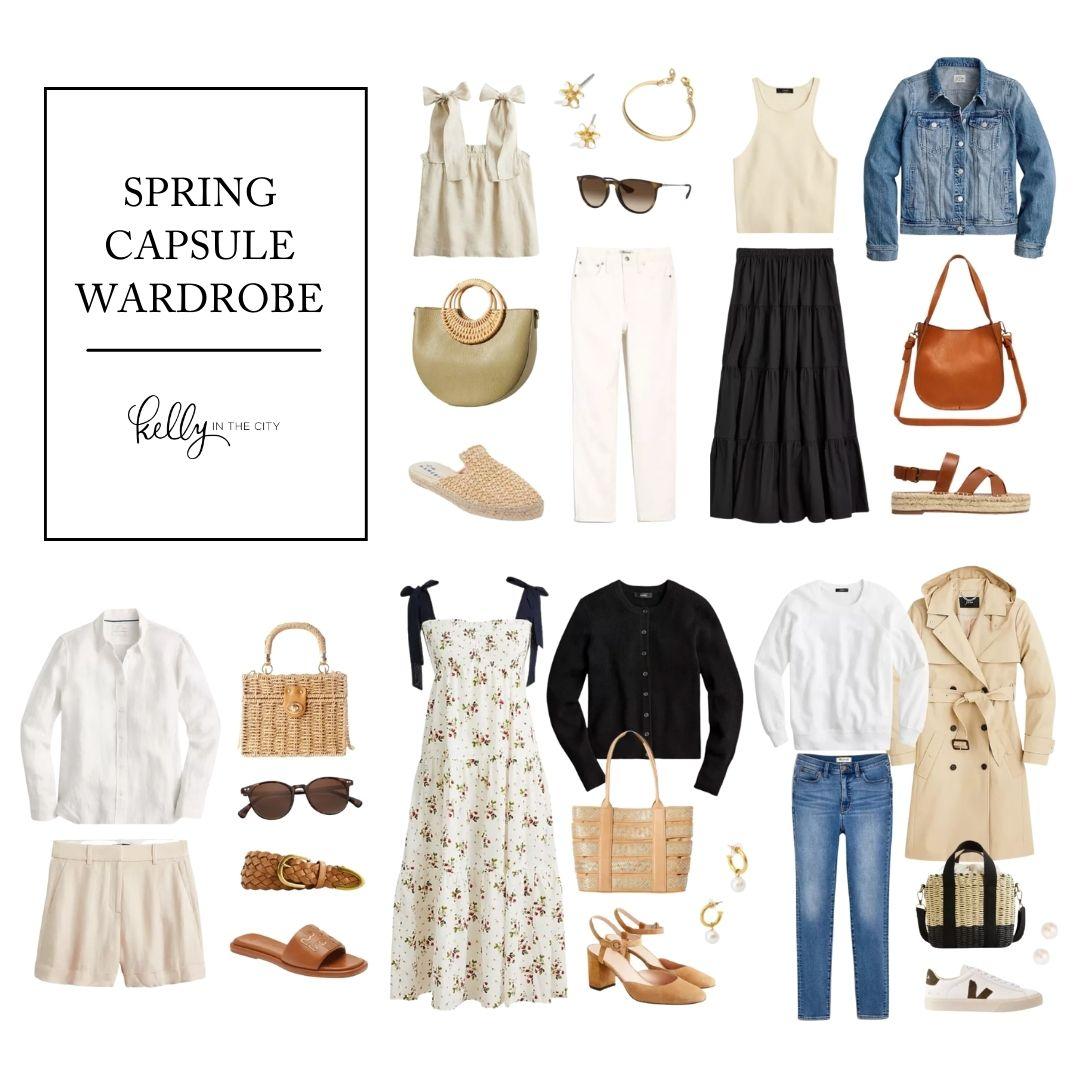 Spring Capsule Wardrobe
Casual Tee
A casual tee is a must-have for any capsule wardrobe, especially in the spring. The striped tee and the relaxed cashmere t-shirt from J.Crew are a couple of my favorite casual tees. 
A casual, classic tee is the ultimate capsule wardrobe item because it can be worn with anything. Style it with a mini skirt, a midi skirt, or jeans. You really can't go wrong by including at least one casual tee in your spring capsule wardrobe. 
Button-Up Top
A great button up top can go a long way in a capsule wardrobe. This outfit, with a crisp white button-up at its center, is one of my favorite casual, yet polished looks for spring. I also love the way a white button up looks underneath a tan sweater blazer or tucked into a pair of denim shorts. 
Jeans
Oh, how I adore a good pair of jeans – they're so easy to build an outfit around. At least one good pair of jeans is a must-have for any capsule wardrobe. 
For my spring capsule wardrobe, I included a classic pair as well as a white pair of white jeans. This look, featuring my favorite pair of light wash jeans and sneakers (sold out but similar HERE), is a fantastic, casual spring look. And this outfit styles white jeans with neutral colors for a simple yet sleek look. 
Spring Blouses
A spring blouse is a great way to incorporate your personal style into your capsule collection. So feel free to really mix things up with your blouses and pick a few for some extra versatility – just be sure the tops you choose match a few of your chosen jeans, midi skirts, and shorts. This square neck puff sleeve blouse (currently sold out, similar HERE) is one of my go-to pieces for spring. But, you can check out more fabulous blouses in my write up about my favorite Tuckernuck finds for spring.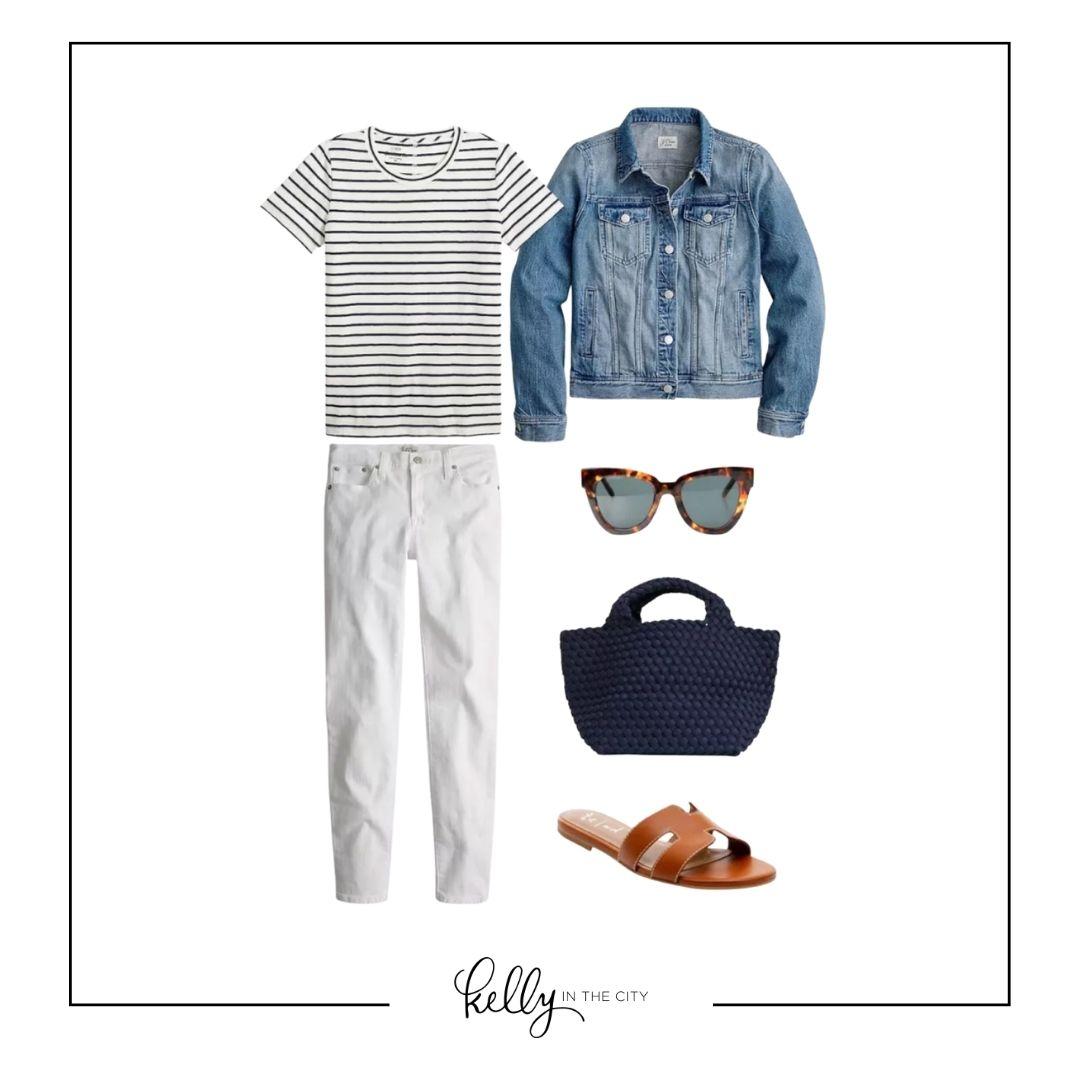 Tank Top
Tank tops are a capsule wardrobe essential, even during the colder months. You can wear a tank top on its own or as a layering piece, which is why I often include a few different ones in a capsule collection.
The J.Crew ribbed tank is my go-to tank top for any season, but especially spring. Grab one in white, and snag a few other colors as well. For a little outfit inspiration, check out this spring look featuring a simple tank top.
Shorts
I don't often wear shorts, but I like to include them in my spring capsule wardrobe to create more options for warmer days. Personally, I adore the silhouette of a pair of wide-leg shorts with a fitted top. A couple of my favorite pairs include these denim shorts and these chic linen shorts. 
Here's a gorgeous linen on linen look that is perfect for the end of spring.
Midi Skirts
I absolutely adore a good midi skirt. They're crazy comfortable, easy to style, and surprisingly versatile. Take a look at this outfit; it's a perfect example of how you can style a fun and flirty midi skirt with a classic white tee for an easy show-stopping look. You can also style a floral midi with a tank and denim jacket for a perfect date night look. Try this one or this one for the perfect spring look.
Spring Dress
It's no secret, I LOVE dresses. How can I possibly decide on just 2-3 dresses to include in my spring capsule wardrobe? I'll let you know… I'm still attempting to narrow it down. I have so many gorgeous spring dresses that I wish I could include them all. There are just so many beautiful outfits to create with a spring dress!
Denim Jacket
Chicago weather is unpredictable. A freezing cold morning can quickly become a blazing hot afternoon. You can imagine, then, why it can be hard to decide what to wear. A denim jacket, like this classic one from J.Crew, is the perfect solution. 
A denim jacket is such a fantastic, versatile piece of clothing. You can throw it on over a spring dress or style it with jeans and a tee.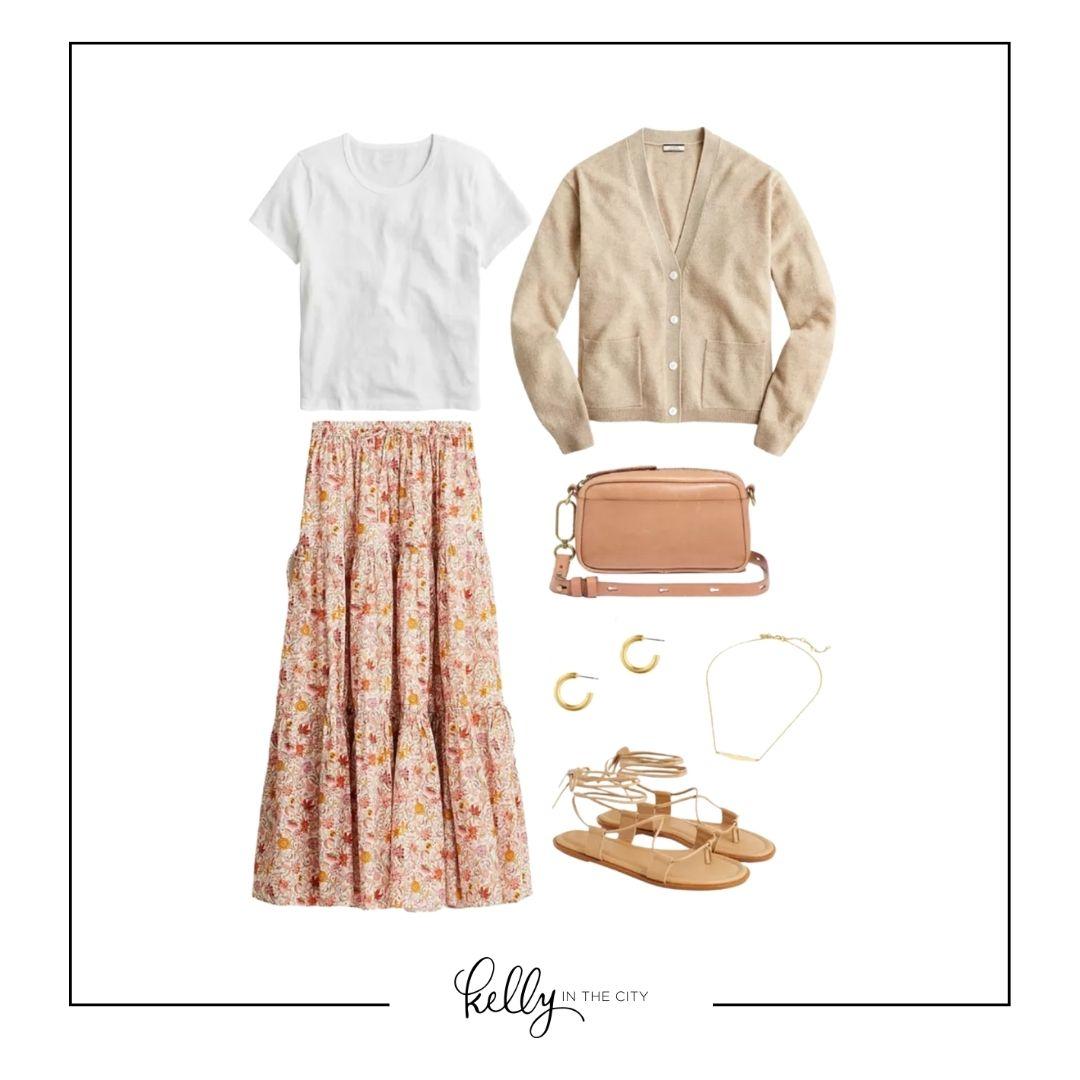 Trench Coat
A good trench coat is another one of my favorite spring jackets. The right trench coat, like this one from J.Crew, effortlessly brings together any outfit. Simply throw it on before you walk out the door for a classic, chic look.
A trench coat is the perfect addition to your spring capsule wardrobe. It's such a versatile piece that you can wear it with practically anything. Some of my favorite ways to style a trench coat include this casual look with light wash jeans and sneakers and this outfit with dark jeans and chelsea boots. 
Sneakers
I like to include several footwear options in my spring capsule wardrobe. Sneakers, like my go-to Veja sneakers, are perfect for spring. You can wear them with just about anything, regardless of the weather, for a classic, laid back vibe. How perfect is this spring dress outfit styled with white sneakers?
Flats
Among some of my other favorite shoes for spring are flats. You really can't go wrong with 1-2 pairs of good flats. The Demi ballet flats from Margaux are my current obsession.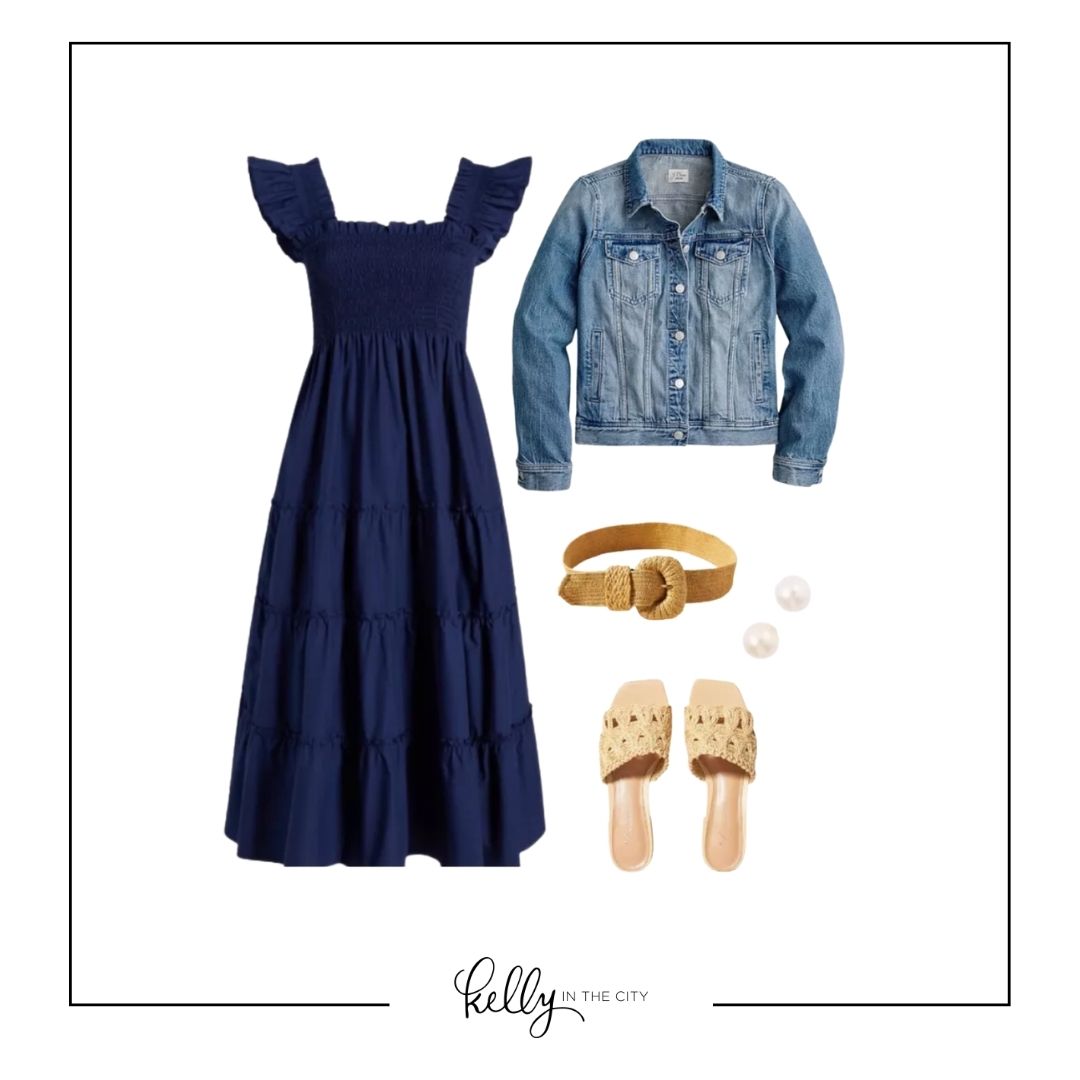 Sandals
I love when the weather finally warms enough to put on a pair of sandals. The hard part, at least for me, is deciding which sandals to include in your capsule wardrobe. Some of my favorite spring sandals are these slides from Tory Burch and the Lauren II Sandal from Jack Rogers.
I tend to go with brown or tan sandals because they go with practically anything. You can style them with jeans and pants, as well as dresses, skirts, and shorts. Loving this outfit featuring a simple black dress and white sandals!!!
Spring Bag
You probably know by now that I love accessorizing my outfits with a bag. It's hard to narrow down my favorite spring bag, which is a good problem to have! The Dragon Diffusion tote bags from Tuckernuck are a current obsession. You can't go wrong with a good woven bag. 
Here's a cute outfit idea featuring a gorgeous woven tote, for a cooler spring day. 
Straw Hat
A straw hat is such a fun accessory to include in your spring capsule wardrobe. The right straw hat really elevates your whole look and gives it a classy, easygoing vibe. Some of my favorite straw hats for spring are the Wide Bow Sunhat from Tuckernuck and the Panama Hat from J.Crew.
I love the beachy vibe of this outfit. The straw hat really pulls it all together!
What are some must-have pieces for your spring capsule wardrobe?
I'd love to hear about the items you are including in your spring capsule wardrobe. Are there certain pieces you can't live without? Or maybe you have one go-to item that somehow pulls everything together? Tell me about it!
For more outfit ideas, style inspiration, and links to my favorite pieces, head over to the blog.