My six-year-old daughter Emma recently informed me that she only wants to wear "black clothing from Zara." I have to admit that briefly, my heart broke a bit that she no longer wanted to wear smocked dresses, but after seeing what Emma picked out, I was influenced by my six-year-old daughter and bought Chelsea boots. Turns out Emma is really cool. And I want to be like her when I grow up. ;) So here is how to style Chelsea boots three ways.
With a Trench Coat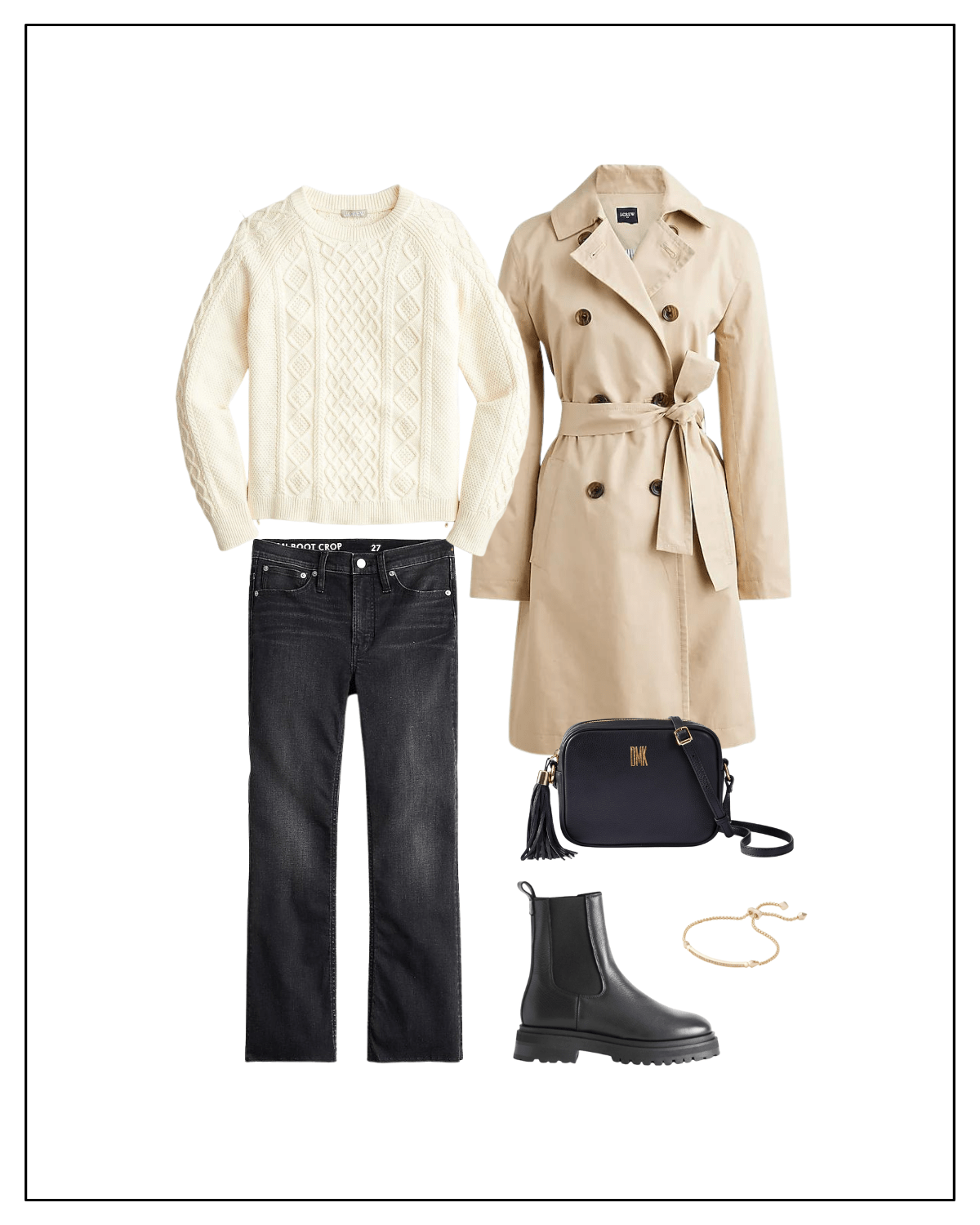 Cream Cable-Knit Sweater / Demi-Boot Crop Charcoal Jeans / Trench Coat / Black Leather Crossbody Bag / Gold Bracelet / Black Leather Chelsea Boots
A trench coat is already one of my favorite spring wardrobe staples, you can easily dress it up or down, and it's a great lightweight layer that looks wonderful with Chelsea boots. Style it with a warm base layer like this cable-knit sweater on cooler days, and wear it with a long sleeve tee on warmer days. I love the look of these demi-boot crop charcoal jeans with any style of lug-sole boots. Lastly, accessorize with a black leather crossbody and a gold bracelet.
With a Striped Sweater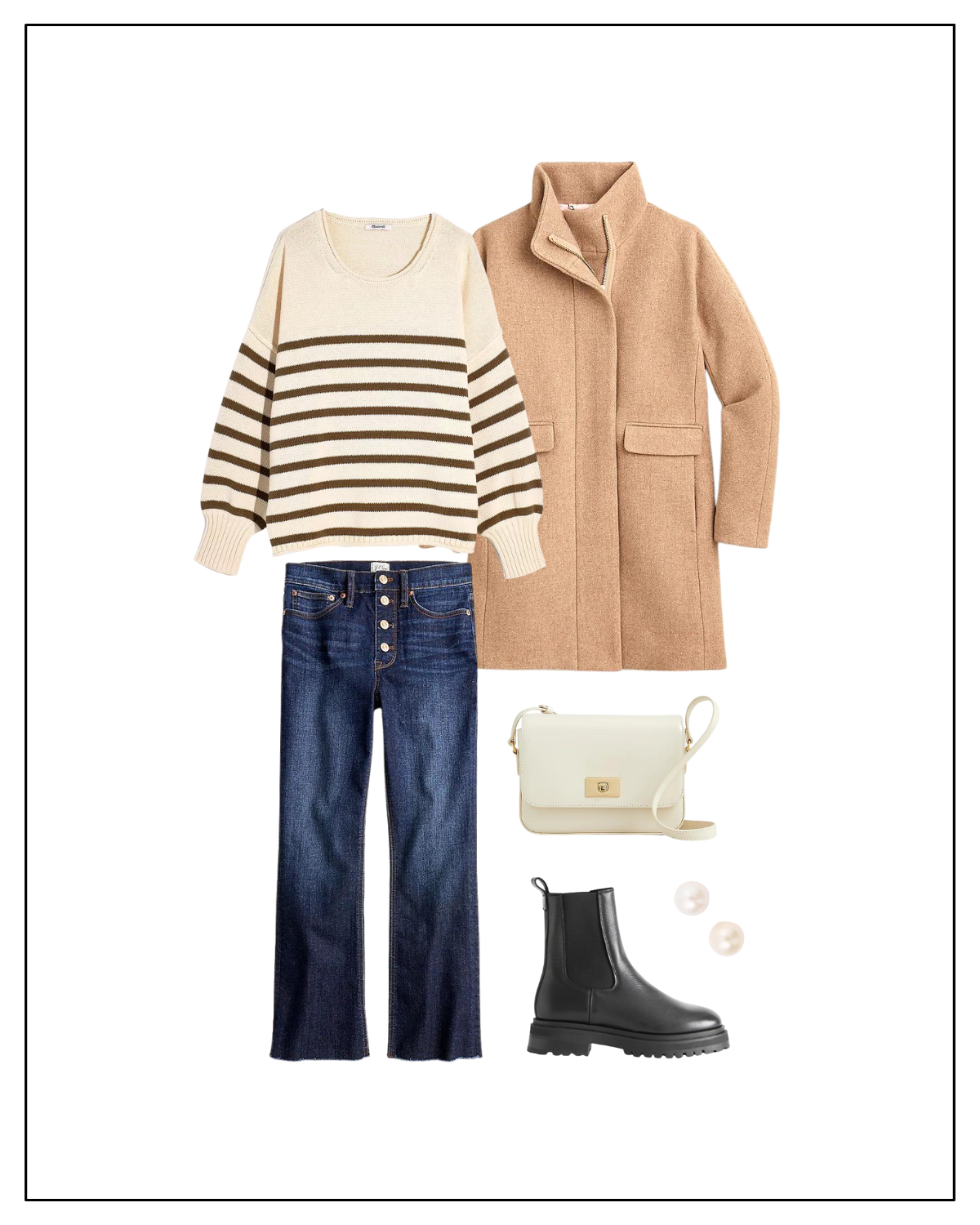 Pullover Stripe Sweater / Demi-Boot Crop Jeans / Camel Coat / Leather Crossbody Bag / Pearl Stud Earrings / Black Leather Chelsea Boots
One of my favorite weekend outfits is a striped sweater, demi-boot jeans, and Chelsea boots. I love that I can go from the park to lunch or dinner without having to change. This pullover is made of cotton, so it's not itchy at all. I also love the rolled crewneck, drop shoulders, and puffed sleeve details. And it comes in navy! Layer a camel cocoon coat and accessorize with a leather crossbody bag and pearl earrings.
With Demi-Boot Jeans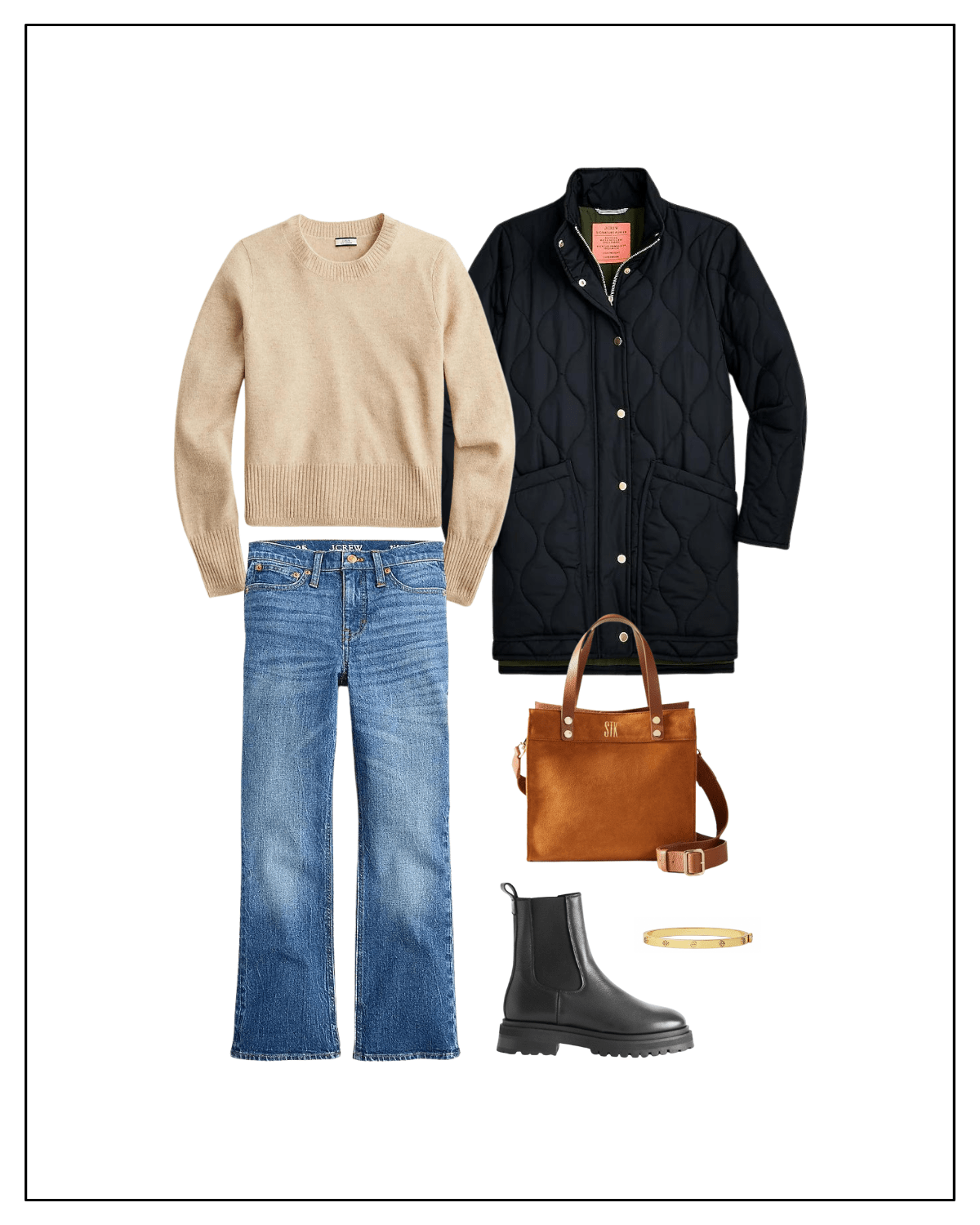 Beige Cashmere Sweater / Demi-Boot Jeans / Black Quilted Jacket / Leather Tote Bag / Gold Hinge Bracelet / Black Leather Chelsea Boots
I love styling demi-boot jeans with Chelsea boots. Demi-boot jeans are fitted throughout the waist and thigh depending on the size and style and then have a cropped, slightly flared lower leg. The key is CROPPED. Full-length Demi-boot jeans make me think of high school, but cropped jeans let a bit of ankle show or the ankle part of a cute bootie, like Chelsea boots. Style it with a beige cashmere sweater and a black quilted jacket. I get so much wear from this coat. It's lightweight yet somehow still packs a punch in terms of warmth. It runs big, so size down. Accessorize with a leather tote bag and a hinge bracelet.