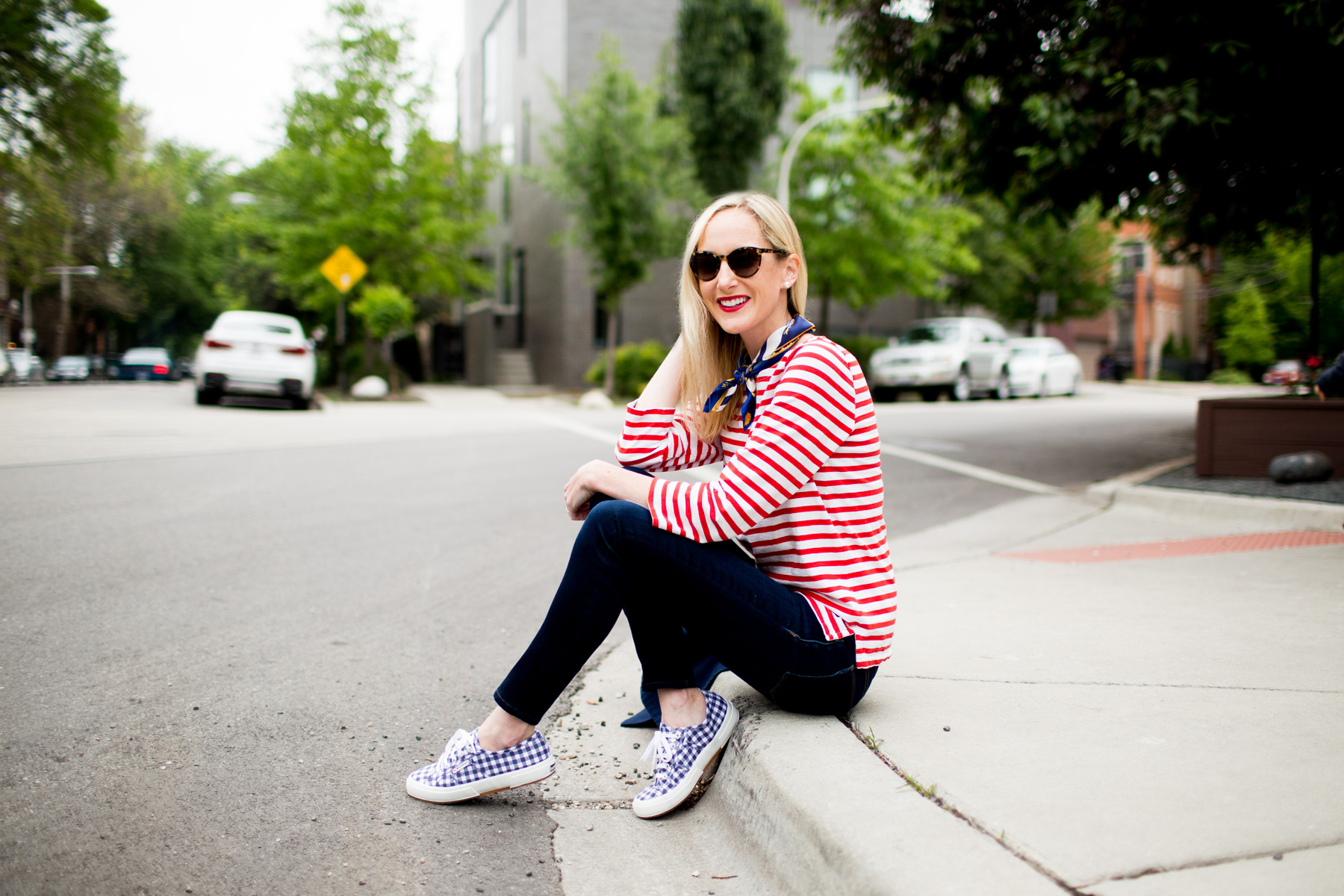 Gingham Sneakers c/o / Similar Jeans Jeans / Striped Top / Old Scarf / Tote
Happy Memorial Day! While the Larkin Family is currently on the Jersey Shore, I shot this look in Chicago last week and thought it would be the perfect look for the blog today. :) I hope you're sporting your red, white and blue today… and remembering those who gave their lives to protect us.
This blog has somehow existed for four years now! But regardless of whether you've been following from the beginning or have just recently tuned in, it's probably pretty obvious that my weakness, when it comes to fashion, is shoes. Heck, Mitch had to put up shoe shelves in our closet a couple of months ago, and we're talking about having additional shelves installed in the upstairs coat closet, haha. But listen: when you find a pair of navy gingham sneakers, there's simply nothing else you can do. You click "order" and welcome 'em to the family. ;)
In all seriousness, I'm in love. I ordered them from shoes.com, which has an amazing selection of Spring trends and styles… and the brands I always go for, like Sam Edelman, Sperry, Jack Rogers, Steve Madden, Sorel and Dolce Vita. Besides my sneaks, I'm really into mules, block heels and booties this season. As I've mentioned before, I'm crazy about these tasseled mules, these block heeled sandals, and these brown booties… and how cute are these in pink?!
I've found that shoes.com keeps popular styles in stock for way longer than other retailers, so if I'm trying to locate a hard-to-find style in my size–7.5's always sell out so quickly!–I go to there. I also love that shipping is free no matter what; there's absolutely no minimum. I should also mention that shoes.com was formerly shoebuy.com!
As far as the fit goes, I'm usually a 7.5 in shoes, but I sometimes wear a 7. I ordered both a 7 and a 7.5, and the 7.5s were a little roomy, but felt better around the toes so I went with them. I've worn the sneakers three days in a row now, and I'm positive I made the right decision. Also, a big shoutout to my mother-in-law for lacing them up for me while I had Emma on my hip. ;)
Happy Memorial Day, guys! Hope you have a great day with family and friends. Here's to the summer!
Shop the post:
Gingham Sneakers c/o / Similar Jeans Jeans / Striped Top / Old Scarf / Tote
This post was sponsored by shoes.com and ShopStyle, but all opinions are my own. As always, thank you so much for supporting the partnerships that keep Kelly in the City up and running!