You can't always wear your favorite jeans, but you can always wear a denim jacket. Denim jackets are such versatile pieces to have in your closet for spring and summer. They're the perfect piece to add to your wardrobe—they're durable and stylish, and they go with everything.
You can choose from a variety of different styles, including washed denim jackets and black jean jackets. You can also find classic denim jackets in almost every color under the sun! 
Whether you're wearing it over a button-down shirt or t-shirt, or even just by itself as a layering piece, a denim jacket is a must-have for every fashionista's closet. Here are some tips on how to style your denim jacket!
How to Style a Denim Jacket
The denim jacket is the perfect staple to have in your wardrobe. If you're looking for some outfit ideas, a denim jacket is the first place I'd look. With their simple design and neutral color, denim jackets can be worn in so many different ways. From a casual vibe to something more formal and everything in between, denim jackets are always appropriate.
If you're looking for an outfit idea that's perfect for springtime or summer (or even fall), try pairing a black denim jacket with a white tee and some white sneakers. The clean white color of the tee will make your outfit pop, while the sneakers add just enough edge to make it interesting without being too over-the-top.
What Goes with a Denim Jacket?
When it comes to denim jackets, the possibilities are endless. A classic denim jacket is great for layering, it can be worn with just about anything, and it's perfect for any season.
Whether you're looking for an outfit that's casual or dressy, I've got you covered. For something a little more casual, try pairing your denim jacket with a pair of skinny jeans and sneakers. You can also go for a more formal look by pairing your denim jacket with slacks, loafers, and a button-up shirt.
The only thing that matters is that you feel good!
But what exactly goes well in a denim jacket outfit? Here are some ideas:
A simple white tee
Black dresses and/or skirts
Button-down shirts and blue jeans
Light-wash jeans and sneakers
A mini dress and sneakers
Slacks of any color paired with loafers
Skinny jeans and heels
3 Ways to Style a Denim Jacket
Denim Jacket with a Skirt
I love the look of a blue denim jacket with a simple tank, sandals, and a midi skirt. For this look, I styled a denim jacket with a white high-neck racerback tank and this gorgeous flowy floral maxi skirt. I love the navy bow and tiered details on the skirt. It's such a lovely piece for spring and summer. Accessorize the outfit with a gold pendant necklace, a mini straw tote, and white sandals. I love this pair; they're so comfortable and they were only $20.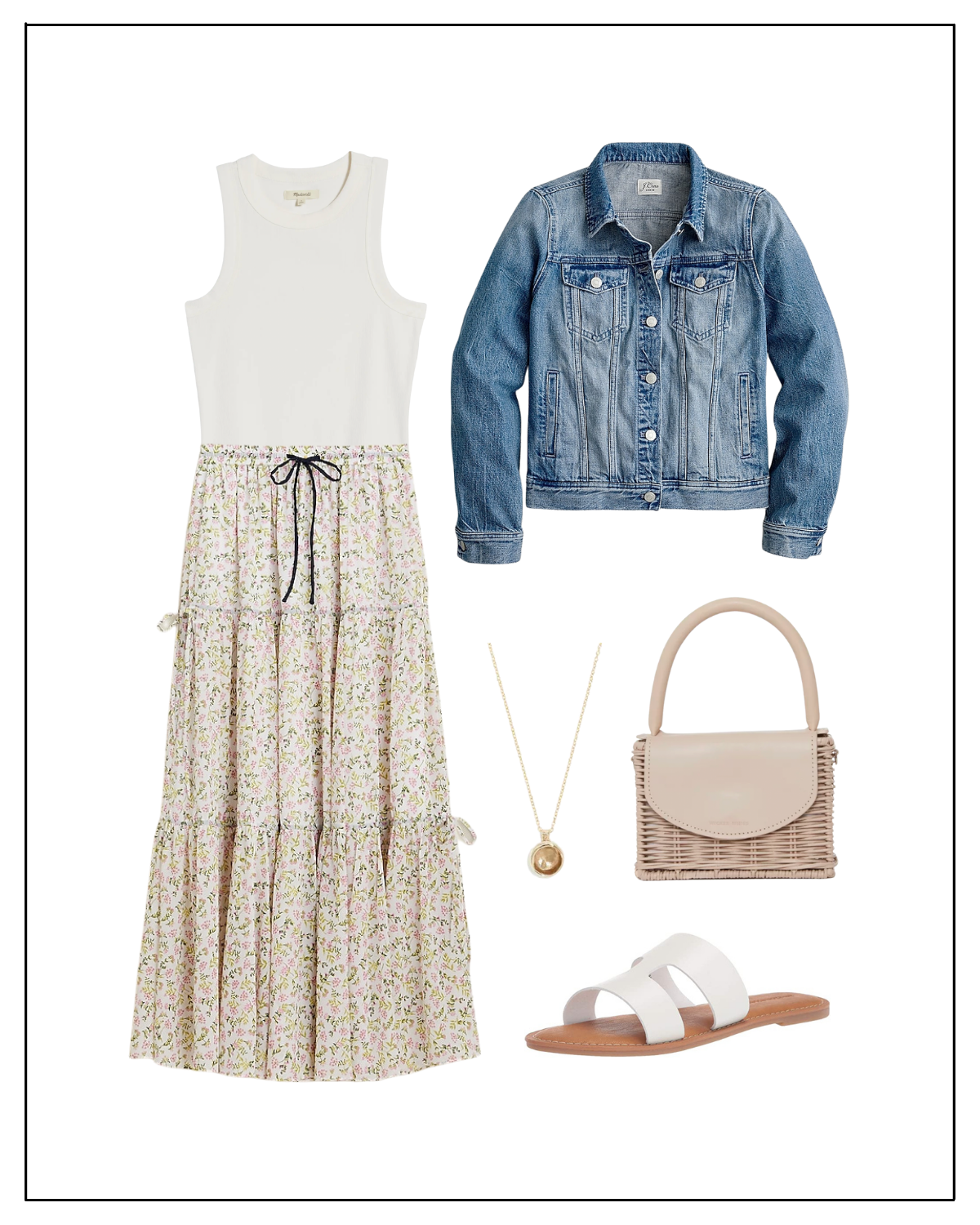 White Tank Top / Denim Jacket / Floral Tiered Maxi Skirt / Small Straw Tote Bag / Gold Pendant Necklace / White Sandals
Denim Jacket with White Jeans
Another way I love wearing a denim jacket is with white jeans and a tee. This navy and white striped T-shirt is a great warm weather essential under $20, and these white skinny jeans are one of my favorite pairs of denim. I love styling this Canadian tuxedo with tortoise sunglasses, a navy tote, and leather slide sandals for a cute and casual look.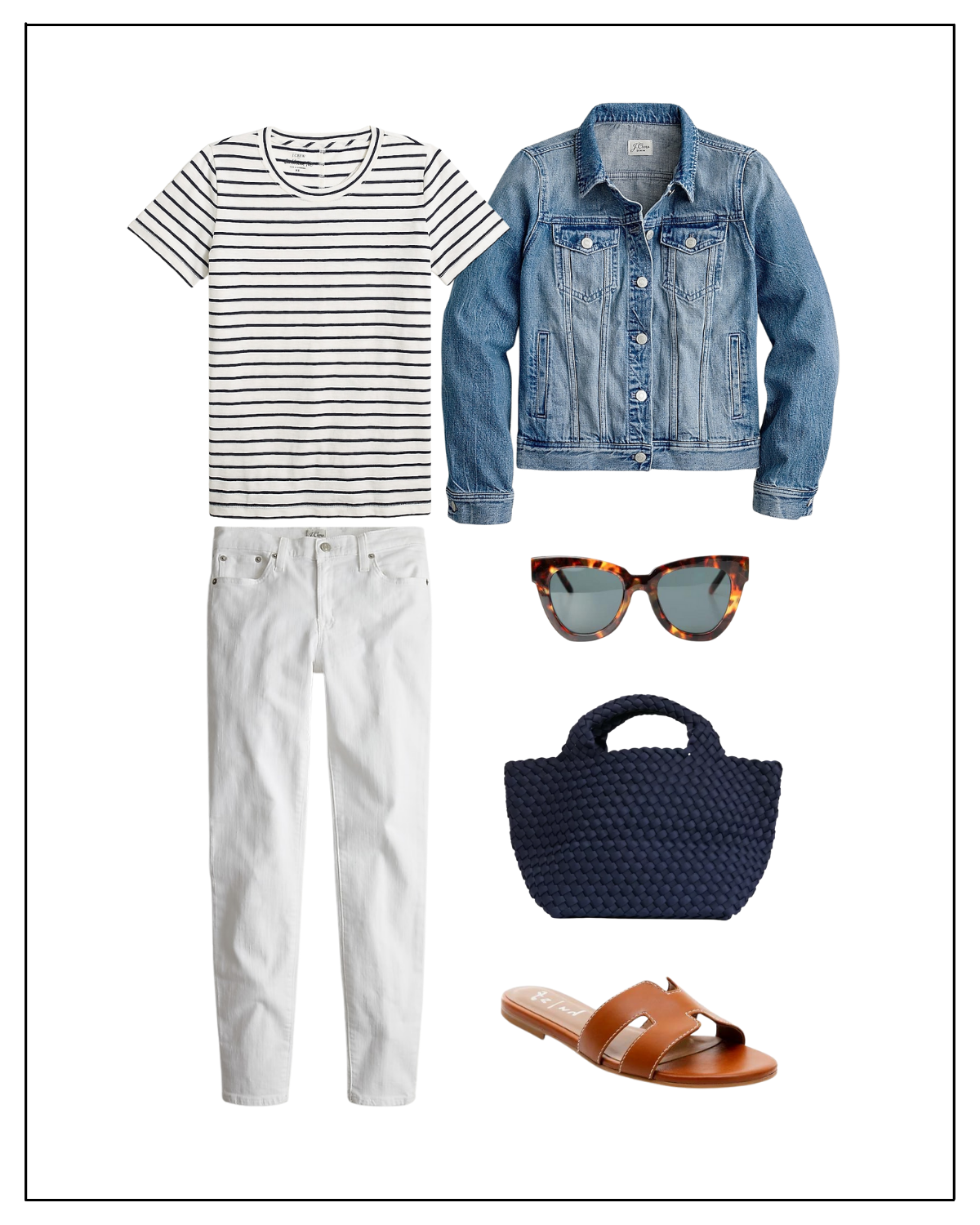 Navy and White Striped Crewneck T-Shirt / Denim Jacket / White Skinny Jeans / Sunglasses / Navy Blue Mini Tote Bag / Leather Slide Sandals
Denim Jacket with a Dress
Lastly, you can never go wrong with styling a denim jacket with a dress. It really ties together the look. I love this navy linen midi sundress. The smocked bodice and A-line silhouette are so beautiful. Accessorize with dainty pearl hoop earrings, a straw tote bag, and beige leather slingback sandals for a daytime to evening look.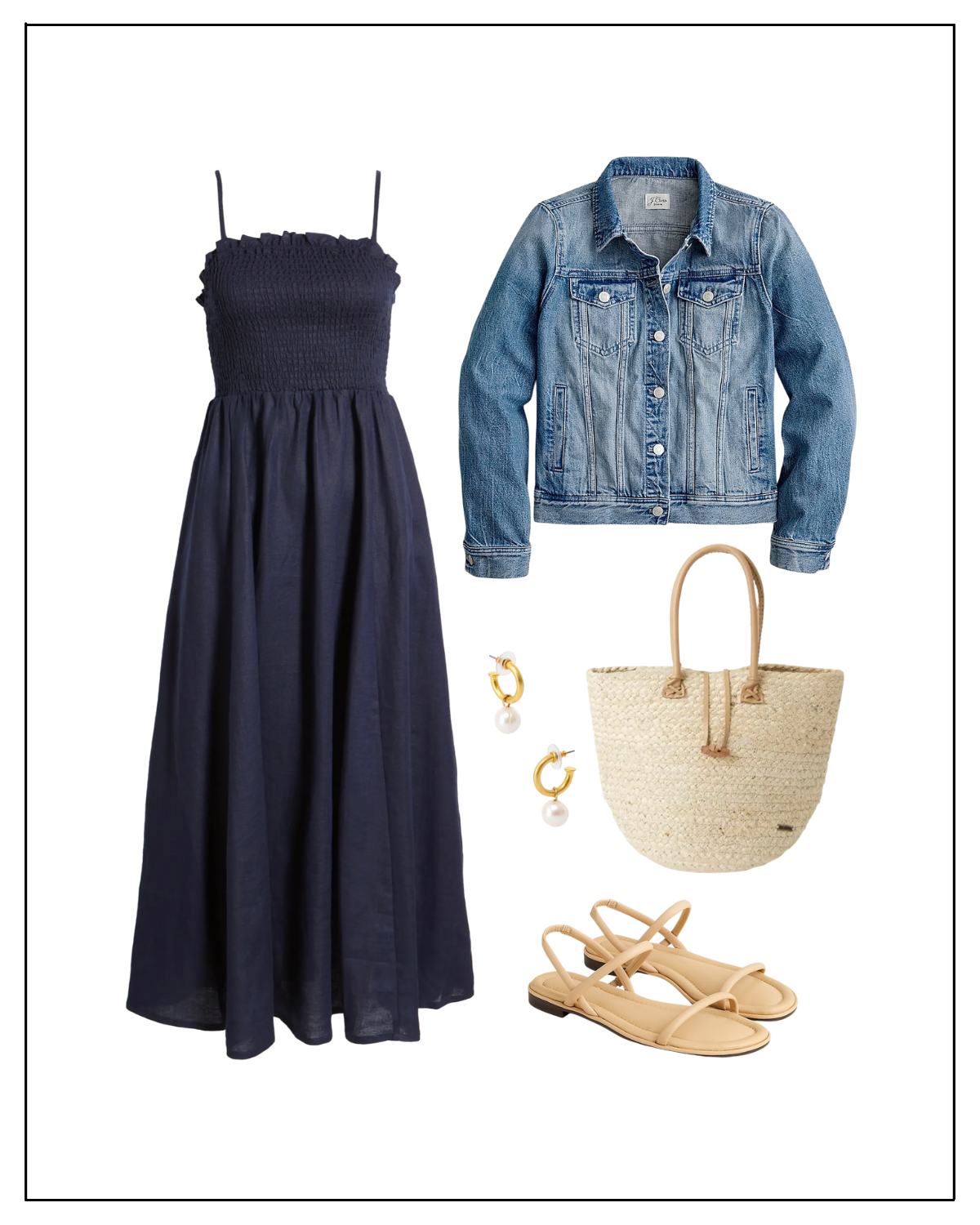 Navy Linen Midi Sundresses / Denim Jacket / Straw Tote / Pearl Hoop Earrings / Slingback Leather Sandals
How Should a Denim Jacket Fit?
The right fit is essential to making sure your new denim jacket looks just right. If it's too big, it'll make you look sloppy—but if it's too small, it'll make you look like a kid playing dress-up. So how do you get the perfect fit?
It starts with choosing your style: do you want a classic denim jacket or something more modern? If you're after a classic look, then go for something simple and timeless in a light wash. But if you want something edgier with some edge to it, then try out an oversized denim jacket in black or indigo blue.
Also, make sure you size up! It might feel counterintuitive at first, but trust me—you need to size up if possible. This is because denim jackets always shrink when washed (it's just physics). And if they don't shrink enough, they'll be too tight around the waistline and won't fit right across your shoulders (which will look weird).
You can make your outfit more stylish with a denim jacket!
The denim jacket is a great way to give your outfit a little bit of edge, while still maintaining a casual vibe. Whether you're looking for something to wear on a date or just want to dress up your favorite jeans, the denim jacket is sure to be your new favorite piece in no time!
It's easy to get creative with this classic piece of clothing—there are so many ways that you can style it and make it work for any occasion. Just remember that when it comes to denim jackets, less is more!