I've decided that it is completely necessary to have a cute umbrella in New York City, especially during "April showers." You carry the thing with you everywhere on rainy days, so you'd better like it! I've been buying the cheapo umbrellas on the street for the past seven years, and I'm so glad I finally stopped. Those little black umbrellas break almost immediately. You're lucky if you make it through the day with one, and it certainly isn't anything to look at. I'd never considered investing in a nice umbrella, though, because I always thought it would be something I'd lose. The only reason I picked up this beauty is because it was about to downpour, and it was on clearance at J.Crew's SoHo store for $11 and I happened to be in there making a return. Woo! It saved my afternoon, and I'm also obsessed with it. (Though I'm obsessed with anything nautical. ;)) Something tells me I'll be sure not to lose this one!
Umbrella: J.Crew / Bracelets: c/o Henri Bendel, J.Crew Factory and C.Wonder / Sweater: Joe Fresh (Print coupon or use code to get 20 percent off! And view the JCP coupon code page here!)/ Bow flats: J.Crew Factory / Watch: MICHAEL Michael Kors / Jeans: J.Crew (Size down, IMHO) / Earrings: J.Crew / Blazer: H&M (Comes in Navy in the store), similar here and here (And here in an adorable striped version! Use code "Citrus" to get 30 percent off, too!) / Lipstick: Clinique (Such a fan. It's moisturizer, as well!)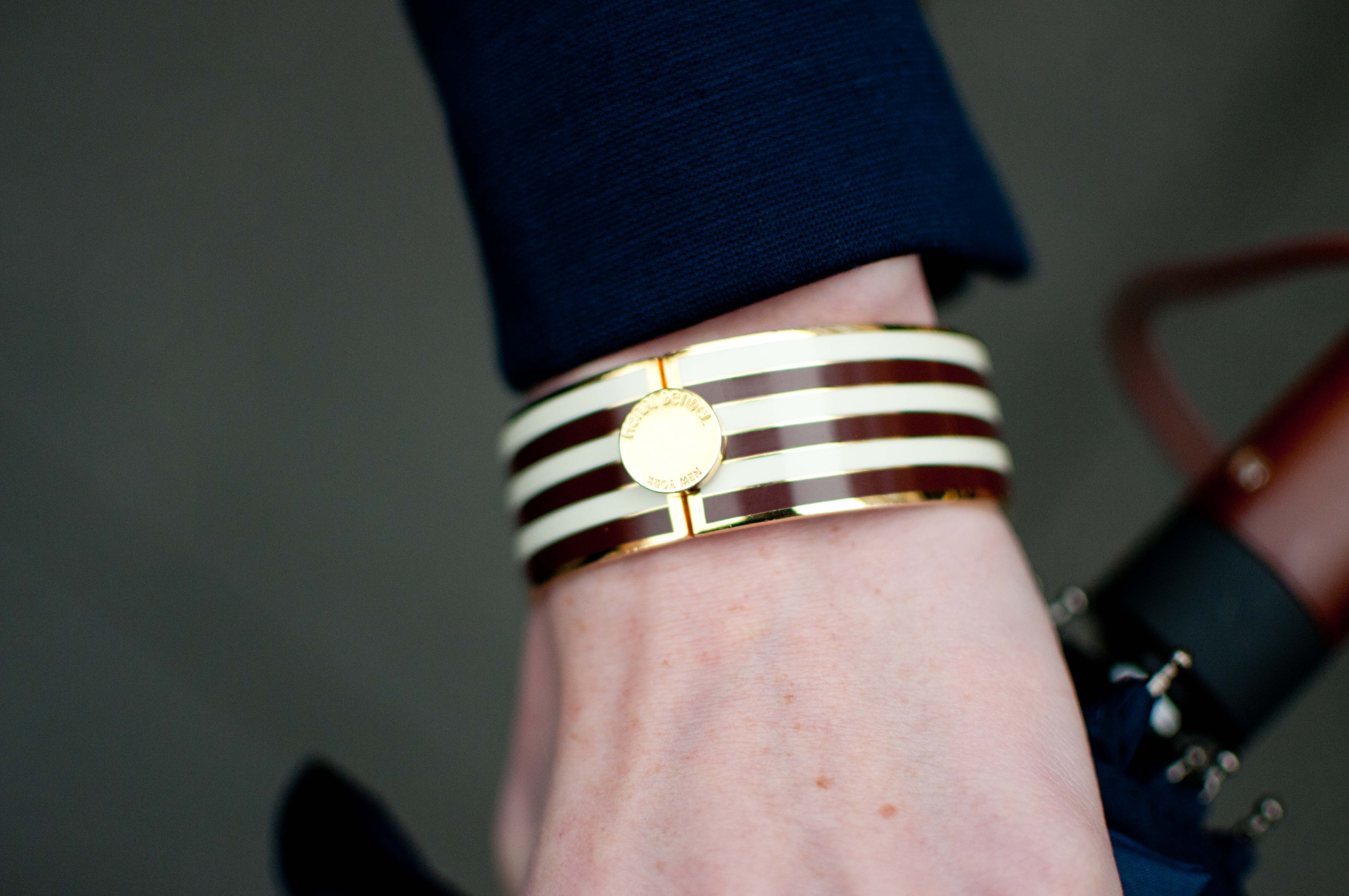 These photos were taken in the Meatpacking District outside the Apple retail store on 14th Street. I am happy to report that our baby–cough, cough, the iMac–is feeling much better, and safe and sound at home in our apartment. Mitch couldn't be more thrilled. And now we can resume wedding planning! ;) Our plan for this week is to get as much crossed off the to-do list as possible. :) Happy Monday, everyone!
Umbrella: J.Crew / Bracelets: c/o Henri Bendel, J.Crew Factory and C.Wonder / Sweater: Joe Fresh (Print coupon or use code to get 20 percent off! And view the JCP coupon code page here!)/ Bow flats: J.Crew Factory / Watch: MICHAEL Michael Kors / Jeans: J.Crew (Size down, IMHO) / Earrings: J.Crew / Blazer: H&M (Comes in Navy in the store), similar here and here (And here in an adorable striped version! Use code "Citrus" to get 30 percent off, too!) / Lipstick: Clinique (Such a fan. It's moisturizer, as well!)