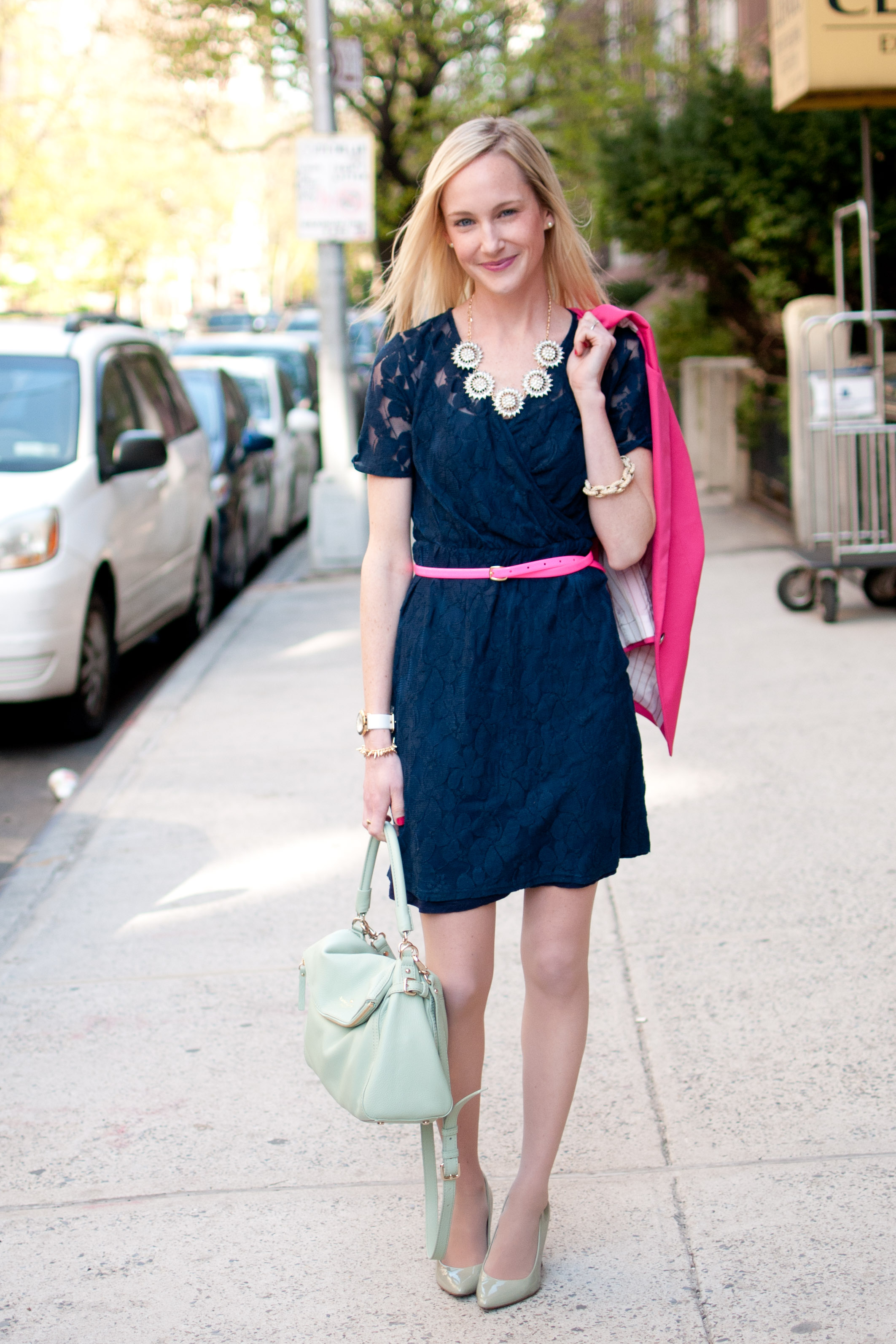 Saturday was Bachelorette Party, Round One: Upper West Side-style. :) Get this: out of my New York City girlfriends, five of us are getting married this spring/summer. And all of us are somehow connected to the school where I currently work.
Dress: Pim + Larkin via Piperlime, similar here / Pumps: Franco Sarto, similar here, here, and here in light pink / Bag: Kate Spade (On sale! And available in many colors!), in pink on crazy sale here / Blazer: Zara, similar here, here and here / Necklace: Kate Spade, similar here / Bracelets: J.Crew and Stella & Dot / Watch: Marc Jacobs / Earrings: J.Crew / Belt: J.Crew / Lipstick: Clinique
Darby, one of my best friends in the entire world and who used to work at the school, is marrying Jason, who also used to work there. Joanna is marrying Ben, who used to work at the school, and Ruthie is marrying Travis, who also worked there. Kristen (who–shocking–used to work there as well) is marrying Daryl, who teaches down the street from the school. And I, of course, am marrying Mitch… and we both still work there. Phew!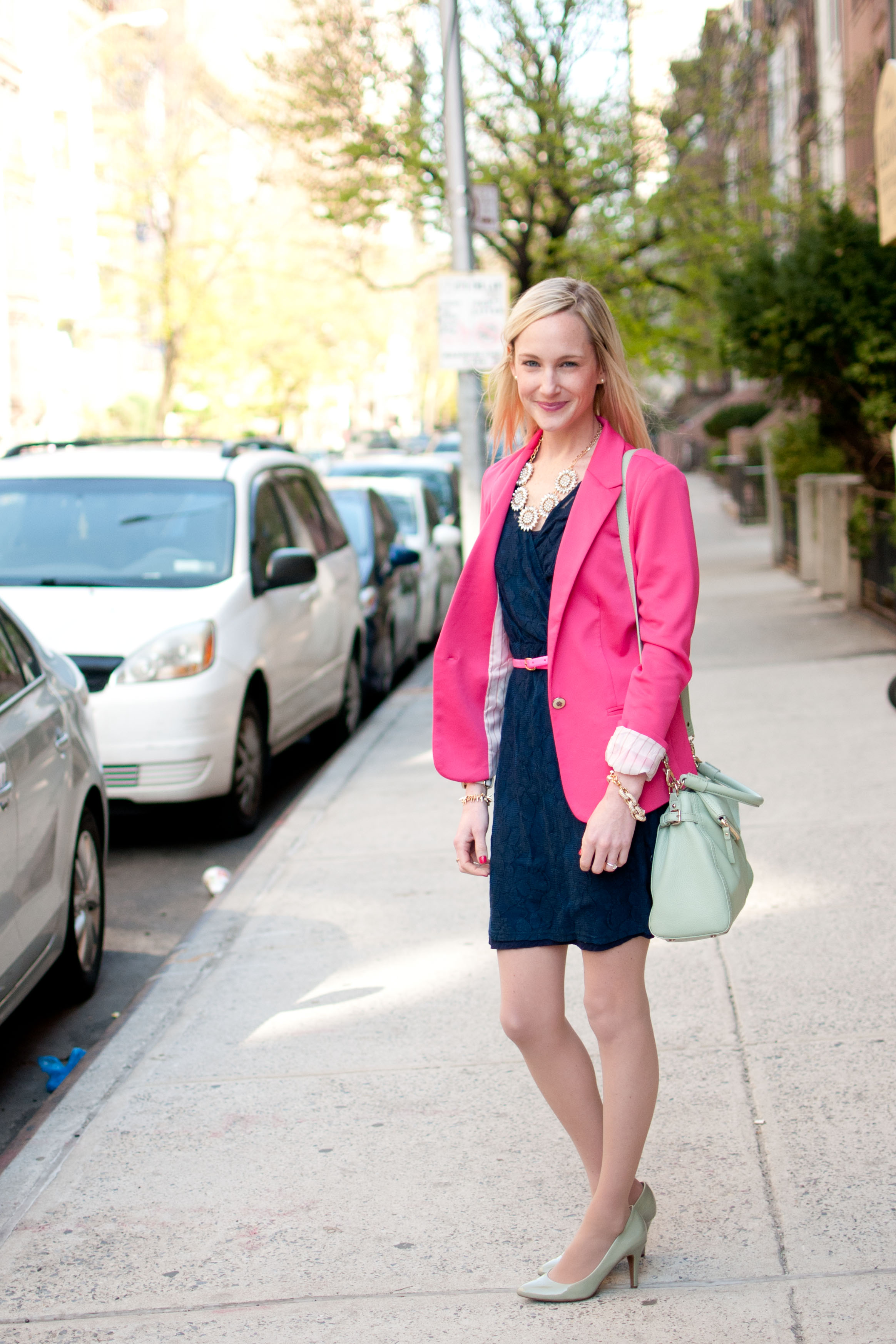 When we all thought about how many bachelorette parties there would be between the five of us, we realized that it would be very difficult to be able to make it to all of them, considering how many bridal showers and how much wedding planning would be going on at the same time. But we didn't want to miss out! Because of this, we decided that we should have a group bachelorette party in the city, that way we could all celebrate together. Our guys went out together on Saturday as well for their own group bachelor party. :) Too cute.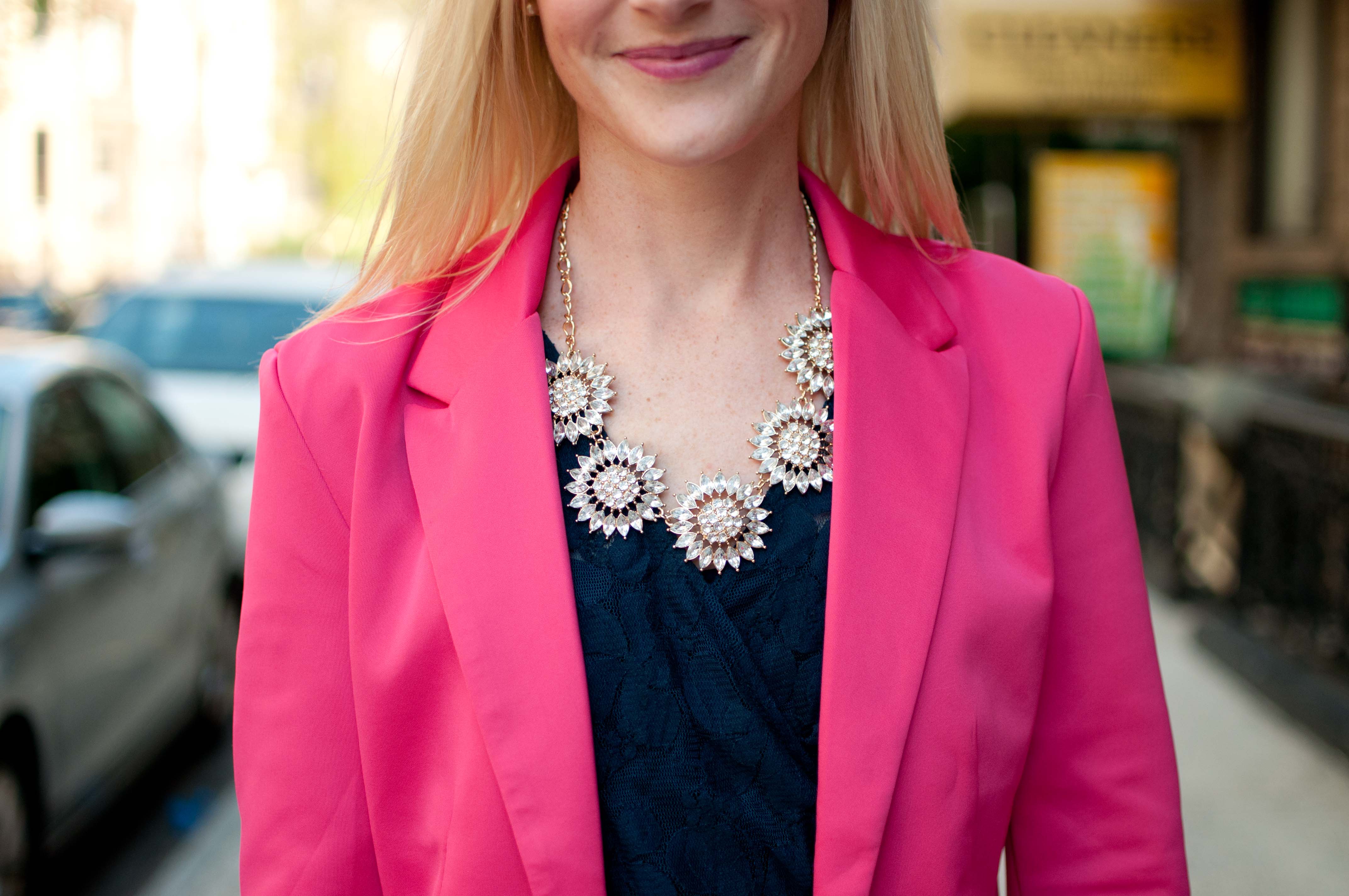 A huge thank you goes to Darby, who planned the entire day/night. Darbs, you're fabulous! What a blast. The day started off at Magnolia Bakery on 69th and Columbus, where we ate quite a few cupcakes. After, we went to Sunshine Nails on 75th between Central Park West and Columbus. Oh. My. Goodness. Heaven on earth. The staff was so nice, and the place was gorgeous. There were a zillion Essie colors to choose from, and complementary waters and massages offered to us every time we turned around. Huge fan. ;) Sushi and wine came next, at Sushi Yasaka on 72nd and Broadway. This was my favorite part of the night, as three of my very best girlfriends from high school–Mary, Rebecca and Kara–showed up! Apparently everyone knew they were coming, but it was a big surprise for me. :) I was so touched I teared up. I'm still so touched. Mary and Rebecca live in the Princeton area, so it was a trip for them! I have the best friends ever. :) It made the night so much more special and fun having them there. After sushi, we went to Riposo 72, which I'd actually been to before with Mitch and my dad. As soon as we felt we'd overstayed our welcome, we headed down to Revival in the East Village and met up with the guys.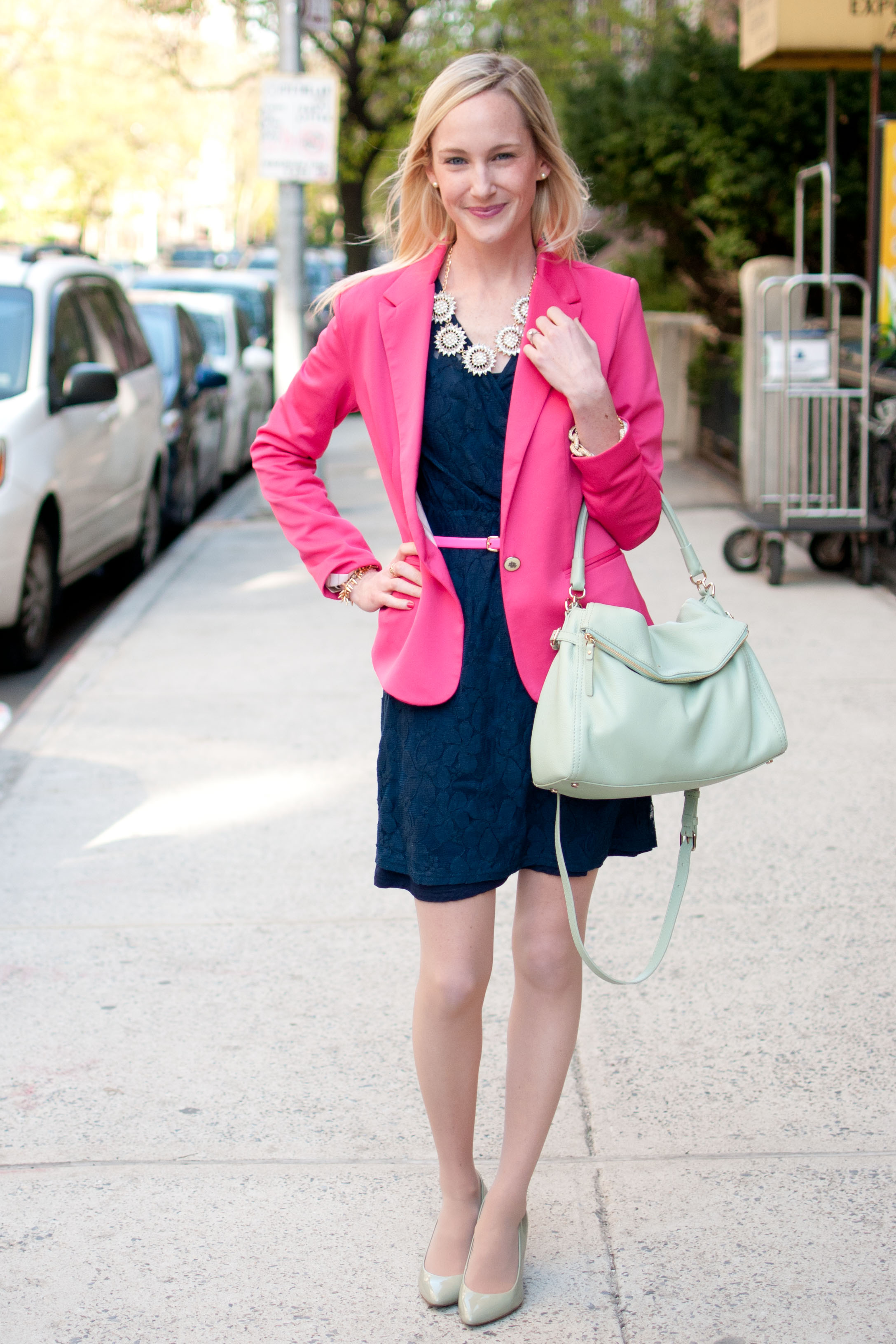 It was a fantastic night. The only downside was that Mitch and I somehow arrived home around 5 a.m. Man. Needless to say, I'm a couch potato today. ;) Completely worth being a little tired, though. Love my girls!
Dress: Pim + Larkin via Piperlime, similar here / Pumps: Franco Sarto, similar here, here, and here in light pink / Bag: Kate Spade (On sale! And available in many colors!), in pink on crazy sale here / Blazer: Zara, similar here, here and here / Necklace: Kate Spade, similar here / Bracelets: J.Crew and Stella & Dot / Watch: Marc Jacobs / Earrings: J.Crew / Belt: J.Crew / Lipstick: Clinique