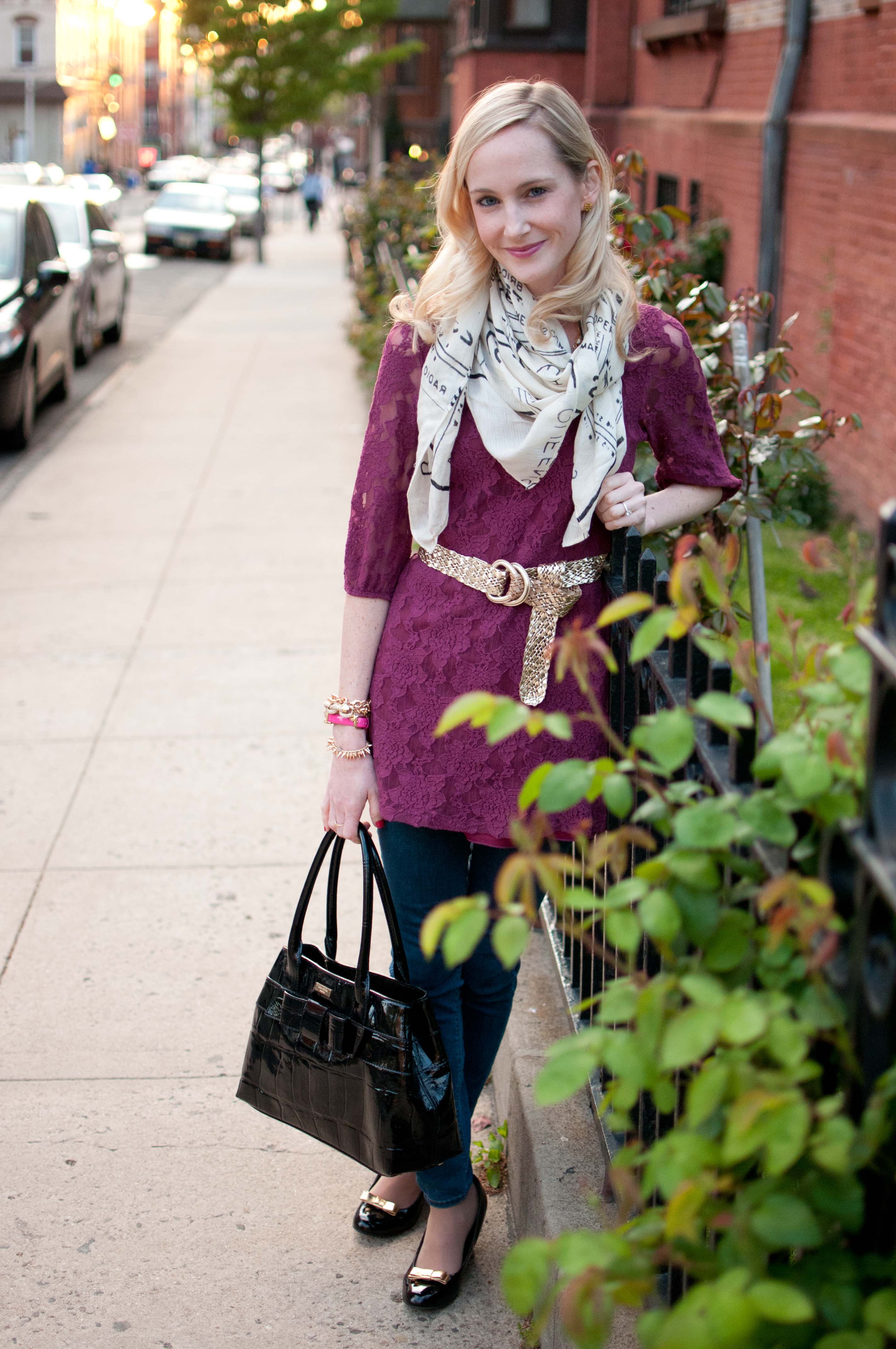 Last night, Mitch and I went out to dinner, alone. It was the first time we'd spent quality time together in more than a month. Sure, we're together 24 hours a day. For goodness sake, we both work in the same building. But we're normally rushing around together, trying to get chores accomplished. Last night, we went to Pita Grill (which, by the way, is fabulous), and sat there for an hour, just talking about life. It was so, so nice. Sometimes it's easy to forget how important it is to reserve time for ourselves. But after last night, I think we'll remember. ;)
Dress: Everly, similar here (On sale!) / Jeans: J Brand, similar here and here / Bag: Kate Spade (Everything is better with a bow.) / Scarf: Madewell, similar here (World map) / Wedges: Payless (On sale! SO comfortable. And quite a good deal.) But swooning over these black wedges as well as these. / Earrings: Tory Burch / Watch: Kate Spade, also loving it in gold / Bracelets: J.Crew, Stella & Dot, and J.Crew Factory / Necklace: C.Wonder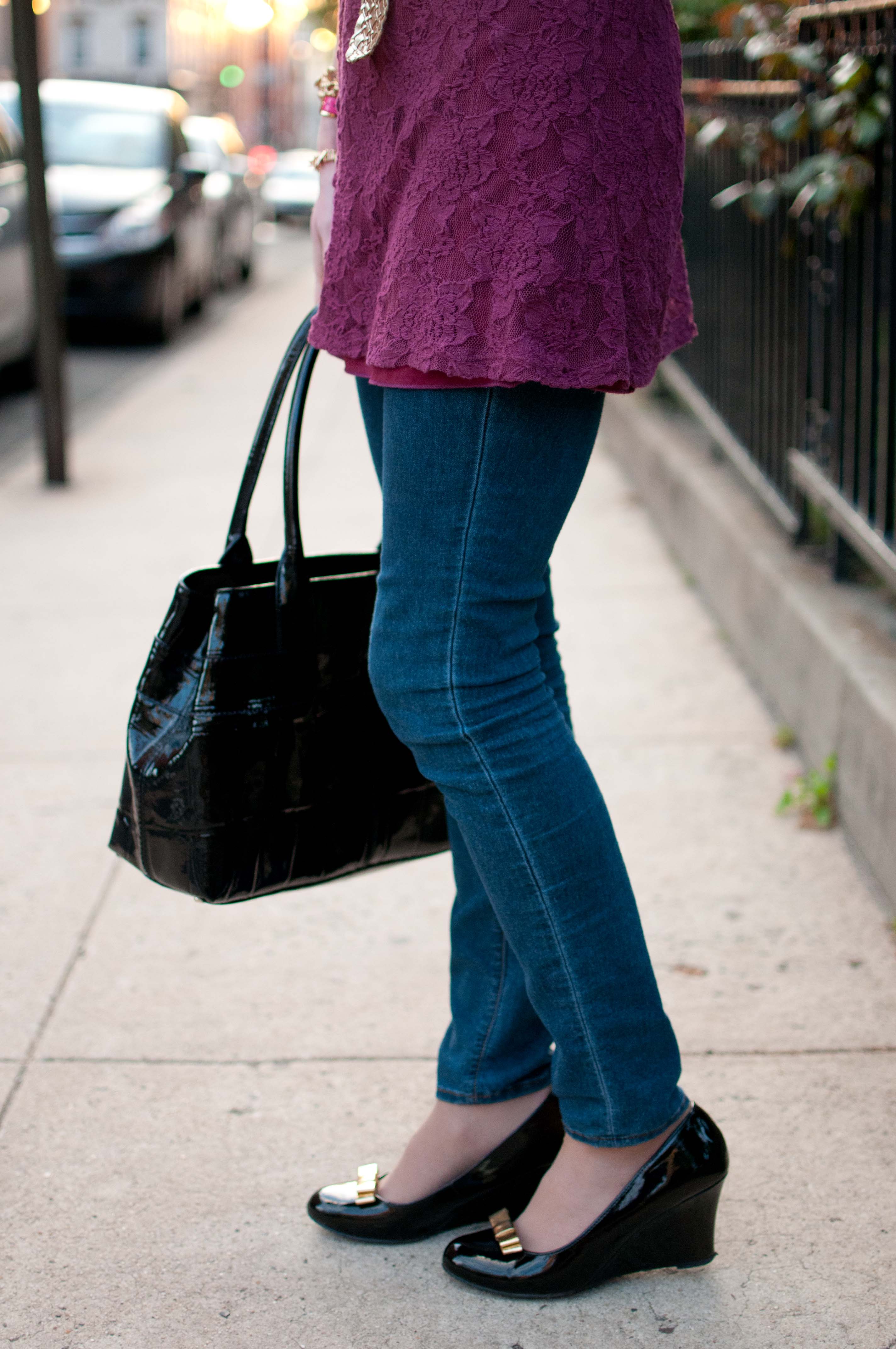 Before dinner, we saw a few condos in Hoboken with our broker. While we kind of have our hearts set on Brooklyn–and knew that we'd likely be priced out of Hoboken–we thought it would be worthwhile to at least look in the Boken a couple of times. As to be expected, the spaces were small.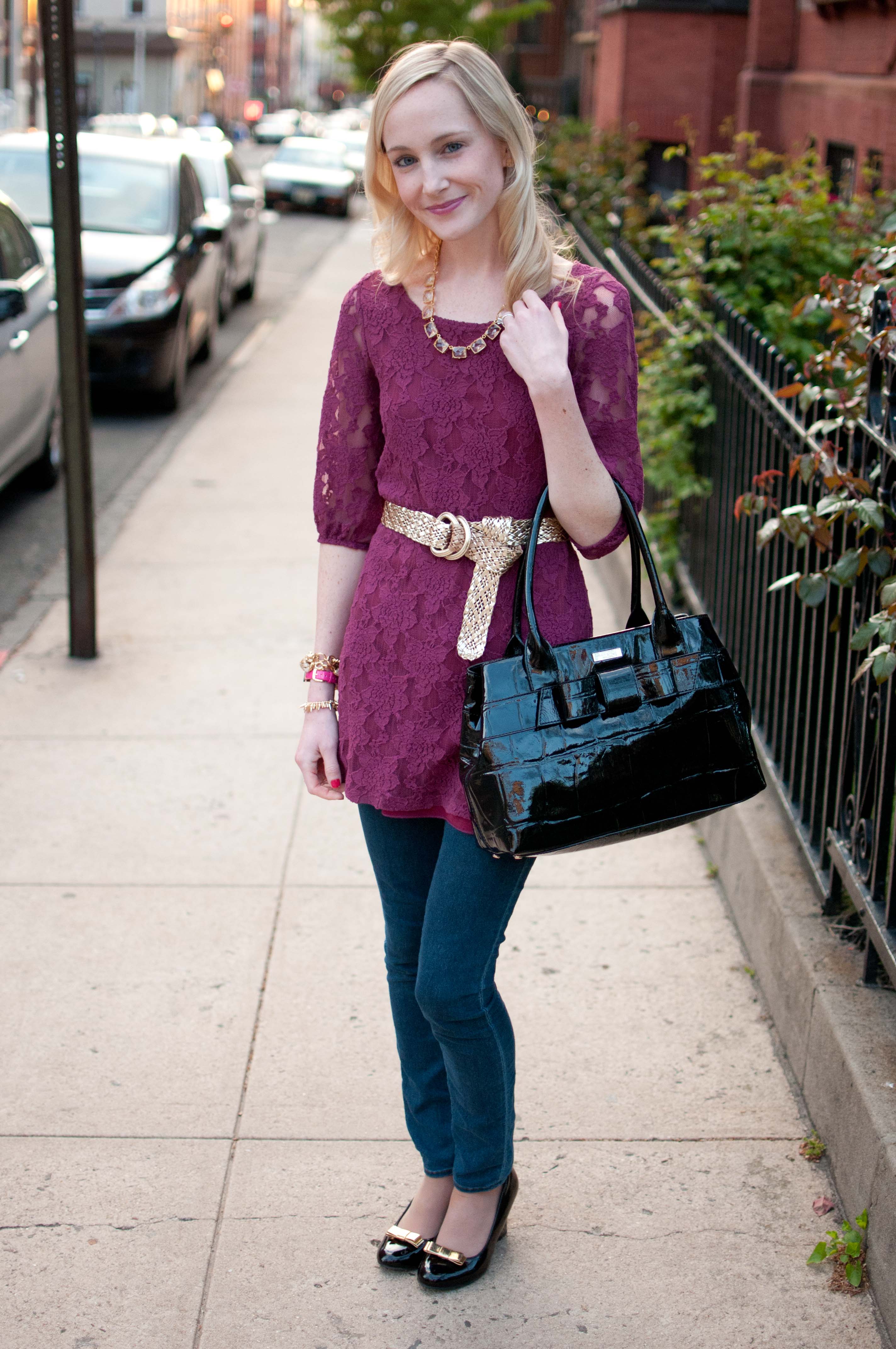 We've been lucky over the last few years with space in the New York City metropolitan area, even though we keep getting kicked out of our apartments. ;) In the East Village, we had a pretty large place, especially for the city. And our Hoboken place is huge for NYC metro standards. It's hard to go from actually having a closet (albeit a tiny closet) to no closet at all, and no place to put a dresser.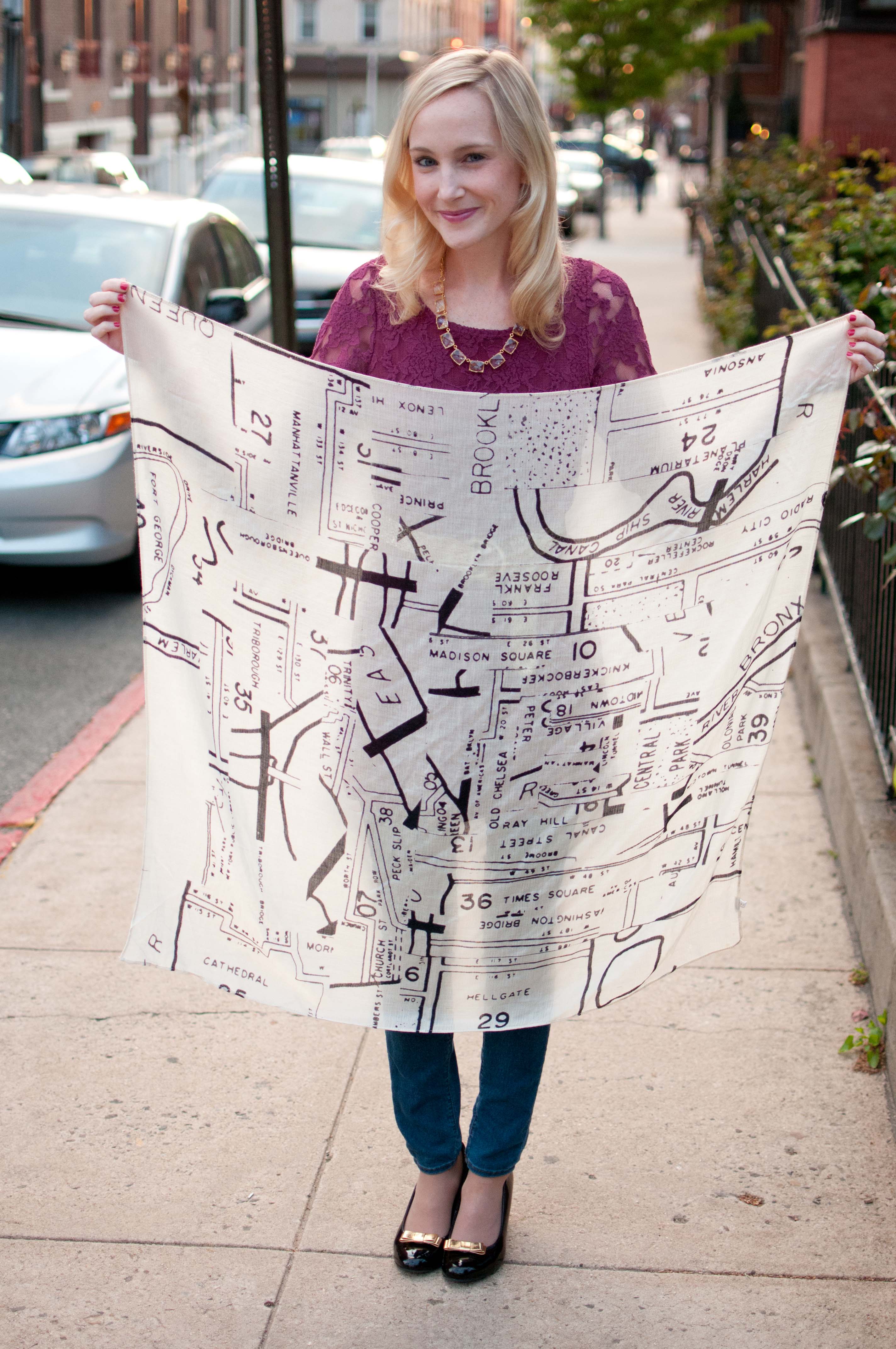 Today, we're headed off to Brooklyn (Fort Greene/Clinton Hill) to see a few condos. If it turns out that buying doesn't make much sense for us right now, we're thinking about renting in the area. We're in need of a new adventure. I mean, we've lived in Hoboken for a hot seven months. That's a long time. ;) But cross your fingers for us that we'll find a real home. That sure would be awesome.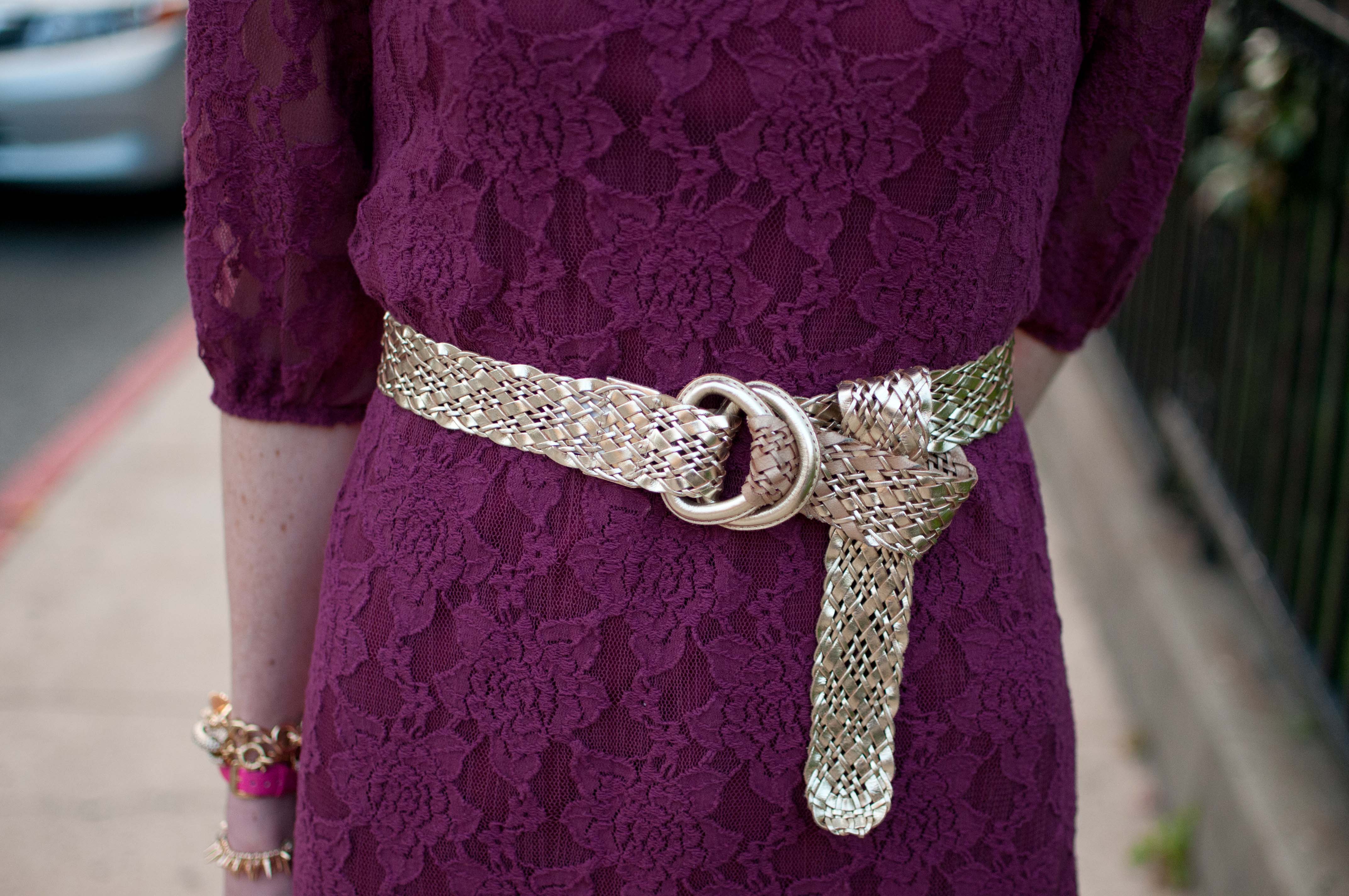 My outfit in these photos is a bit on the creative side. I bought the lace dress for Thanksgiving this past November, and it fit perfectly. But one wash later, the thing shrunk up, and Mitch told me I really couldn't leave the house in it. Too short. It's been hanging in my closet for months, so I broke it out and slipped a pair of legging-like jeans under it, and paired it with a chunky belt to get the tunic look going on. The scarf was a gift from my amazing cousins a few years ago. I adore it, as it's actually a map of New York City. (They know me so well. ;))
Dress: Everly, similar here (On sale!) / Jeans: J Brand, similar here and here / Bag: Kate Spade (Everything is better with a bow.) / Scarf: Madewell, similar here (World map) / Wedges: Payless (On sale! SO comfortable. And quite a good deal.) But swooning over these black wedges as well as these. / Earrings: Tory Burch / Watch: Kate Spade, also loving it in gold / Bracelets: J.Crew, Stella & Dot, and J.Crew Factory / Necklace: C.Wonder