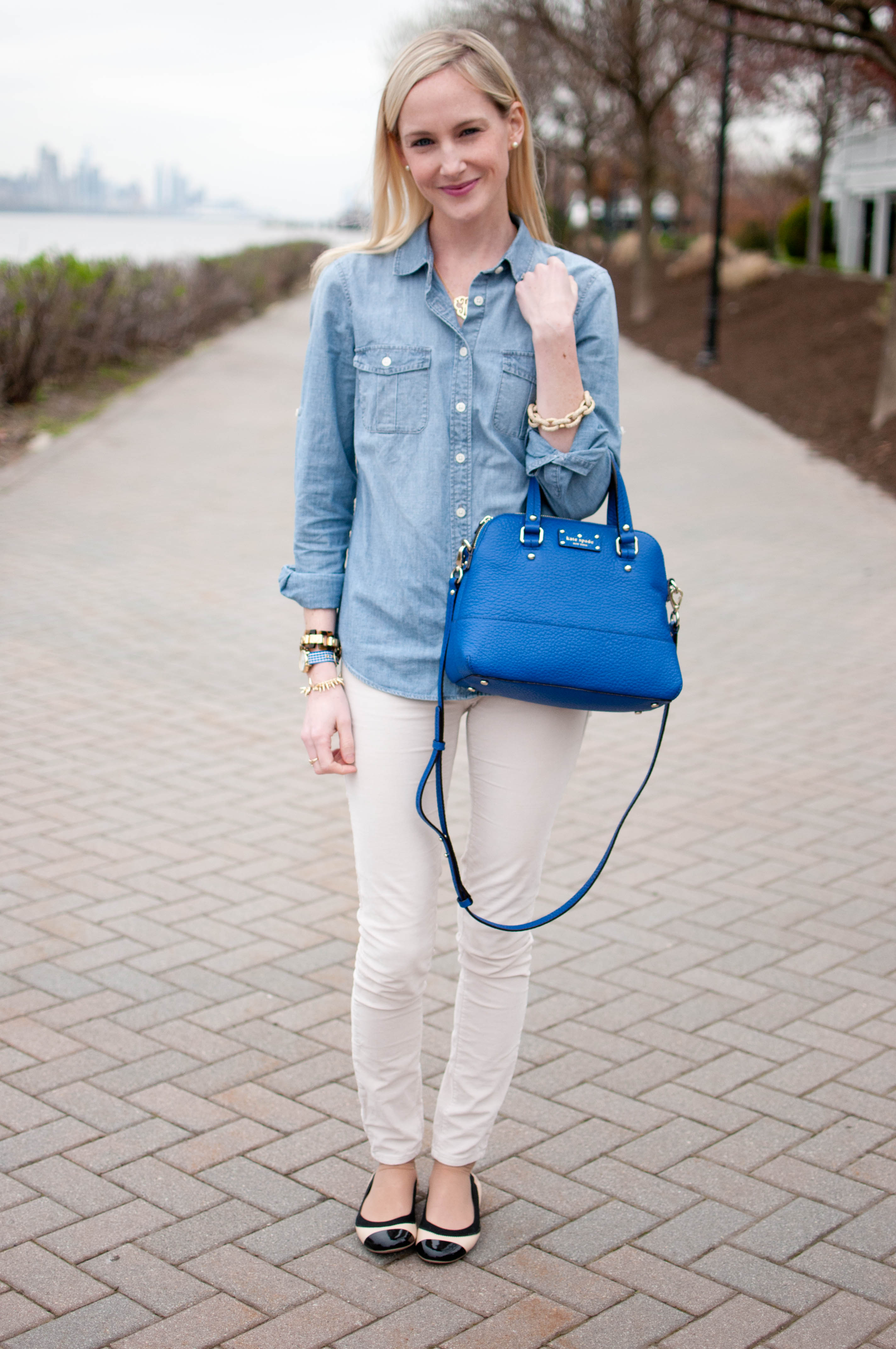 I think I've posted about this before, but it takes a lot to get myself to go for the skirt instead of the comfy pants in the morning. (Unless it's super hot. Then it's a no-brainer.) I'm one of those girls who's always cold. Even in July. It also takes a lot to sway me from grabbing my favorites from the hangers and dresser drawers. Then again, it takes a lot to get me to do anything at 5:30 a.m. ;)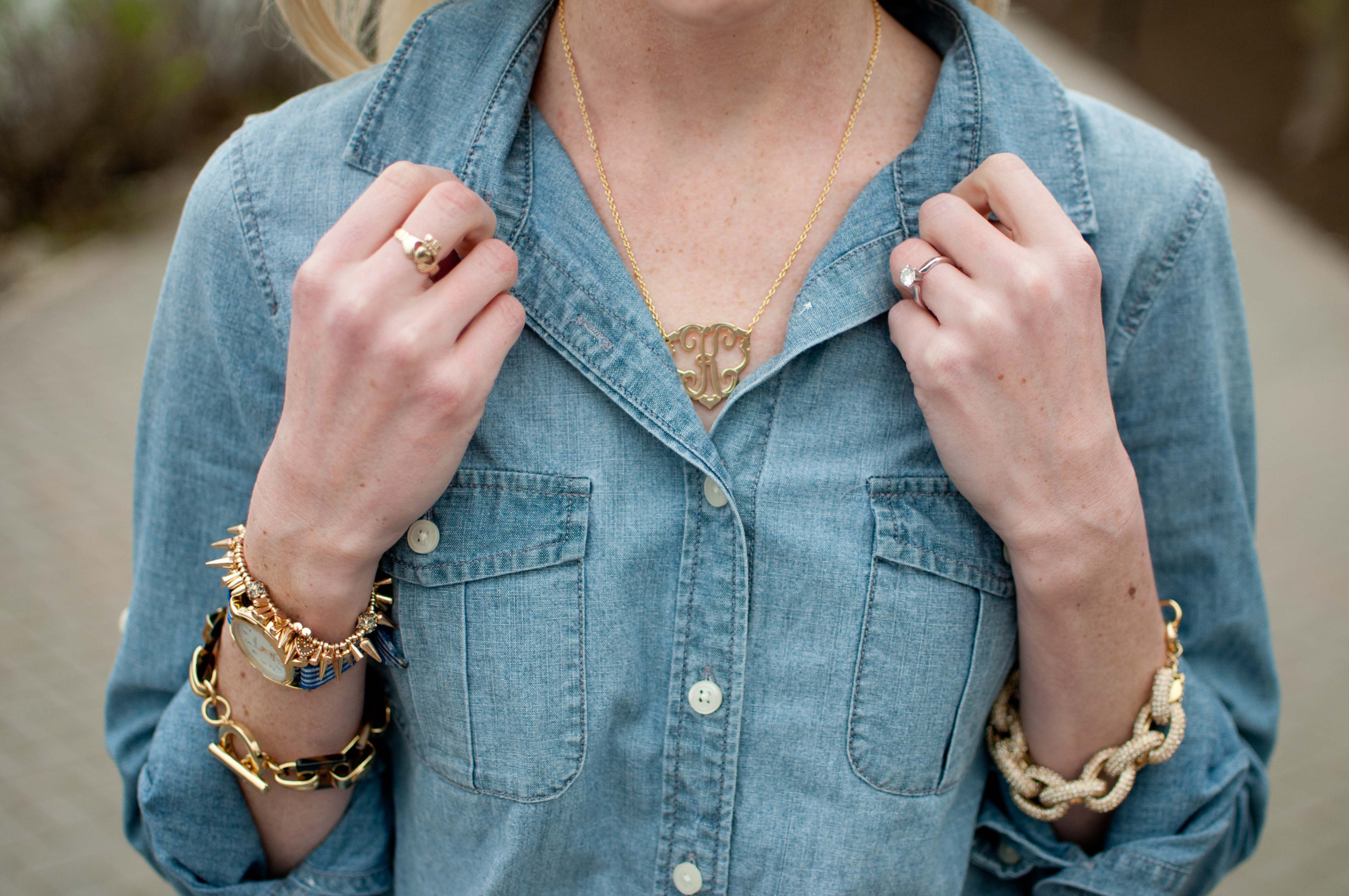 But I want to wear skirts. Not every day during the colder months, but definitely a couple of times a week. Maybe part of the problem is that it's completely acceptable for me to wear blue jeans to work every day. I'm certainly not complaining… but sometimes it enables me to be quite lazy in the skirt department.
And I want to be creative. But man. It takes some effort. ;) Just look at today's post. Granted, I'm a huge fan of chambray. I'd clearly wear it every day, all day if I could. But I hate getting into ruts in which I only wear my favorite articles of clothing.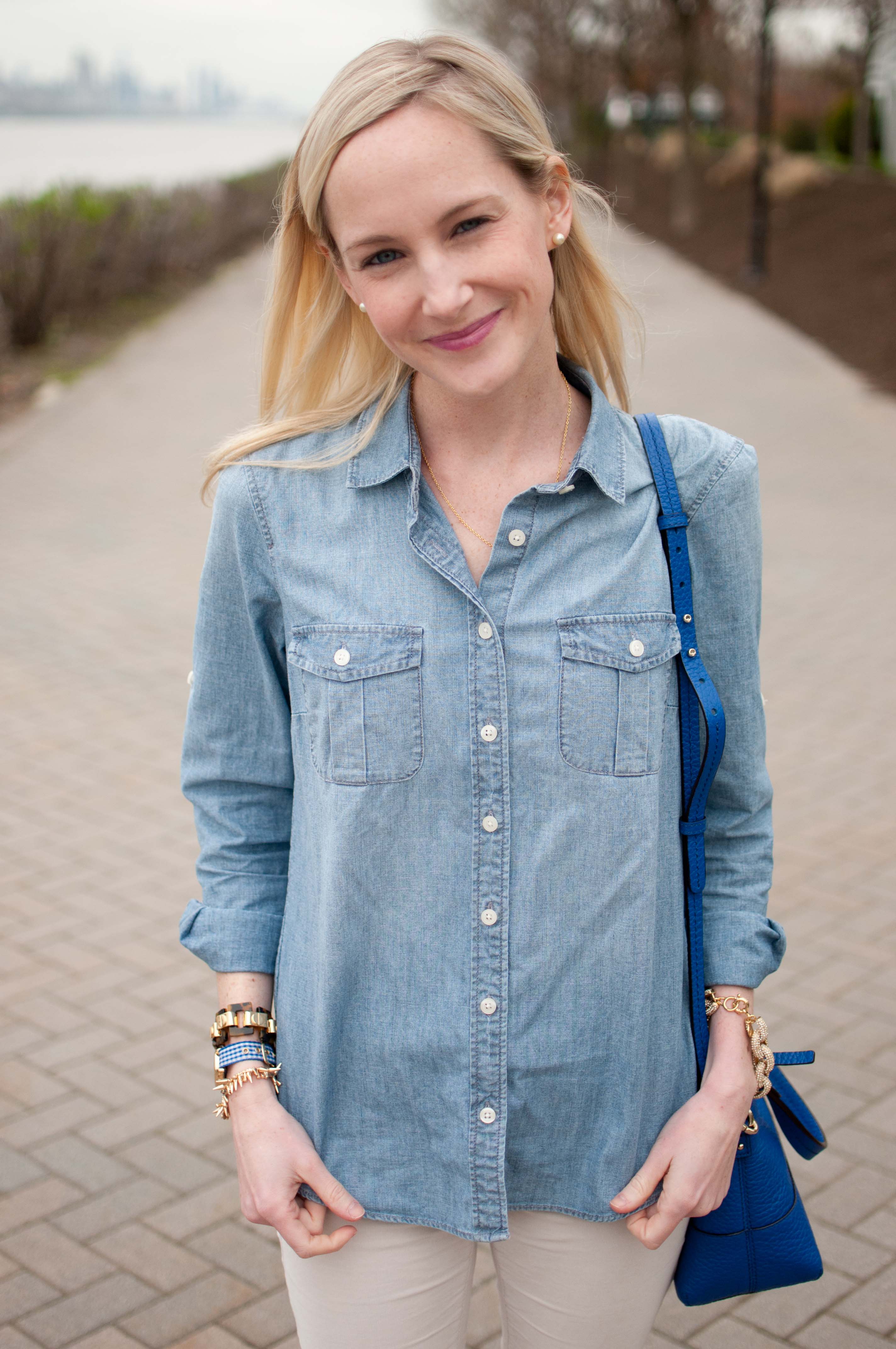 Tomorrow's resolution? Be creative with my wardrobe. Wear something that makes people raise their eyebrows. (Even if just a little.) Mix and match patterns that normally I'd never pair. Be a weirdo! This, of course, would entail picking out my clothing before I go to bed. But that's so not going to happen. So I'll settle for having my coffee before rummaging through my closet. I think I can do that. ;)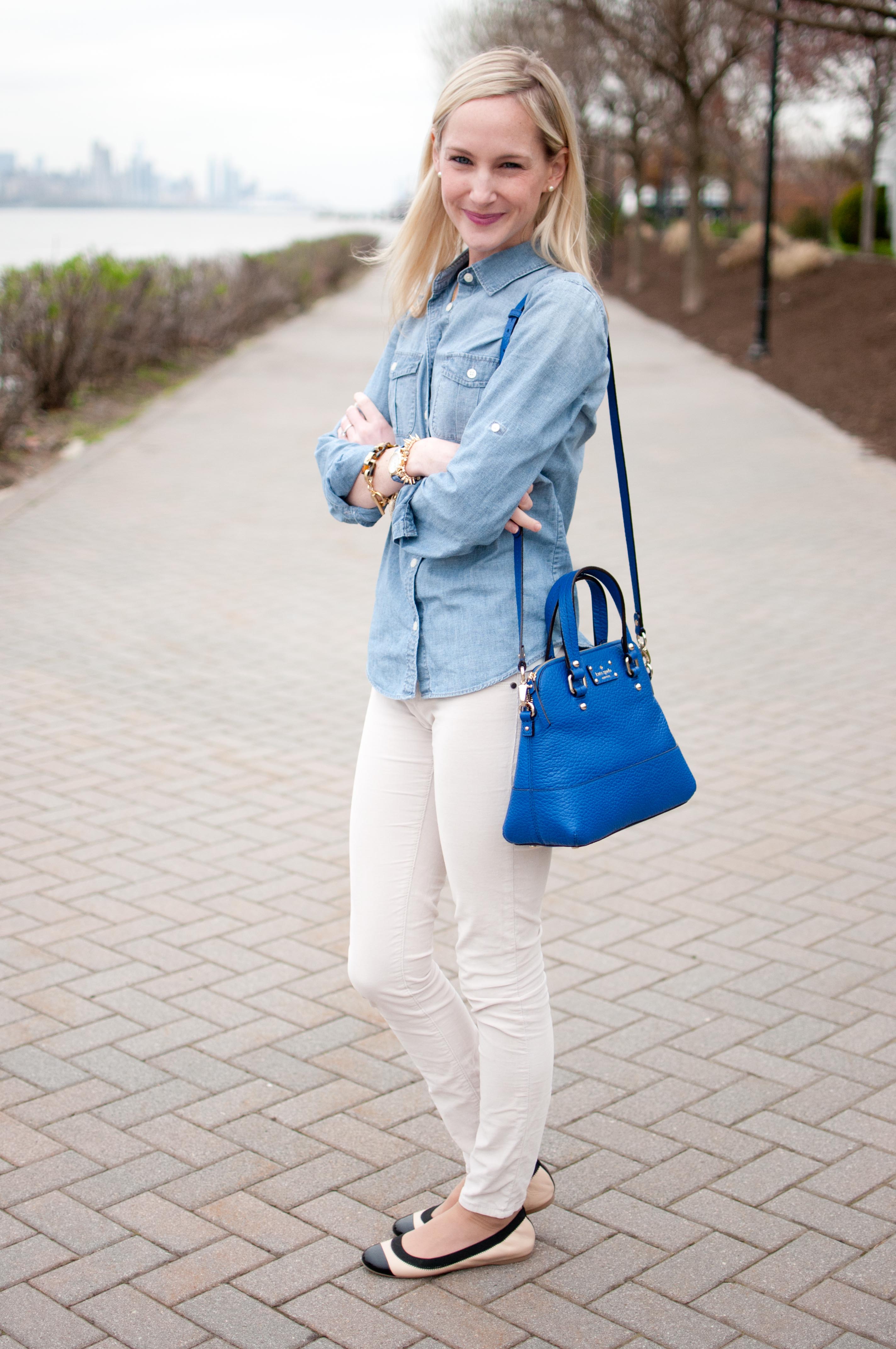 (Wearing a skirt is unfortunately out of the question for tomorrow because I just tore my last pair of stockings. And I have to wear stockings. Look at me. I'm a vampire. I don't want my paleness to blind you. ;))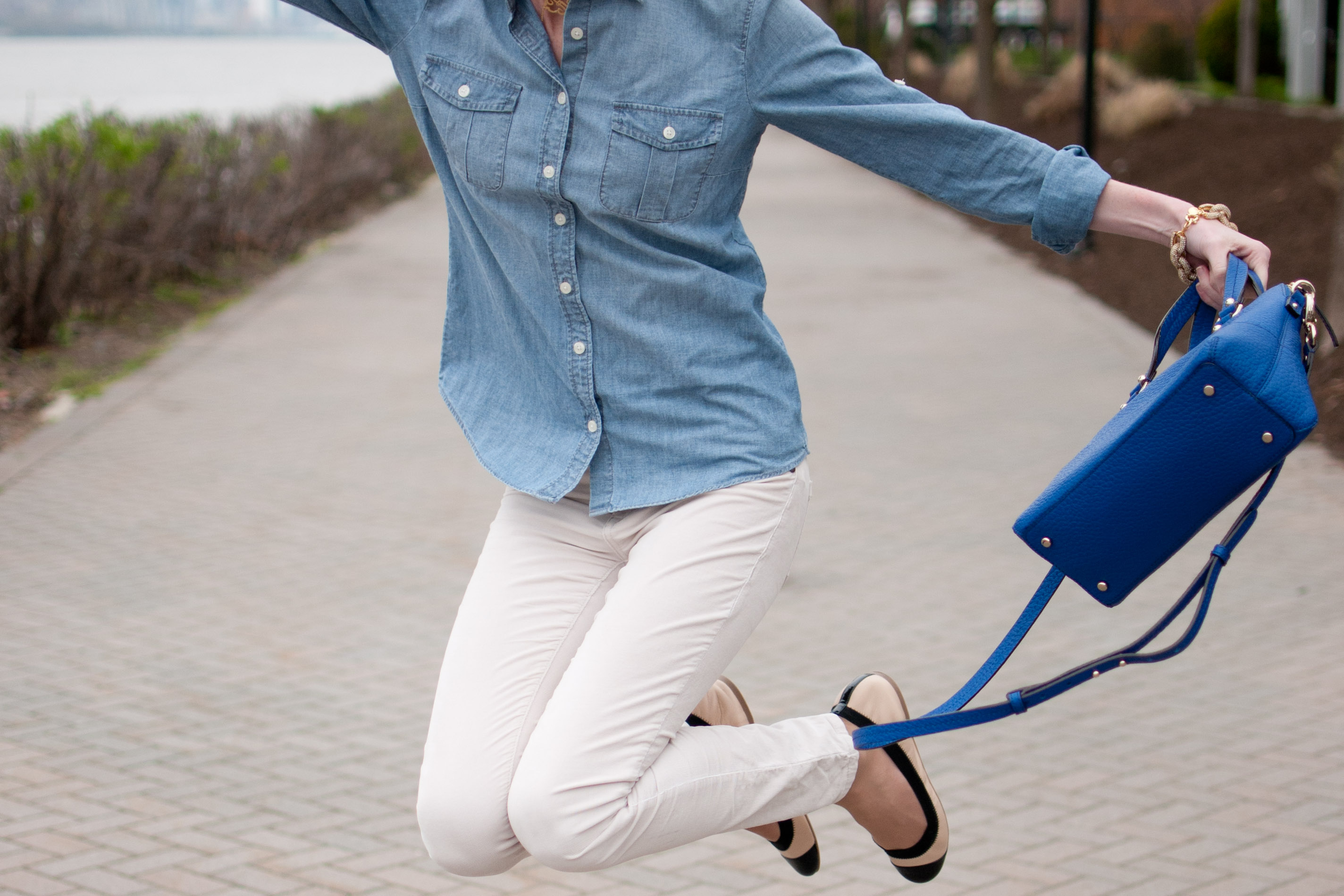 Pretty excited about tomorrow night, as I'm headed off to Piperlime's "Best Friends &Fashion Nights" event on Wooster Street in SoHo. Thrilled that there will be "sips and sweets," too. ;) I strangely haven't popped into the store yet, so this will be especially fun for me. Mitch is even coming along! (Best fiancé ever.) I'll be sure to post about the event!
Cords: Cords: BlankNYC, similar here in white denim (Clearly a favorite!) / Chambray shirt: J.Crew Factory, similar here (Take an additional 25 percent off with code "SPRINGBEST") / Flats: J.Crew (On sale! And take an additional 25 percent off with code "SPRINGBEST") / Necklace: C.Wonder (Only $44! What a steal!) / Bracelets: Stella & Dot, C.Wonder, J.Crew (Take an additional 25 percent off with code "SPRINGBEST") / Watch: Unknown, similar here, here and here / Earrings: J.Crew (Take an additional 25 percent off with code "SPRINGBEST") / Bag: Kate Spade (On sale! And get 15 percent off when you sign up for the newsletter!)