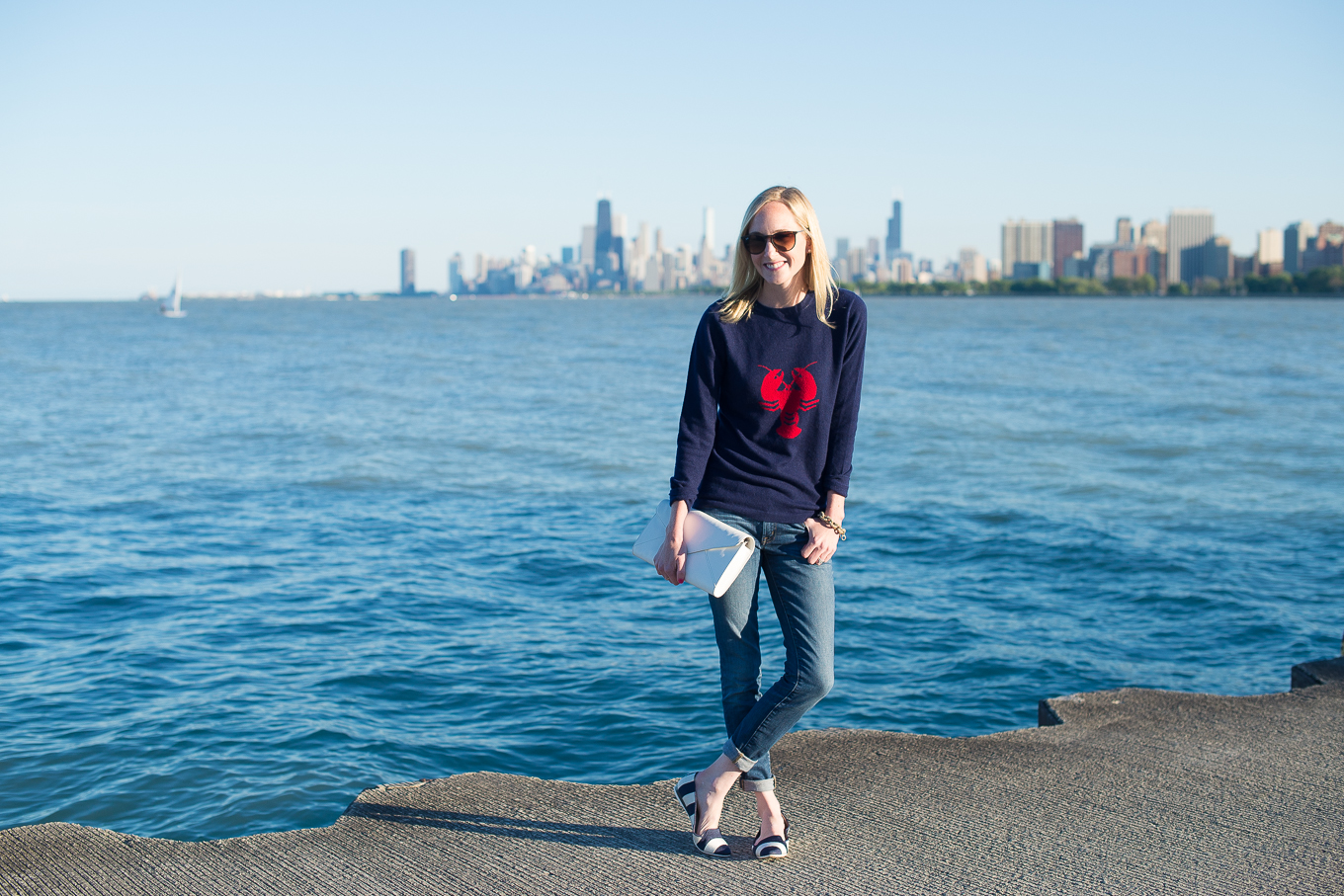 Ray-Ban Sunglasses c/o Sunglass Hut / Lobster Sweater c/o Tuckernuck and Two Bees Cashmere / J.Crew Jeans, Pave Link Bracelet and Pearl Earrings / Sperry Flats c/o Nordstrom Rack (Also available on Amazon) / Vera Bradley Clutch c/o
Chicago is located on the shores of the Lake Michigan, and life completely revolves around it. There are parks and piers to visit, activities to participate in, events and festivals to attend, and boat tours and cruises to take. But my favorite part of Lake Michigan is its 26 miles of beaches.
You truly feel like you're visiting the ocean! The water is turquoise during the morning and afternoon, and if you didn't know any better, you'd think you were in the Caribbean. (Some beaches even have palm trees during the summer!) Every beach has a different feel—some have sandy shores while others feature rock or cement, perfect for cannonballs—and something different to offer. My favorite lake activities include taking long walks with Mitch, picnicking, watching the sailboats and windsurfers, lying out, and photographing the city's breathtaking skyline.
Anyway, there's nothing like Chicago in the summer–whether you're spending your time on the lake or elsewhere. And this weekend, there's a super fun event! If you're in the city this weekend–or have the ability to be in the city–you have to go Sunglass Hut's #electrifychicago event on Saturday. It's being hosted at Rooftop Lounge IO at the Godfrey Hotel at 127 West Huron Street, and it's open to the public! It starts at 2 p.m. and goes until 3 a.m., too. (For those of you who can still party, unlike me, haha.)
Have a wonderful weekend, everyone! :)