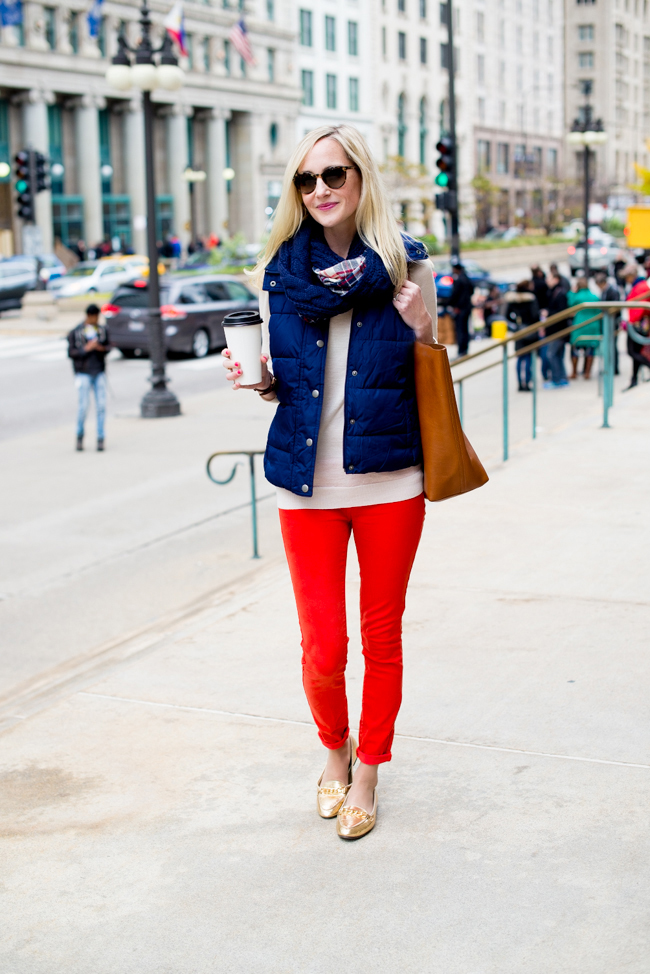 Old Navy Puffer Vest (c/o, Love J.Crew's version, too!) / Joe Fresh Sweater (Old, similar here and here) / Shop Prima Donna Flats and Scarf (c/o) / BlankNYC Jeans (Old, similar here) / Madewell Tote / Daniel Wellington Watch (c/o) / Kate Spade Sunnies (Old, similar styles here and here) / Berricle Earrings (c/o)
Normally, weekends seem to go by all too quickly. One minute it's Friday and I'm ecstatic; the next I'm curled up on the couch, suffering from a case of the Sunday blues, wondering where the heck all the time went. But I really felt like I got the most out of this past weekend. I did so much!
On Friday, Mitch and I went out to breakfast before work… which was an insane concept for us. We'd seriously been talking about doing it for six years, but have never once been able to get our acts together and actually pull it off. It was so nice! Chatting over a good meal and coffees is a great start to the day, you know? I'm one of those people who's a complete disaster in the morning–always rushing and always late. So this was quite the welcomed change!
Later that night, we went to Webster Wine Bar with our friend Gabby for one last hurrah before she moves to San Diego. (Which is happening tomorrow. Waaaaa! Safe trip, Gabby. We love you!) On Saturday morning, I got up early, showered and cleaned (so productive, right?!), and then we headed over to the Chicago Bagel Authority for breakfast. After a walk and some playtime with Noodle, we took the subway downtown, and roamed around Palmer House and the Art Institute (where these photos were snapped), and then had appetizers and drinks at a tavern. Mitch went to the Bulls game later that night, and afterwards, our good friends Eric and Teresa came over for Pequod's deep dish. (I love New York pizza, but Chicago kicks NYC's butt on the pizza front!) On Sunday, we grabbed lunch at Noodles & Company (hehe!), ran errands, and then attended a housewarming party our friends Gavin and Catie, who recently bought their first home. (Which is absolutely stunning. Congrats, you two!) Afterwards, we had dinner with Emily and Kit and their fabulous husbands at Balena, a beautiful Italian restaurant in Lincoln Park.
Phew. I normally stick to one or two activities per weekend, so–as you can imagine–I'm completely wiped out. ;) But it was a great weekend. The best part? I have a great week ahead, too. My mom, aunt and grandmother are coming in from the East Coast, and I can't wait. It's supposed to be pretty chilly, so if you have any suggestions for inside activities in Chicago, I'd love to hear them!
Thanks in advance! Hope everyone had a wonderful weekend. :)