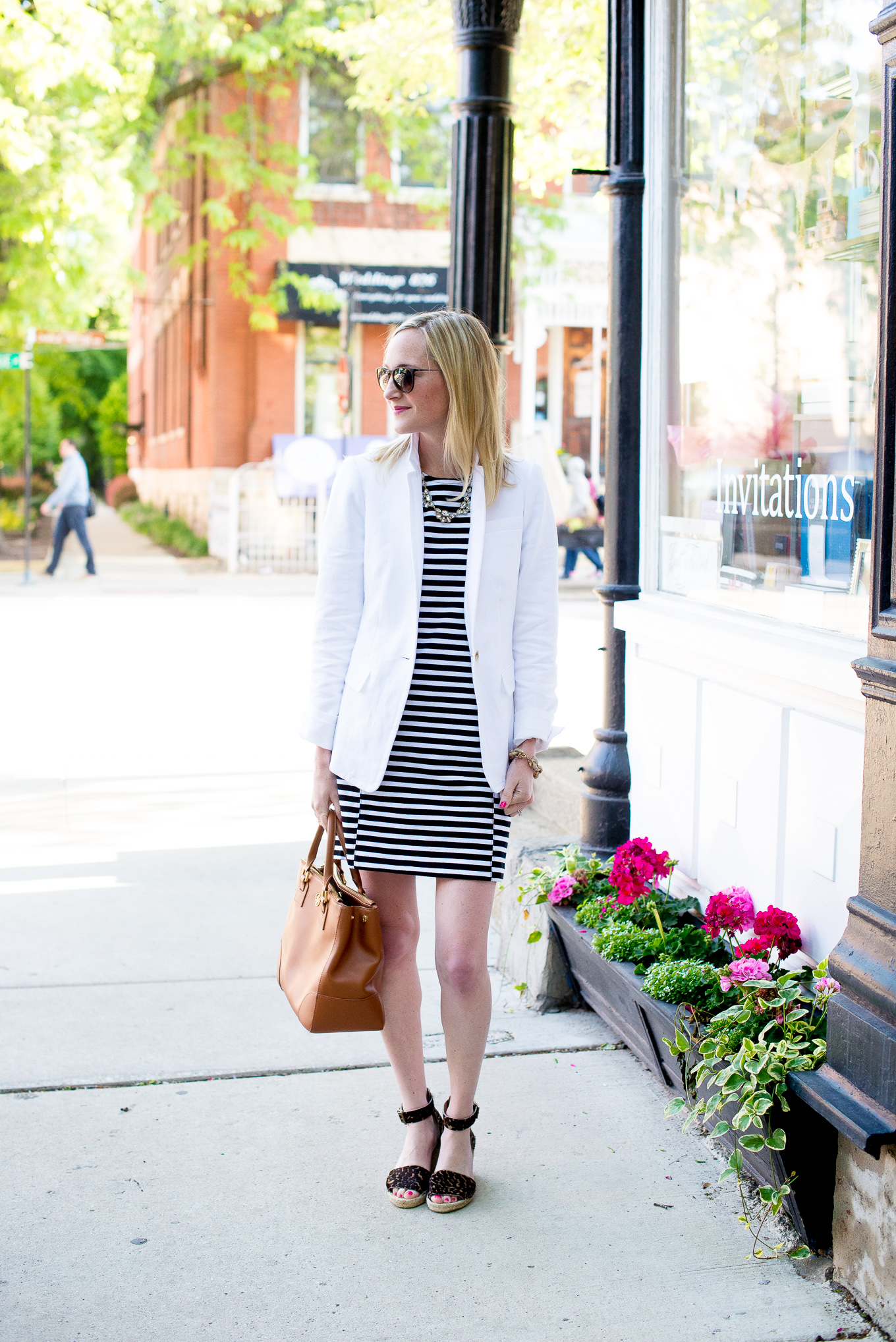 Ray-Ban Sunglasses c/o Sunglass Hut / J.Crew Dress c/o (Call the store to find it: 312 751 2739, and similar here), Wedges and Blazer c/o J.Crew Michigan Avenue / Tory Burch Tote (Mini version here; Micro version here) / J.Crew Necklace (Old, similar here and here), Earrings and Bracelet
As I mentioned before, I'm currently home on the East Coast for my brother's wedding, which is TODAY! (Follow along on Instagram! #burgersheehanwedding) So for now, let's chat about where you can find me on a typical Saturday. :)
Armitage Avenue in Lincoln Park!
Armitage is, without a doubt, my favorite street in Chicago, and Mitch and I spend almost every Saturday walking it. Boasting a quaint yet hip vibe, it has a great mix of boutiques, restaurants and bars. It's always bustling, as the Brown and Purple lines stop right on Armitage between Bissell and Sheffield, and we love that. (Kind of reminds us of the West Village!)
Some of my favorite spots include All She Wrote, a fine stationary and gift store; Summer House Santa Monica, a California-style restaurant with a sunny atrium; Glazed and Infused, the best doughnut joint I've ever experienced; Art Effect, a clothing, jewelry and gift boutique; Annette's Homemade Italian Ice; Lori's Shoes, a discount designer shoe store; Butcher and The Burger, a BYOB customizable burger restaurant; barker & meowsky, a pet boutique; Ezra's, a liquor, wine and craft beer shop; Tarantino's, a cozy Italian restaurant; Fairways, an American fare restaurant with golf simulators; and Blue Door Farm Stand, a neighborhood café and artisanal market that is actually currently in the process of moving around the corner to Halsted Street.
And just a quick reminder: today is Sunglass Hut's #electrifychicago event! While it's not on Armitage, it is taking place at a really, really cool spot: the Rooftop Lounge IO at the Godfrey Hotel, located at 127 West Huron Street! It's open to the public, too. :) It starts at 2 p.m. and goes until 3 a.m., too. (For those of you who can still party, unlike me, haha.)
Hope you can make it!