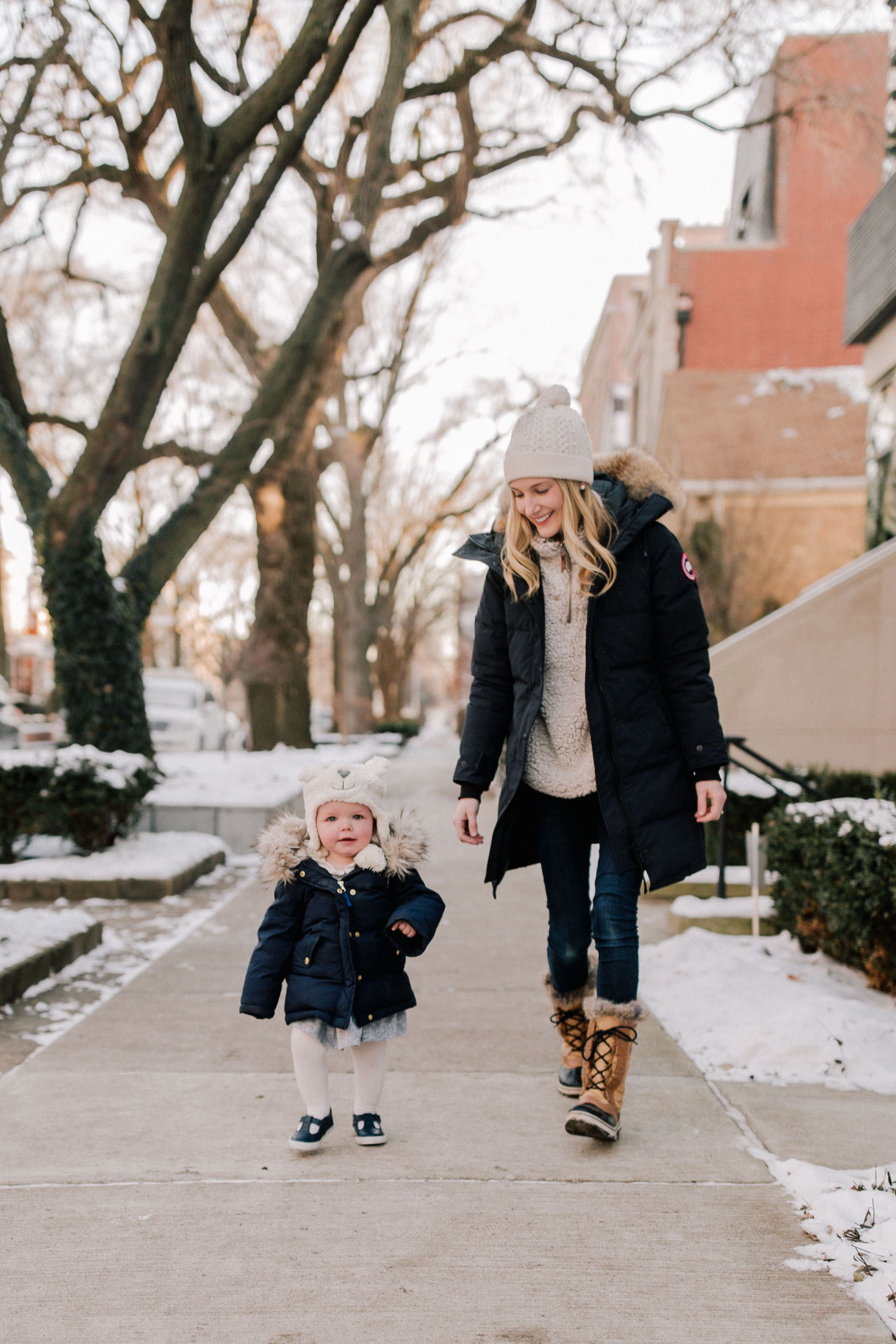 Sorel Boots (Also here and here in more sizes. They run small; go up a half size.) / Wubby Pullover (Similar here and here. Also such a big fan of the Patagonia Pullover and the L.L.Bean Pullover.) / Jeans (Darker wash sold out.) / Barbour Beanie / Canada Goose Jacket / Emma's Jacket / Emma's Hat / Emma's Shoes
I know. The only thing I've been talking about lately is the weather, and nearly everyone in this country is experiencing bad weather at the moment. BUT… Mitch snapped a few really adorable photos on our way home from daycare the other day, and I thought I'd write a post about how to survive a Chicago winter to accompany them. ;)
Here are 15 tips:
How To Survive A Chicago Winter:
Invest in a really good puffer coat. I have this Canada Goose jacket and love it, but I don't think you need to drop an insane amount of money in order to find warmth. I also have Ralph Lauren's quilted parka and think it measures up. Just do your research and be sure whatever jacket you settle on can handle subzero temperatures.
Join a gym. If only for the heated pools, saunas, and bikram yoga classes.
Get a space heater. Yes, they're dangerous. And you should only use yours when you're awake and lucid. And never leave it plugged in or on when you're not in the room. But space heaters are mighty things! I have a tiny one, and simply turn it on when I'm working at the kitchen table. Makes SUCH a big difference, and sometimes, when I close my eyes, I kind of feel like I'm in Mexico.
Make soup and chili. I always look forward to lunch and dinner when I know soup and chili are on the menu!
Find indoor activities. I'm in the middle of compiling a huge list of indoor activities from your suggestions, and I'll update you soon! But Mitch and I love visiting Kibbitz Nest, playing at the Children's Museum, and wandering the Lincoln Park Conservatory.
Throw out your gloves and go for mittens. I'm not wearing anything on my hands here because I'm an insane person, but believe me: mittens > gloves. If you want to go all out, buy ski mittens and fill 'em with hand warmers. It's not exactly a pretty look, but I promise you that no one is judging. ;)
Consider hand warmers and toe warmers. Actually, don't consider them. Be all about them. They are small but they are mighty.
Visit Midway or O'Hare. I'm only kind of kidding about this one. Because getting away can do wonders for the body and mind!
Wear a beanie indoors. It's in style, anyway! This is the one I'm obsessed with right now.
Get a faux fur blanket. I love Pottery Barn's. A fur blanket will be your best friend.
Consider an electric blanket. I haven't had one in years, but I used to have one when I lived in a particularly drafty apartment in New York, and it changed everything for me.
Learn how to make good coffee. Hot drinks make such a big difference when I'm chilled to the bone!
Fix your fireplace. This is kind of a note to self. ;) Nothing beats sitting by the fireplace on the coldest days!
Get great boots. I love this pair of Sorel Boots. (Also here and here in more sizes. They run small; go up a half size.) But I also rely on my shearling-lined Bean Boots.
Avoid hunching your shoulders. Seems like a silly one, but Mitch and I find that when we don't hunch our shoulders in the extreme cold, we actually remain warmer. It's a hard habit to break, but give it a try the next time you're in struggle city!
Stay warm, Friends!
Shop the post:
Sorel Boots (Also here and here in more sizes. They run small; go up a half size.) / Wubby Pullover (Similar here and here. Also such a big fan of the Patagonia Pullover and the L.L.Bean Pullover.) / Jeans (Darker wash sold out.) / Barbour Beanie / Canada Goose Jacket / Emma's Jacket / Emma's Hat / Emma's Shoes