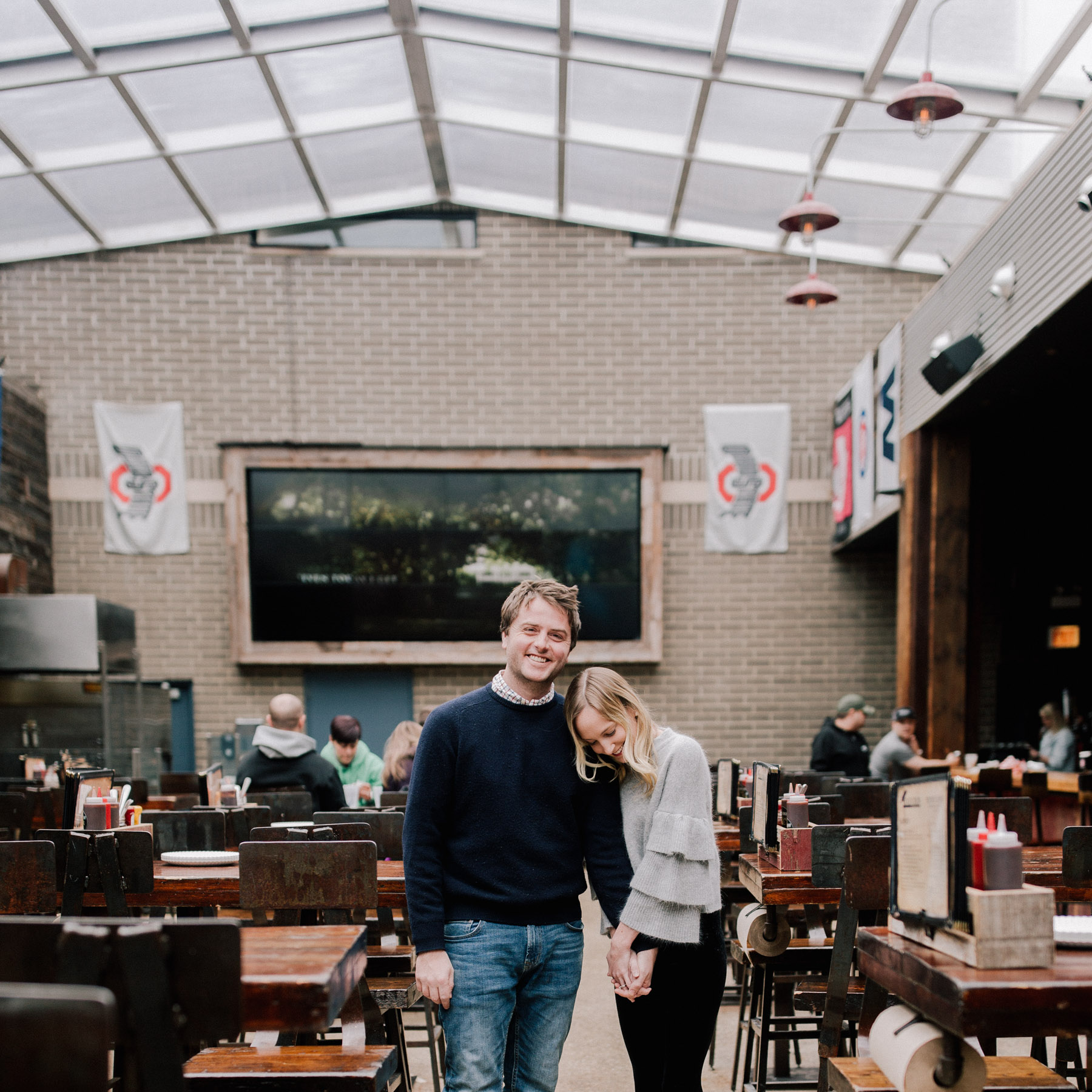 Tiered Sweater (Also available here and here. Kelly says that the t-shirt version and the light pink version are great, too. Her current sweater obsession: this bow-backed number. She obviously wrote all this, haha.) / Velvet Leggings (The Spanx pair is supposed to be phenomenal, btw, and Kelly loves this super affordable pair and this navy pair.) / Cap Toe Pumps (This pair is very similar. And she adores this pair, this pair and this pair.) / Tortoise Clutch c/o
Mitch here!
It's hard to believe, but a couple of years ago, Kelly and I were childless adults. We could do whatever we wanted! Rough day at work? Take a nap. Long night out? Sleep in. New Star Wars movie? Go see it together. Just kidding; Kelly would never. She doesn't care about the Rebellion or the Resistance. Han, Leia, Chewie, BB-8, freakin' lightsabers, cool Force stuff, those weird bird things? Completely lost on her.
Such a shame.
We had a nice little situation set up before our Emma-gorgon came along. (Joke. She's the light of our lives.) I used to go running; read books; sing exceptional karaoke; sleep. Have I mentioned that I used to sleep a lot? Because I used to get sleep. Sorry, I'm sleepy. Insert the obligatory Emma-is-great-she's-the-best-thing-that-ever-happened-to-me-and-I-love-every-magical-moment sentence. ;)
But you know: Sometimes it's hard. For example, yesterday, Emma pooped in the tub, and then proceeded to pick it up and throw it at Kelly. Not to be outdone, Noodle also prominently pooped in the living room and then ate Emma's little dollhouse table. I spent a good portion of my day cleaning up poop disasters. On a somewhat related note, I made a pot of poop-free chili today, and it took six hours before we had a chance to eat it.
Six. Hours.
What I'm trying to say is that I need a night out every once in a while. I'm a lucky guy because I get to be with my favorite person all the time and I feel like a jerk complaining on the internet that I don't get to spend even more time with her because I have my second favorite person toddling around my house. But, honestly, I feel like my whole mental teeter-totter is balancing on this idea of a big date night with my wife in the near future.
Dates are a big deal! Kelly and I met at work, but still had a few of those awful awkward first dates. On one of them, we were both too nervous to eat and we instead nervously chattered over cold food until a strange New Yorker interrupted us with (and this is true), "You two need to shut up and get a room already!"
Though I just heavily edited that. He was way filthier.
We had dates down in the Before Emma Era. I was super suave! I would wear both of my fanciest clothes and take Kelly to the best all-you-can-eat BYOB sushi restaurants New York had to offer. I'd even spring for the $6 bottle of wine at the pharmacy around the corner. Not that $5 garbage wine. After dinner we'd go dancing … and by dancing, I mean we'd go home and fall asleep on the couch because we ate too much sushi.
Pulling off a post-Emma date is going to be tough. It needs to simultaneously make up for 1.5 years of relationship neglect, malnutrition and high expectations. On the other hand, we're pretty easy to please at this point. My ideal date would be to have use of both of my hands, to eat my food while it is hot, and to not have an emergency adrenaline rush for the whole night because I'm nervous someone's going to throw something. Honestly, I envision a quiet monochrome room with chicken fingers. Does they have one of those in Chicago?
Okay, so here are our date night ideas:
The City Winery Domes on the Riverwalk: They look like igloos!
The Ralph Lauren restaurant
The Godfrey: Apparently the rooftop is always open, and WARM!
Devereaux: Same thing.
LondonHouse Rooftop
Upstairs at The Gwen: Not sure if this is open during the winter but we'll find out.
Old Crow Smokehouse: Where this photo was taken! It's a favorite.
But we'd love your help, considering we only have seven ideas. What do people do nowadays? Kelly likes high ceilings and ambiance, and is less about the food. I like basements and buffets, and love the food thing. Any ideas? Rooftop bars? Ground-floor bars? Really, any place with a working furnace will do, considering the weather.
If you know Chicago, are still reading this post, and know of some cool spots, please let us know! Because I'm clueless and I gotta get out.
Much like I'm out, too.