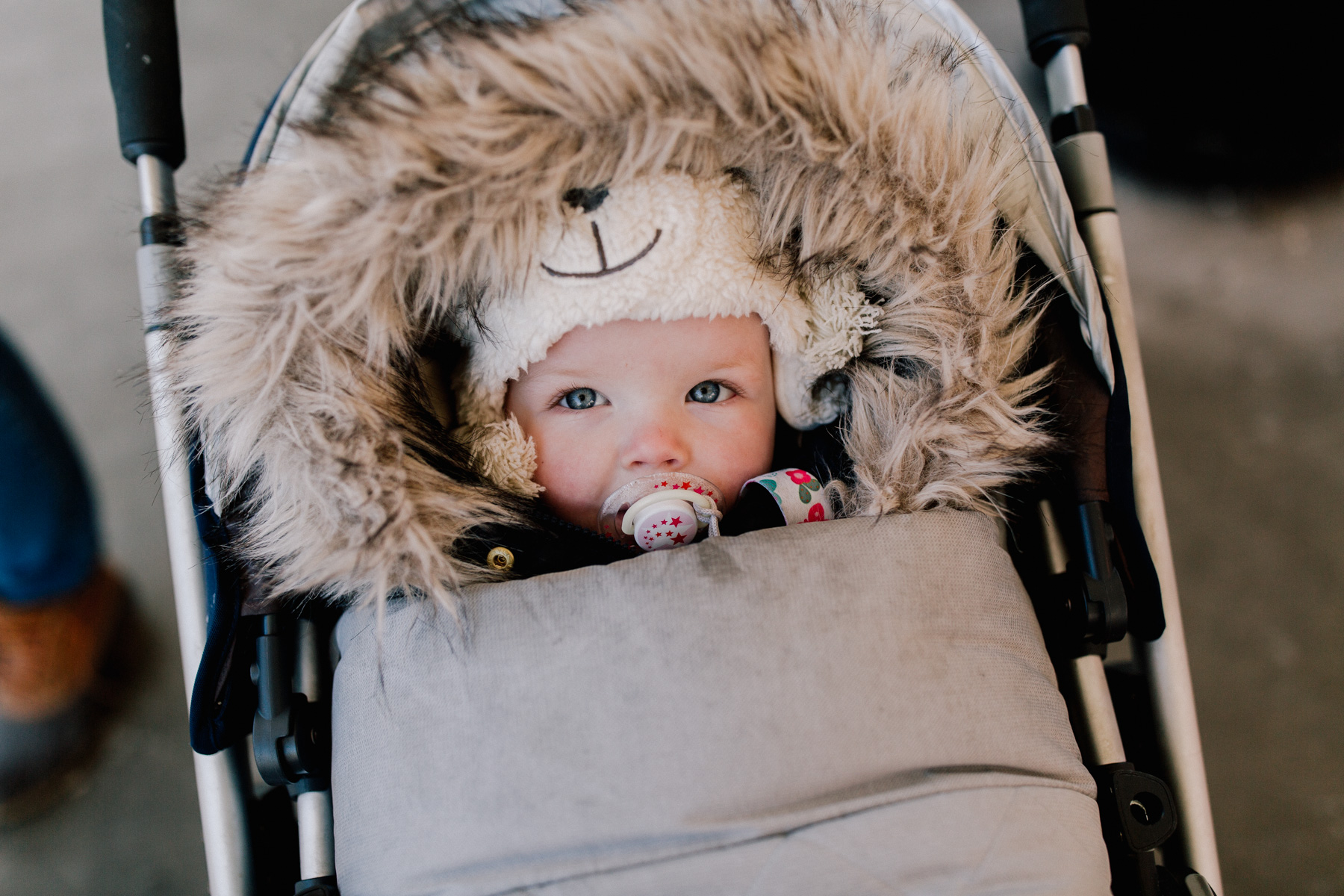 One of my biggest resolutions for 2018 was to value my free time and to find more kid-friendly (indoor) activities around Chicago this winter. Last winter, Emma was barely sitting up on her own. This time around, though, we need things to do. Especially considering the subzero temperatures we've been graced with since the holidays. There are only so many times you can play house, barista, dress up, and ball in your living room! The goal is to do one awesome activity during the work weeks, and one or two awesome activities during the weekends.
The other day, I asked for suggestions–through the blog and social media–and I was absolutely amazed at the outpouring of supportive messages with incredible recommendations. Thank you. They were so good that I thought I'd share some of my favorites today!
Before I do that, though, a little note about the photos you see in this blog post: they were taken last week, when we went downtown to the Chicago Children's Museum and the Crystal Gardens, both on Navy Pier. I can't say enough about both of the experiences; they're in the same building so it's easy to check off both activities in one day, and each one is a breath of fresh air during the dead of winter. Scroll down to read more about our day!
25+ Kid-Friendly Indoor Activities for Chicago Winters
Gyms (Midtown Athletic is #omg)
Chicago public libraries
Parachute (So cool! Pop into the best kids' classes with this pass.)
Did I miss any?! Please let me (and everyone!) know in the comments below, and I'll add your suggestion to the list. Thanks! We're all in this together. ;)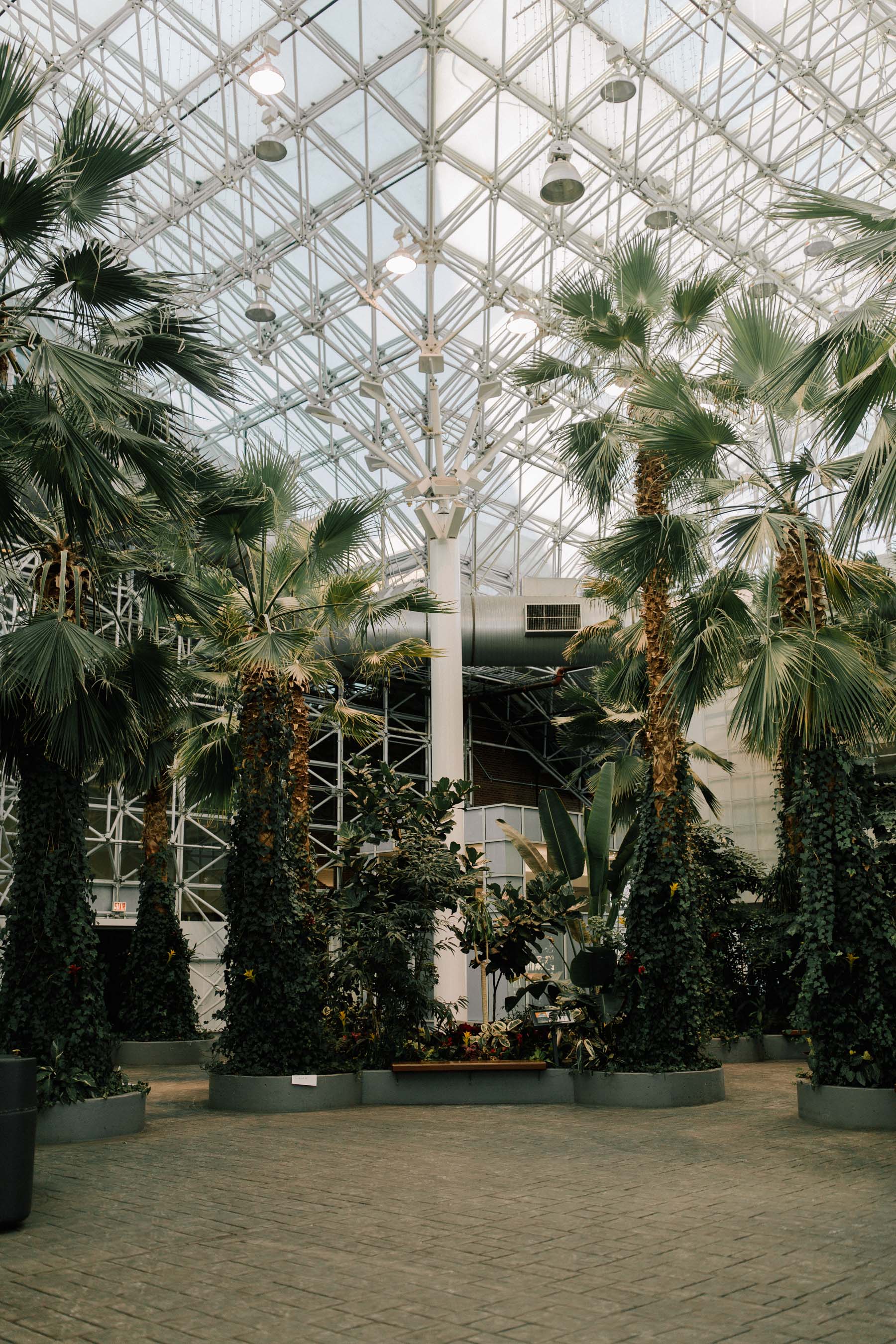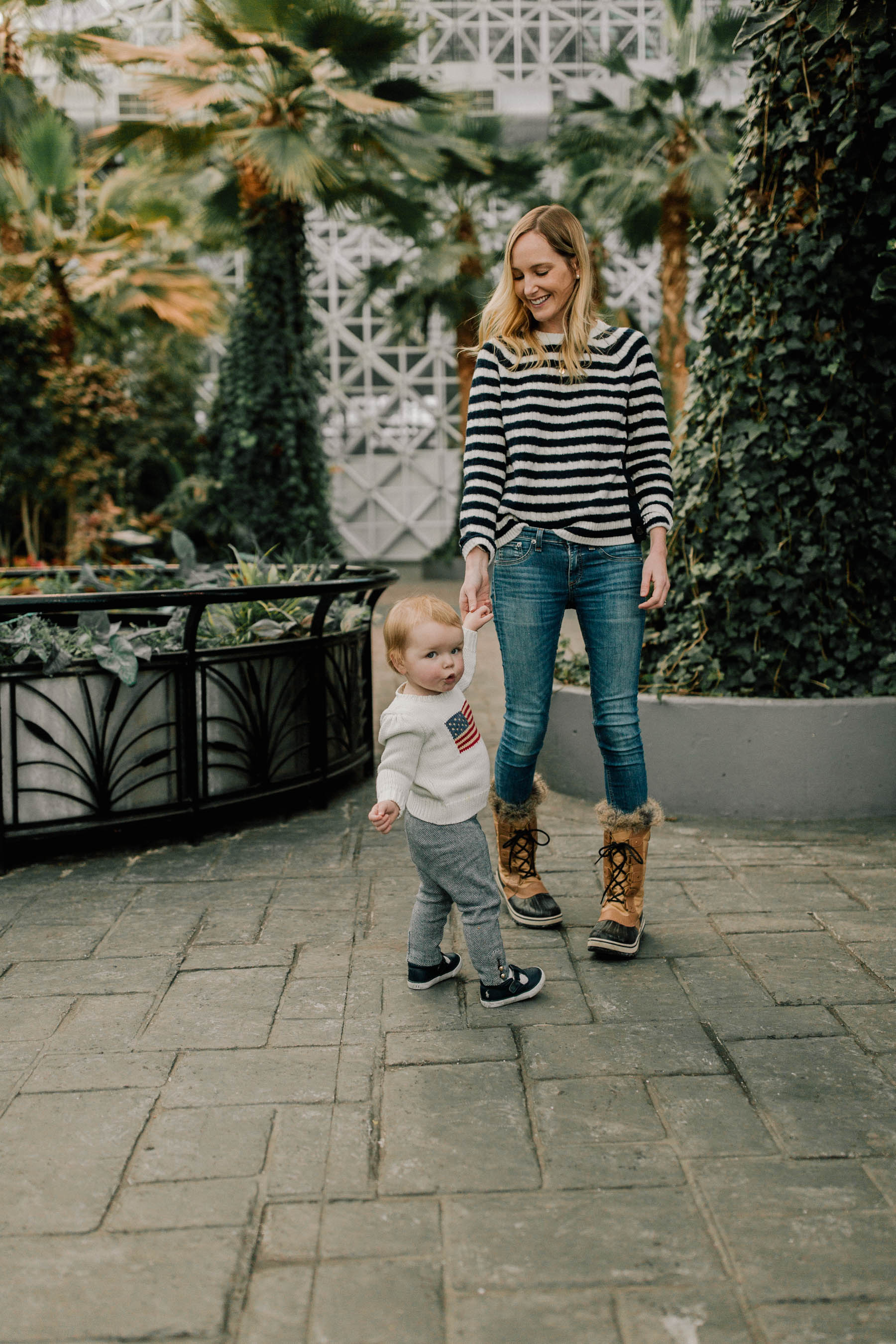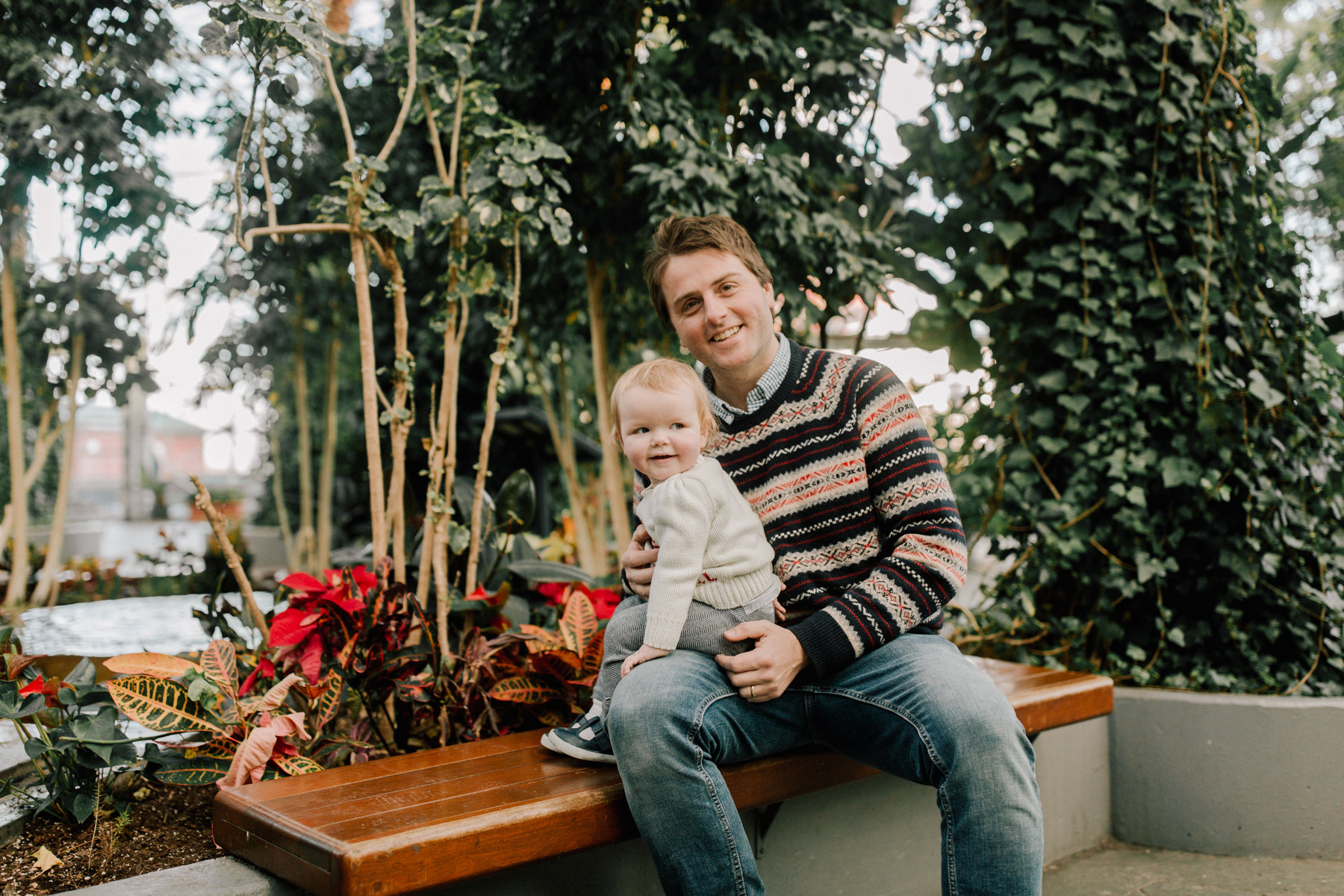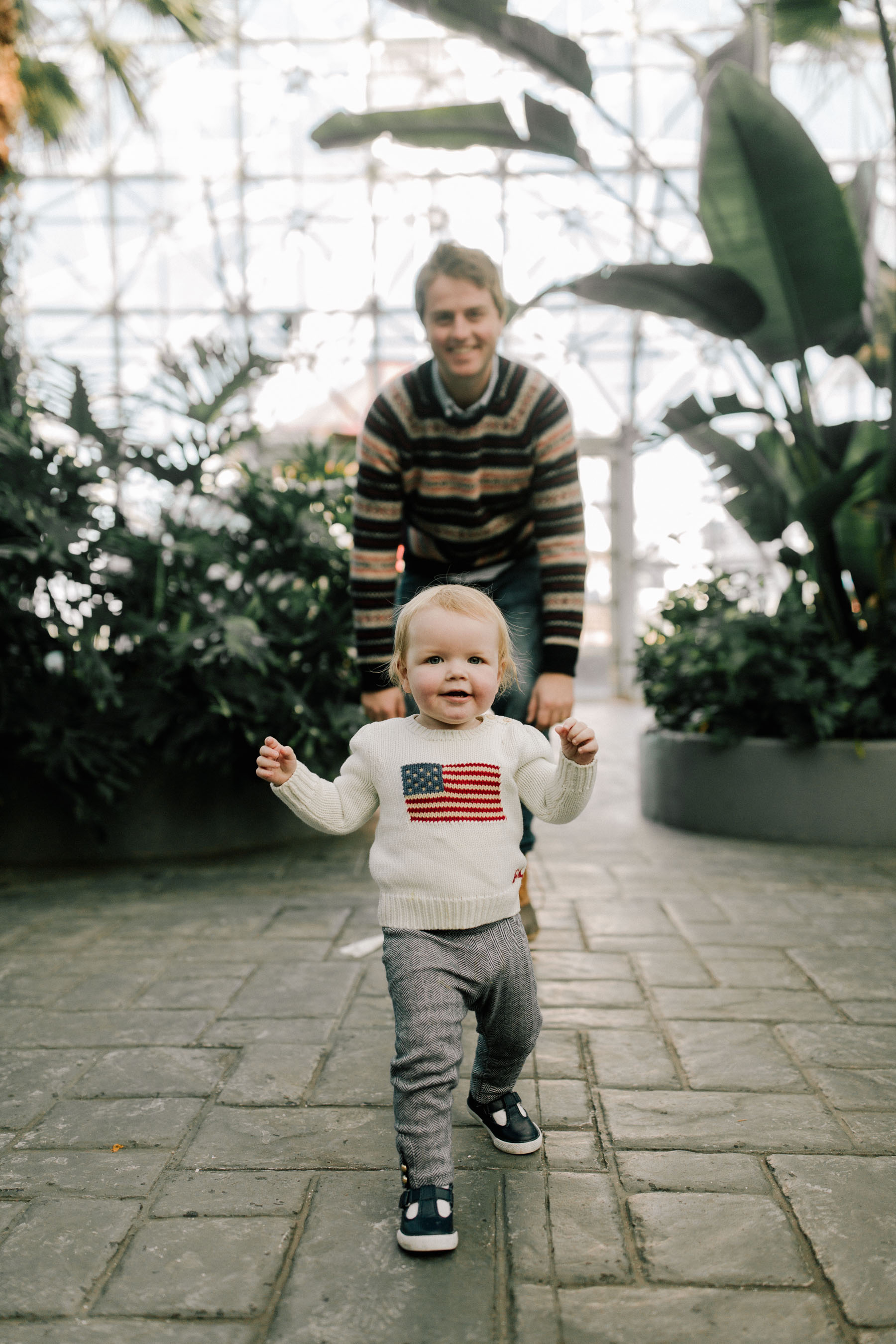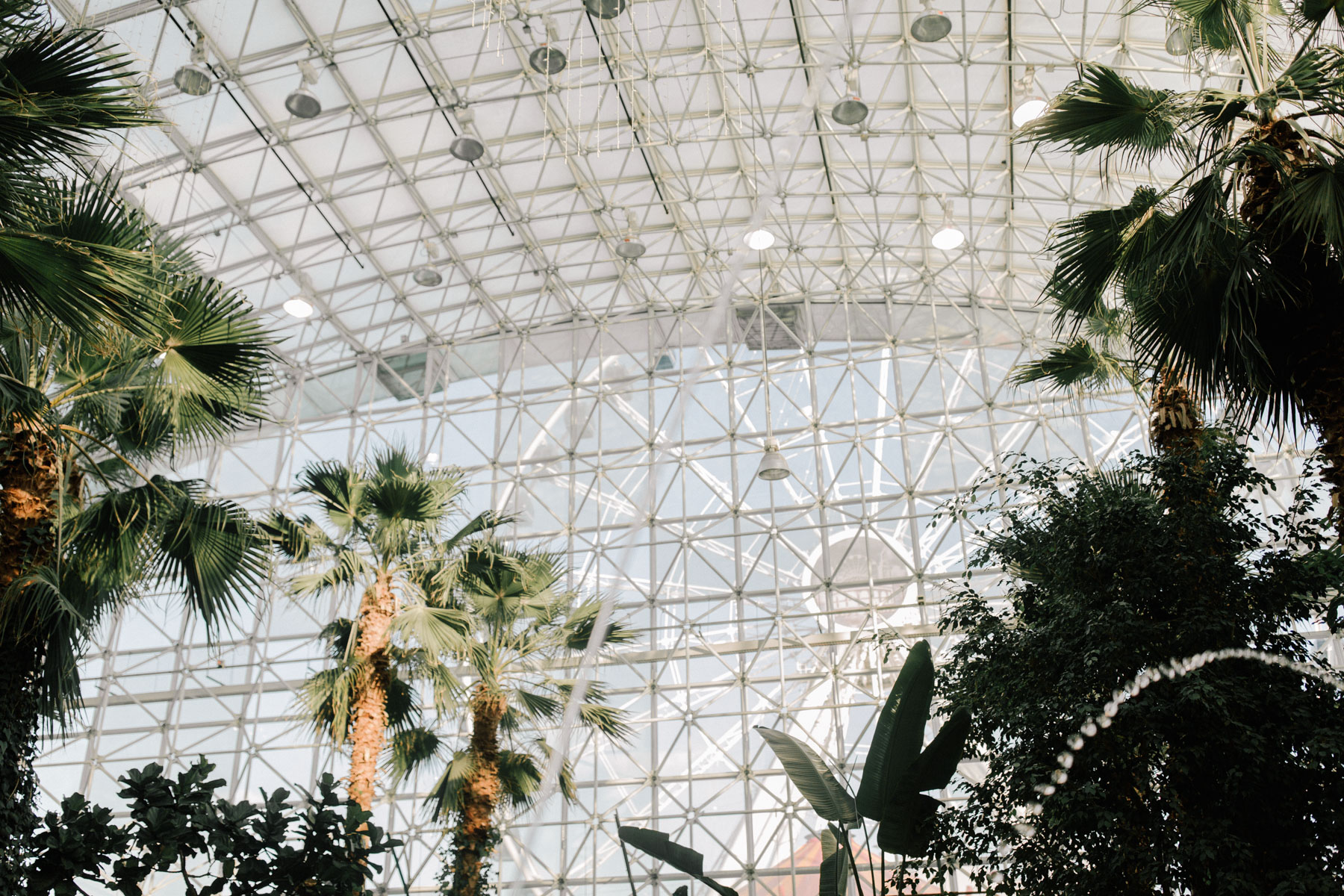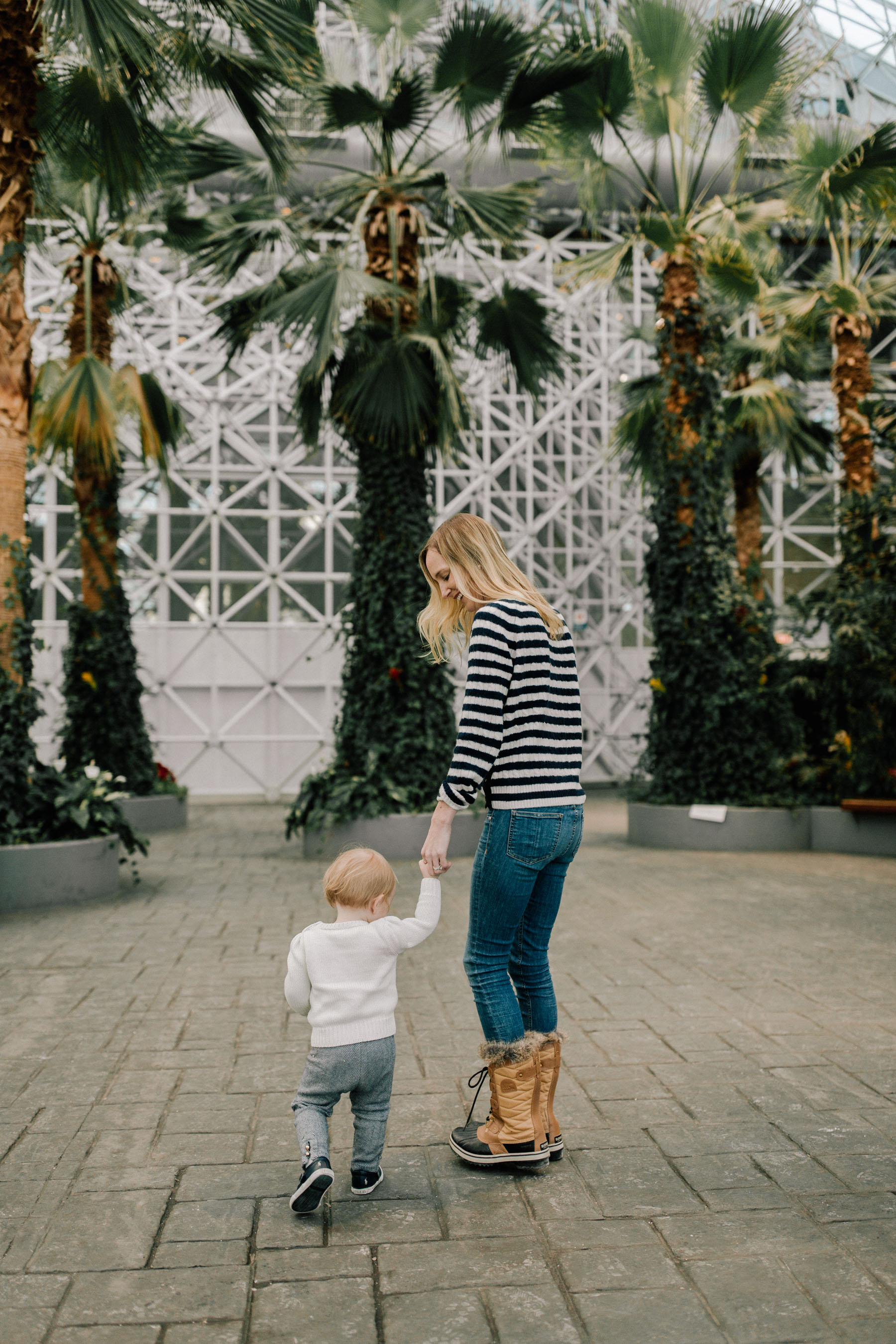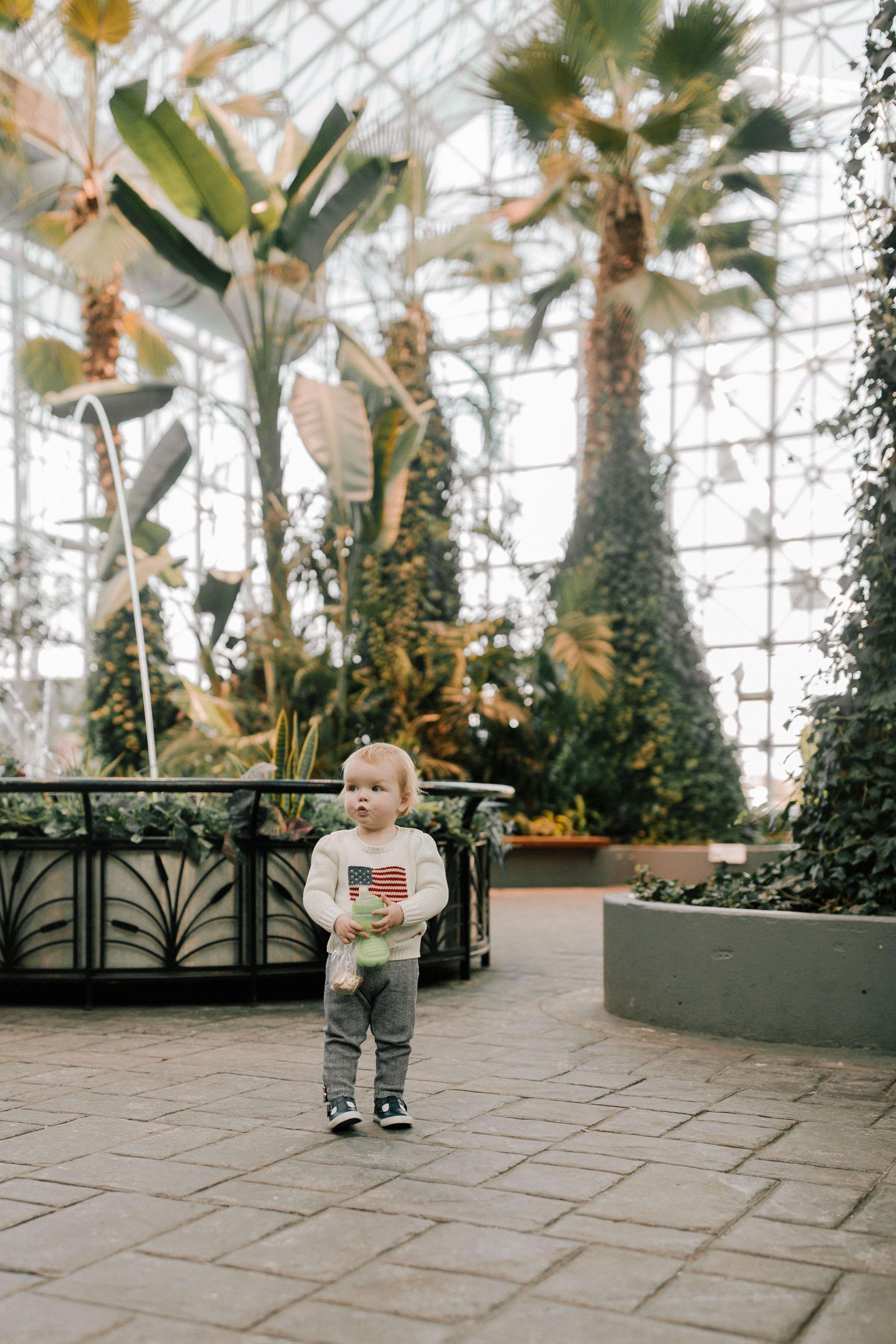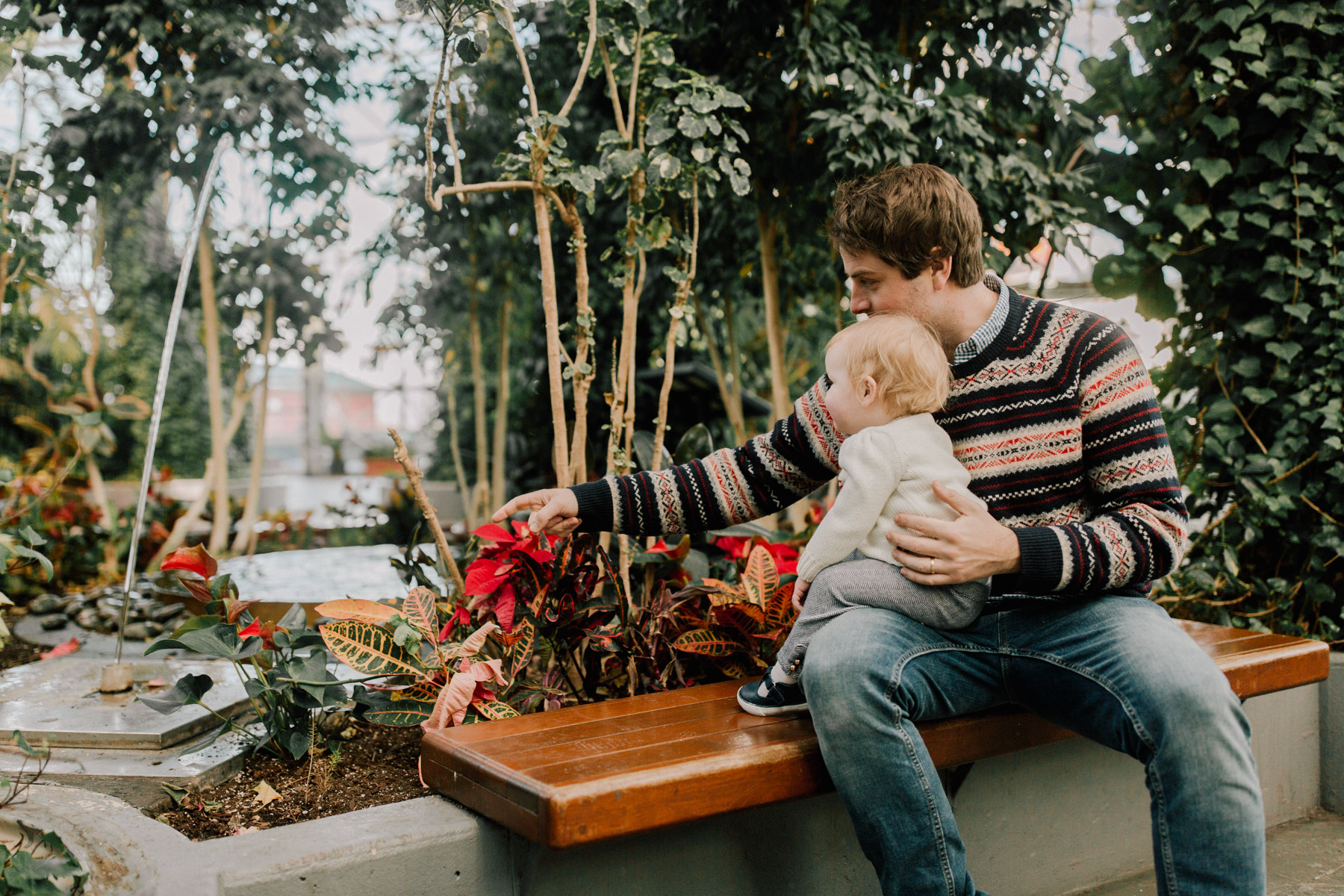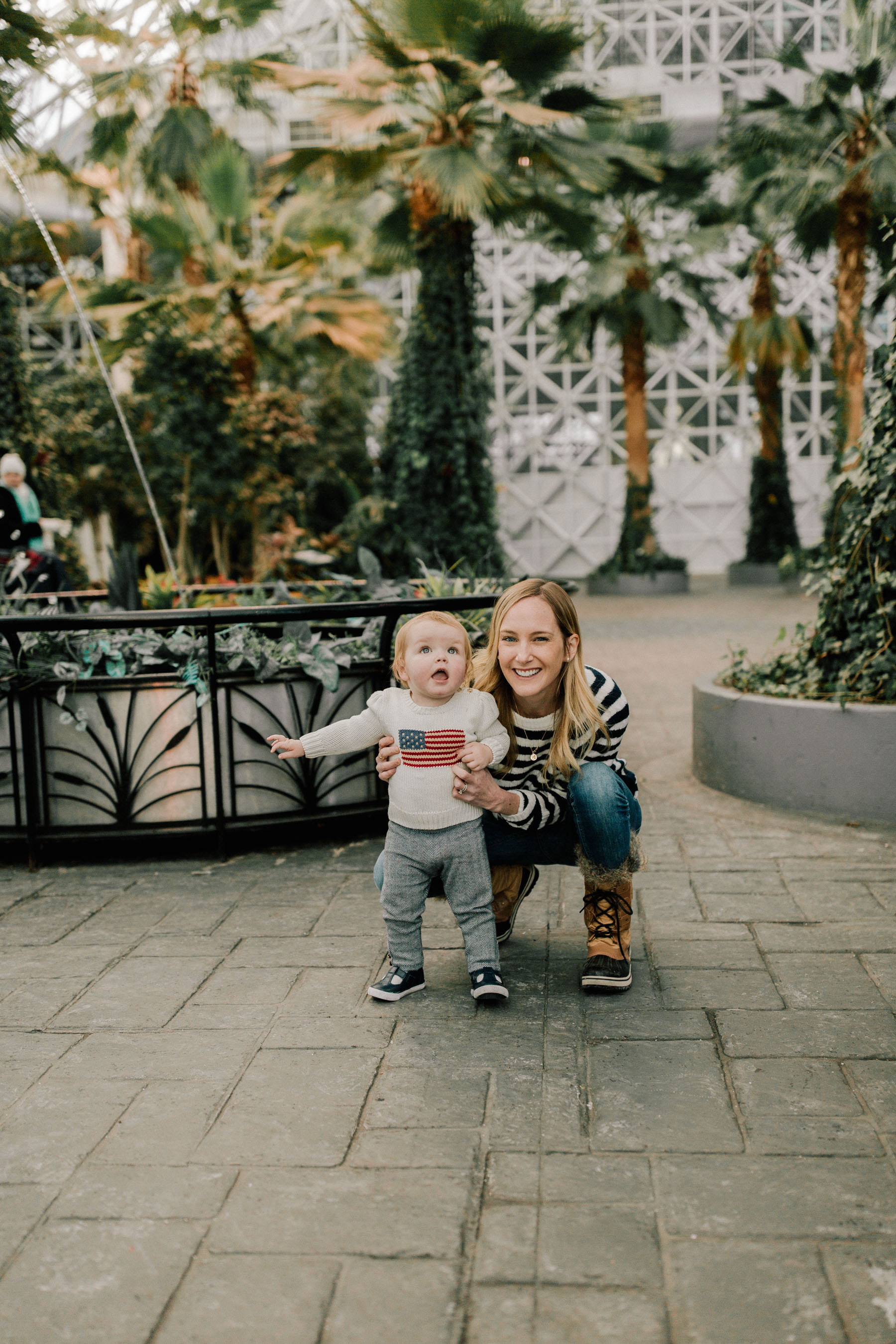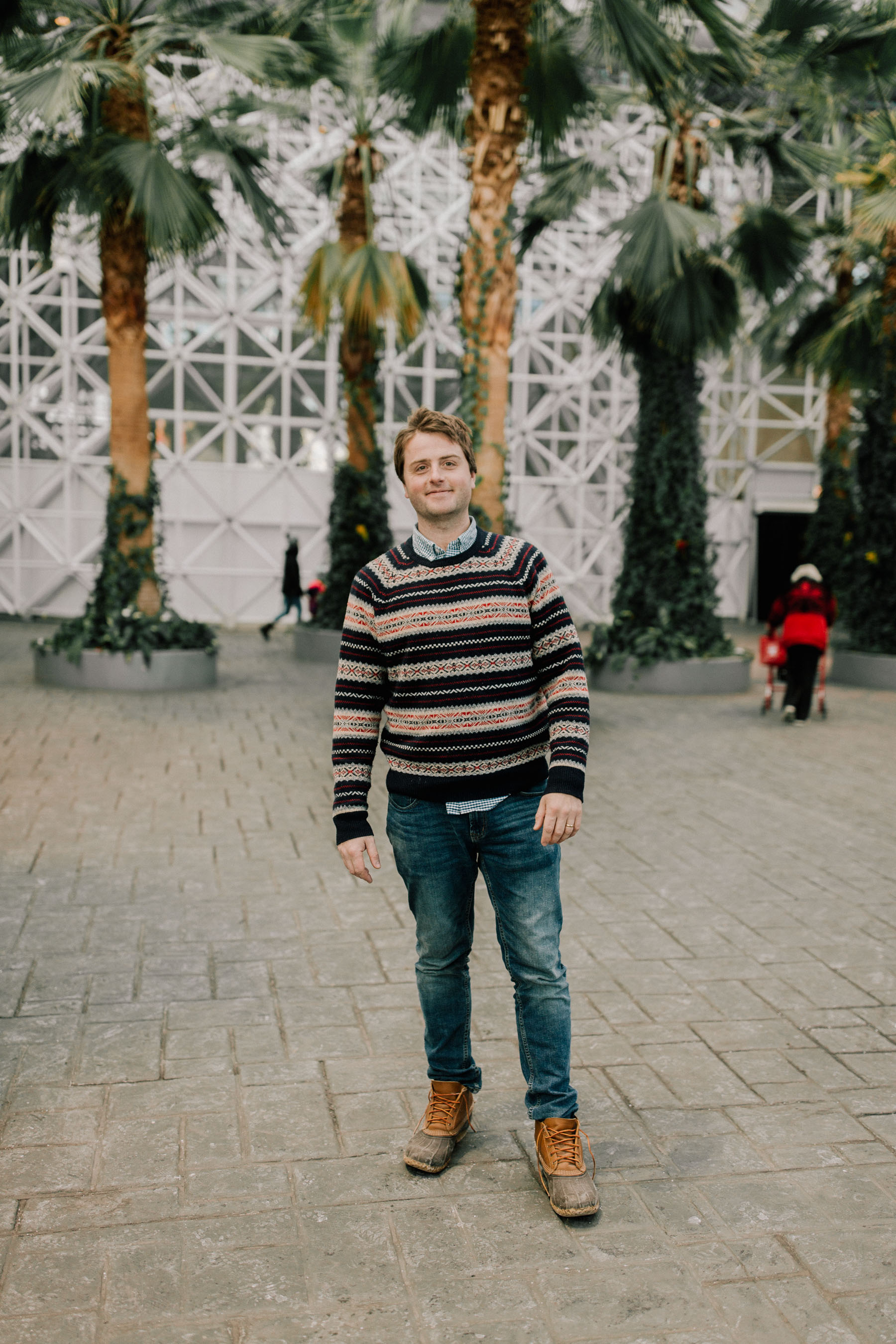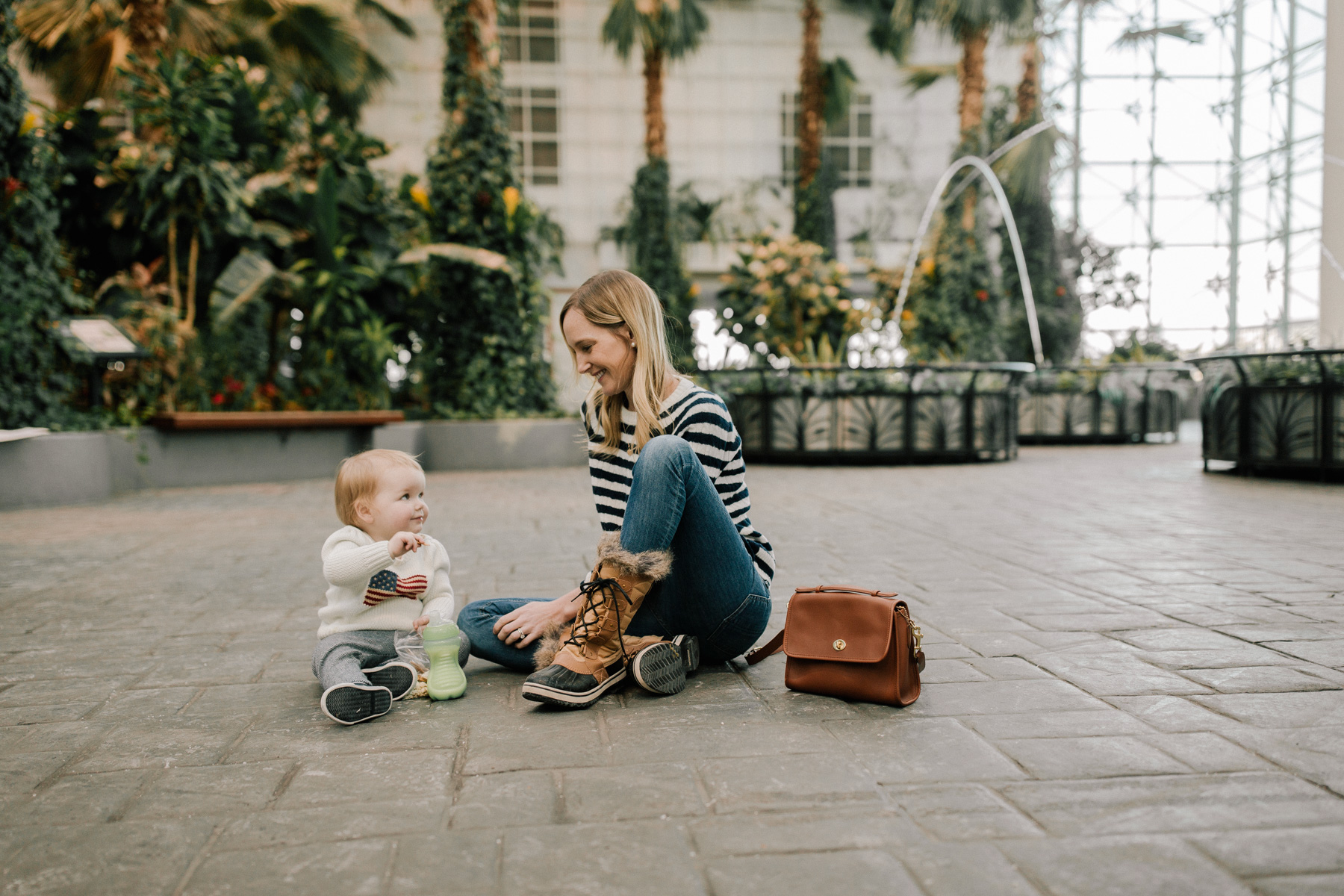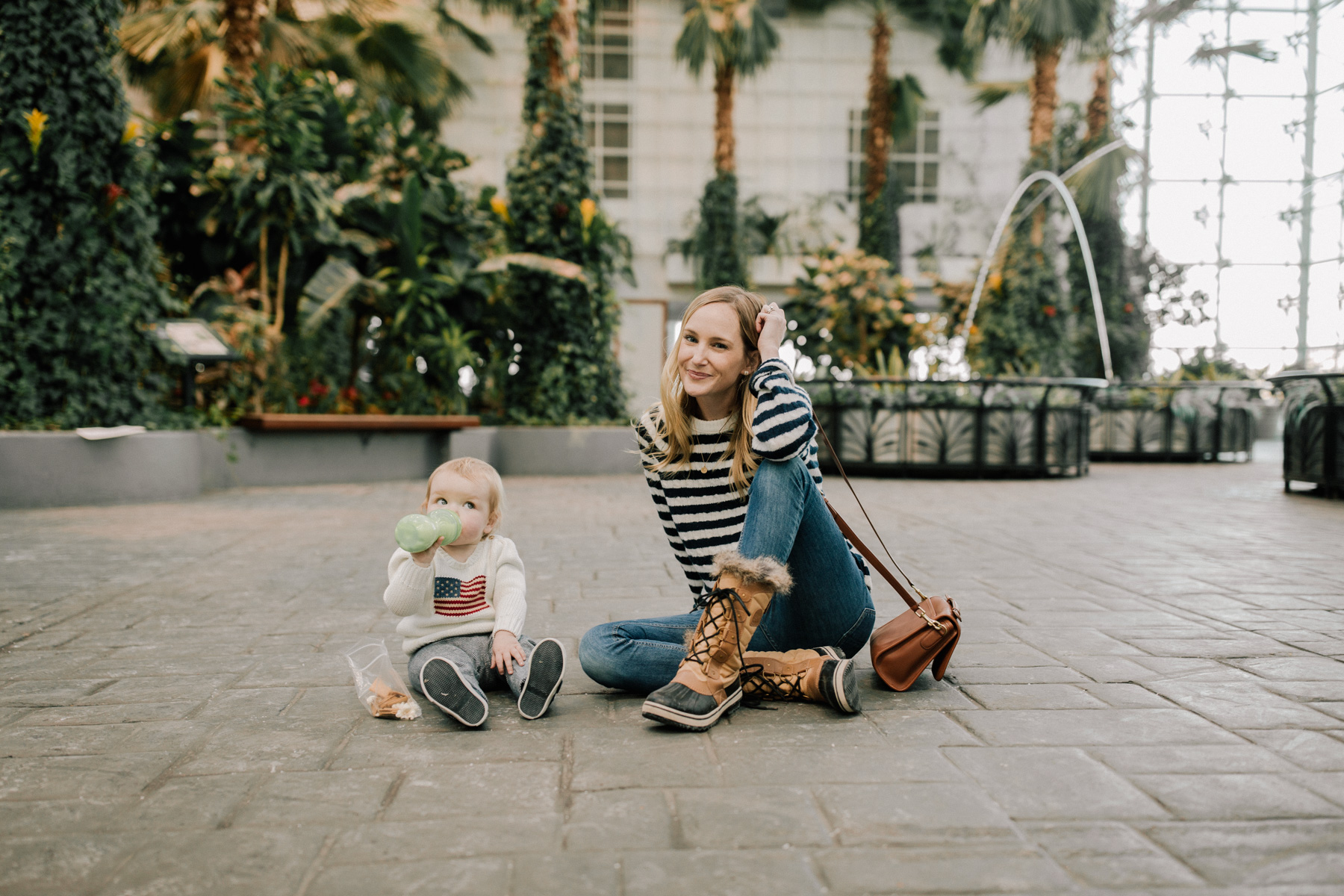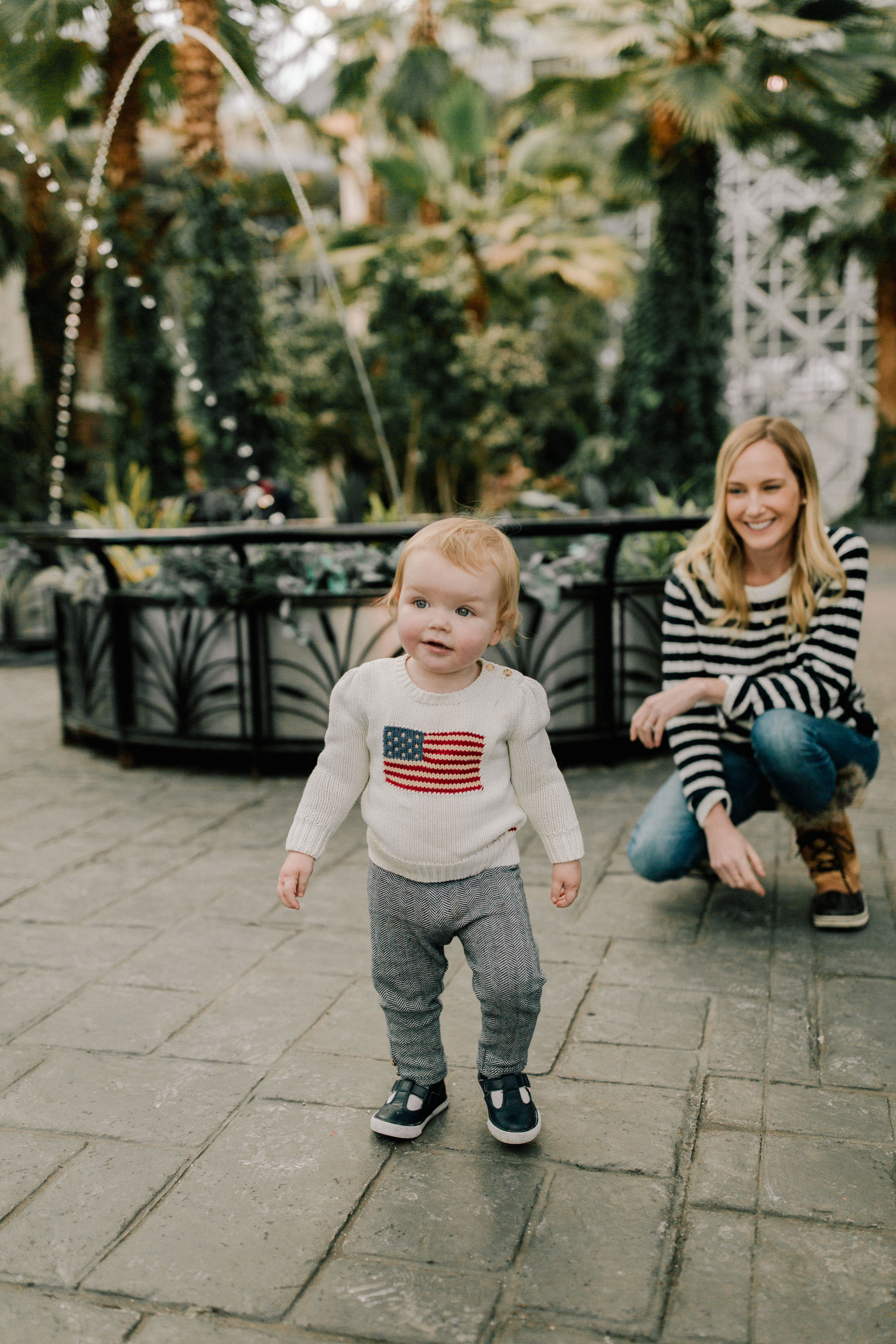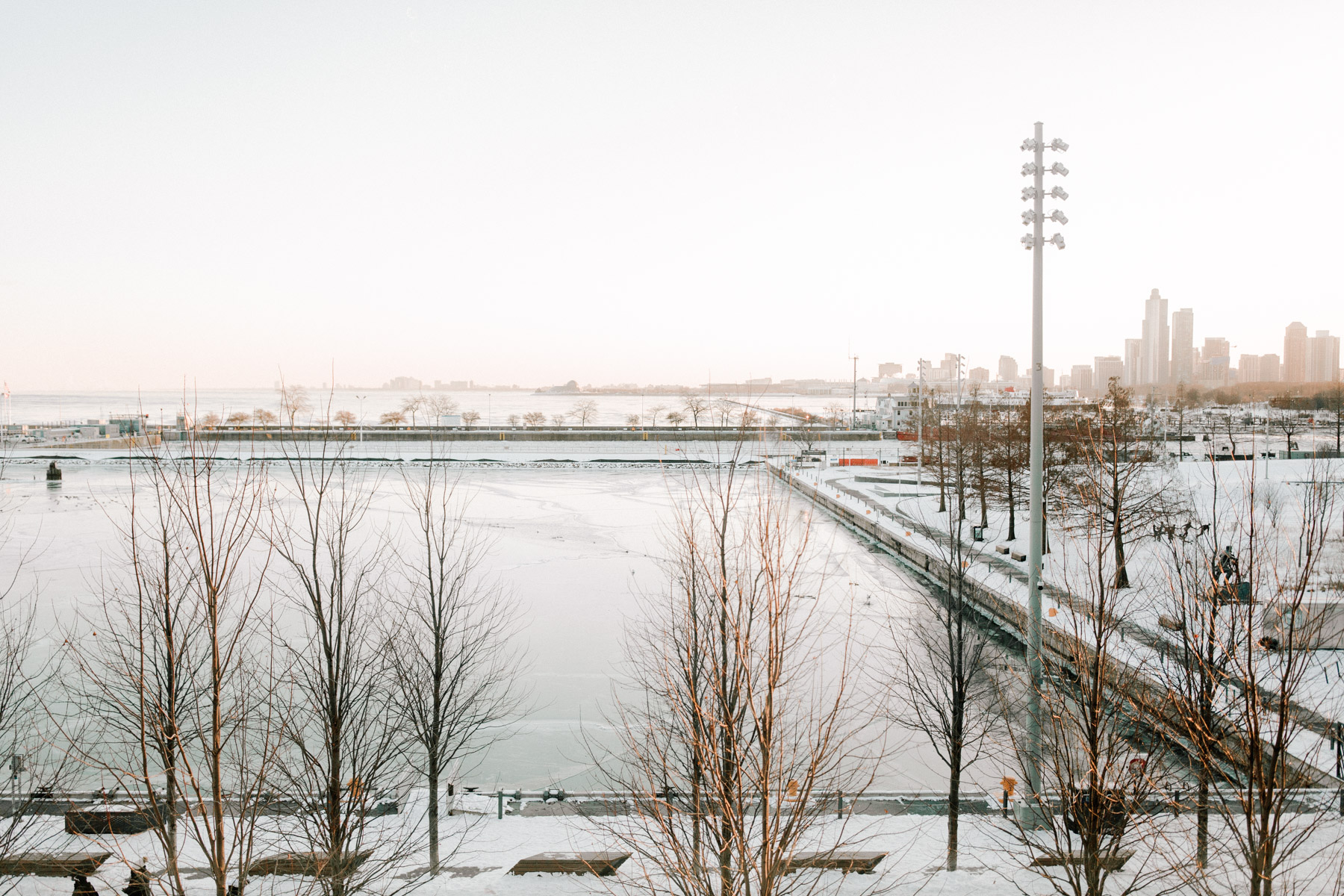 Shop the looks:
Sweater (It's available here, too. Also love this one!) / Scarf (Similar here) / Sorel Boots (Also here and here in more sizes. They run small; go up a half size.) / Jeans (Also adore this pair.) / Coach Bag (Also love this similar one and this similar one.) / Emma's American Flag Sweater (Boys' version here!) / Emma's Herringbone Leggings / Emma's Mary Janes / Mitch's L.L.Bean Boots (These are my personal fave for ladies!) / Mitch's Fair Isle Sweater
Crystal Gardens
The Crystal Gardens were really just an afterthought, but we saw a sign for them as we were about to enter the Chicago Children's Museum, and decided to warm up there. I wouldn't say it's as nice or large as the Lincoln Park Conservatory or Garfield Conservatory, but it boasts some cool views of Navy Pier and has great wide open spaces. (Cue the Dixie Chicks.)
I almost wish we'd brought a blanket and a picnic, as Emma decided to plop herself down in the middle of the gardens to eat her snack. Although I'm sure, now that I'm thinking about it, that food isn't allowed, haha. (Don't tell on her for bringing snacks. Oops.)
Anyway, we loved being able to shed our coats and feel like we were in Florida for a while… and Emma adored the fountains!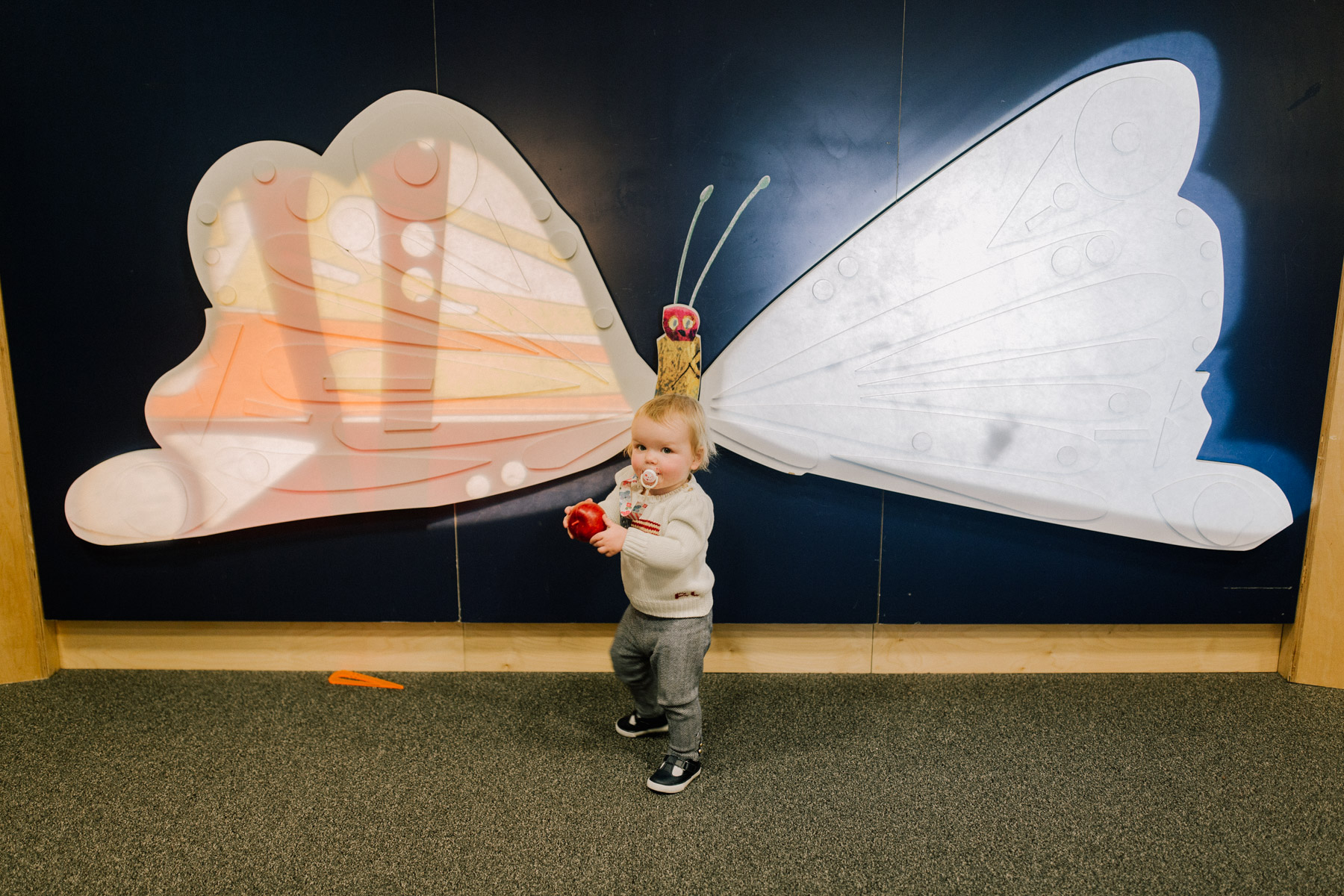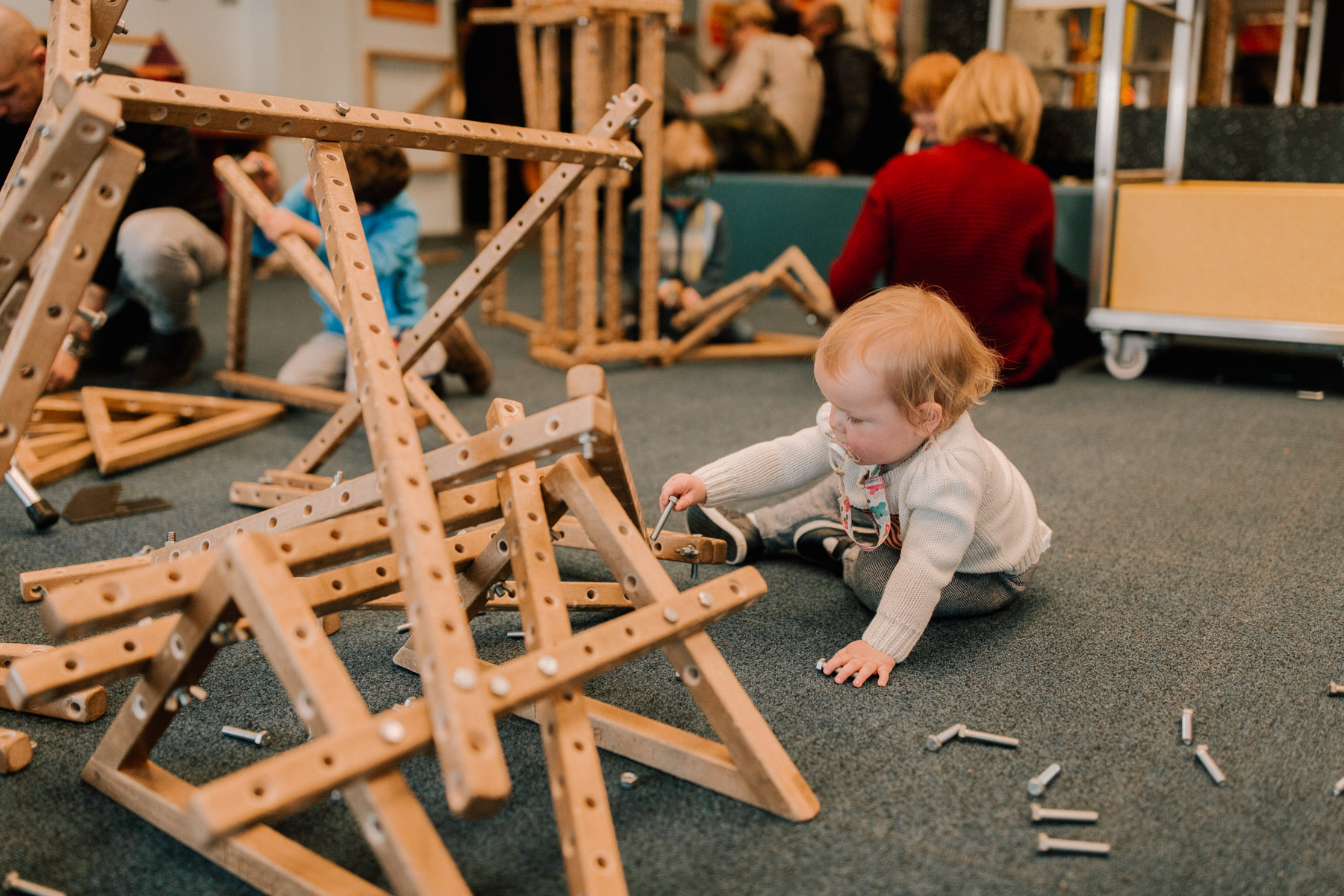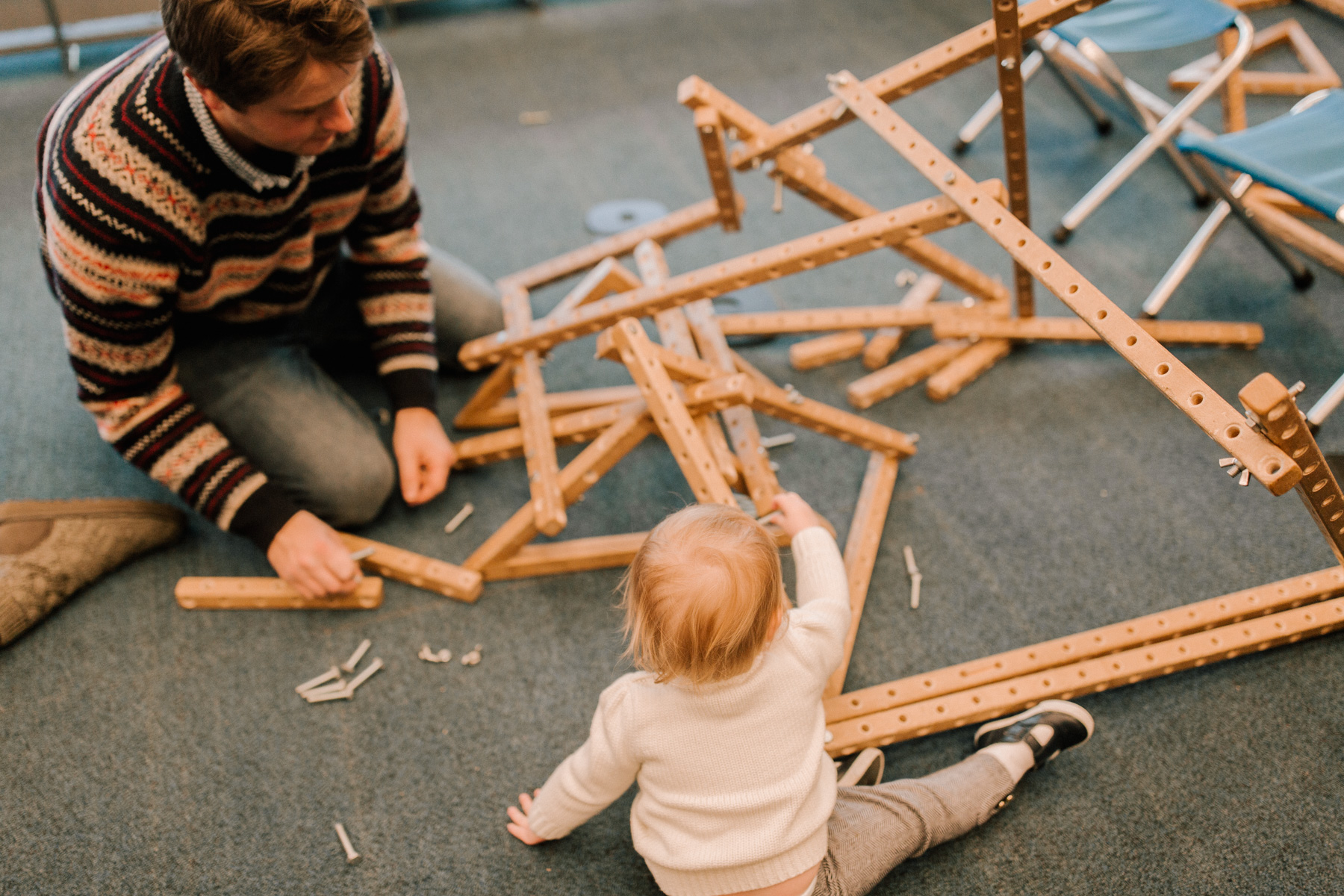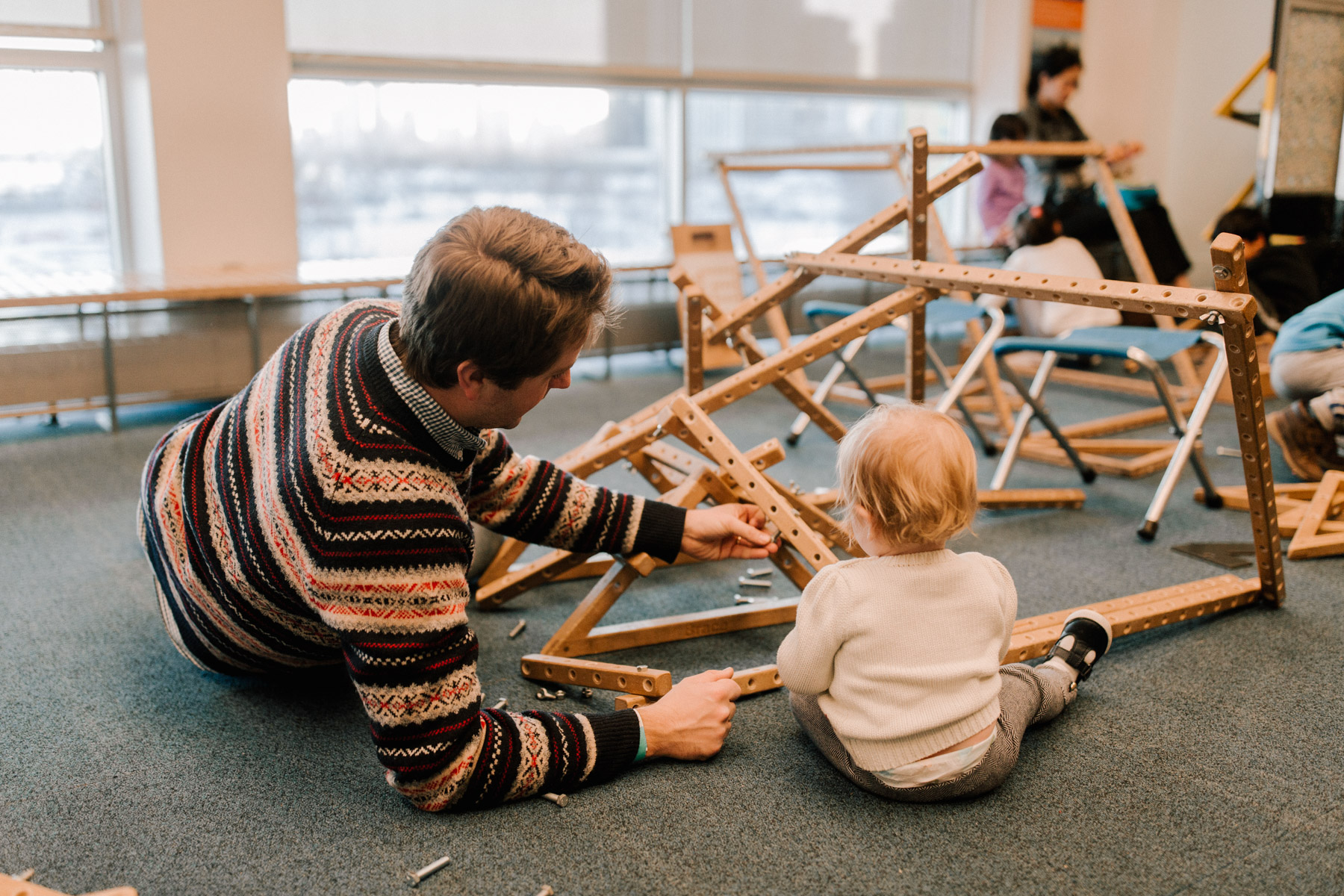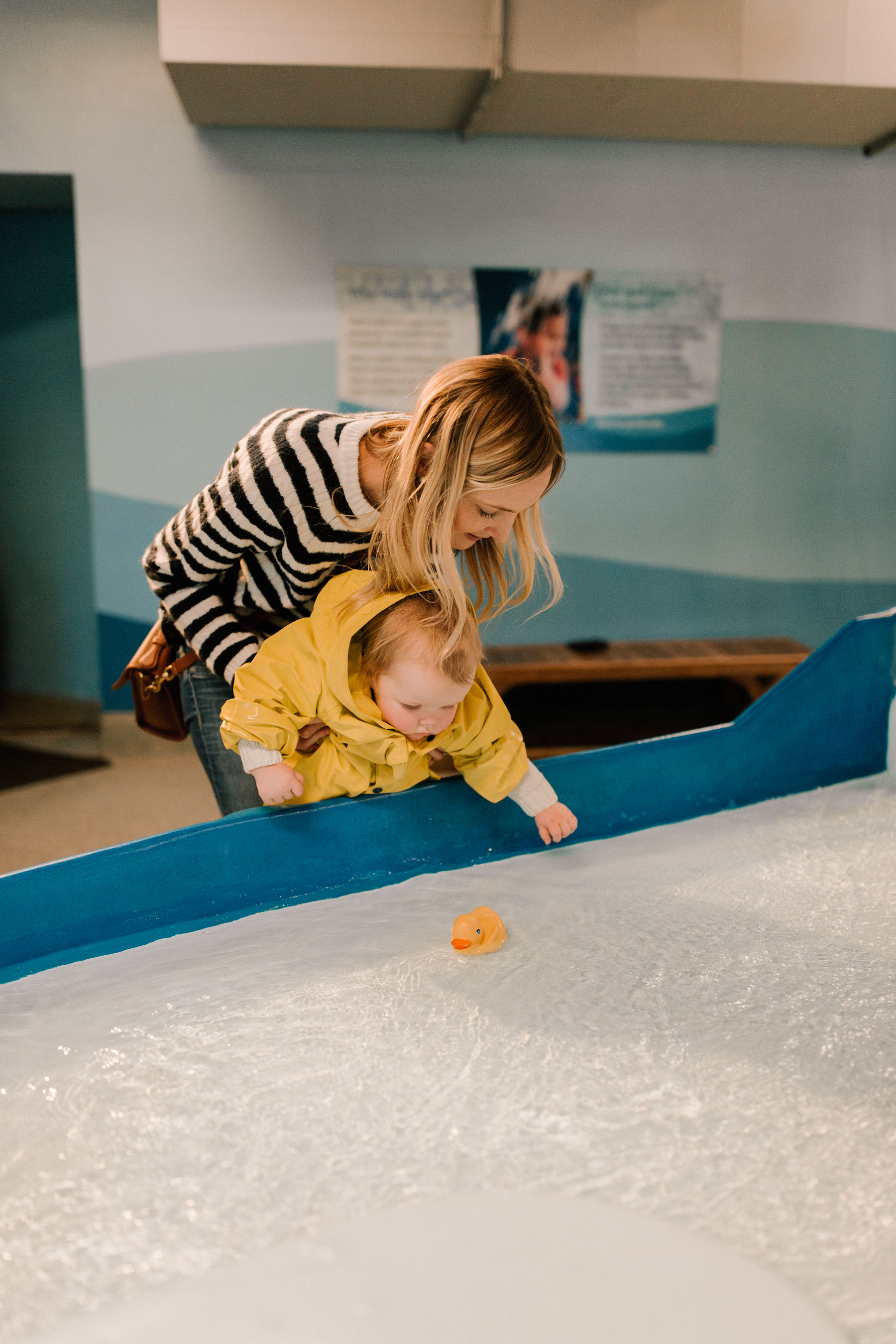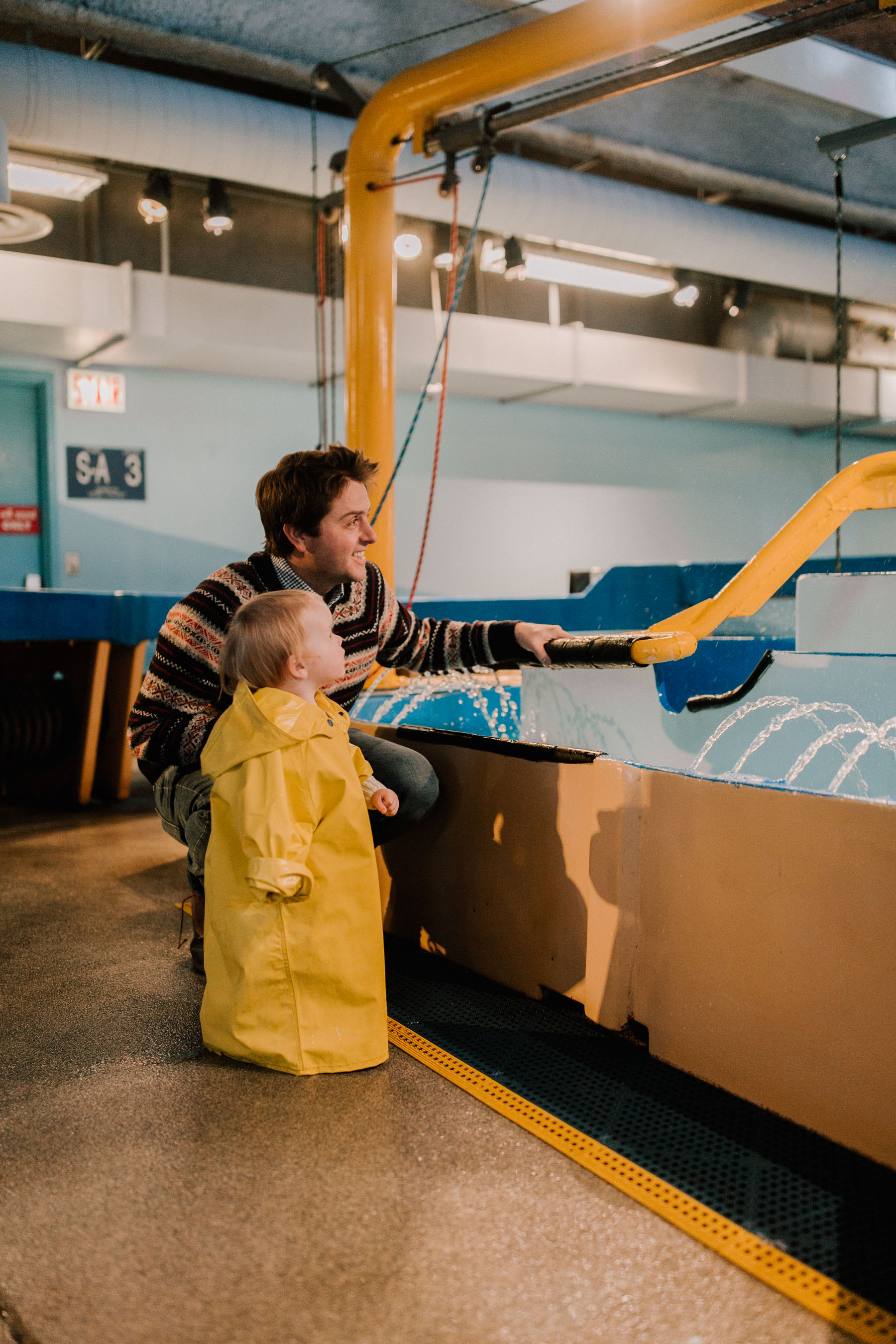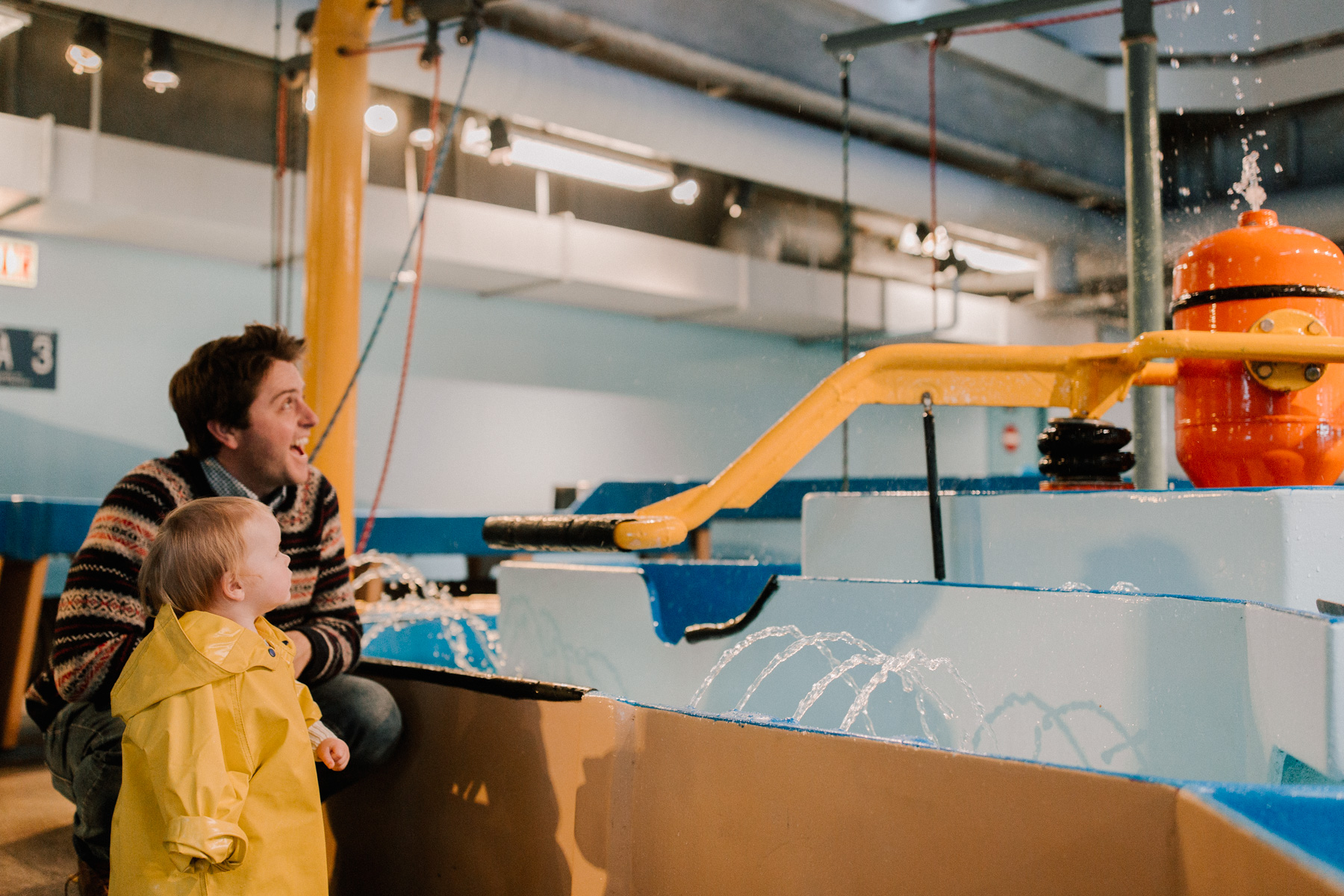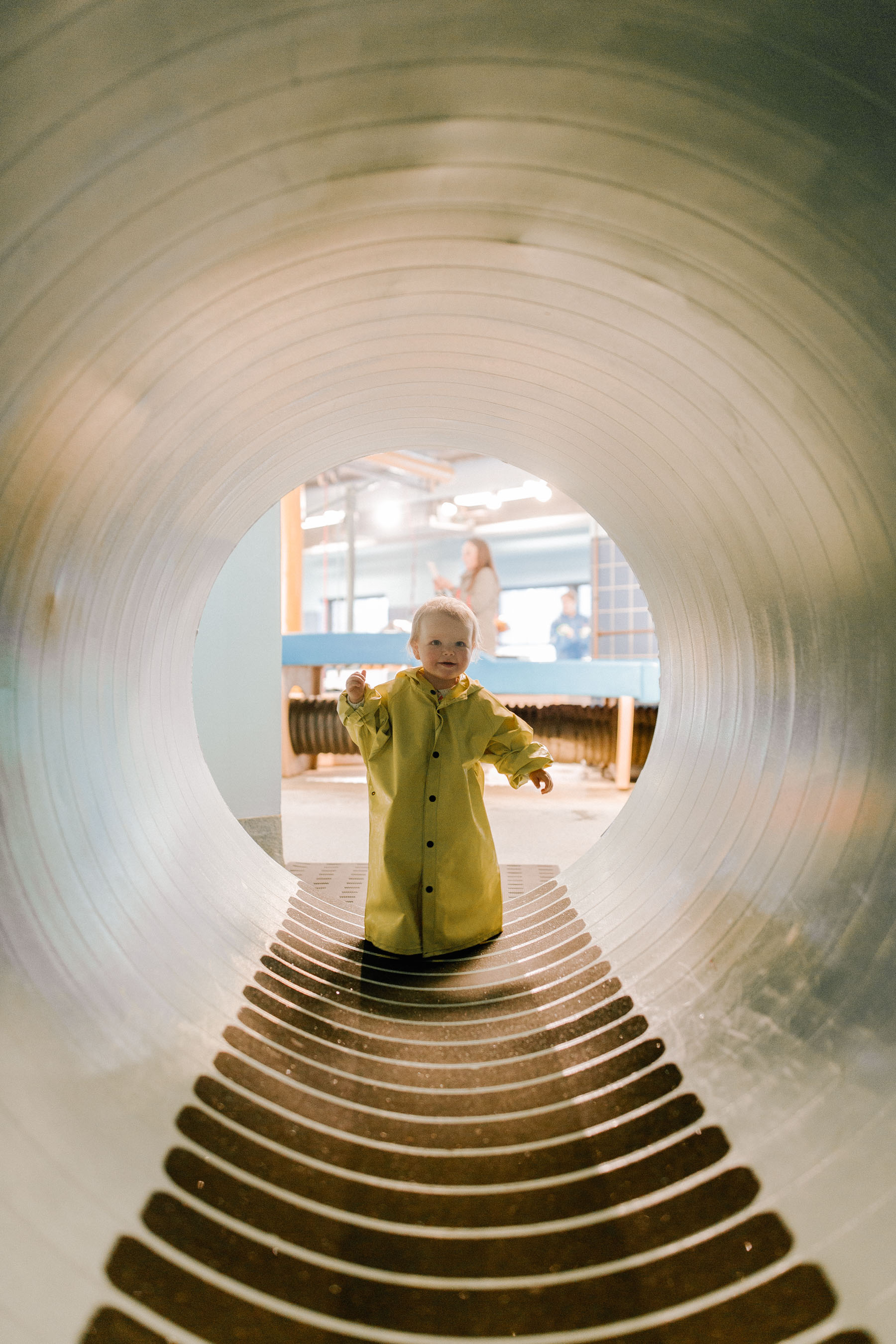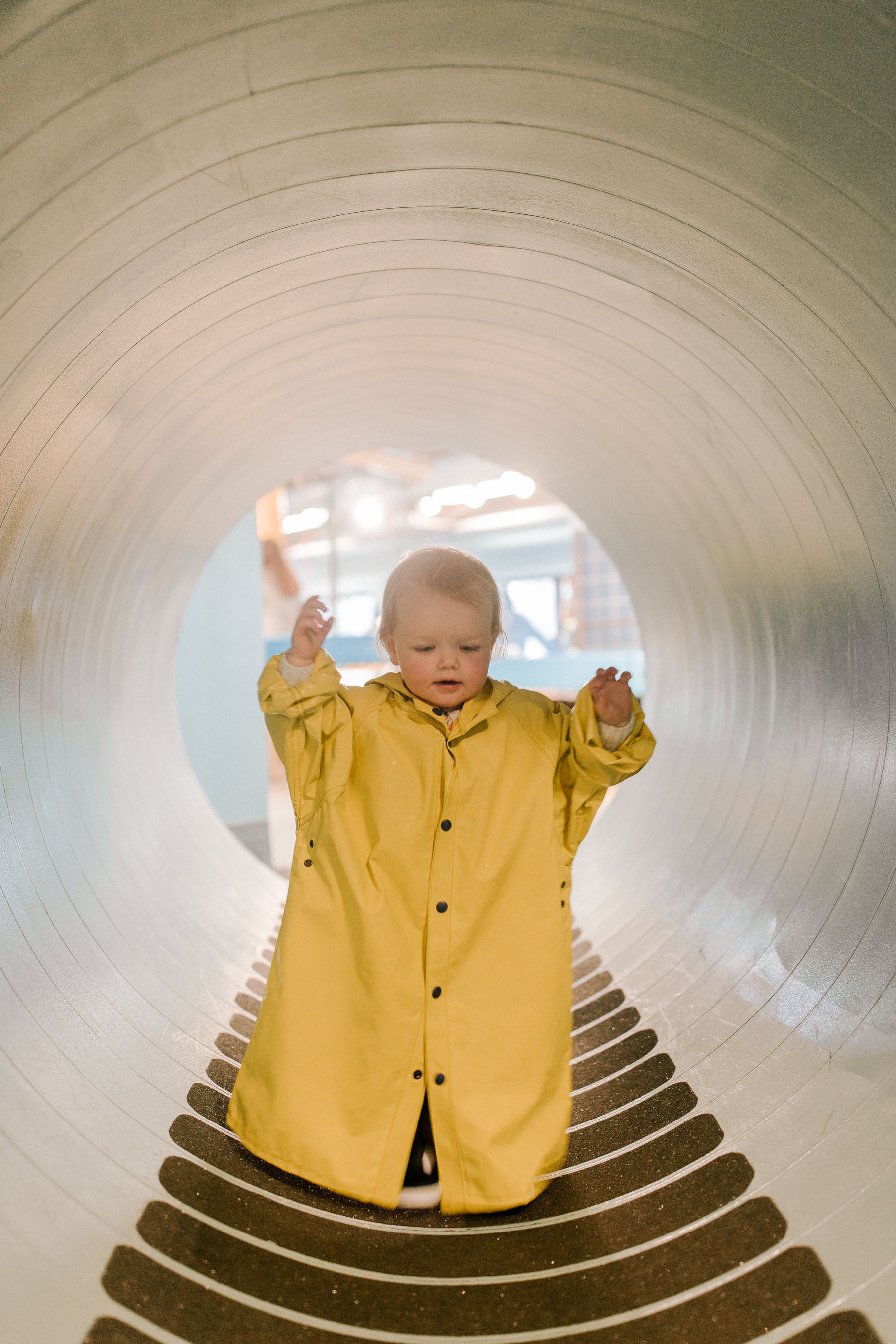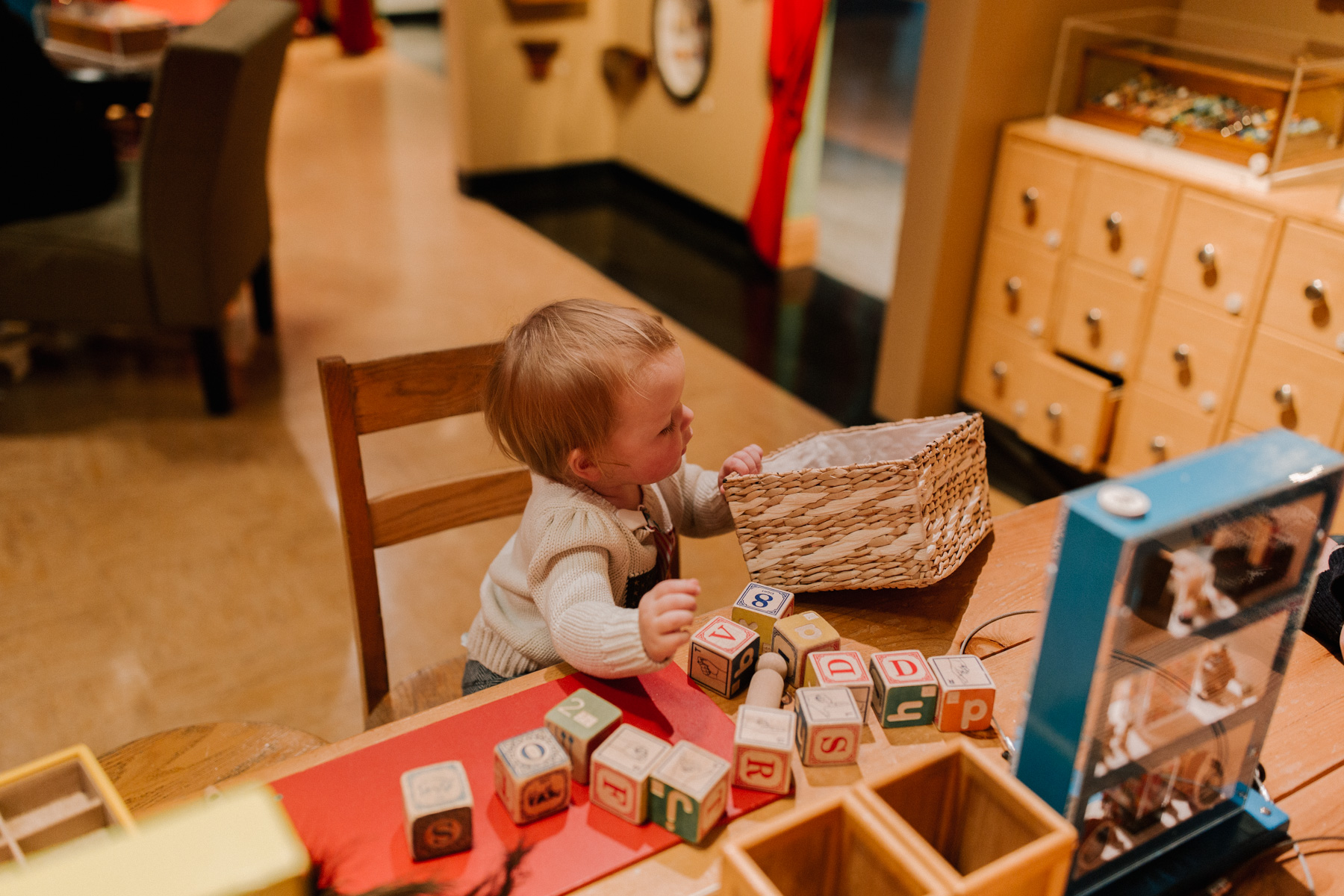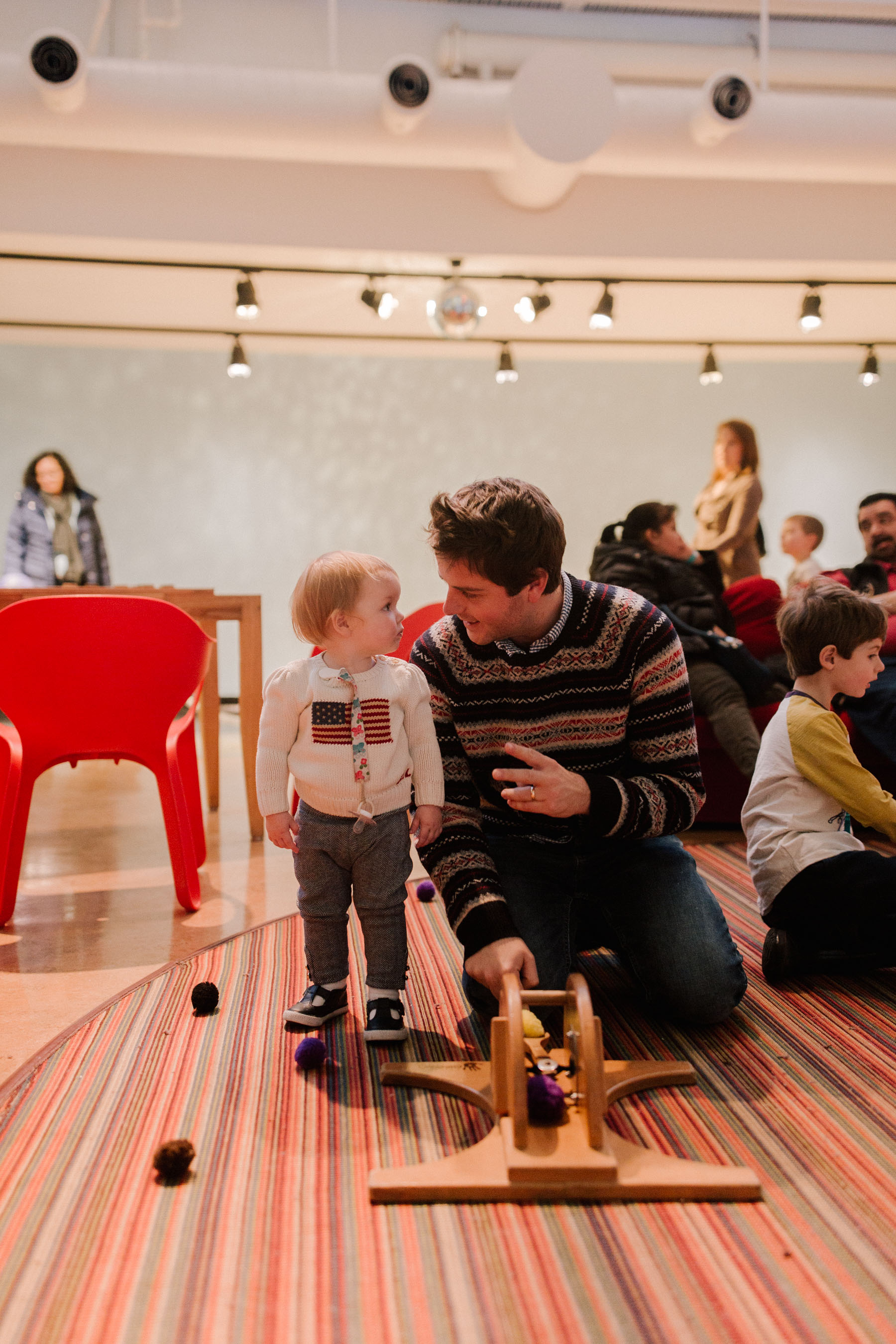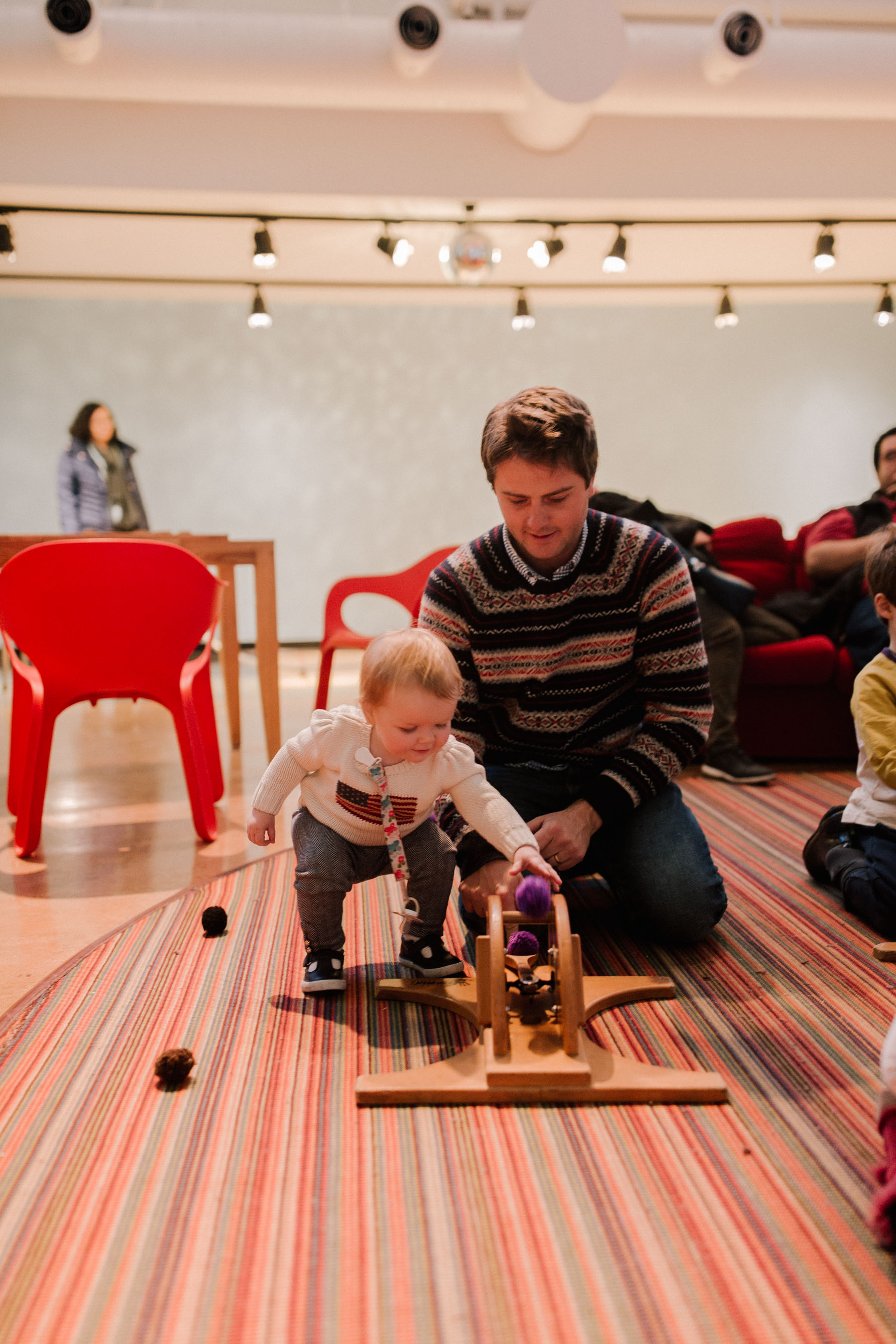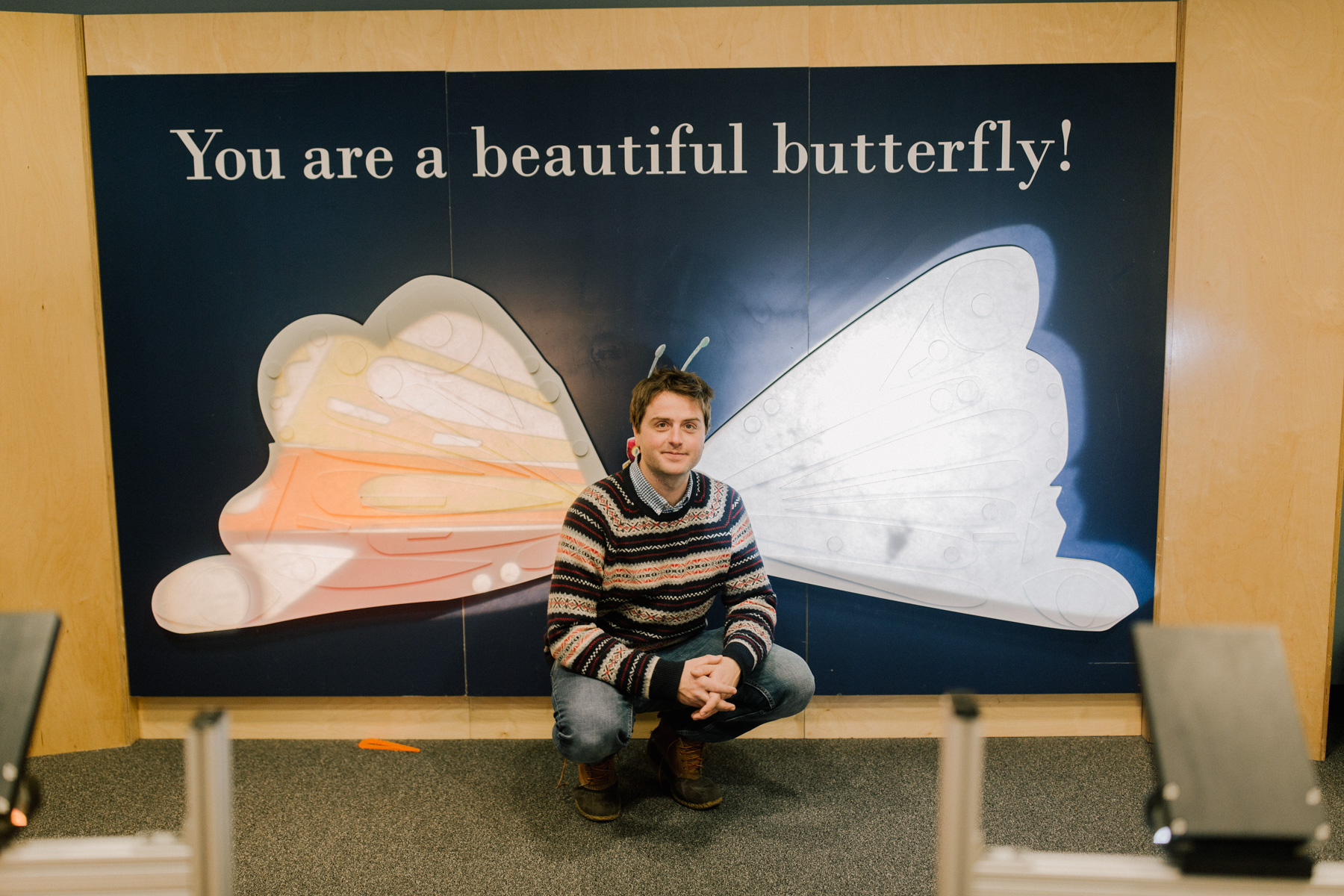 Chicago Children's Museum
Guys, we loved the Chicago Children's Museum so much that we bought a family membership on the spot. (Which comes with parking! A no-brainer!) We spent two hours there, but we honestly could have spent five.
There were so many rooms and exhibits, and Emma's eyes were wide the whole time. We were beyond impressed with how clean, organized and well-maintained the museum was… and we couldn't get over how inventive each exhibit was. Favorites included the Chicago Fire Department, the Very Eric Carle, the Skyline, Michael's Museum, and WaterWays… but those were just the exhibits we made it to.
Can't WAIT to go back next week!
Shop the post:
Sweater (It's available here, too. Also love this one!) / Scarf (Similar here) / Sorel Boots (Also here and here in more sizes. They run small; go up a half size.) / Jeans (Also adore this pair.) / Coach Bag (Also love this similar one and this similar one.) / Emma's American Flag Sweater (Boys' version here!) / Emma's Herringbone Leggings / Emma's Mary Janes / Mitch's L.L.Bean Boots (These are my personal fave for ladies!) / Mitch's Fair Isle Sweater