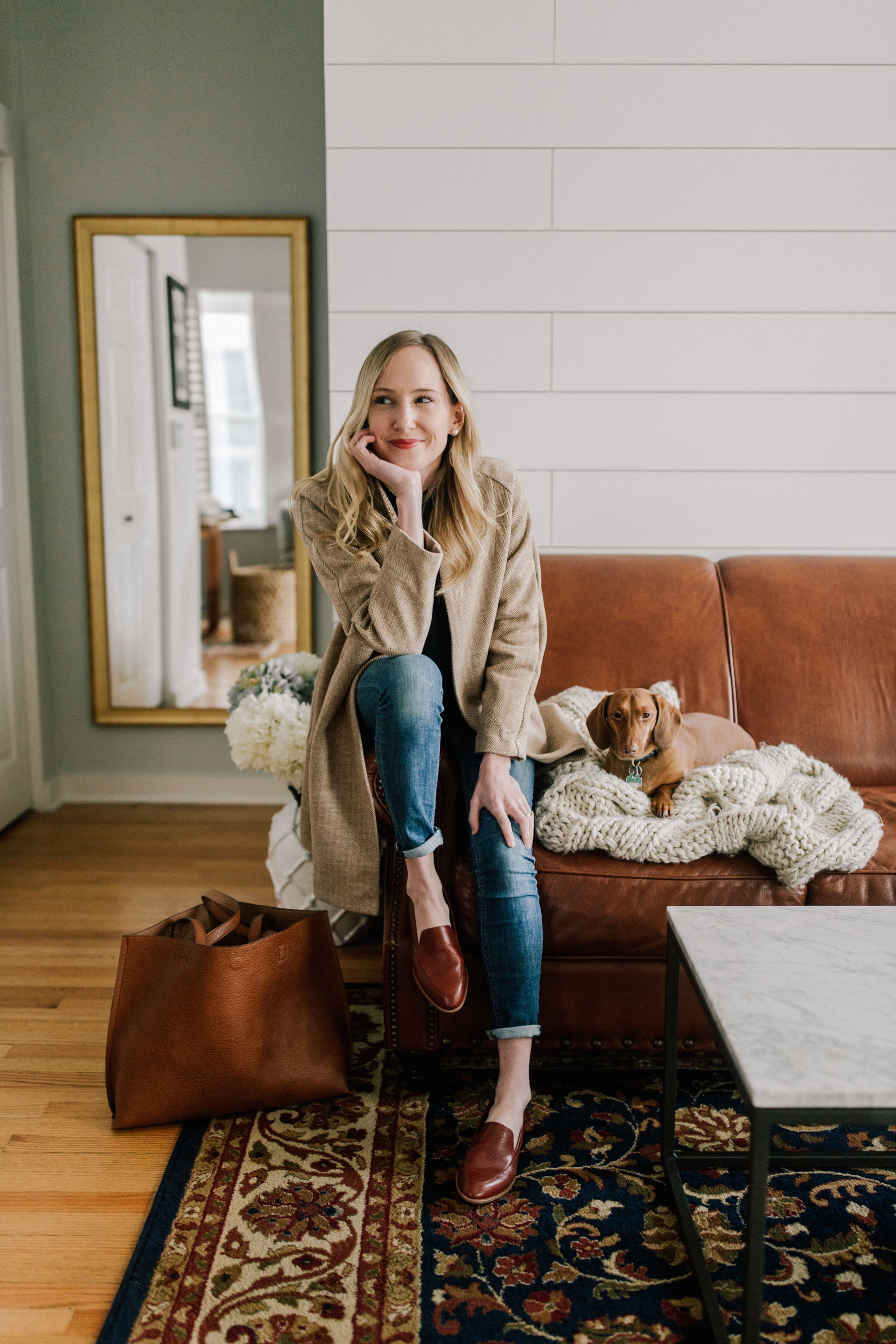 Loafers (Also available here. And here's the penny loafer style, which is equally as comfy! Also check out Sperry's version of the loafer, which I might say is even comfier.) / Herringbone Coat (Also available here.) / Tote Bag (I have this one as well, which is real leather.) / Bow-Backed Sweater (I'm wearing the navy version in a size small.) / Rag & Bone Jeans (Just got this pair, btw, and ADORE them. So super soft!)
From our home:
Throw Blanket (Also love this one!) / Couch / Coffee Table / Rug (Old, but this is our dining room rug and I wish so badly I'd gone with that for our living room!) / Mirror
I put this up on Instagram last night, but this is a public service announcement: these loafers—also available here, and here in the penny loafer version–are the legitimately BEST loafers I've ever owned. And that's saying a lot, considering how many pairs of loafers are in my closet!
Here's why:
They're super cushioned.
They require zero break-in time.
They're buttery soft.
The backs don't rub. Like, at all.
They're weirdly warm.
They're totally true to size, so there's no guesswork. I'm a 7.5 in flats, and I took these in a 7.5.
They're SO cute.
I've never backed a product so strongly. Therefore, I apologize for how often you'll be seeing them on the blog. I'm an obsessive person by nature. When I love something, I wear it until its death. 😂
Edit: Check out Sperry's version of the loafer. I might say it's even comfier!
ANYWAY. Can we tell I've had a glass of Chardonnay? Other "important" notes:
I picked this amazing number up last week when Emma was napping in her stroller and Mitch and I were killing time. I adore herringbone, and camel herringbone?! Goodness. I also love how swingy and flattering the coat is. I will say that it runs large, though. I'd normally take a size XS in a coat or jacket, and I went with an XXS with this one. So I'd recommend going down one full size, unless you normally need extra room in the shoulder area. (OH! And I forgot to photograph this, but there are pockets!)
This is to die for. First of all, the sweater is unreasonably–yes, unreasonably–soft. I tend to react to wool, so I love this! It also hangs in the most flattering way, and it comes in a ton of colors. I went with the size small because I like my sweaters slightly oversized, and it was just right. And I may have gone for the light blue one, too!
Our newly shiplapped wall
Kira David Design does it again. She's incredible. I don't want to show you the whole thing yet, as we've yet to find end tables, a new rug and the perfect piece of art (I want something "British," haha)… but I love how the living room renovation turned out, and I really can't recommend Kira more. Remember my master bathroom reno?! She did that, too! AND she did the kitchen. And the front of our house. Thank you for everything, Kira. So glad a bathroom makeover resulted in a new best friend. Love you! Here are the rest of the "room" details: Throw Blanket (Also love this one!) / Couch / Coffee Table / Rug (Old, but this is our dining room rug and I wish so badly I'd gone with that for our living room!) / Mirror
Why I've included so many photos
Mitch and I both assumed that temps would be pretty low yesterday, so we didn't even attempt to shoot outside, and instead did it inside. But then, on the way to daycare, we realized that it was a balmy 35 degrees, which felt tropical! So we got a little snap-happy, and that's why you see a zillion pics below. Oh, how I've missed using my camera outside… ;)
Have a great day, guys!
Shop the post:
Loafers (Also available here. And here's the penny loafer style, which is equally as comfy!) / Herringbone Coat (Also available here.) / Tote Bag (I have this one as well, which is real leather.) / Bow-Backed Sweater (I'm wearing the navy version in a size small.) / Rag & Bone Jeans (Just got this pair, btw, and ADORE them. So super soft!)
From our home:
Throw Blanket (Also love this one!) / Couch / Coffee Table / Rug (Old, but this is our dining room rug and I wish so badly I'd gone with that for our living room!) / Mirror