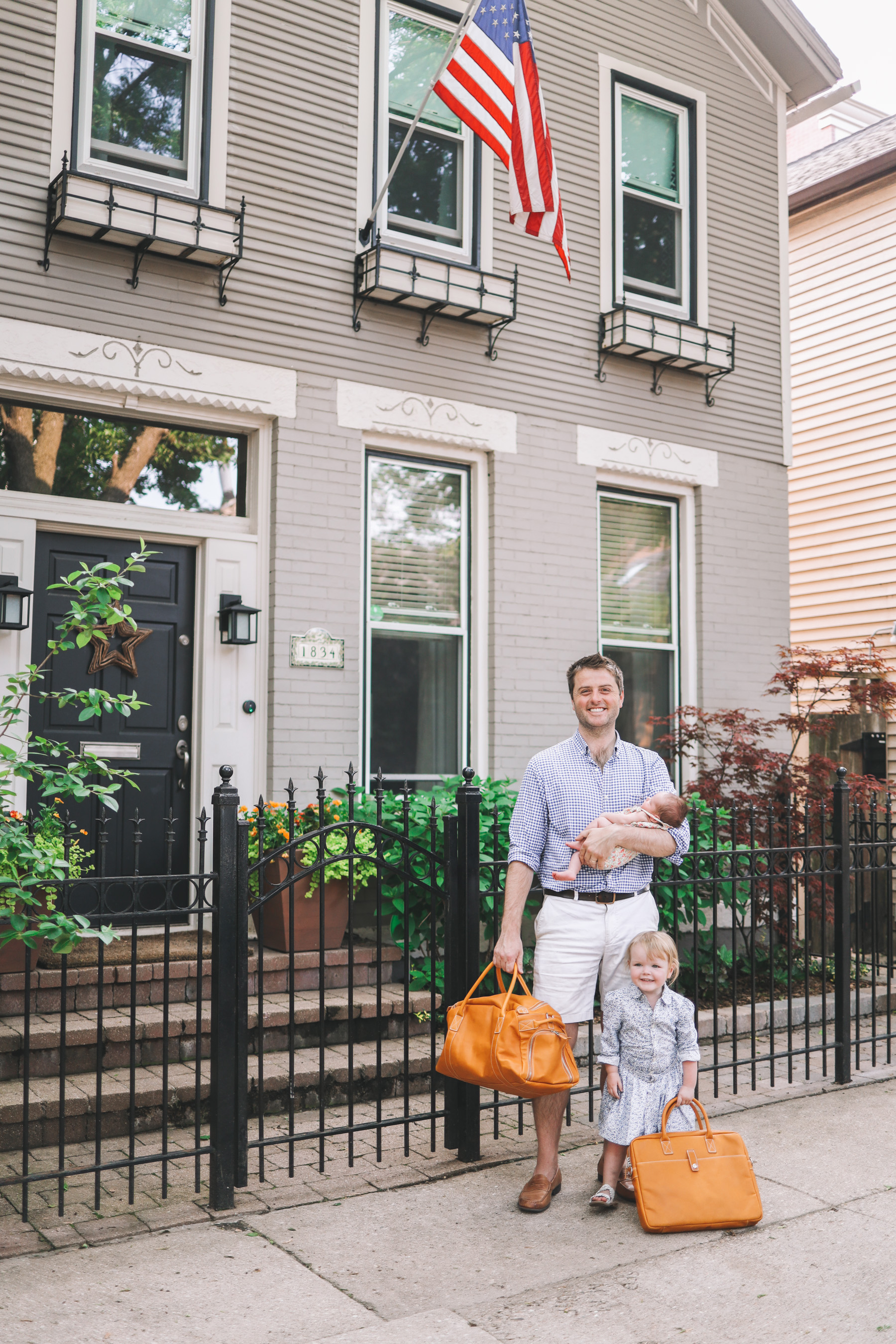 Mitch's Father's Day Gifts: Leather Overnight Bag, Leather Briefcase, Baseball and Leather Travel Shoe Bag / Mitch's Button-Down, Shorts and Newer and Sale Versions of Cole Haan Penny Loafers Here, Here, Here and Here / Newer Ralph Lauren Dresses and Toddler Jack Rogers (Also via Amazon!) / Lucy's Romper is one of Emma's from the Gap! (So happy I saved so much! Newer Ones Linked Here.)
I have an adorable post for you today:
This is Mitch's childhood home! Isn't it something right out of a storybook?! It's located here in Lincoln Park, and it's very special for everyone that we get to walk past it so often. Mitch loves being able to take Emma around to all his old stomping grounds and do the activities that he did as a child with her… and Emma loves hearing stories about Daddy, Gammy, Pop-Pop, Uncle John and Uncle Charlie. I'm so happy that the Larkins have so much history here; it really makes Chicago feel like home. ❤️
Anyway. ;) Mother's Day, Father's Day, and both of my parents' birthdays are all within a two-month span for me. It's insanity, haha, and as a result, I need so many gift ideas! Over the last few years, though, I've been relying on Mark and Graham, which specializes in meaningful and personalized gifts… and it's made shopping for Mitch, my dad, his dad, my mom and his mom (phew 😂) so much easier. Mark and Graham has also allowed Mitch to knock it out of the park with gifts! (Can you believe how well he did?!)
Note:
I'm actually publishing a sponsored Father's Day-inspired Instagram with Mark and Graham today, but because I love the brand so much and because the big day is just around the corner, I thought I'd share the content on the blog, too! Hope this helps if you're looking for ideas for the dad in your life. :)
Before Emma and I share what we got Mitch, though, let's talk about promotions and shipping deadlines for Father's Day, which is on Sunday, June 16th. Today, shipping is free with code "SHIPFREE," which makes placing that Mark and Graham order even more enticing… and then there are some important dates to know:
If you're ordering monogrammed/personalized gifts with standard shipping, order by June 9th at 11:00 p.m. PST.
If you're ordering non-monogrammed/non-personalized gifts with standard shipping, order by June 10th at 11:00 p.m. PST.
If you're ordering monogrammed gifts with rush shipping, order by June 14th at 6:00 p.m. PST.

Shop all Mark and Graham Father's Day gifts here!
But seriously: I would just do it today and then not have to worry about it! :)
All right… let's get to it!
Preppy Father's Day Gifts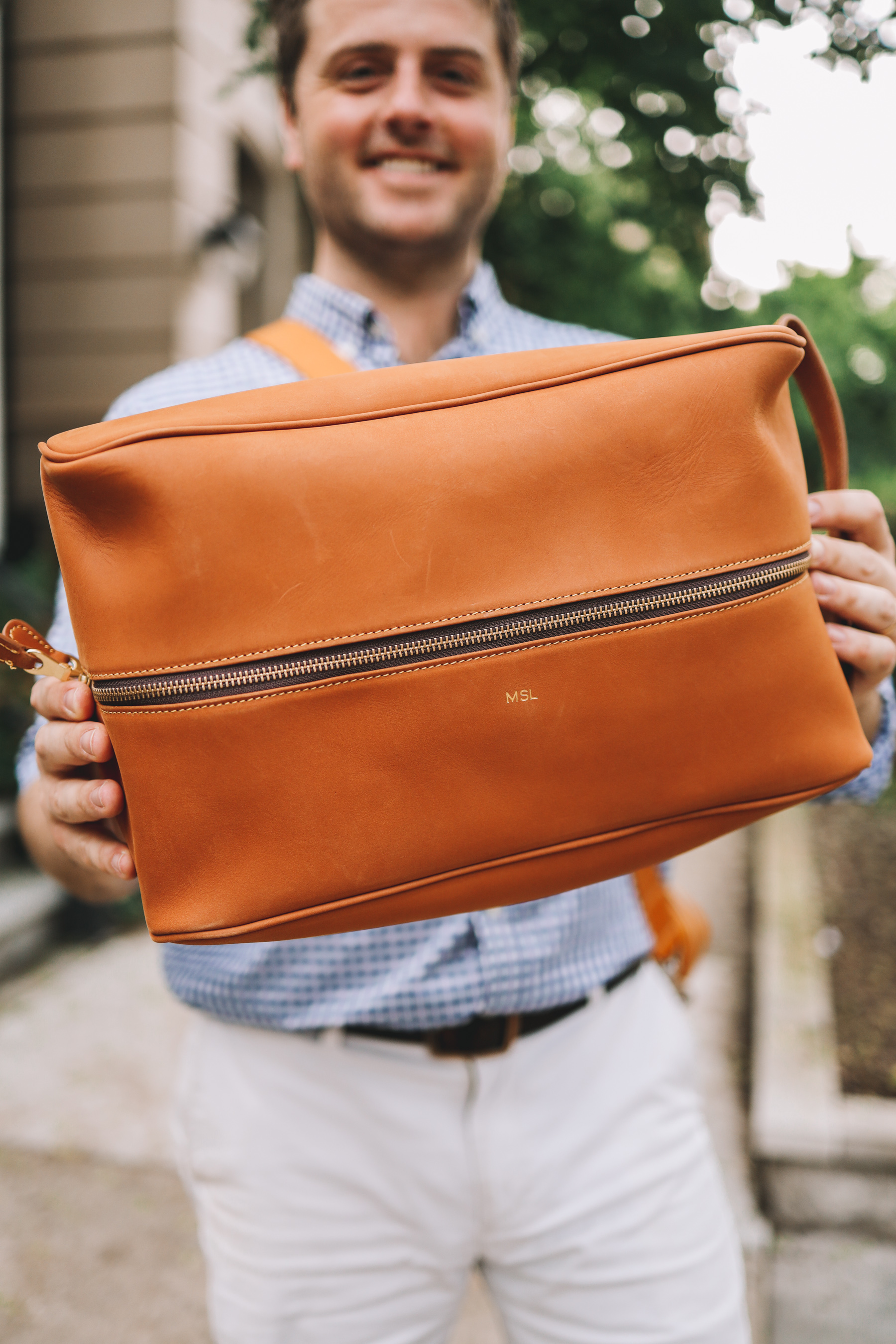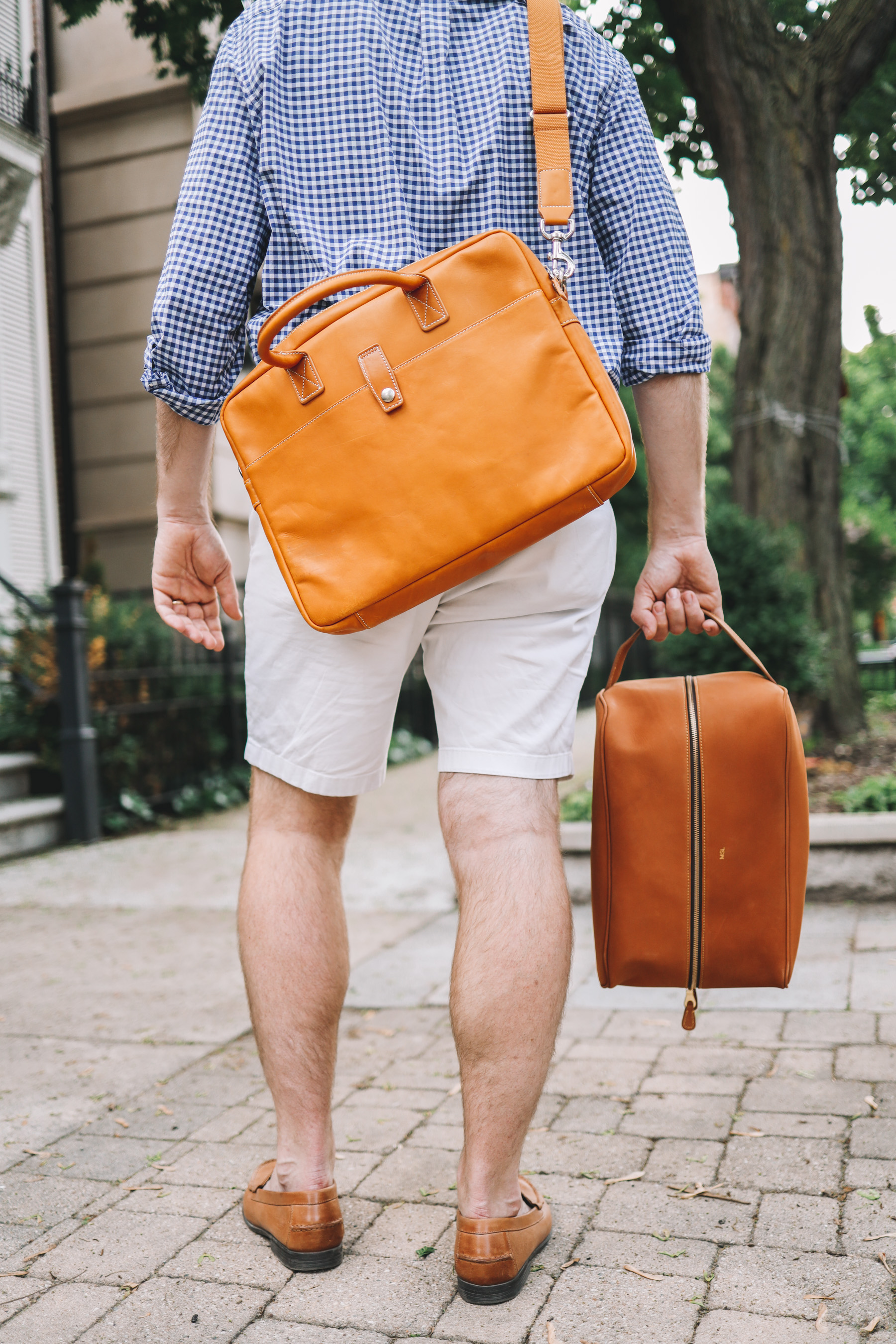 Mitch has been eyeing this for a while now, as it's a great way to store shoes while traveling. (I don't personally have this problem, haha, but it seems that every time he throws his shoes in his suitcase, they end up getting his shirts and pants dirty?! It's always an issue. 🙈) But yeah: it's great for that, and also for transporting tennis, running and golf shoes. No mess, and the soft leather and gold monogram are simply stunning. Oh! And it's lined with faux fur and has a zippered closure with a divider to keep his shoes separate.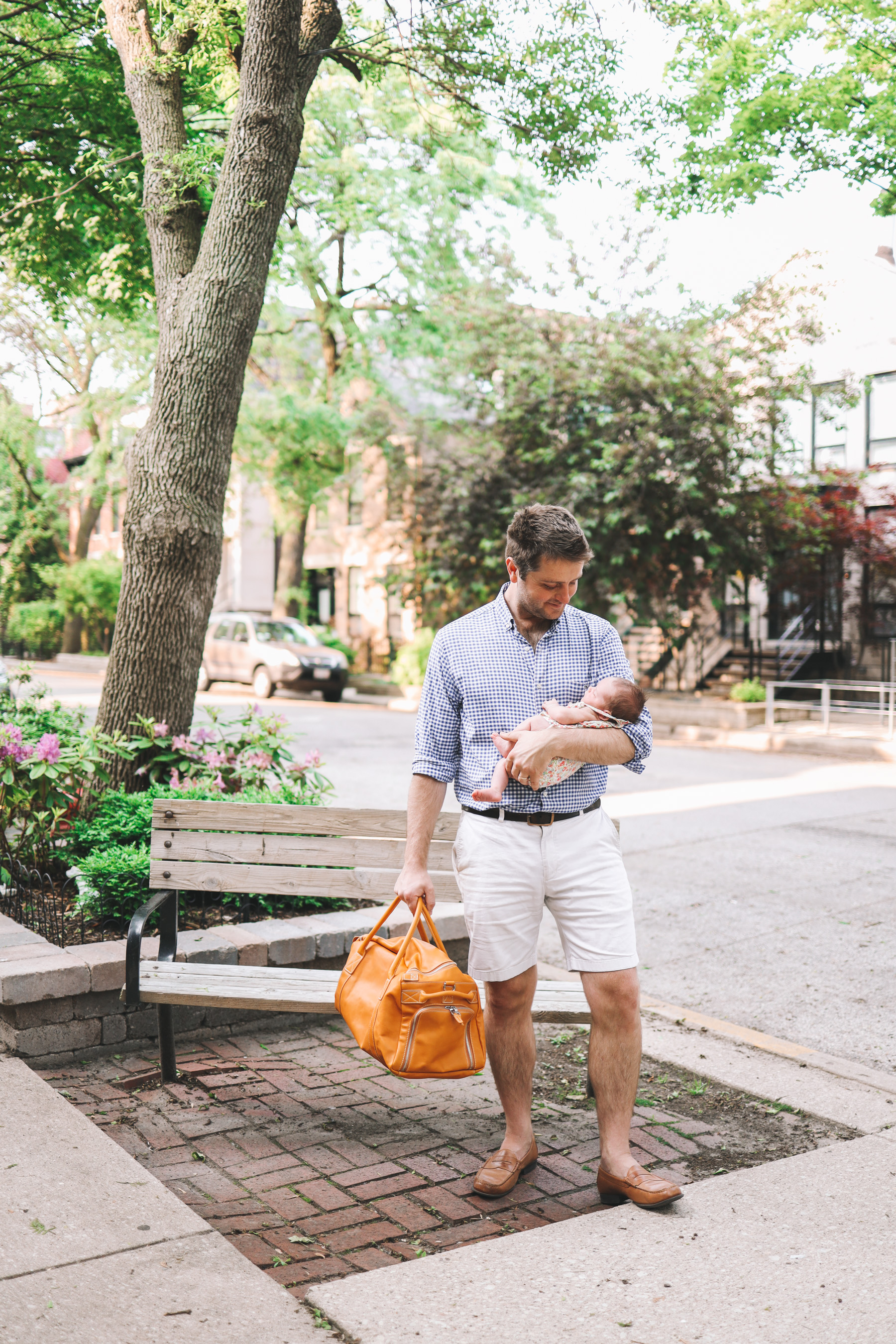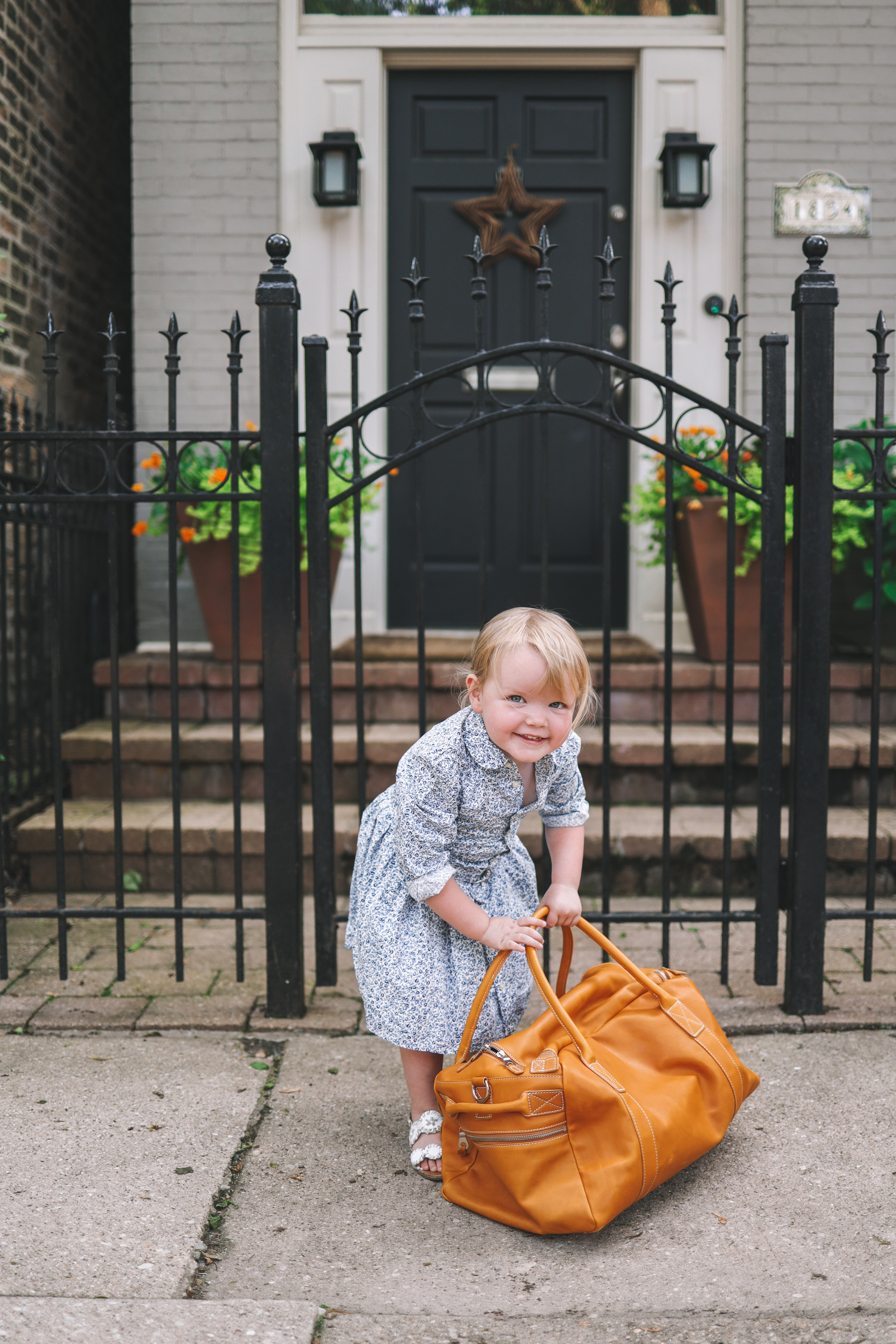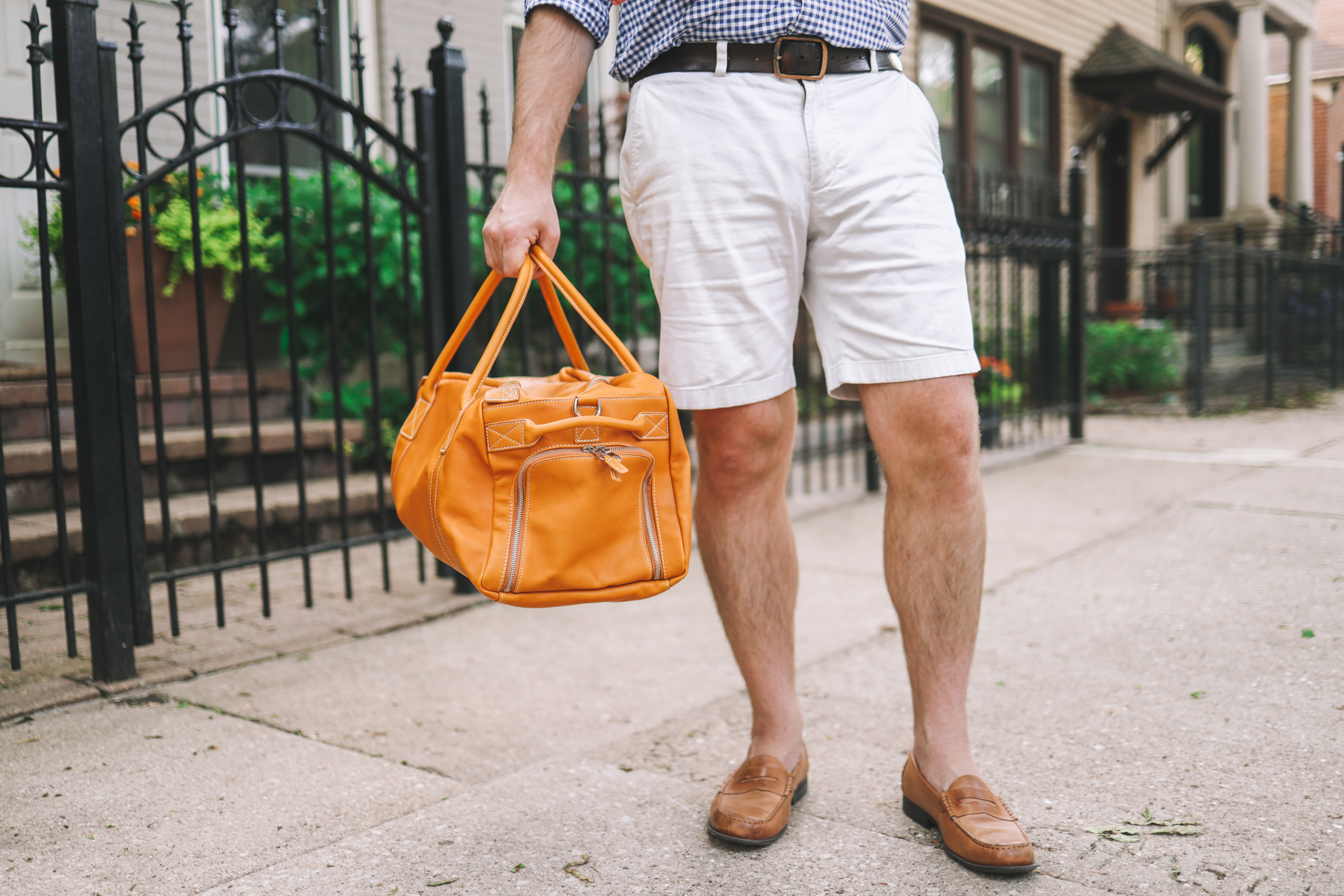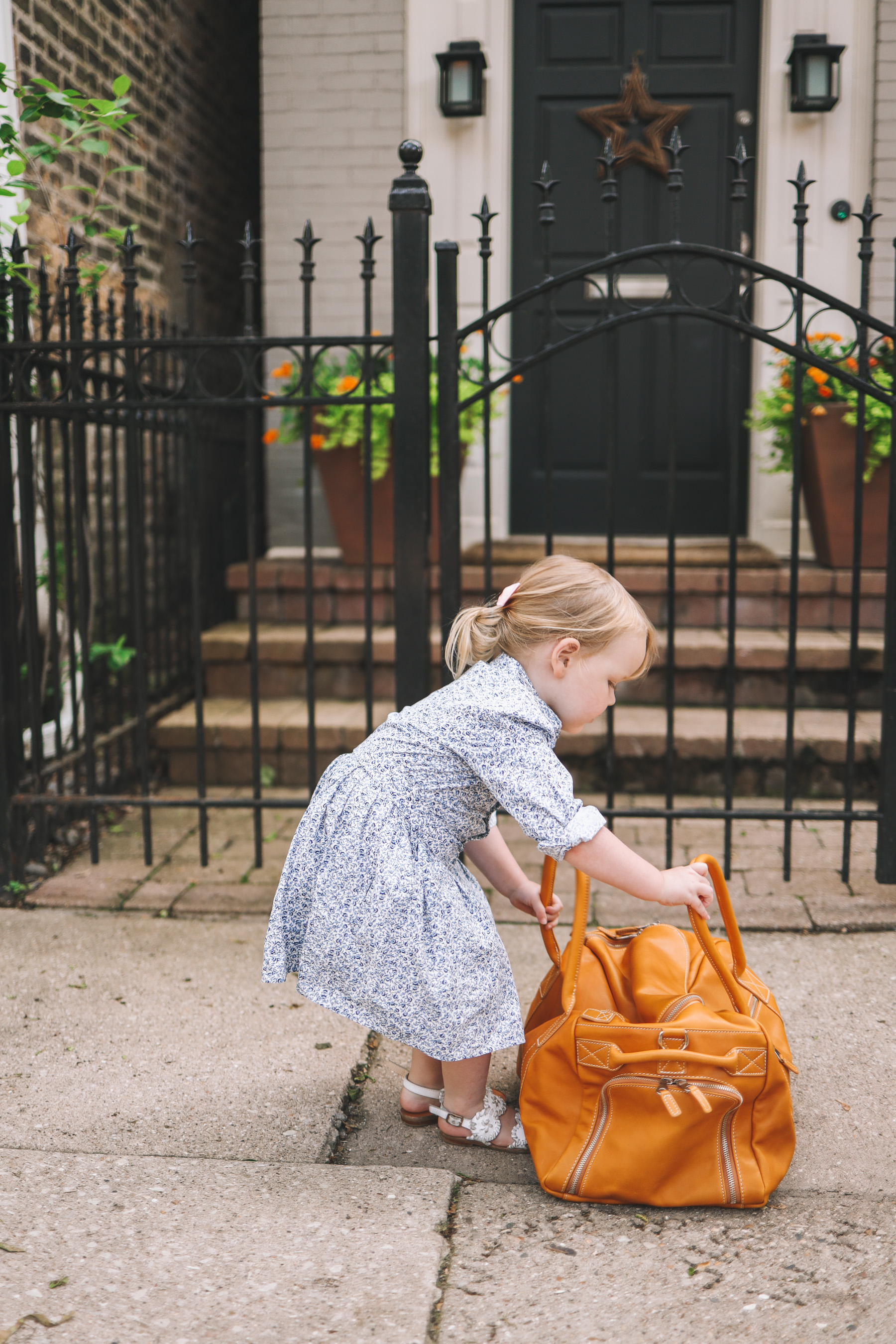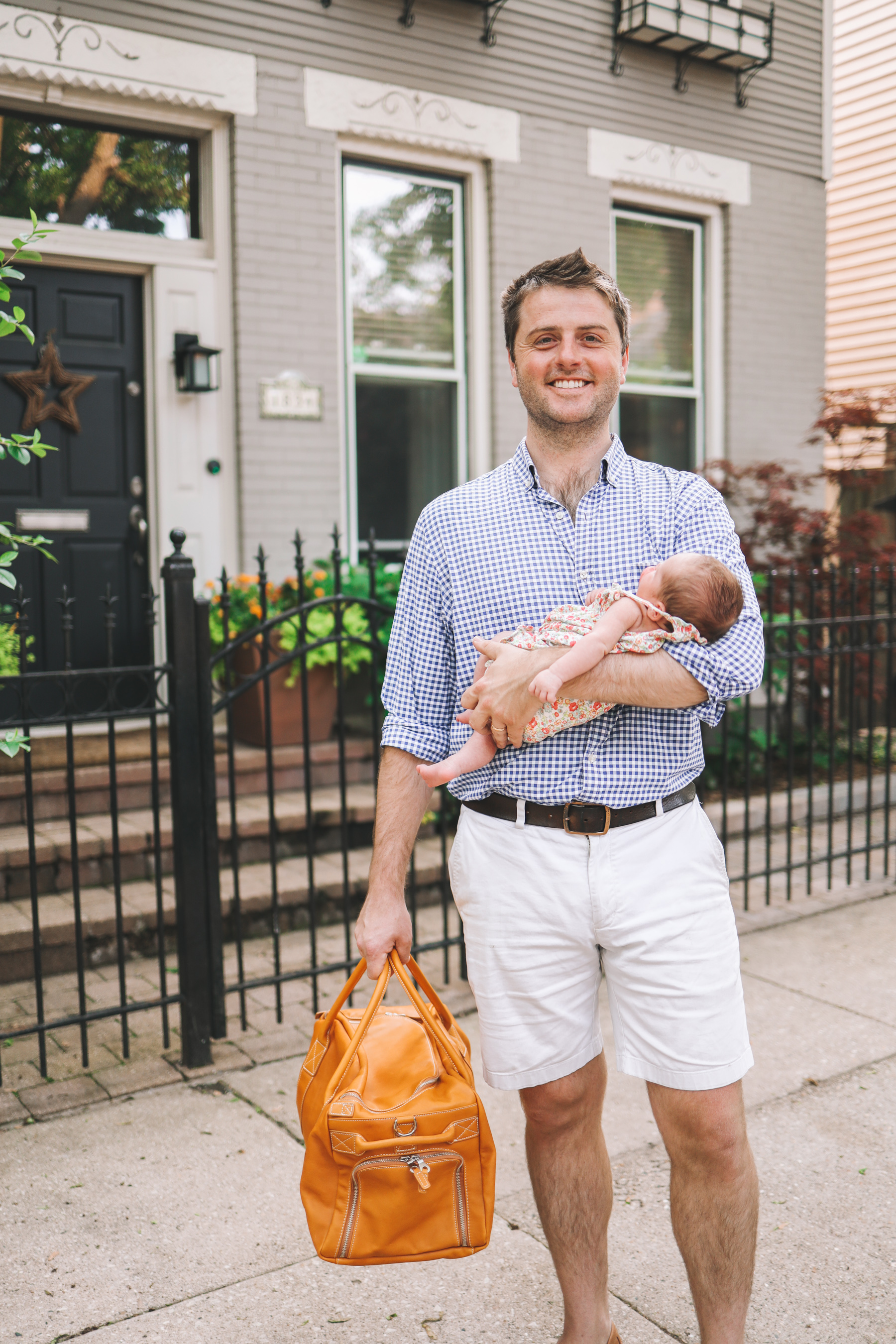 Mitch is obsessed with Mark and Graham's "Baseball Leather" line. I understand why; the color of the leather is perfect. (I personally have my eye on the passport and luggage tag. Aren't they cute?!) But it was love at first sight for Mitch when he realize that the company had started making its Overnight Bag in Baseball Leather. It a wonderful bag, and Mitch often brings it with him to the gym or down to his parents' lake house for weekend trips. The specially treated leather is designed to wear beautifully over time, getting softer and softer with every use. There are tons of interior and exterior pockets to keep you organized, and the bag features an adjustable shoulder strap for those times when you have two little girls in your arms. ;)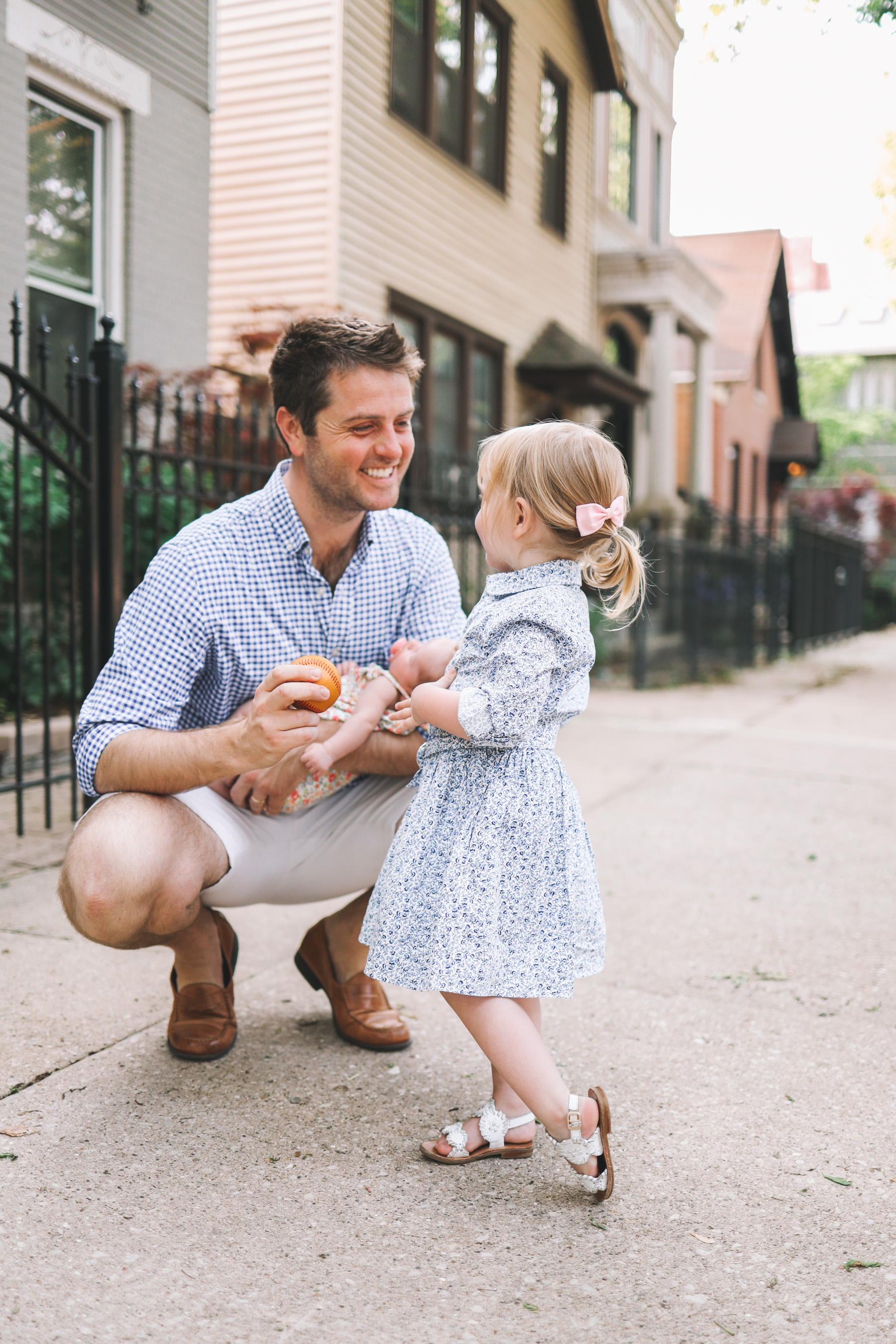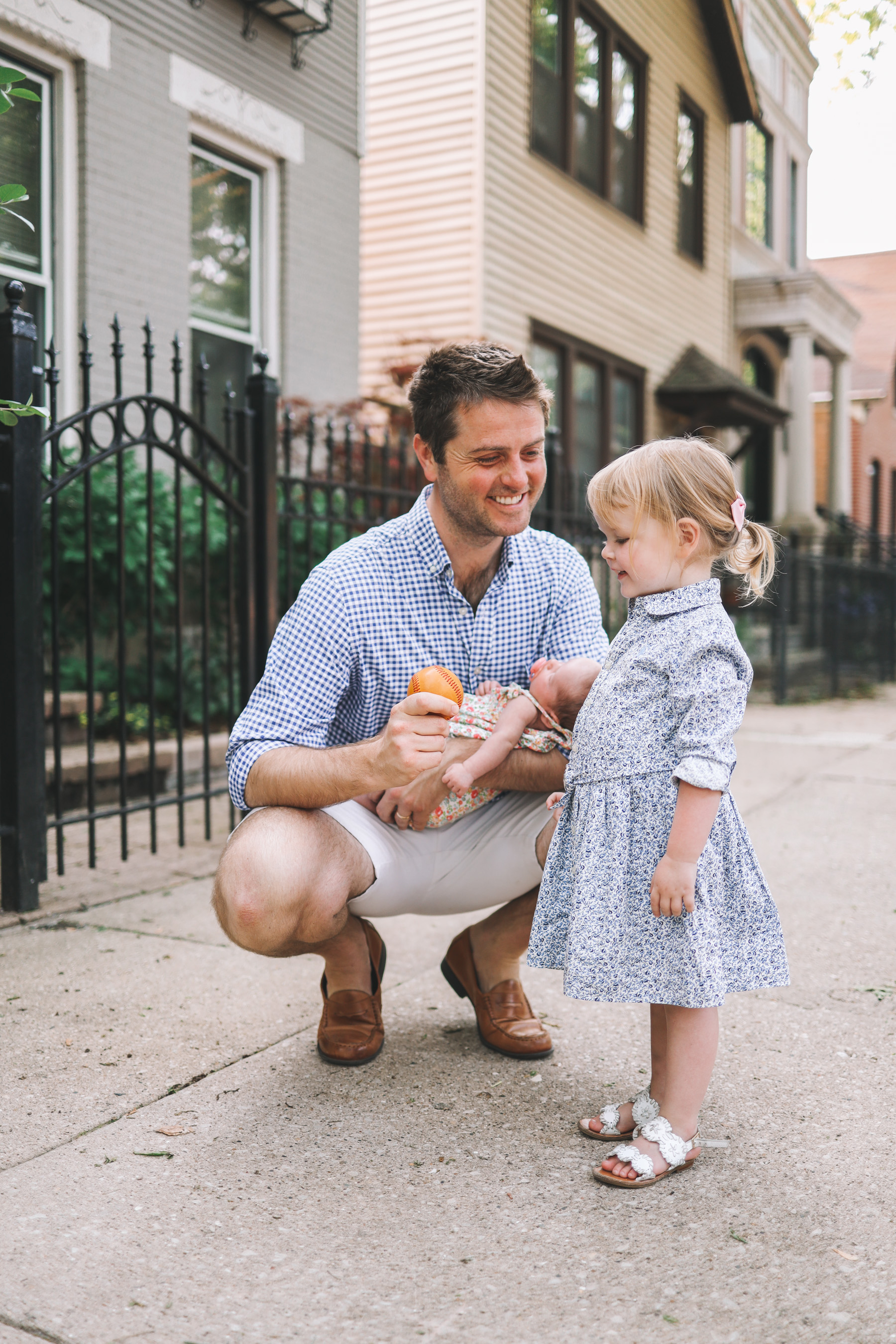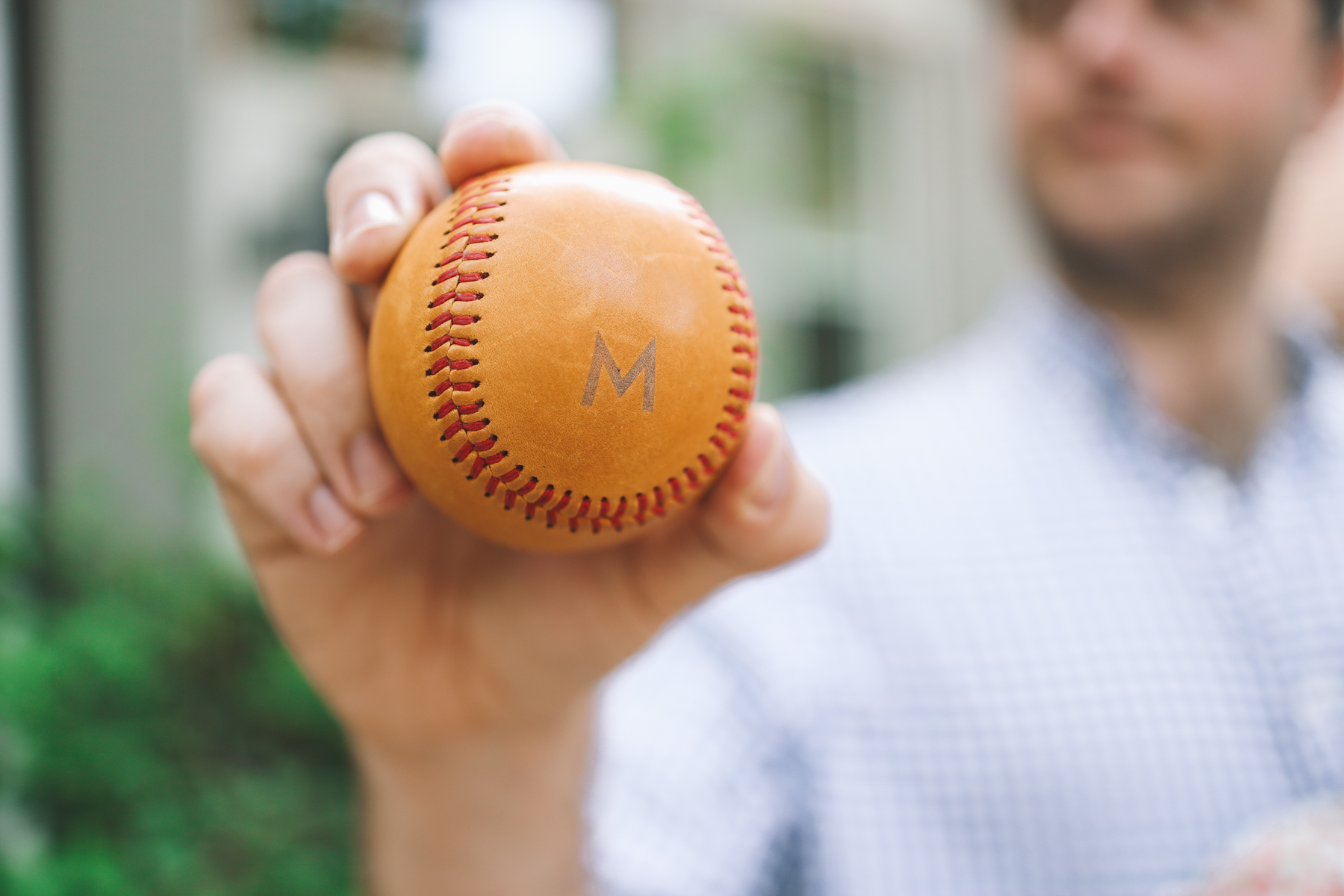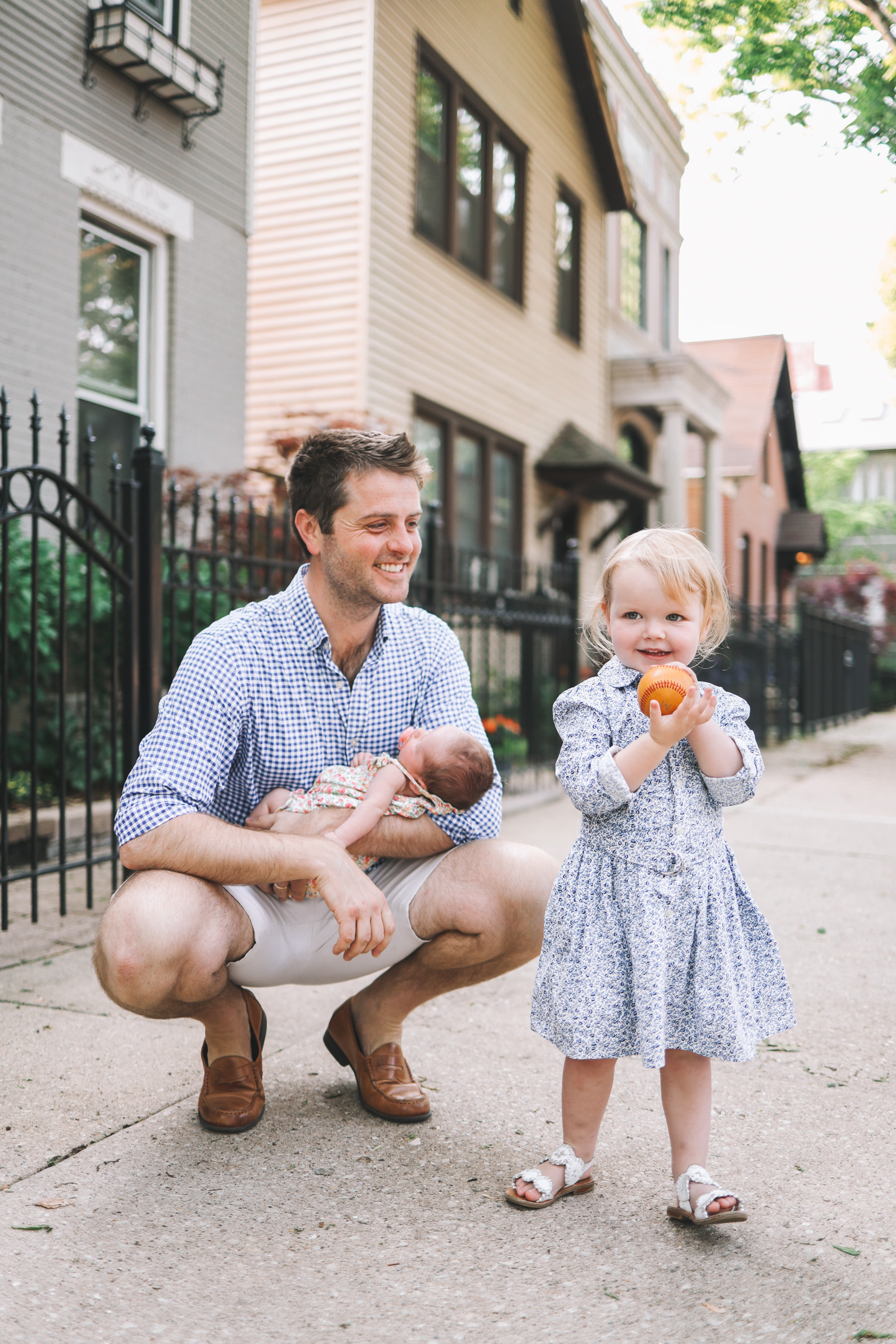 Another Mark and Graham product Mitch has had his eye on for a while now, the leather baseball is going to sit on his new desk in his office. It's hand-cut from aniline leather and hand-sewn with waxed linen thread, and it's really beautiful. We added an "M" monogram to make it extra special for him! Emma told Mitch that it represents all the Cubs games we're going to go to this summer. :)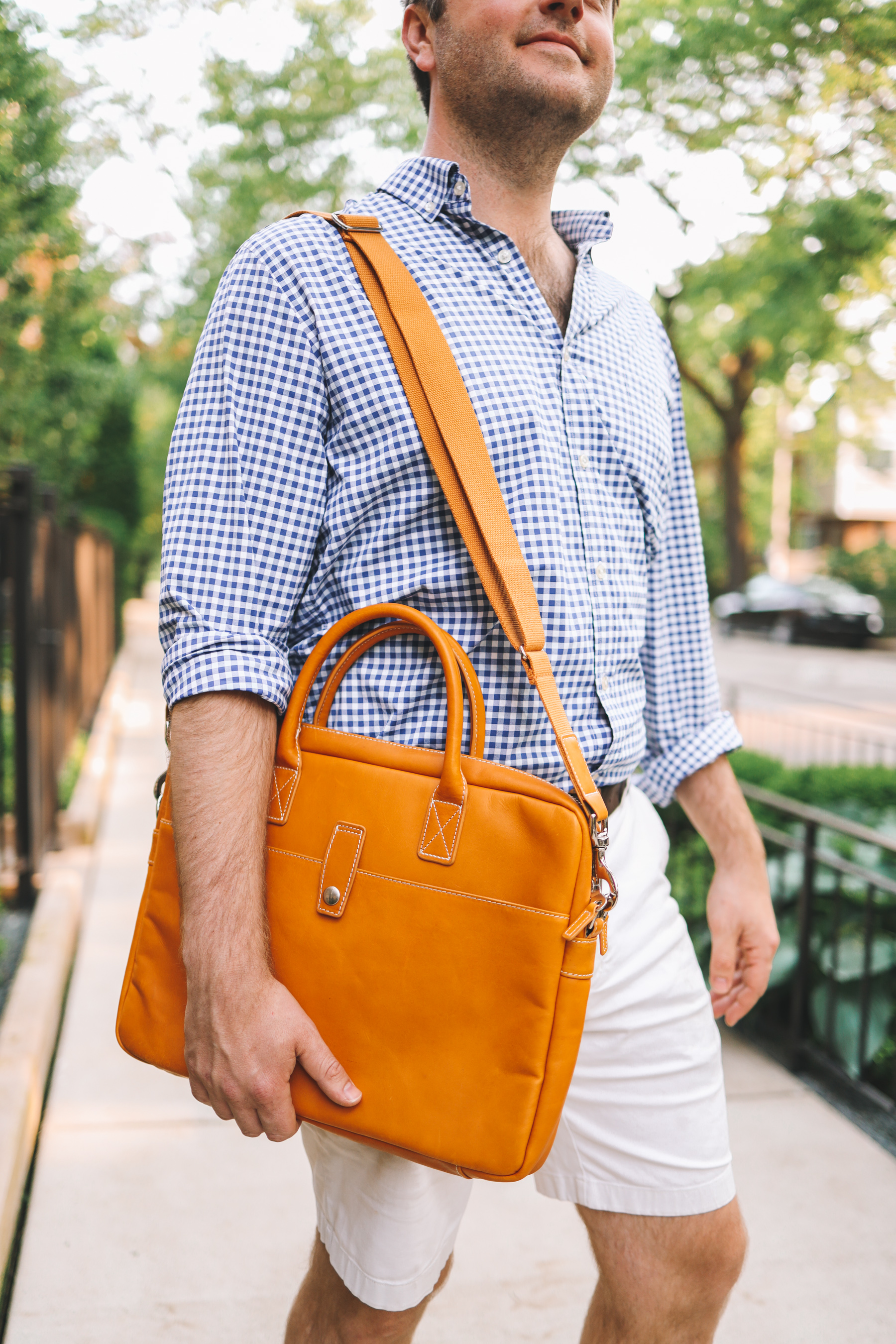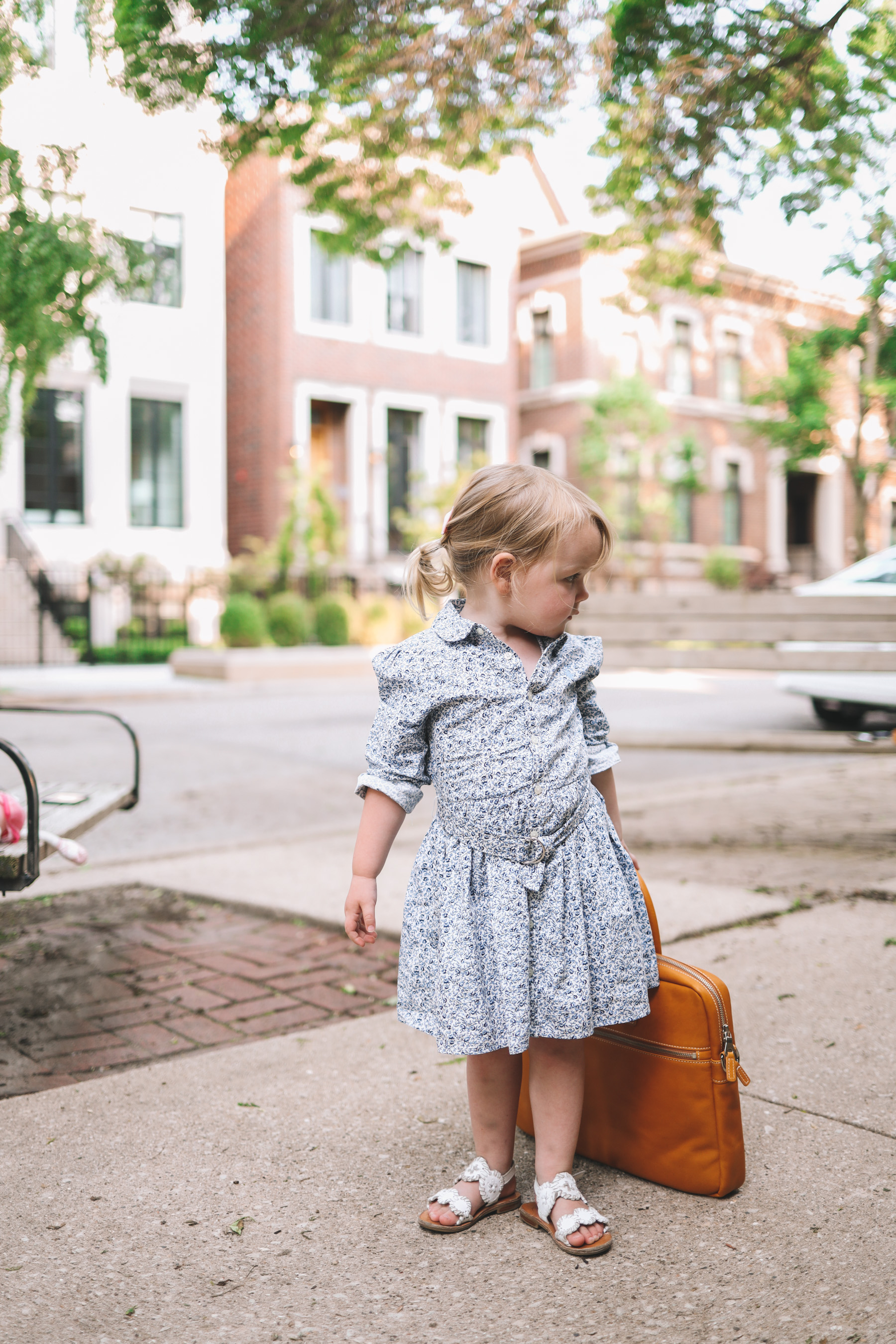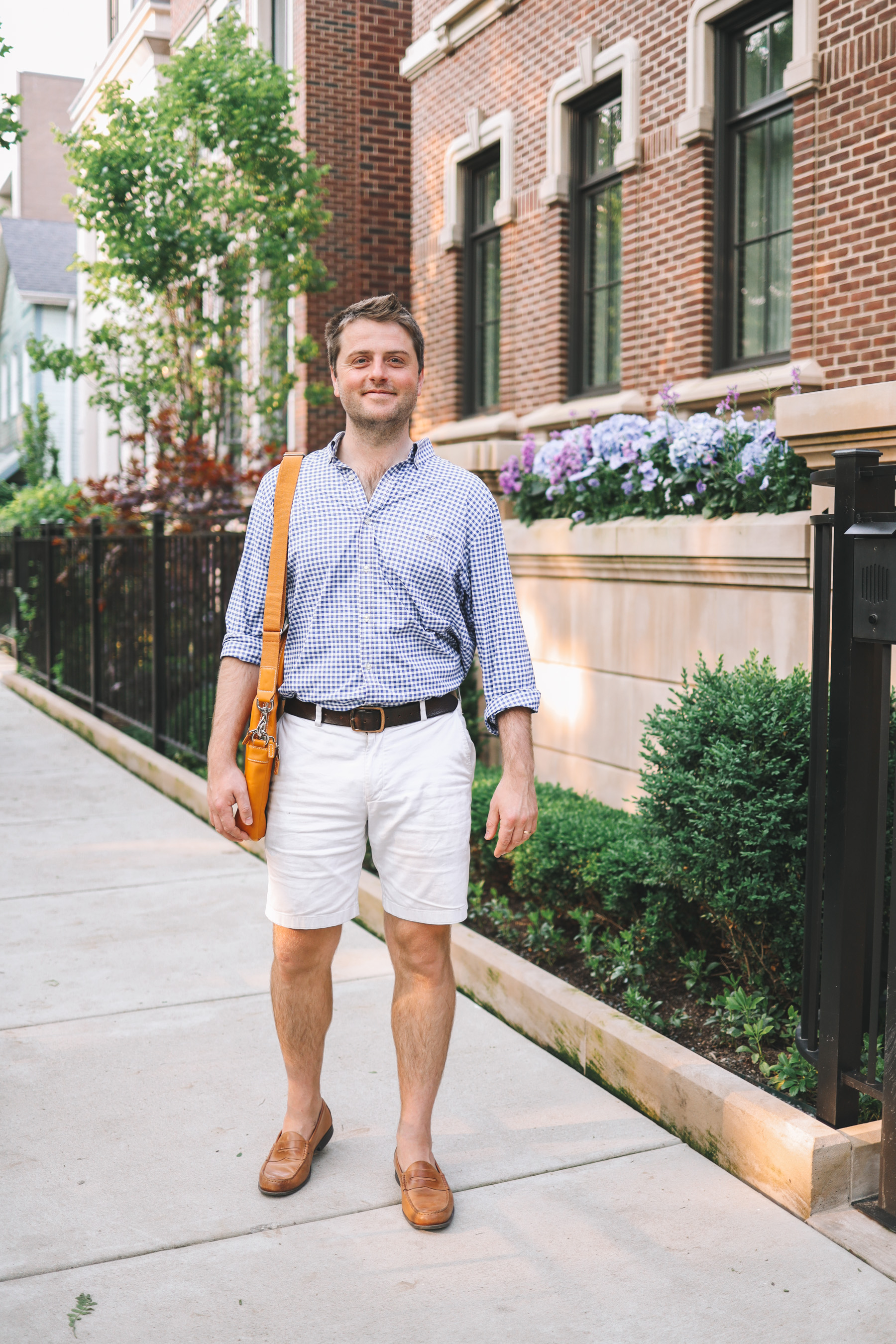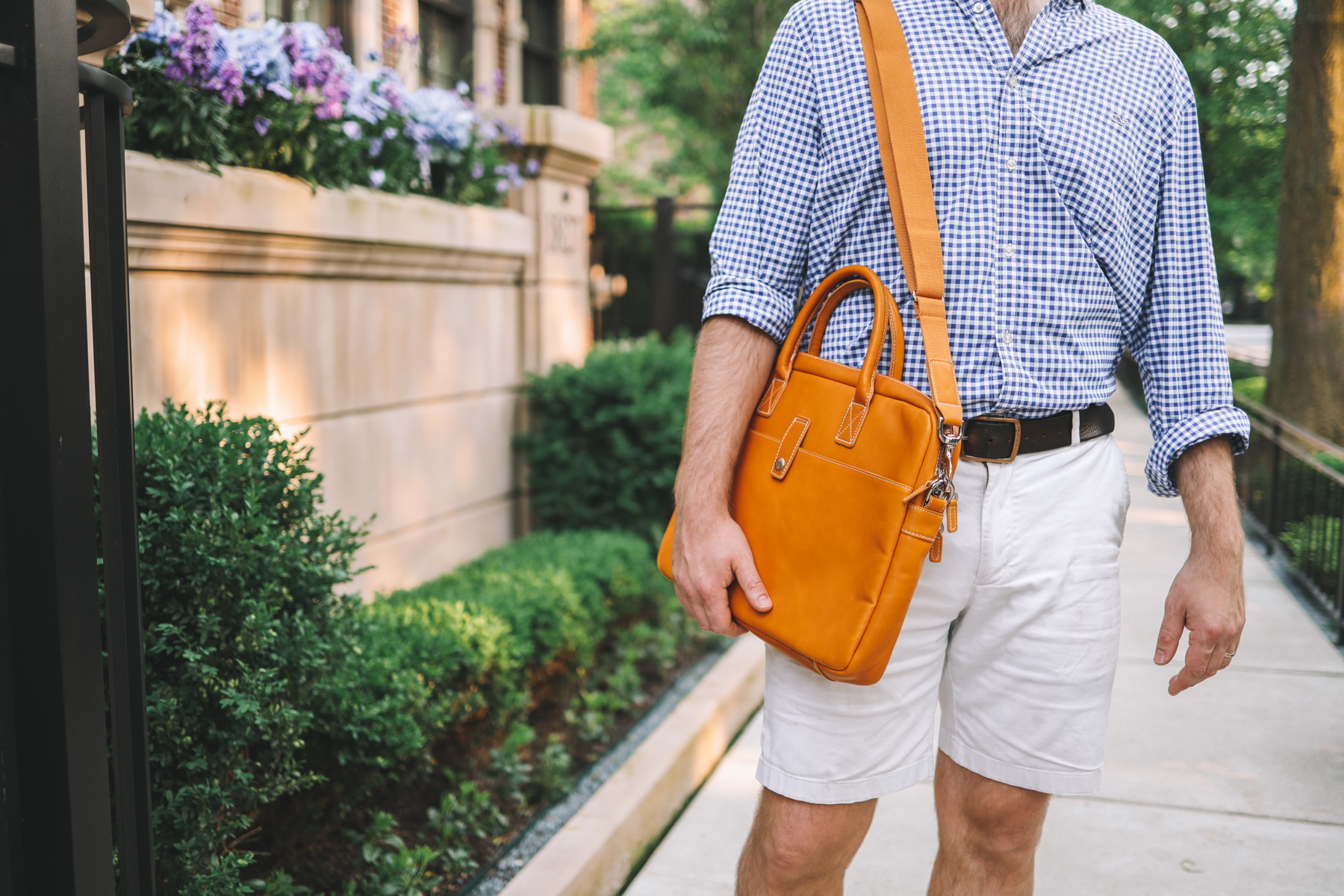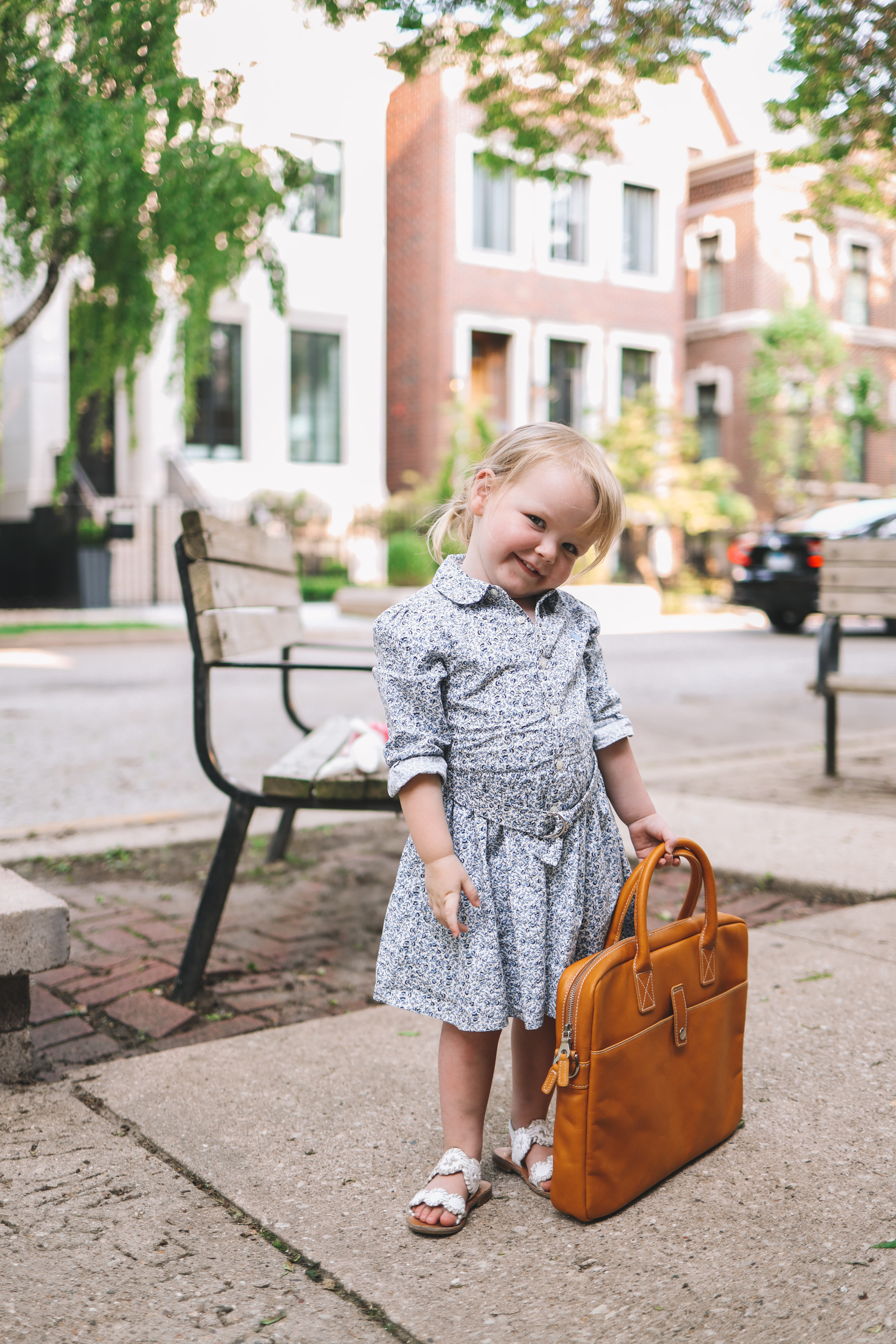 And this is my favorite. :) Our work lives are pretty crazy; while we often work at home, we work just as much at the gym, where Emma attends her peewee program. And because of this, Mitch needed a briefcase that could hold a lot more than just his laptop! But from paperwork to other electronics, Mark and Graham's Leather Briefcase (in Baseball Leather, of course) fits everything he needs. And it's GORGEOUS.
It has carry handles; a removable, adjustable shoulder strap; lots of interior pockets; and a wipeable nylon lining that makes it easy to clean. (Very much appreciated at this stage of life, when Goldfish end up really weird places all the time. 😂) Best of all, it has a padded 13-inch laptop sleeve. (But don't worry. The 15-inch Macbook also fits!)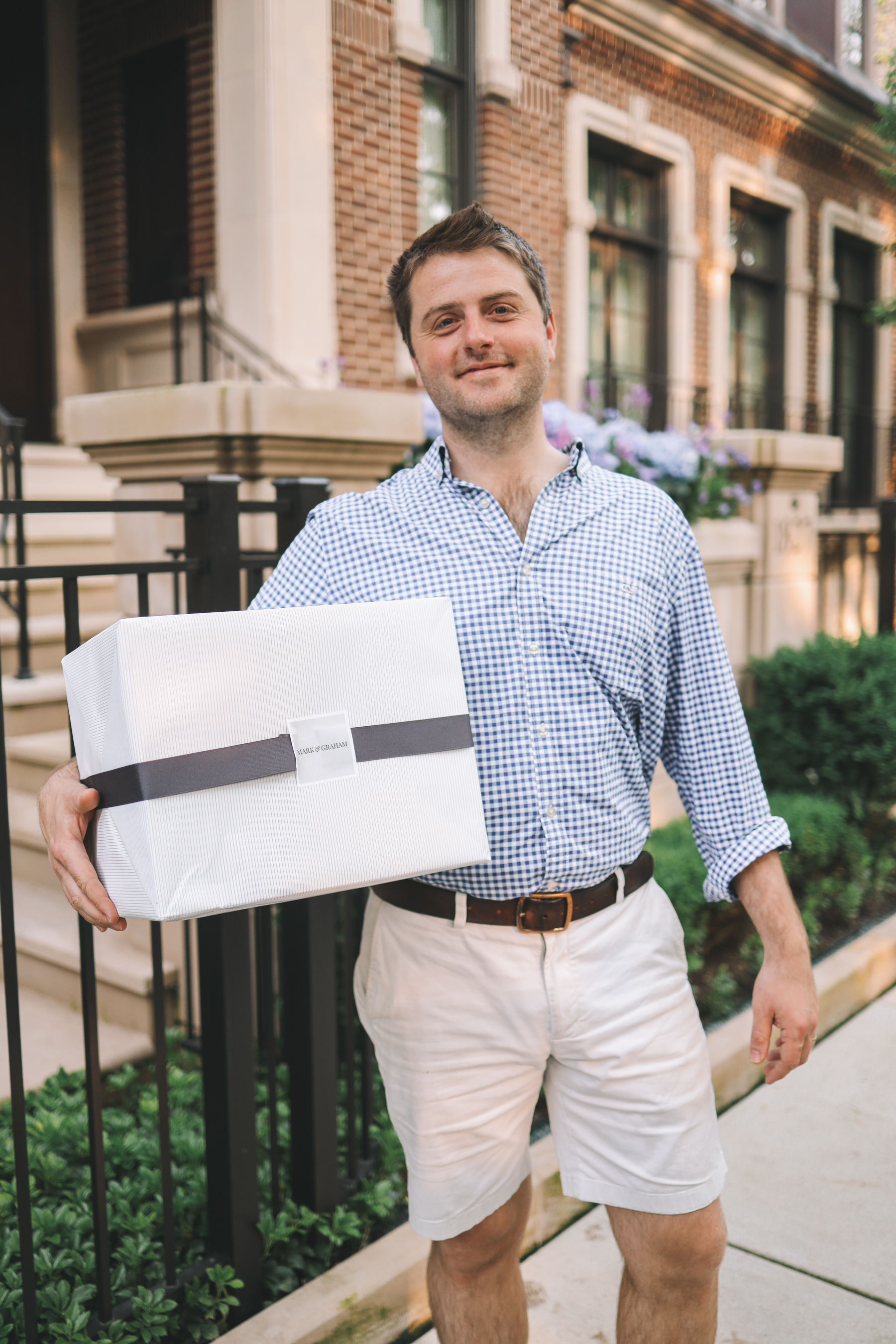 Looking for more ideas? Here are the Larkins' top Father's Day gift picks from Mark and Graham!