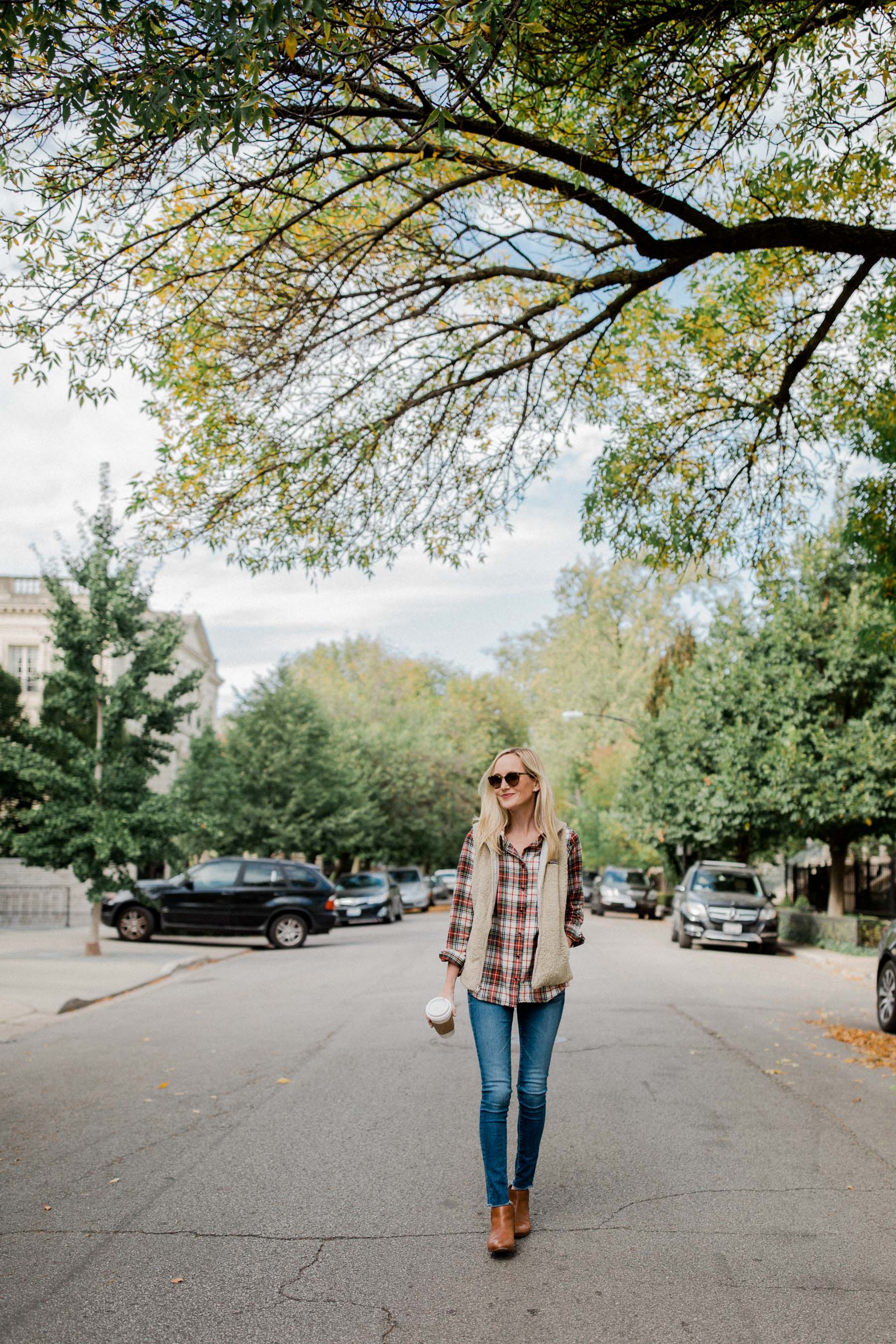 L.L.Bean "Slightly Fitted" Scotch Plaid Shirt (On sale! Use code "FALL20" to take 20 percent off your L.L.Bean order today.) / AG Jeans / Sam Edelman Booties (At Zappos in brown leather) / Patagonia Vest (In other colors here, and also love this quilted one and this "Better Sweater" one! — Finally, here are all my preppy vest picks for the fall!)
Aaaand we're back! After a much-needed visit to the doctor's office and a couple of prescriptions filled, the Larkin Family is on the mend. We're definitely still movin' slowly, but hey: makin' progress.
Let's flash back to last weekend, though, when we were all in much better shape. ;) We snapped these pics during a long walk around Chicago, right before grabbing dinner at Homeslice with our new "parent friends" we met in Lincoln Park. (It was awesome, btw, and we're so grateful to be part of such a wonderful, family-friendly and supportive community!)
Anyway. I'll admit that taking photos for the blog has never been more challenging now that Emma is walking… but it's also a whole lot of fun. I've forgotten about getting the "perfect shot" and I've simply fallen in love with the imperfection of it all. Okay, fine. I now have like 10 pics to choose from whereas I used to have much more, but let's be serious: that just makes everything a lot easier, right?! I just love how motherhood has helped me let go of things that don't matter. Now that Emma is in my life, I'm far more easygoing, and I see the big picture more clearly. Life is better when it's sticky, messy and kind of gross. ;)
But let's talk about a few of my favorite fall staples:
Best flannel shirt of all time. In comes in all the greatest plaids: Black Watch, Dress Gordon, Grey Stewart, Princess Mary, Stewart Victoria (which I'm wearing in these pics), and Wallace–and it's on sale! Use code "FALL20" to take 20 percent off your order today. It's amazing. So cozy and soft, and just right for that perfect oversized look. Definitely get the "slightly fitted" version, though, as even the XS is slightly large on me.
I'm sure you're sick of hearing me talk about this pair of jeans, but they're really that fabulous. I love the color, the whiskering and the ankle-length cut, and the fact that they're perfectly stretchy yet somehow don't bag throughout the day. (I'm between 5'4 and 5'5, by the way, but I have a long torso and shorter legs, which is why the ankle cut looks normal-length on me.) Seriously, though: they're my favorite pair of jeans right now, and my go-to whenever they're not in the wash! (#momlife) In terms of fit, I'd say that they run TTS.
They're back! And Zappos still has 'em in the brown leather. Without a doubt, these are my favorite booties for fall. I've had my pair for YEARS, and they've yet to wear out. I'm a little sad that the brown leather version is a bit harder to find this year, so nab 'em while you can. Something tells me that they're on their way out. (But I hope I'm wrong!) The booties, P.S., run true to size.
It's everything and more. I know what you're thinking, though: Gosh! It looks short. But the photo makes it look a lot shorter than it is. Generally, I find that Patagonia runs small, and thus I normally order one size up (to a size small) with the brand. This time, though, I ordered both the small and medium in the vest to compare, and went with the medium for the length. It got a teensy bit wider in the size medium, but not too much wider, and Mitch agreed that it looked way better in the medium. So if you've never ordered Patagonia before, perhaps order two sizes up. But if you're more familiar with the brand, I'd suggest going one size up from your normal Patagonia size. Hope that helps!
Shop the post:
L.L.Bean "Slightly Fitted" Scotch Plaid Shirt (On sale! Use code "FALL20" to take 20 percent off your L.L.Bean order today.) / AG Jeans / Sam Edelman Booties (At Zappos in brown leather) / Patagonia Vest (In other colors here, and also love this quilted one and this "Better Sweater" one! — Finally, here are all my preppy vest picks for the fall!)
SaveSave