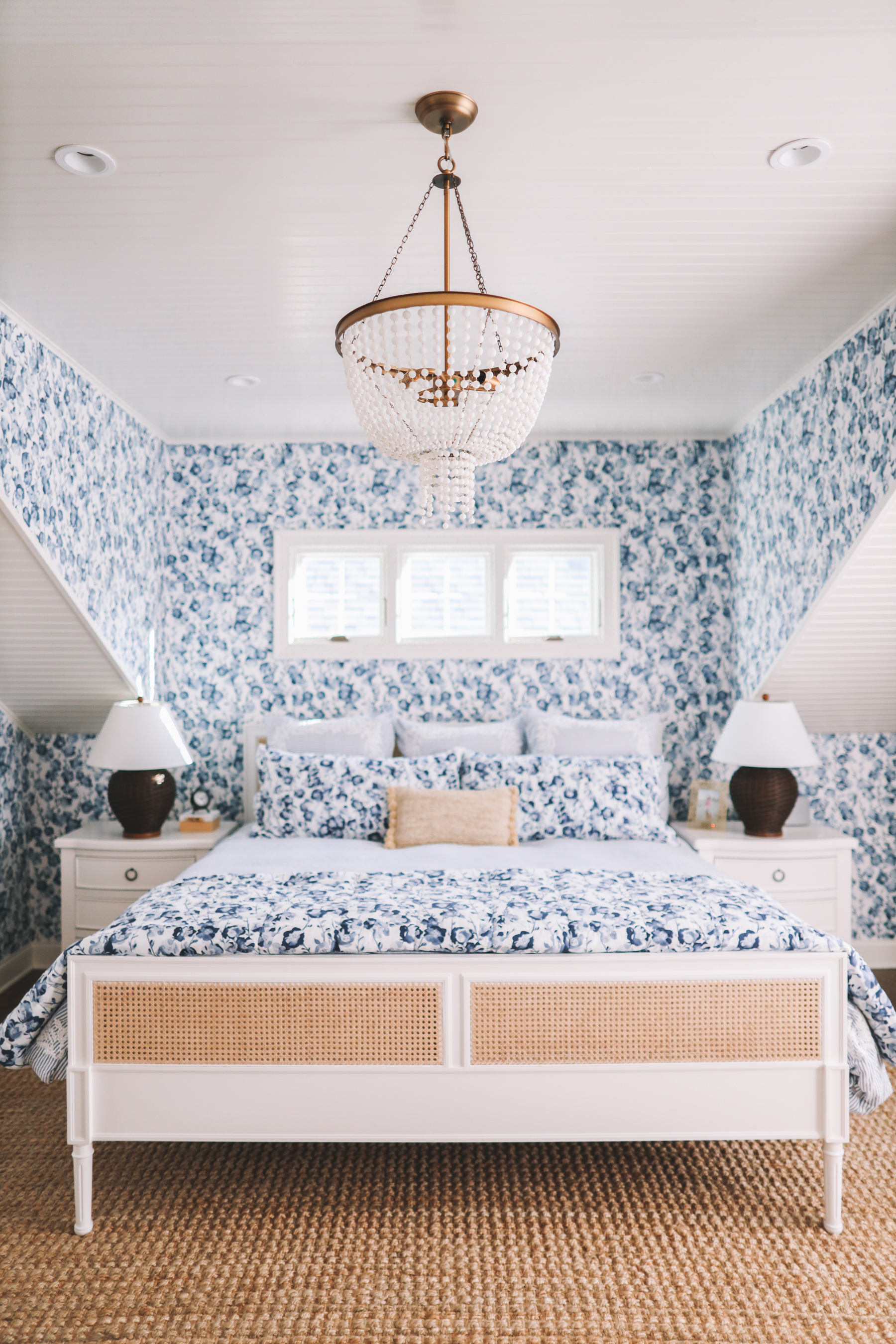 Striped "Acadia" Wallpaper / Floral "Fairfax" Wallpaper / Embroidered "Westport" Seersucker Quilt / Embroidered "Westport" Seersucker Euro Shams / Scalloped Plaid Sheet Set  / Floral "Fairfax" Quilt / Floral "Fairfax" Shams / Large Basket / Future Topiary ;) / Pom Pillow / Potential Lamp / Similar Lamp / Cane Bed / Dresser (Also available here.) / Nightstands (Also available here and here.) / Roll-Arm Chair / Chandelier / White Curtains / Jute Rug / Brass Sconces / Similar Floor Mirror / Sonos Speaker / Nightstand Clock / Nightstand Jewelry Box
It's done, it's done! Okay. I still need to find lamps for the dresser because the current ones blend into the wallpaper, and I'd eventually like to hang Roman shades on the window over the bed. But other than that (😂), our bedroom is DONE!
Because our city home is on a short lot, the house was built "up" rather than back, which is actually fairly common in certain areas of Chicago's Lincoln Park neighborhood. And while we originally weren't sure about the floor plan, we now adore it and can't believe we considered homes that weren't built up! In all seriousness, it's incredibly nice when we have visitors, and I think it'll be lovely when the girls are older and "want space." ;)
There are three floors, and each one has its own feel. (This was unintentional we but kind of love that it worked out that way!) The first floor (living room, dining room and kitchen) will be extremely traditional; the second floor (girls' rooms) is basically the land of princesses and pink 😉; and the top floor (our bedroom, our bathroom and my office) is HAPPY.
If you've been reading here for a while, I'm very affected by light. And despite how much I love Chicago, its long and soul-crushing winter (🙈) doesn't help with that. So we decided to make the top floor–where I start and end the day and where I spend a significant amount of time working–as bright and fun as possible!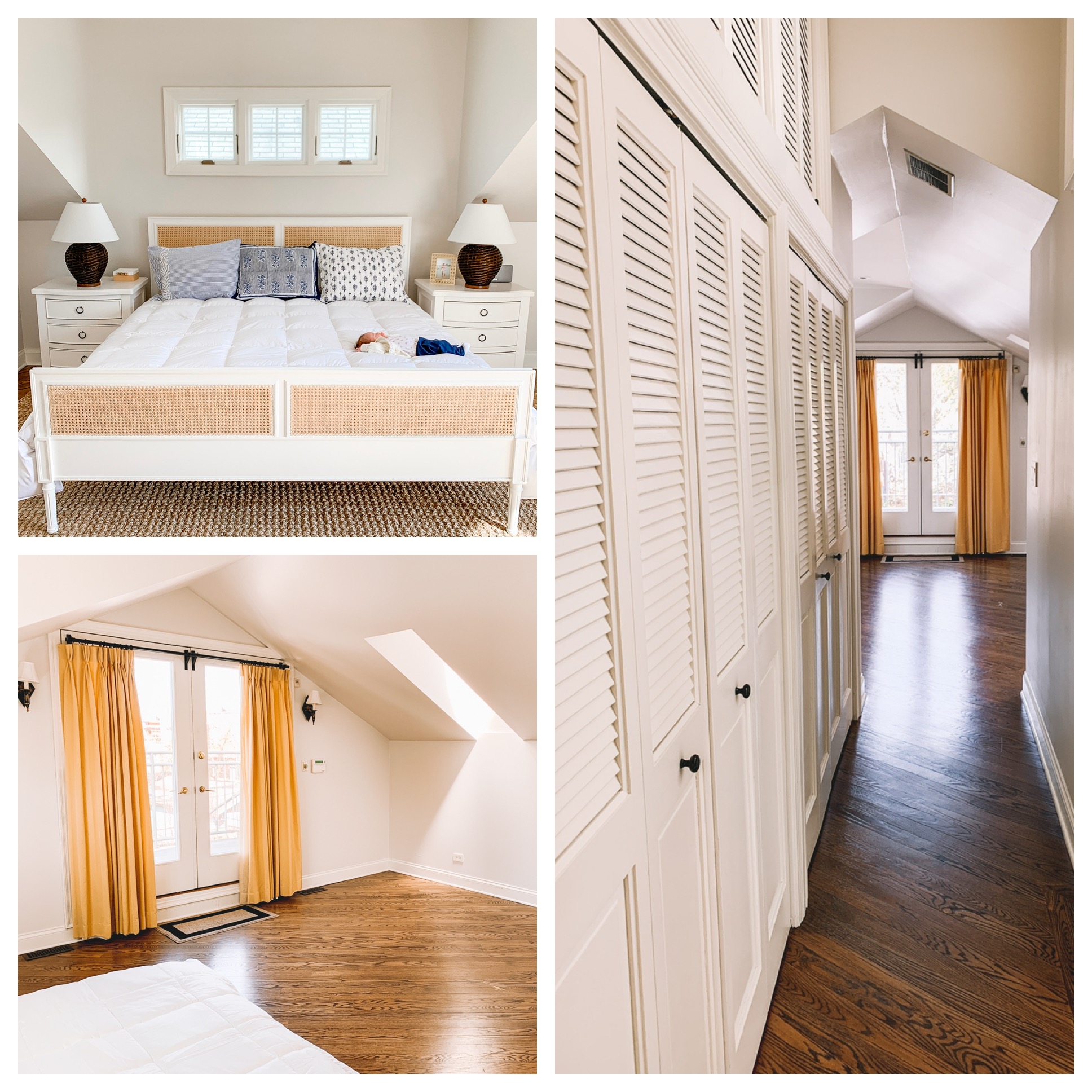 Before
You might remember that a few months ago, Serena & Lily reached out about collaborating on decor for our bedroom. It came at the BEST time; Kira (our designer) was about to have a baby, and was trying to wrap up her remaining projects before she went on maternity leave. So Mitch and I marched ourselves right into the store on Armitage here in Lincoln Park, and, with the help of Designer Advisor Taylor Markgraf, we hashed out a plan. (We also asked you guys to vote on which wallpaper would look best, which made things really fun! It was actually a reader who suggested doing the Fairfax floral wallpaper in the main room, and then the stripes in the hallway to delineate the spaces. THANK YOU! We loved this idea.) Btw: Design services with Serena & Lily are completely complimentary. Isn't that fantastic?!
But yeah. The design experience was incredible. Taylor took the stress out of it and made it enjoyable. I also feel like we learned a LOT, which we'll definitely carry with us while we decorate the rest of the house. For example, who knew there are specific heights that mattresses and nightstands should be? Or that depending on the size of the bed, there are several ways to arrange pillows? Or that matchy-matchy can look fabulous if done correctly?! All of these things don't really matter; I mean, who cares what height your mattress is?! But I was astounded by how much better the room looked when I put some thought into these decisions instead of just ordering stuff and hoping for the best.
Taylor helped us work with what we already owned, too, which I loved. I assumed that we were going to be pushed to buy new furniture, but she said that our old stuff would look great with the plan, and that there was no need to replace. This made me feel like she really had our best interests in mind!
A few days later, after we'd decided on wallpaper, construction started on the room. We installed beadboard on the dormer ceilings, trimmed out the "secret doors" so they worked with the design of the room, and had the ceilings and doors painted white. (Benjamin Moore "Ivory White" #925. That's the white used throughout the house!) And then we had the Serena & Lily wallpaper installed!
You can see the "before" above, but man. I can't get over the transformation, and I can't believe that I get to wake up in this space every day. Yes, it's a statement! But it's such a private part of our home; a place for just us, and it makes us smile. And I think it makes a statement in the best possible way. The environment exudes happiness, and it's made a huge impact on our day-to-day lives. An added bonus? The room remains tidy and clutter-free more often than not because we now take pride in it. It's a dream! I feel like a real live adult.
One / Two / Three / Four / Five / Six / Seven / Eight / Nine / Ten (Also available here.) / Eleven (Also available here and here.) / Twelve / Thirteen / Fourteen / Fifteen / Sixteen / Seventeen / Eighteen / Nineteen / Twenty
Okay. Here's (most) everything, just in case you're wondering where products are from. (Additional product links can be found at the very top and very bottom of this post.) I should note that now is an awesome time to invest, as Serena & Lily is currently having its Friends & Family sale. Now through October 14th, you can take 20 percent off everything with code "GUESTPREP." Such a great opportunity to save on some "forever" pieces!
Anyway, below is a little tour of the bedroom with a zillion photos because shooting in there is so enjoyable and I get snap-happy. ;) Hope you enjoy!
Shop the post:
Striped "Acadia" Wallpaper / Floral "Fairfax" Wallpaper / Embroidered "Westport" Seersucker Quilt / Embroidered "Westport" Seersucker Euro Shams / Scalloped Plaid Sheet Set  / Floral "Fairfax" Quilt / Floral "Fairfax" Shams / Large Basket / Future Topiary ;) / Pom Pillow / Potential Lamp / Similar Lamp / Cane Bed / Dresser (Also available here.) / Nightstands (Also available here and here.) / Roll-Arm Chair / Chandelier / White Curtains / Jute Rug / Brass Sconces / Similar Floor Mirror / Sonos Speaker / Nightstand Clock / Nightstand Jewelry Box
All Serena & Lily products c/o except bed. Thank you, Serena & Lily, for helping our vision come to life! Remember: Now through October 14th, you can take 20 percent off everything with code "GUESTPREP."