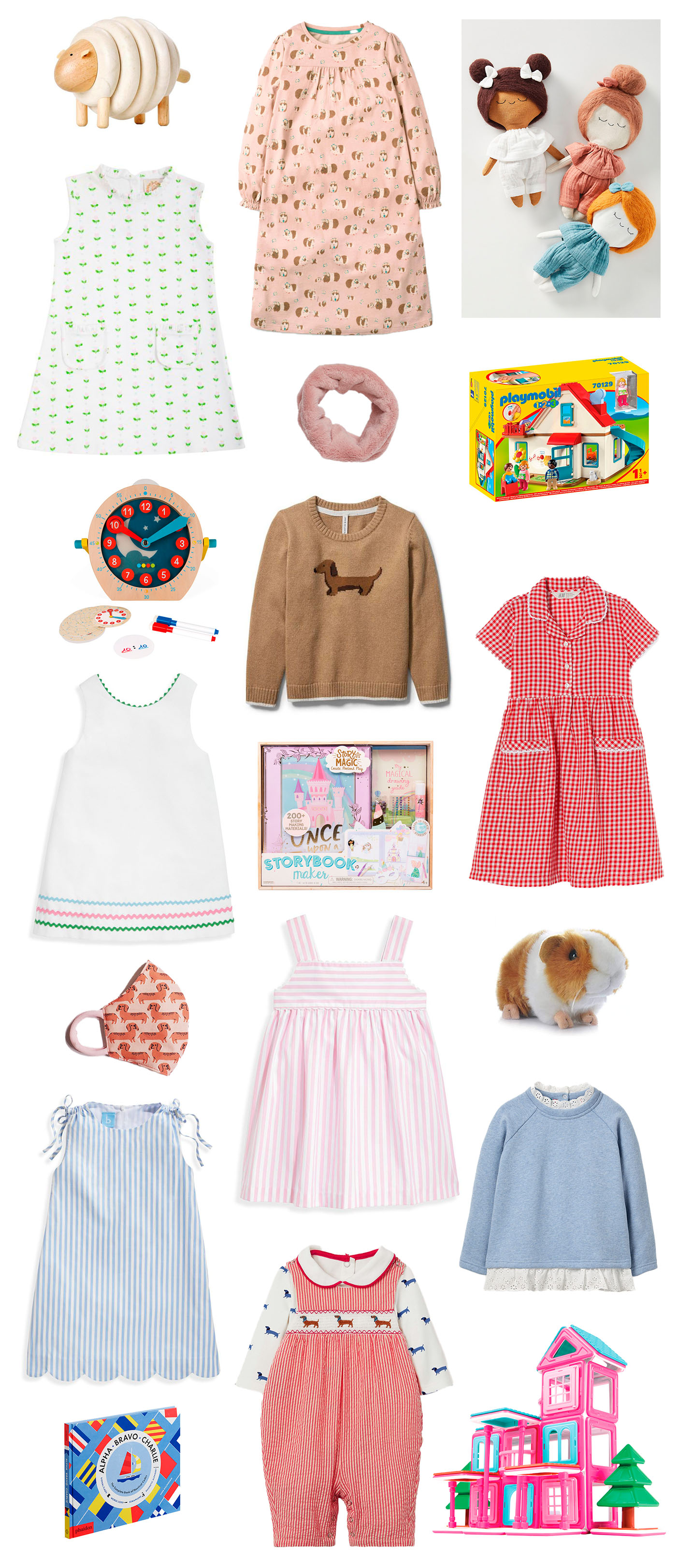 Dachshund Sweater / Tulip Dress / Ric Rac Dress / Striped Bow Back Dress / Alpha, Bravo, Charlie / Striped Scalloped Dress / Magformers Play House / Guinea Pig Nightgown / Gineau Pig Stuffed Animal / Noodle Mask / Anthropologie Dolls / Sausage Dog Set / Ruffled Sweatshirt / Lacing Sheep / Red Checkered Dress / Storybook Maker / "Learn to Tell Time" Toy / Fur Snood / Playmobil 123 House
SO MANY UPCOMING BIRTHDAYS! Lucy's is in May and Emma's is in August, so those aren't for a while. But they have a ton of friends who were apparently all born at the same time 😆, and so I've been waving in the cute gifts! (Always try to buy several weeks ahead of time that way there isn't any panic. Here are a few cute things in case you're in the same boat!
(I should note that next time I do this, I'll be sure to include more clothing for boys, too. We only have a couple of little boy friends, so it kind of slipped my mind. Sorry 'bout that!)
A few callouts:
Dachshund Sweater: I died when I saw this, and promptly ordered it for the girls. Got it in a size 7 for Emma and a size 4 for Lucy so they'll be able to wear it for a few years! It's from the little boys' section but I think it'll look pretty darn cute on little girls, too.
Anthropologie Dolls: These have been a huge hit with Emma and Lucy this year. It's so important to have dolls and characters that don't look just like them, and these are beautifully made and the absolute sweetest. Can't recommend them more!
Noodle Mask: This is the kids' version of my favorite fabric mask! (Note: When going indoors these days, we double mask, as the CDC recommends doing so. But when outside and not in close contact with others, we wear these.) Emma says it's her favorite—both because of the Noodle print and the comfort—and she always asks for it!
Playmobil 123 House: HOLY. Gave this to Lucy for Valentine's Day and both girls adore it. I can't get over how well-made Playmobil is, and I was unaware that a toddler version of it existed! Unlike Legos, the structure doesn't fall apart. We keep all the accessories in a little storage box in the living room cabinet, and use it as an "upstairs toy." (Toy rotation is where it's at for us! I bring up "new" old toys from the basement every few weeks.)
Tulip Dress: I have never loved a little girls' dress more. My parents had a wallpaper that looked JUST like this in our home growing up. (Maybe by Laura Ashley or Waverly?) And I had sheets in the print, too. So it brings back a lot of happy childhood memories for me. :)