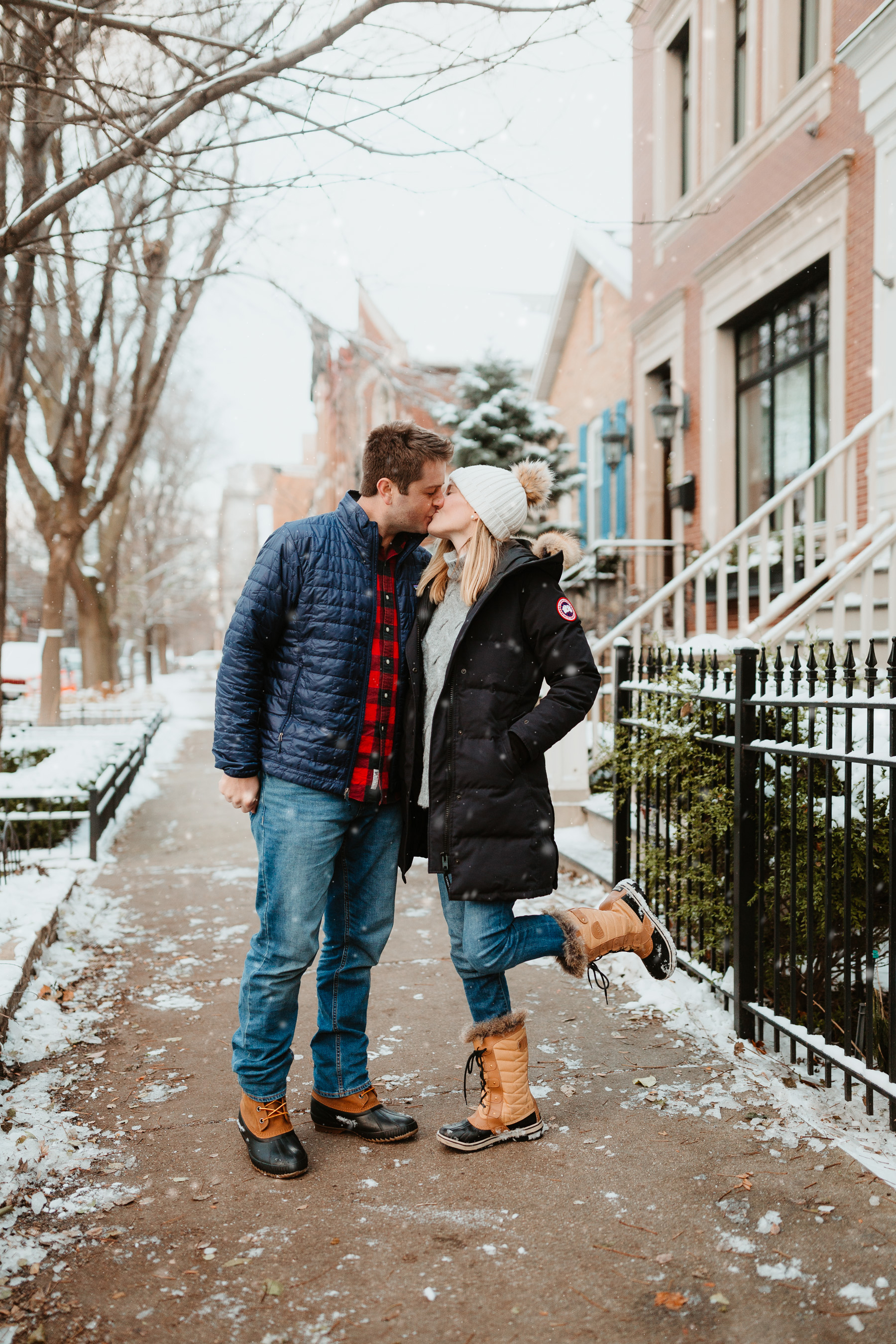 Mitch: Patagonia Nano Puff and Sorel Cheyenne Waterproof Boot / Kelly: Cable-Knit Sweater, Navy Down Parka (More affordable options here and here), Sorel Tofino II Boots and DL1961 Jeans (Maternity here.) / Emma: Toddler Sorel Snow Boots and Similar J.Crew Plaid Coat
Mitch here!
Blogging about the weather is lame, but just look outside! It's not even December yet and Winter Storm Bruce just took a frosty sneeze all over Chicago. We got a foot of snow, are lookin' at single-digit temperatures, and can see 18-foot waves out on Lake Michigan. With all that frozen mayhem around us, though, the Larkin Family somehow carved out a little time to play in the snow.
Okay, but one more gripe: Chicago Public Schools didn't even close! Growing up, an "almost snow day" could set me back for weeks. After a night full of amateur meteorology–Well, you see, Mom, the atmospheric conditions represented by the isobars here and here clearly signify a precipitation event that the Superintendent simply can't ignore–the walk into a fully open school was absolute torture. My career as a student (and a teacher, for that matter) was ruled by some tight-fisted big wigs over at the school district's weather department. Of course, Kelly didn't give me the day off for Winter Storm Bruce either, but I can't complain.
Choosing winter gear is serious business in Chicago as it'll be my full-time wardrobe until early June. But I'm not, how do you say, efficient at doing stuff. I procrastinate, delay and make excuses. Shopping on Nordstrom, though, is so freaking simple that even I pulled it off. Nordstrom offers competitive prices, the best brands and helpful customer service to make a guy like me get the job done.

Some of my favorite stuff for guys
There's something special about taking on a rough winter day in proper gear. This Patagonia Nano Puff Jacket is apparently made of magic, and even though it's light and compact, it did the trick for a quick romp in the snow. The Sorel Cheyenne Waterproof boots kept my feet dry and warm while we trudged through all that slush, too. There was seriously so much slush.
It's no accident that we're all wearing Sorels in this weather. Kelly swears by hers–she has the Tofino IIs for everyday use and the Joan of Arctics for those awful -20 days. (Her dad was actually the one who instilled a love for the brand in us; he wore Sorels in the Air Force while flying around places like Alaska and still swears by them.) Sorels are also extremely cool-looking.
Emma is obsessed with her Sorel boots, too, and shouts for them when she wakes up in the morning. It's weird.
I should note that while we normally wouldn't spend this much on toddler boots, Chicago winters shouldn't be taken lightly, and we trust Sorel for the its ability to keep us warm during even the coldest days here in the city. We bought Emma's boots three sizes up–a size 9!–so she could wear them for multiple winters, and we have no regrets. She's obviously most important, and her old boots just weren't cutting it. That said, we are struggling hardcore with getting this little lady to wear mittens. We've clipped them to her coat; we've turned right around and taken her home when she's refused to put them back on her hands. But no matter what we do, she pulls 'em off. Any suggestions?! Frankly, I'm looking for a coat with no openings for hands and fingers or something. HELP.
Anyway. Let's get back to our little outing.
You see, I'm a Chicago Winter Veteran. I know to expect the worst. Of course Chicago's winter would start a month early, while it's still November, and on one of the busiest travel days of the year. Did you think this was a game?!
So what did we do out in that wintery mess? For a little while, we cried, we complained, we slipped multiple times. Also, we wondered what kids find so appealing about the snow in the first place. We regretted the innumerable life choices that brought us to this particular latitude. We wondered if we meant longitude.
But then we decided to get out of the house and walk to the playground. For a few minutes, the sun came out and shined down on us while it was still snowing, and that was pretty darn beautiful. It was truly a glorious half hour… and when our noses were sufficiently frozen, we ran as quickly as we could back home for hot chocolate. All in all, it was a great little excursion that we're never going on again.
With any luck, El Nino figures itself out and we get that missing month of fall back… but I'm not holding my breath.
Mitch. Out.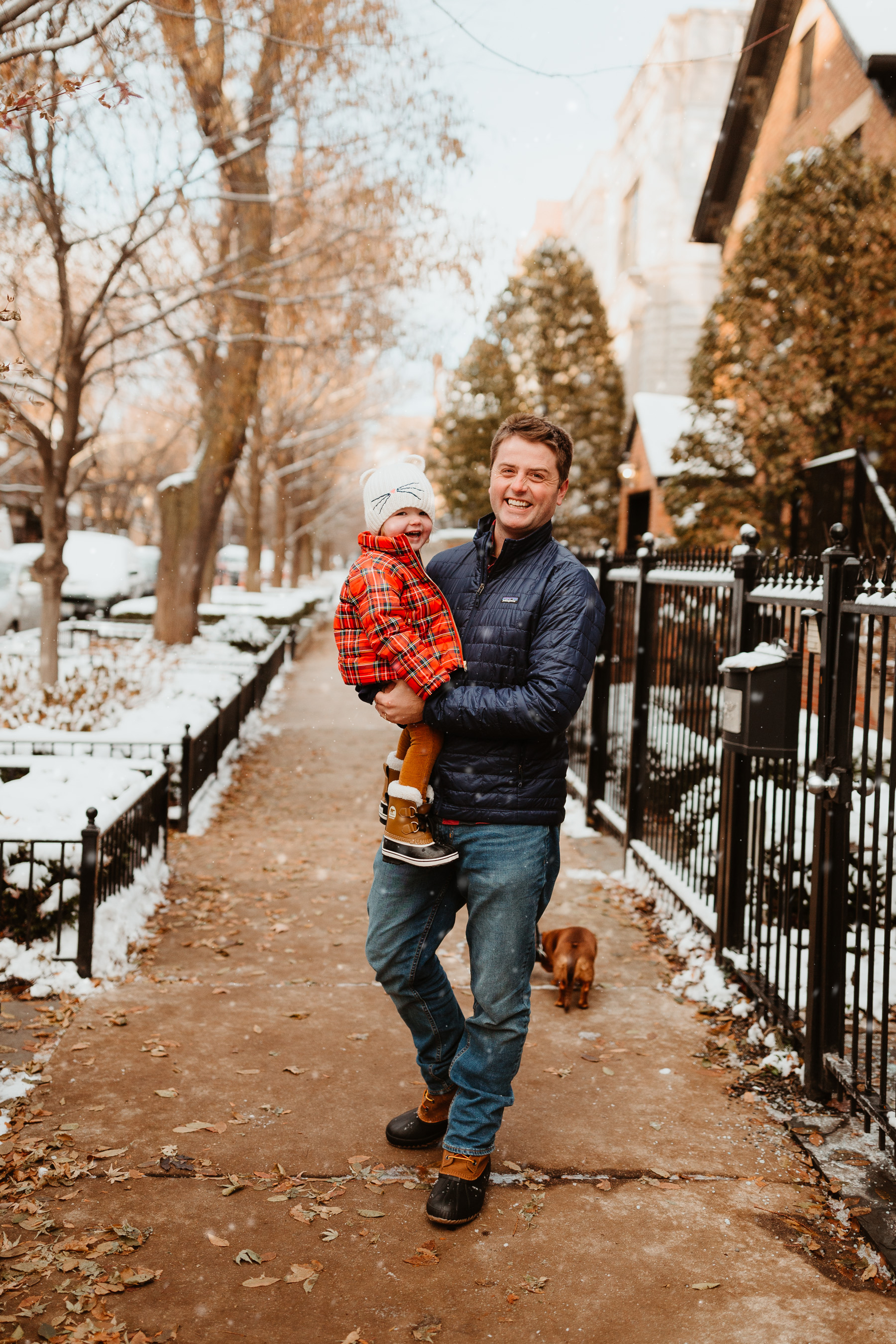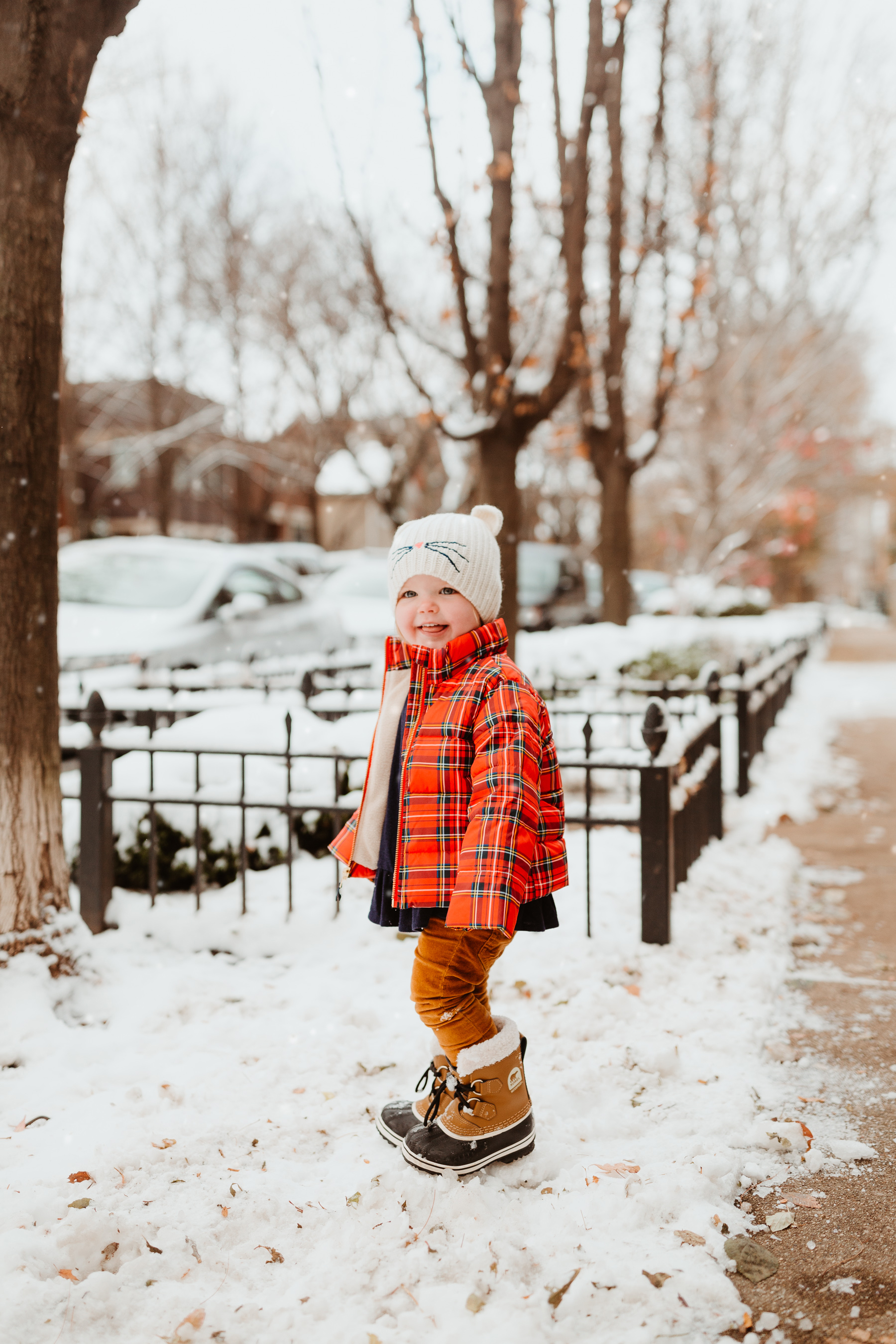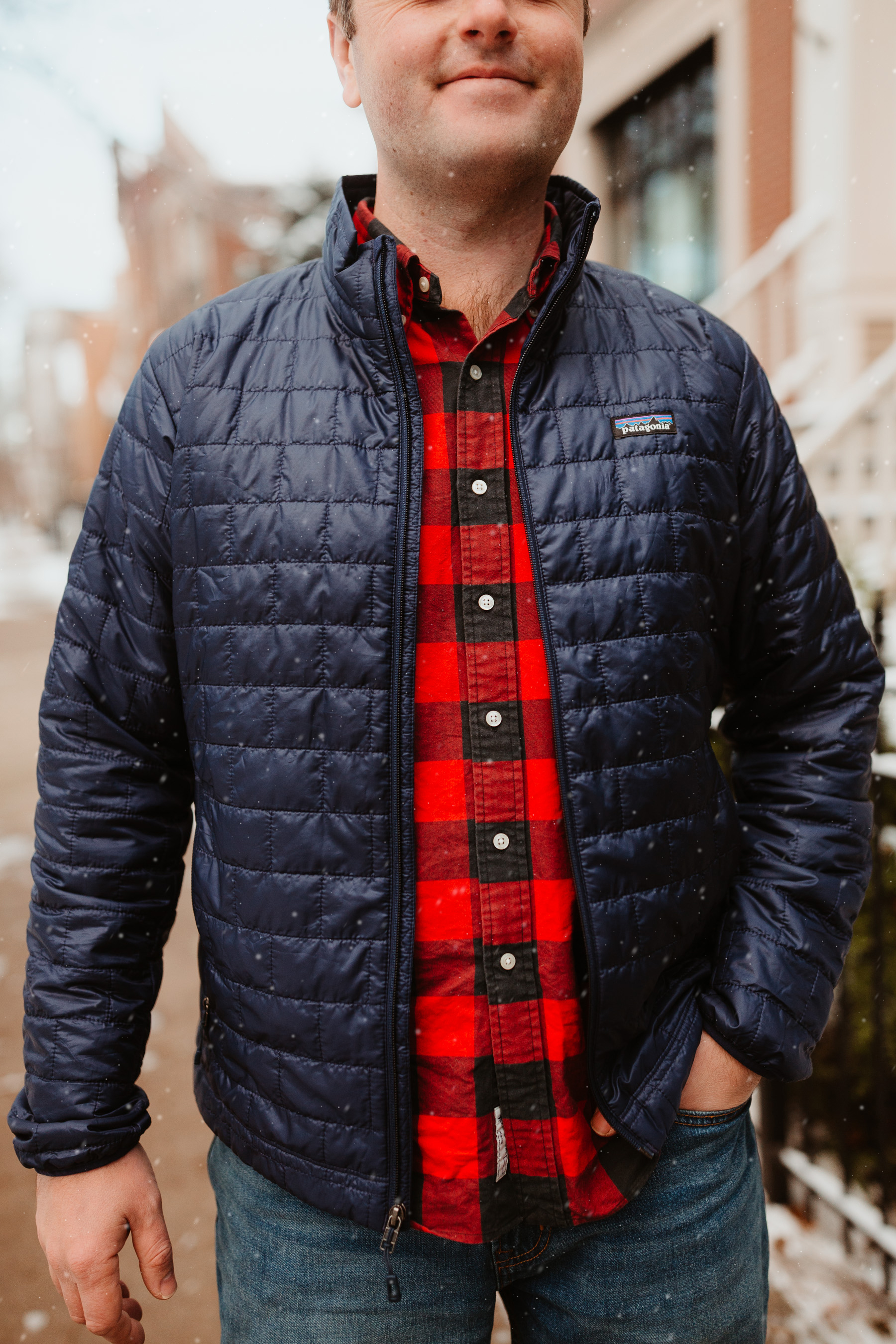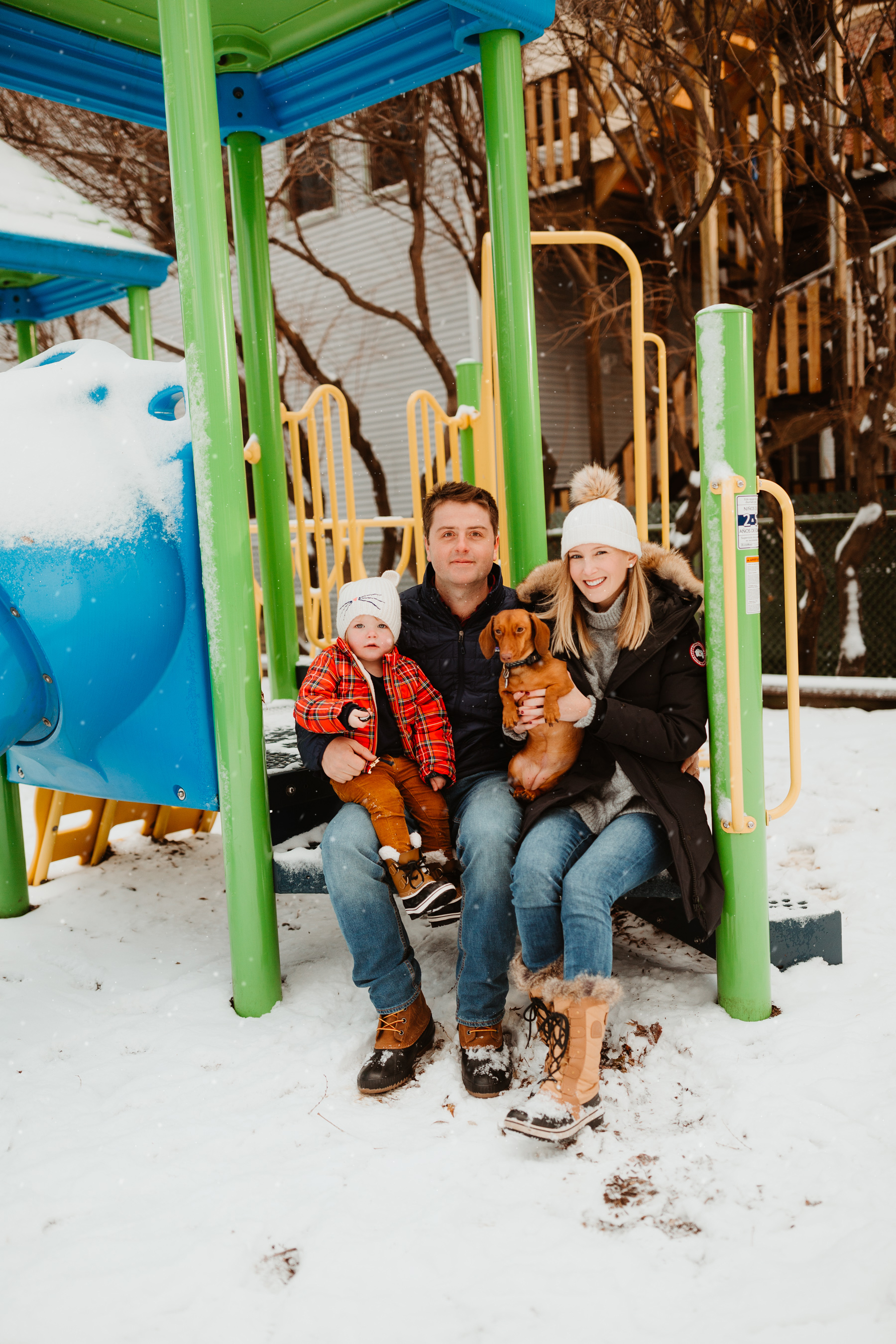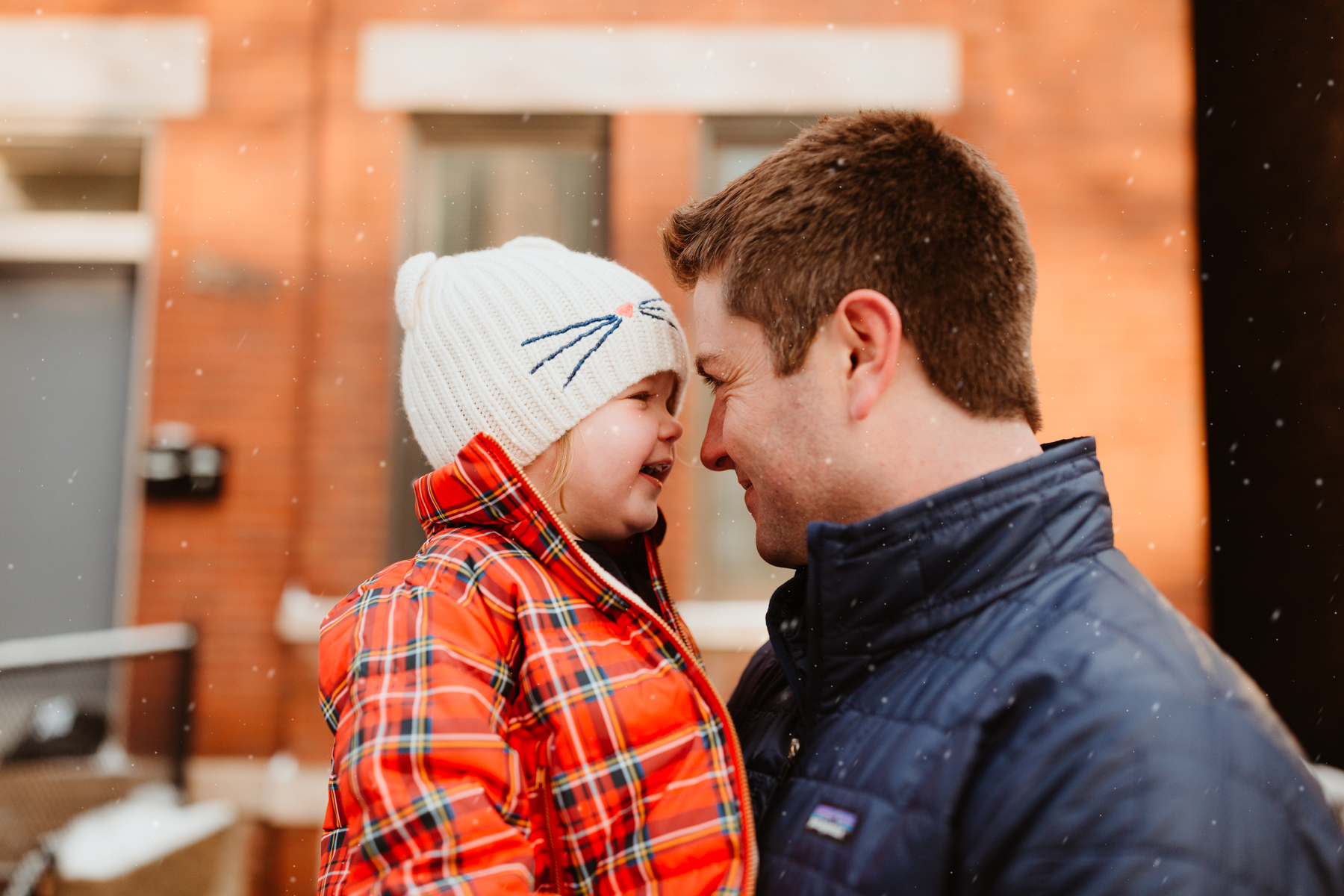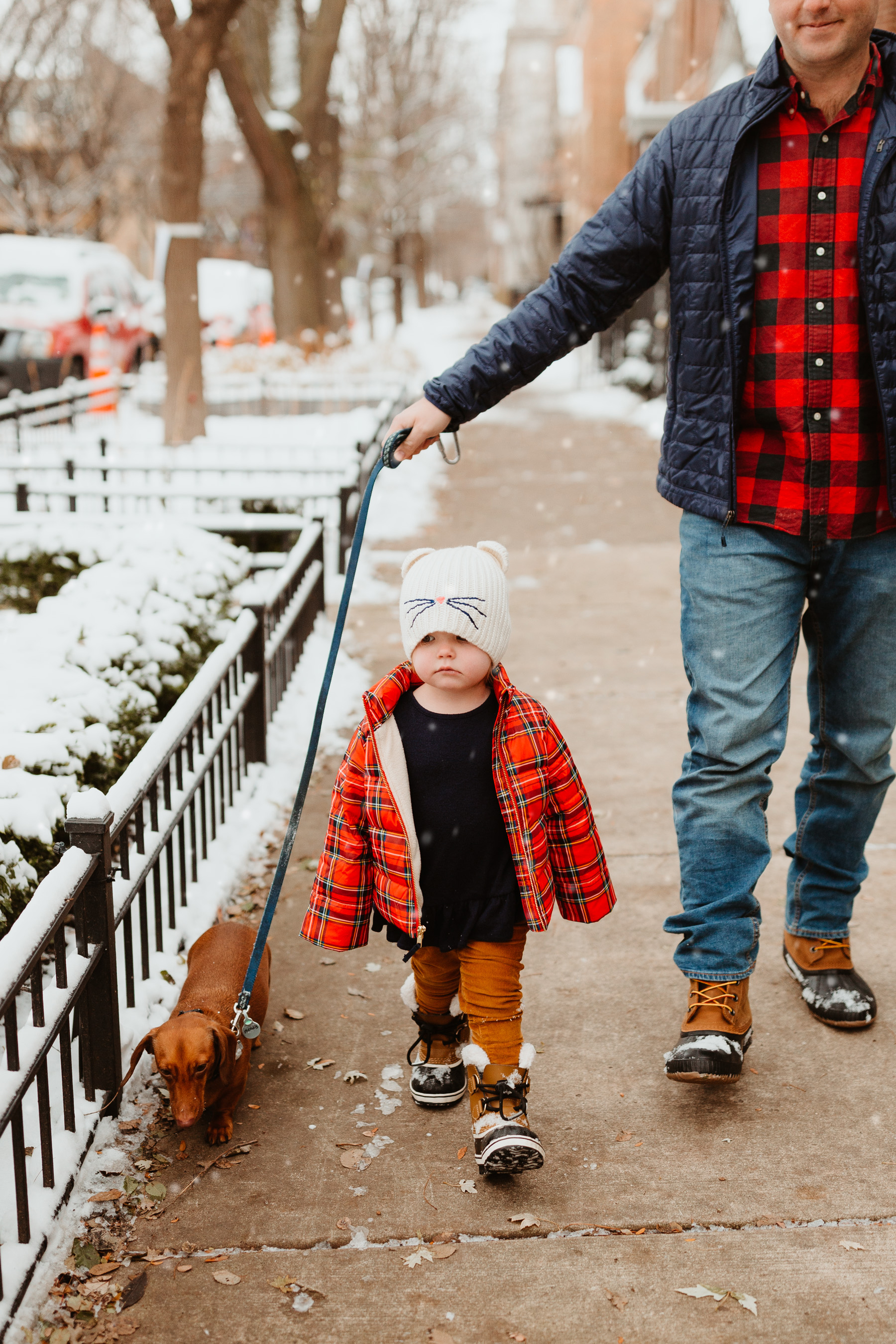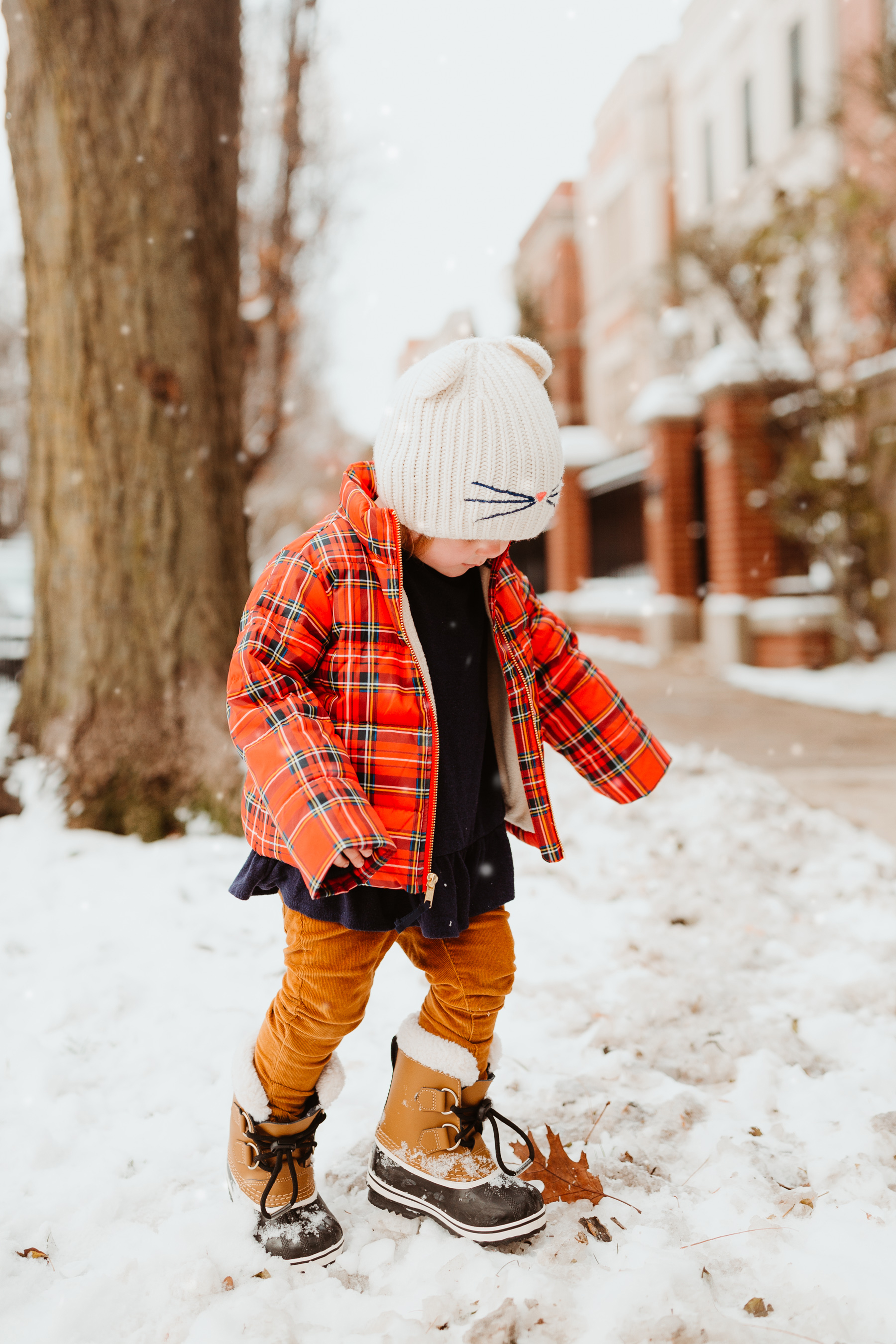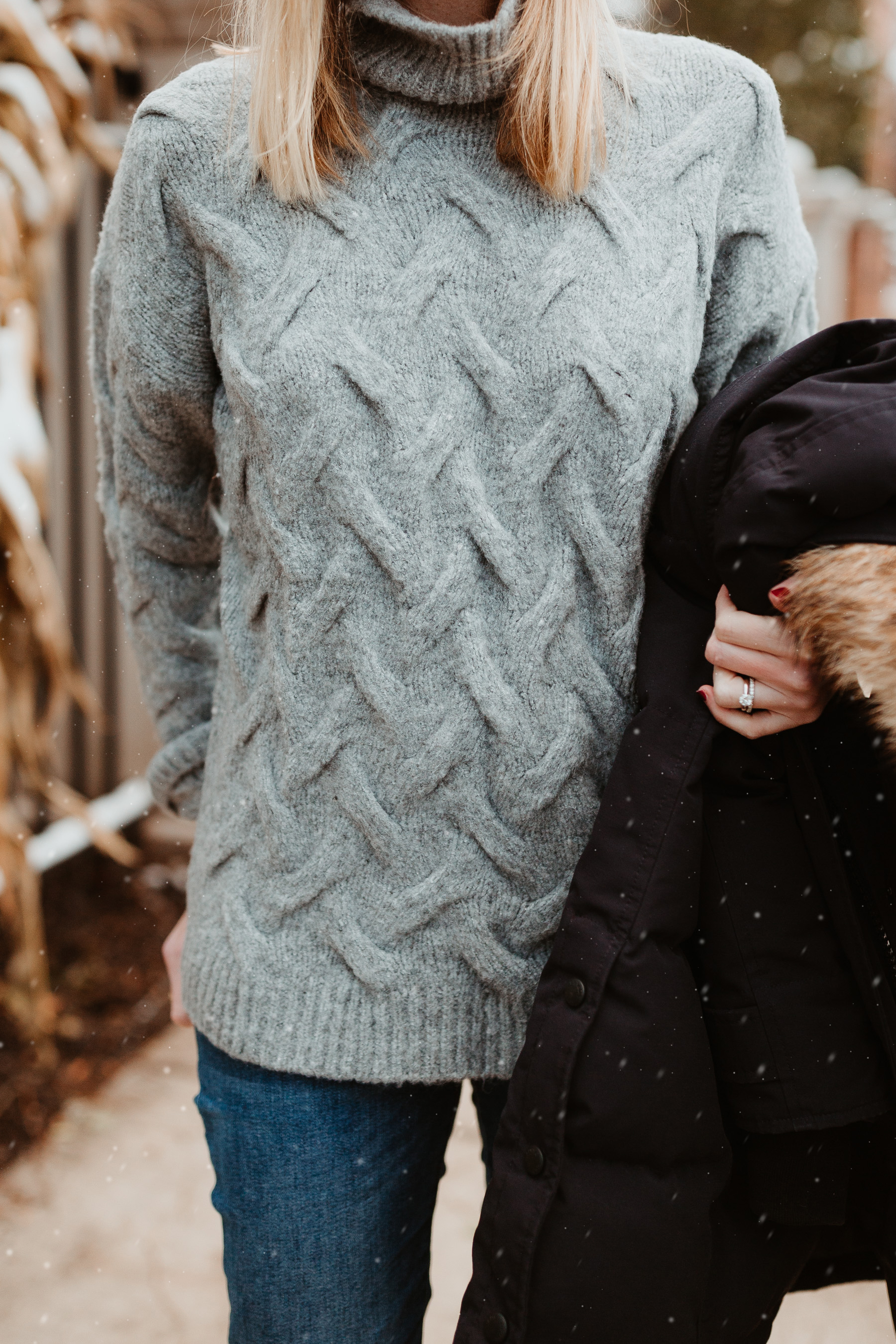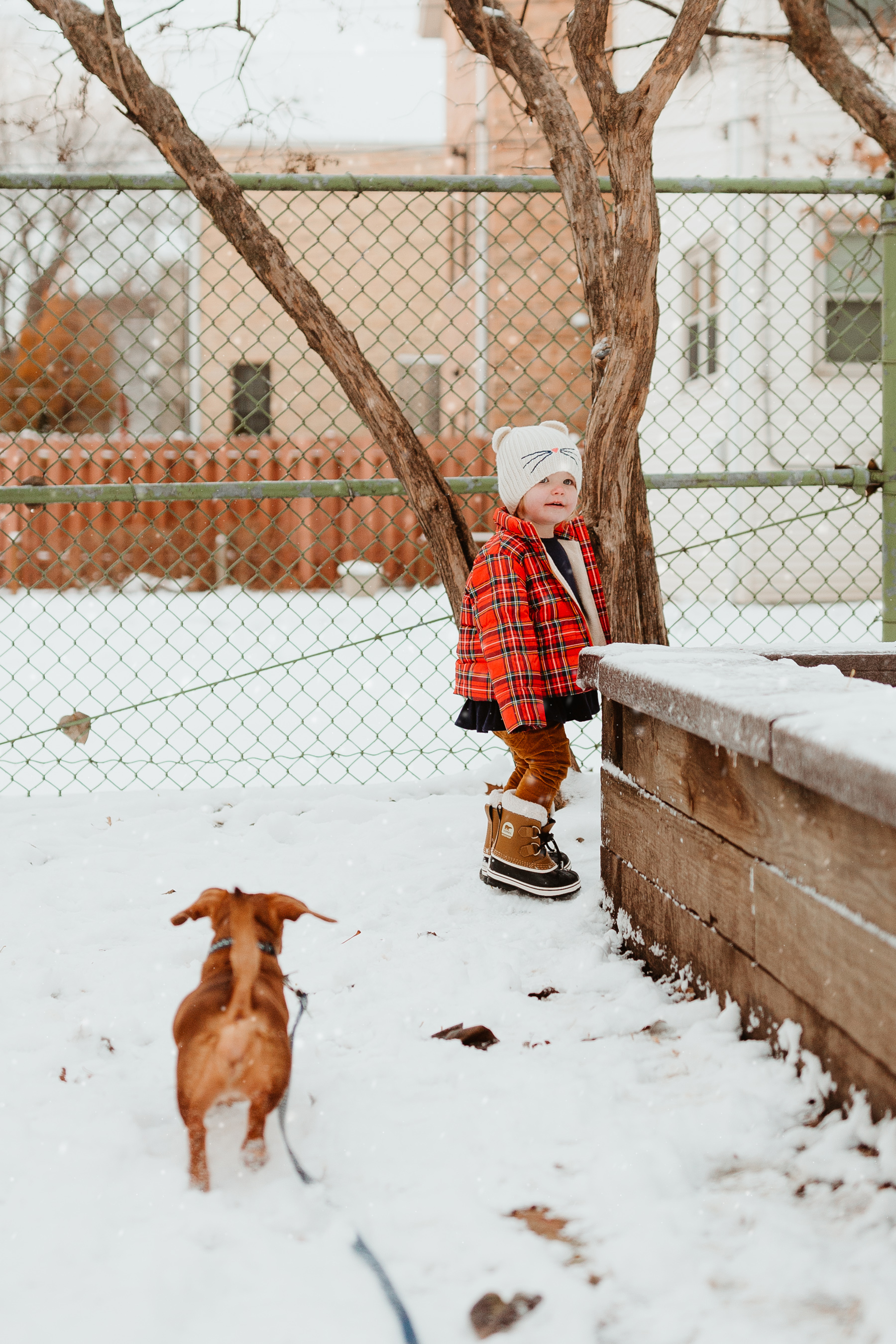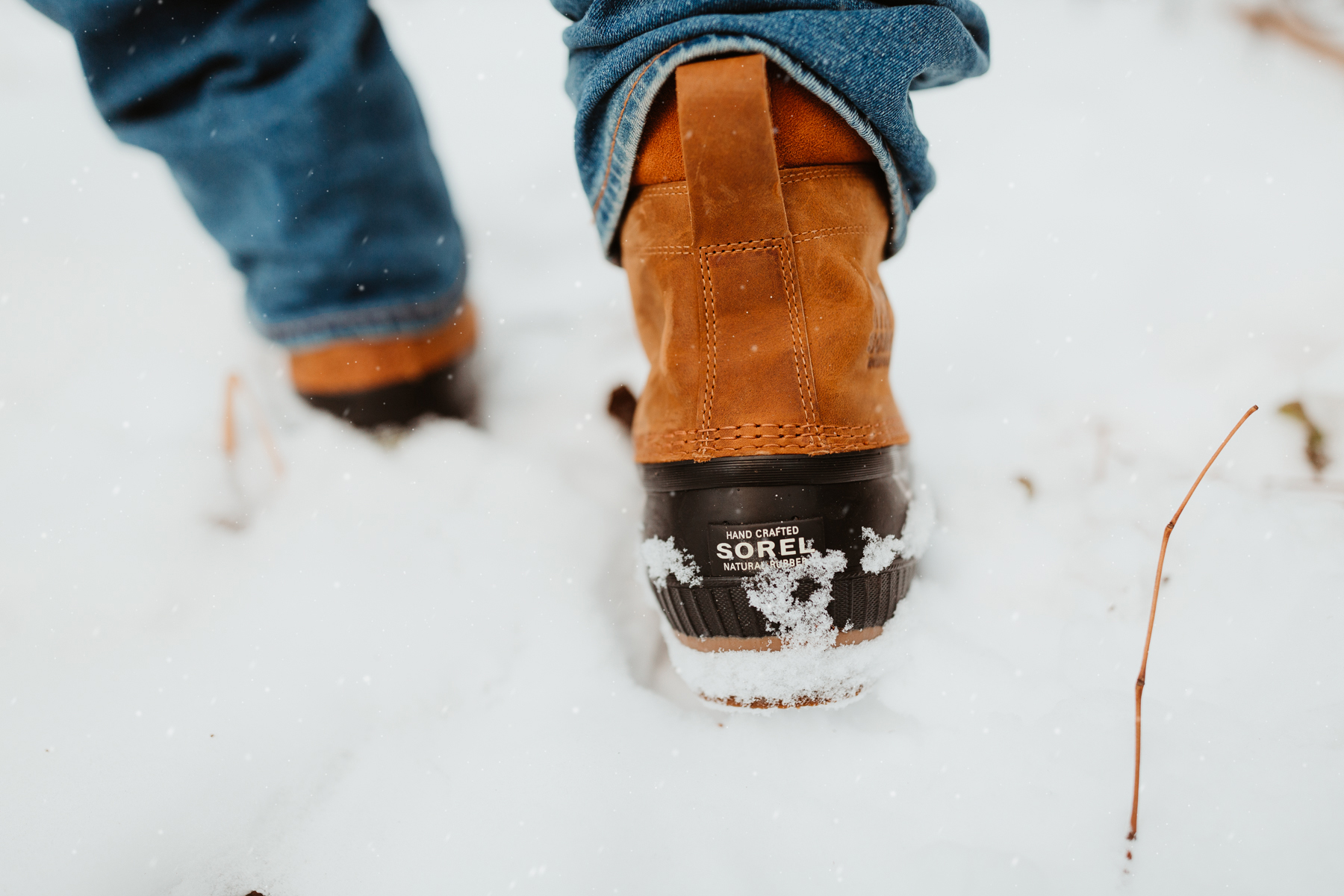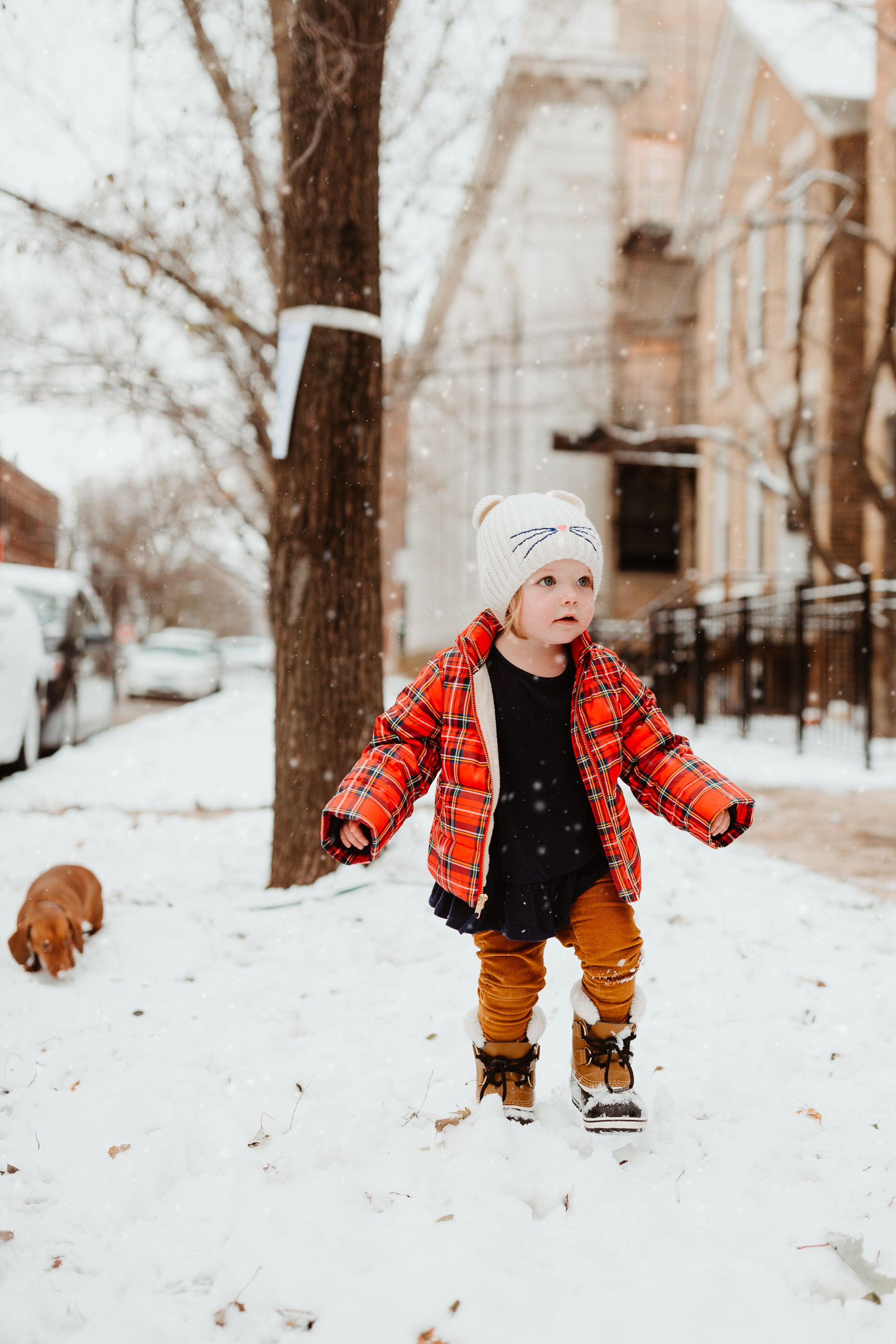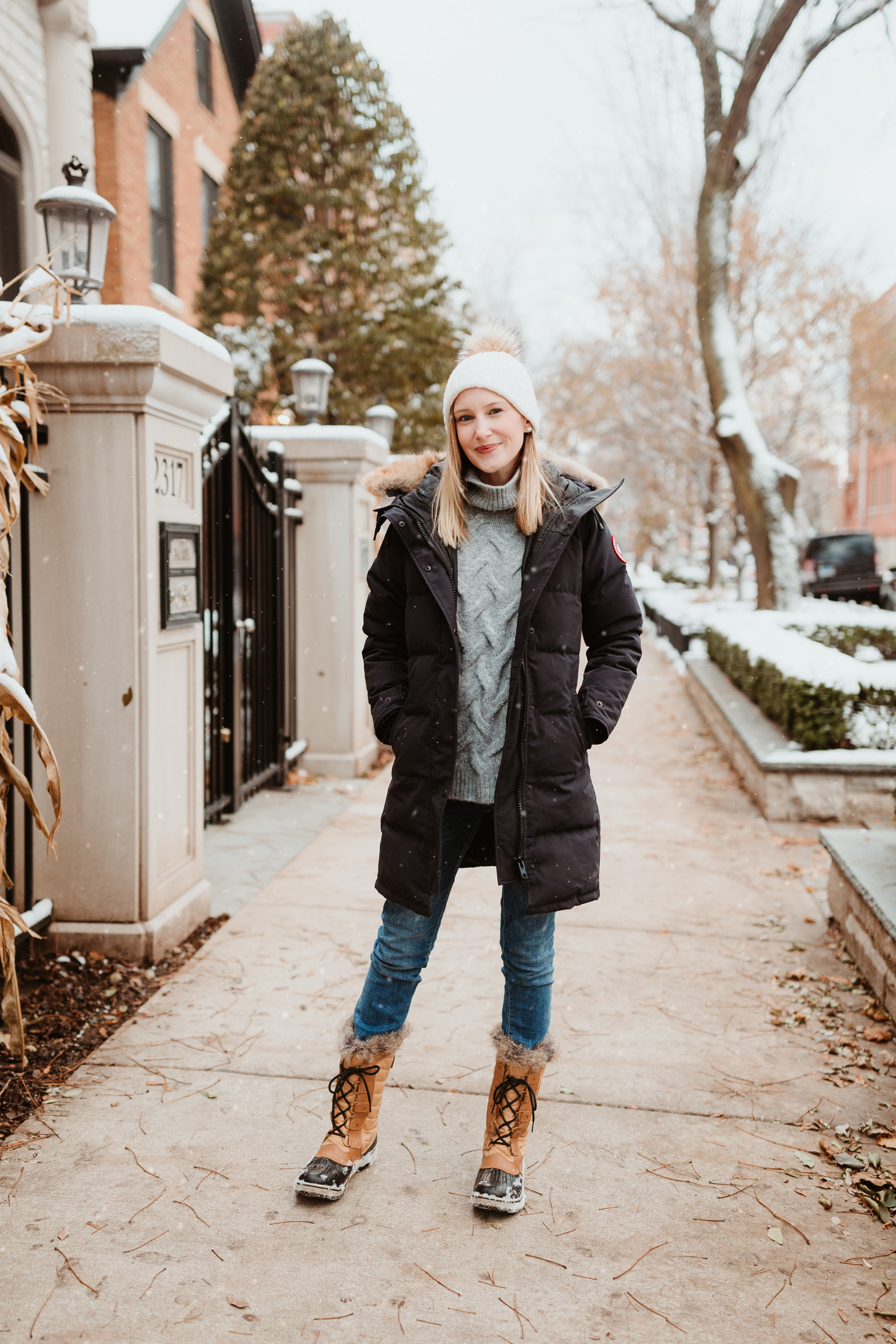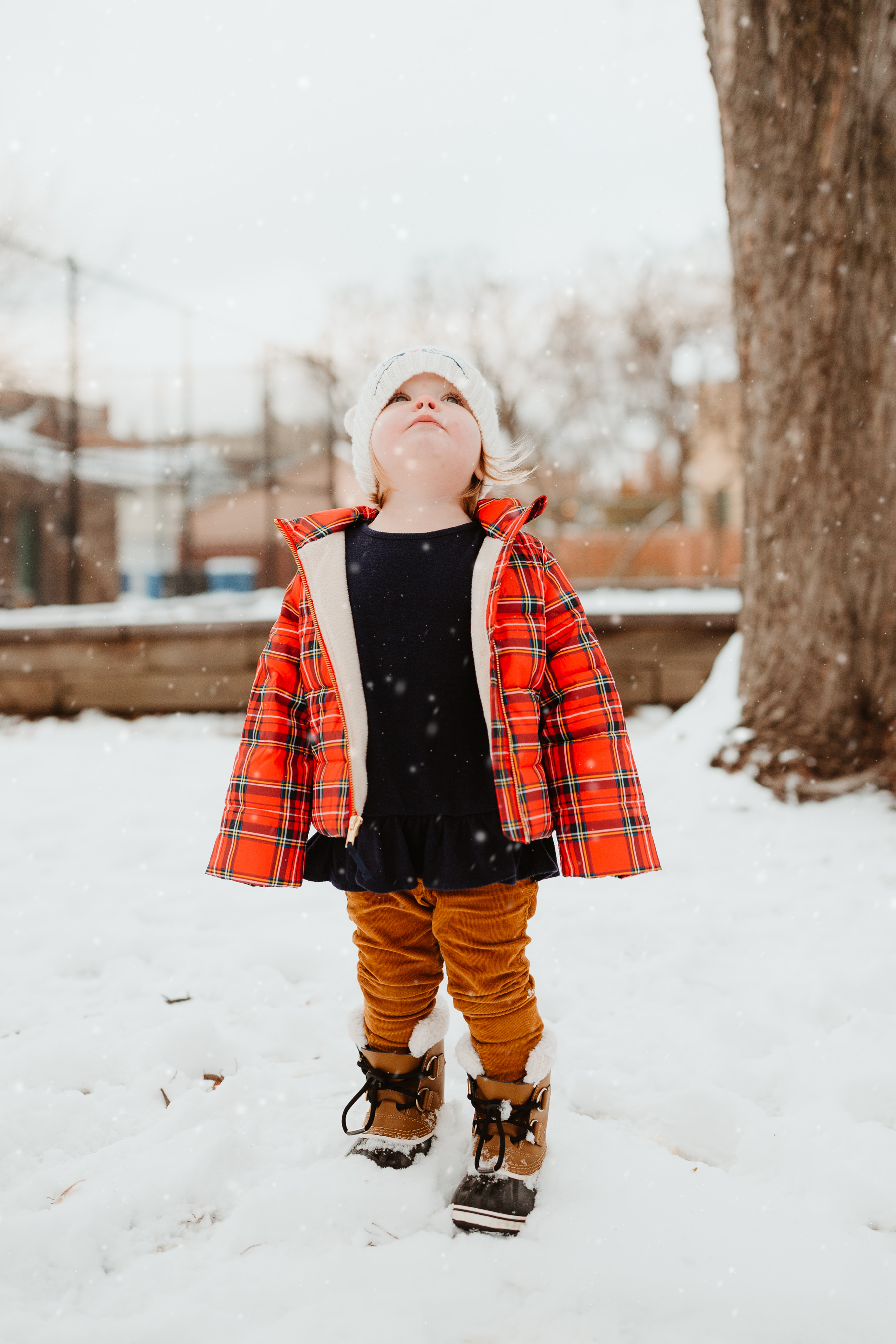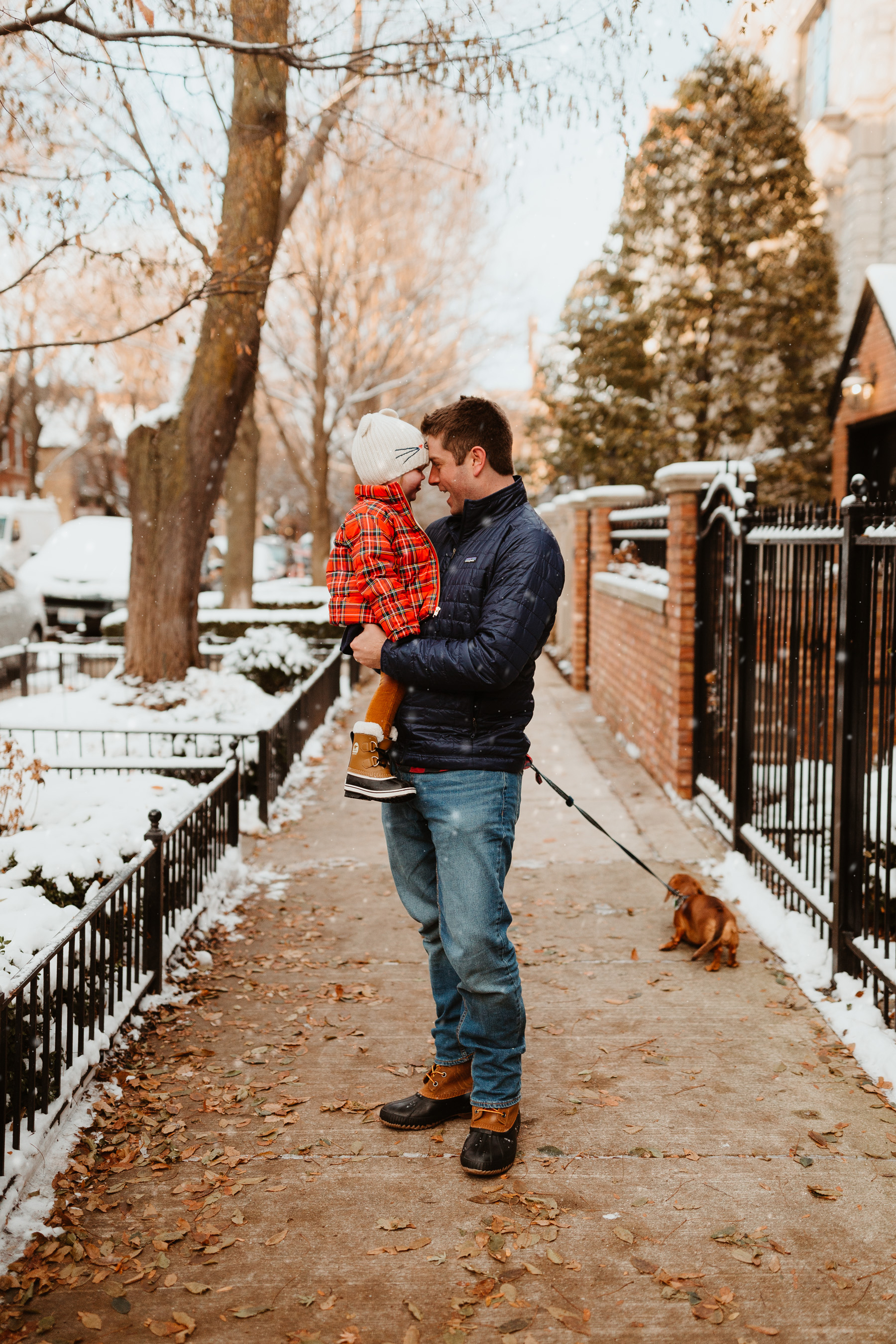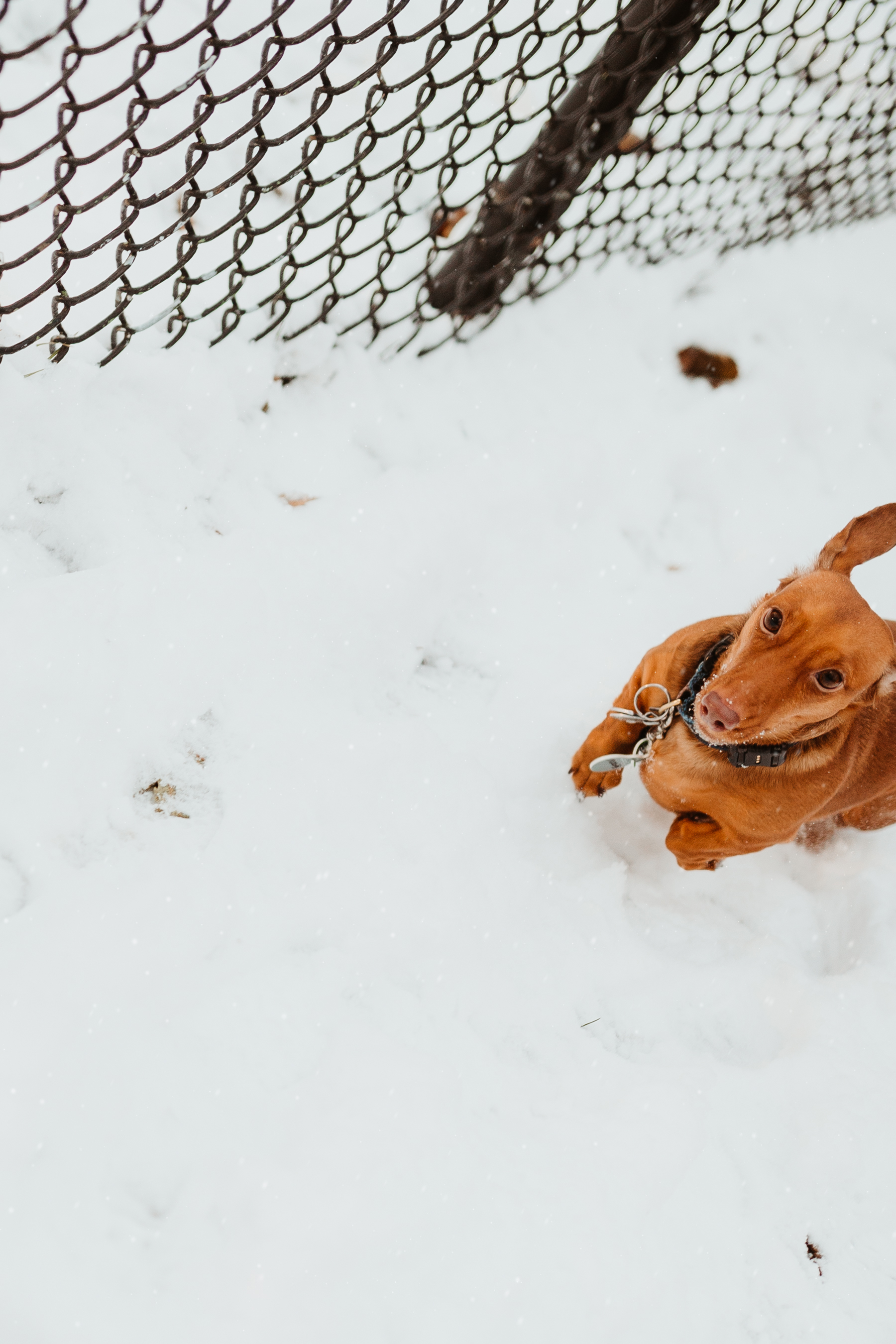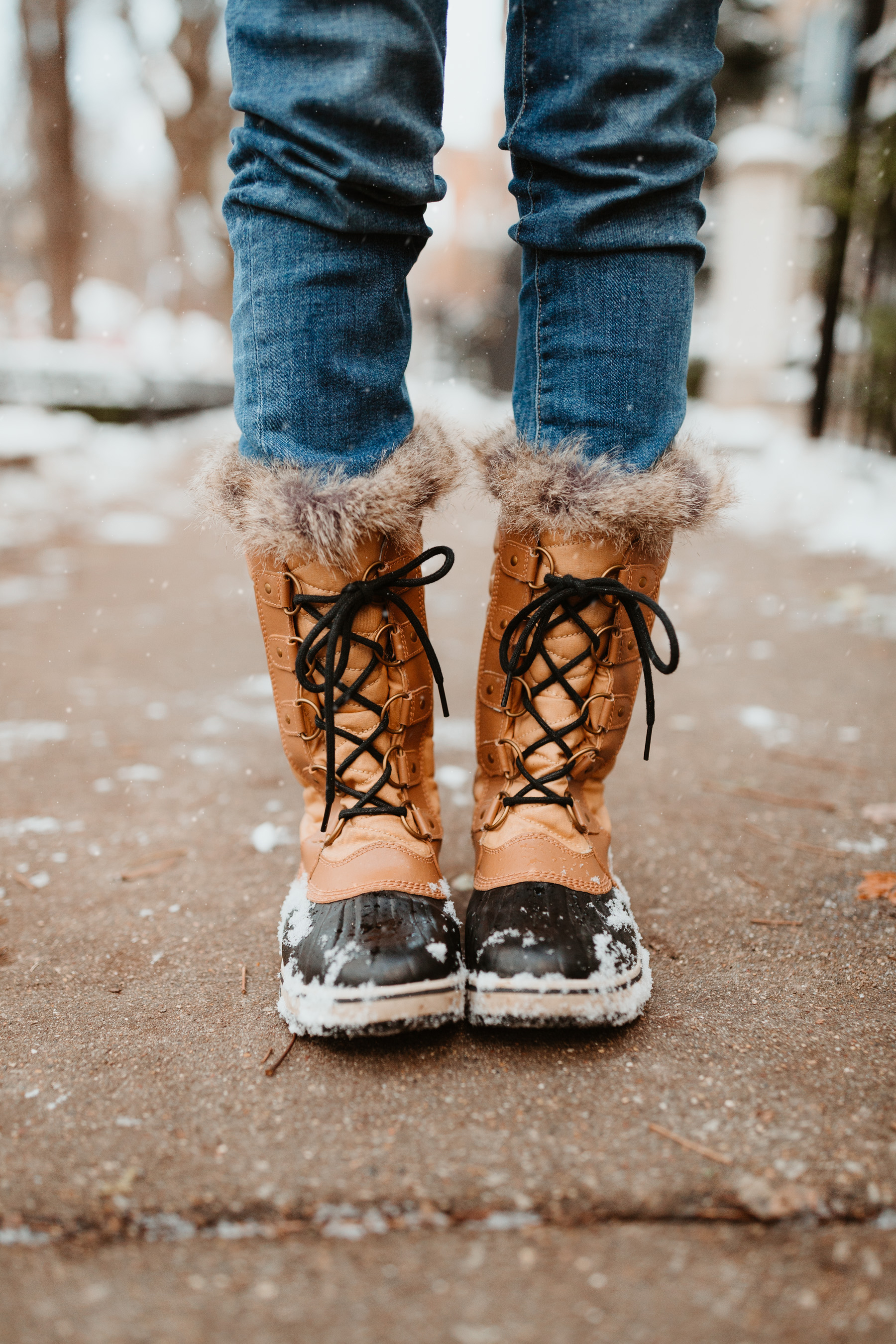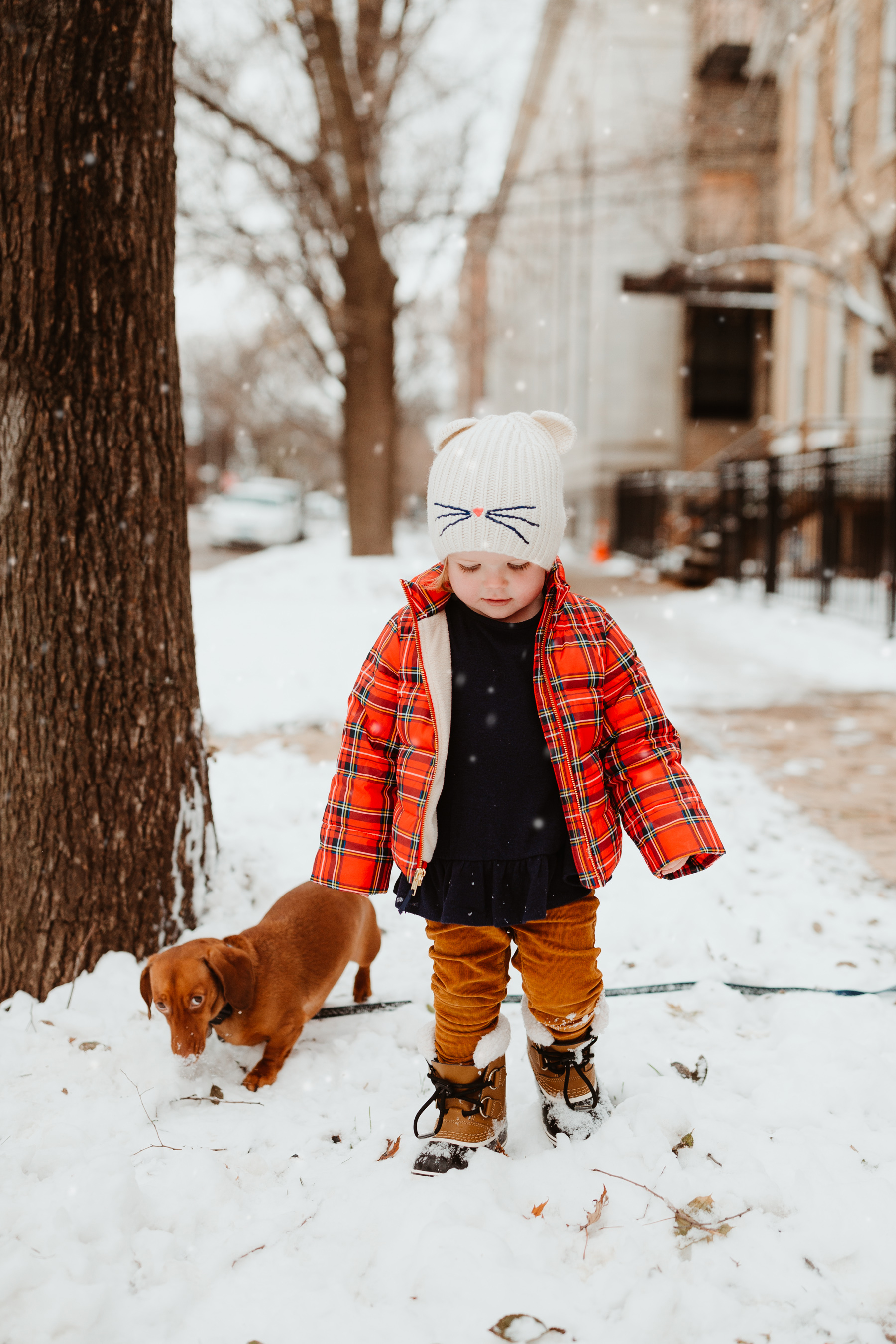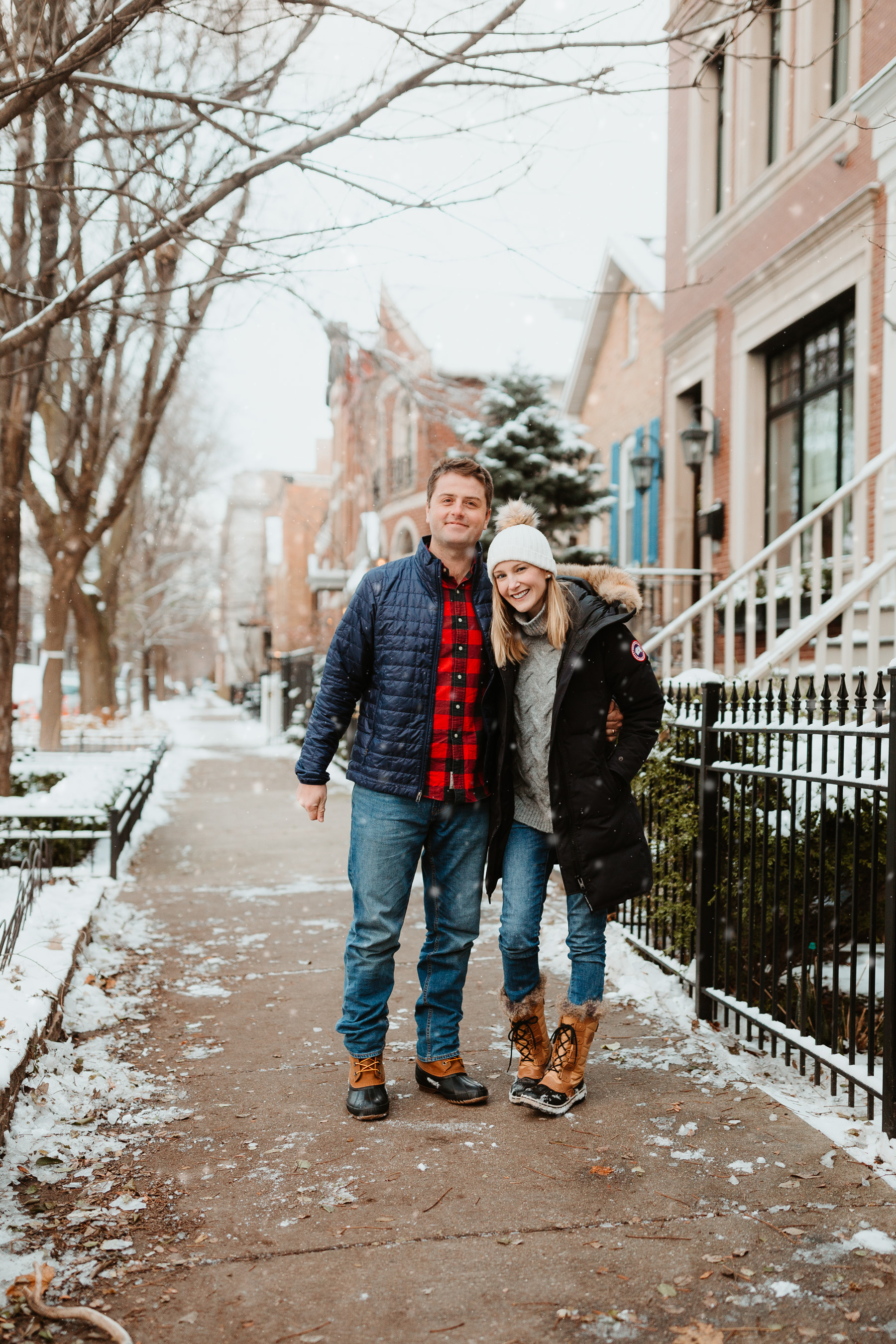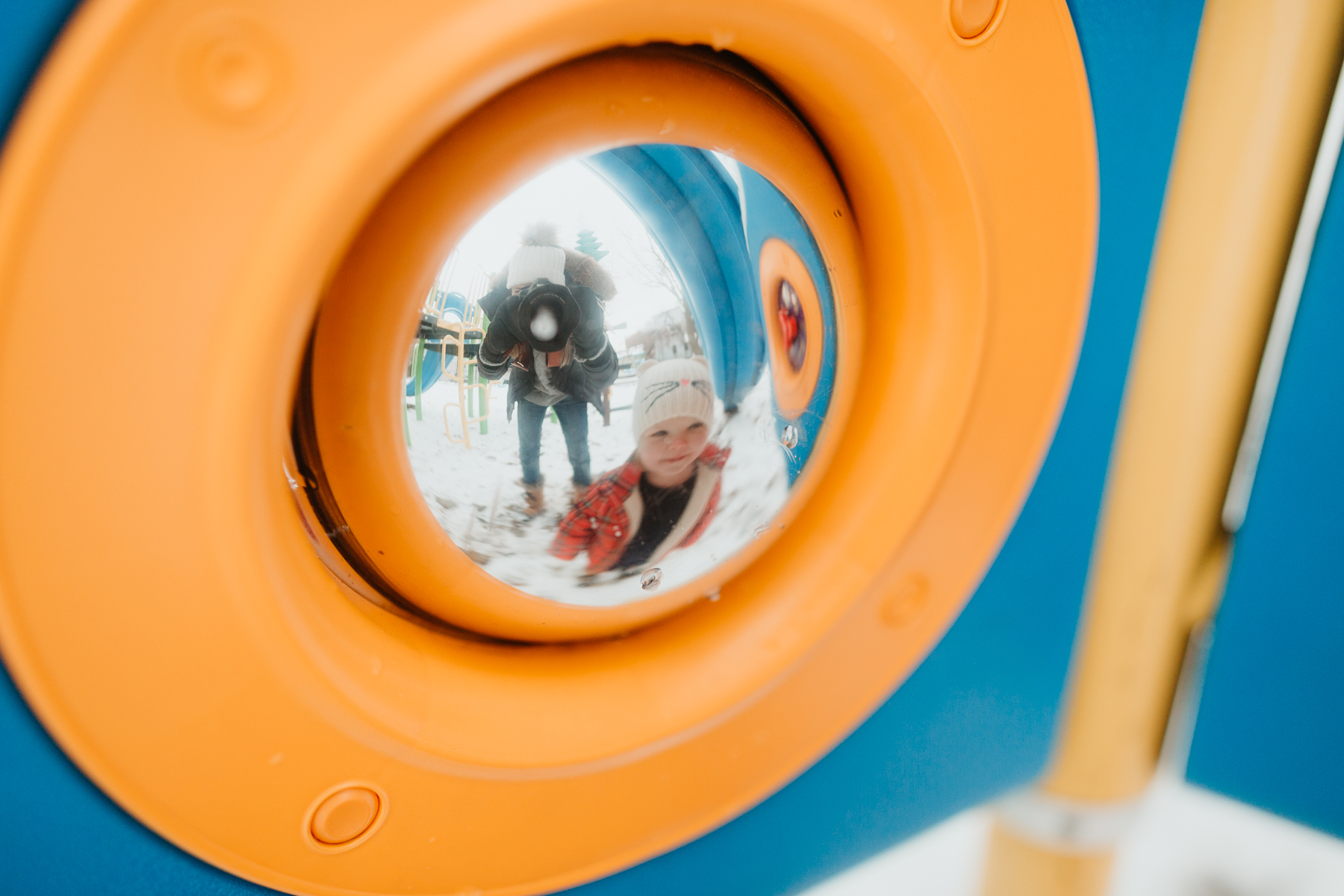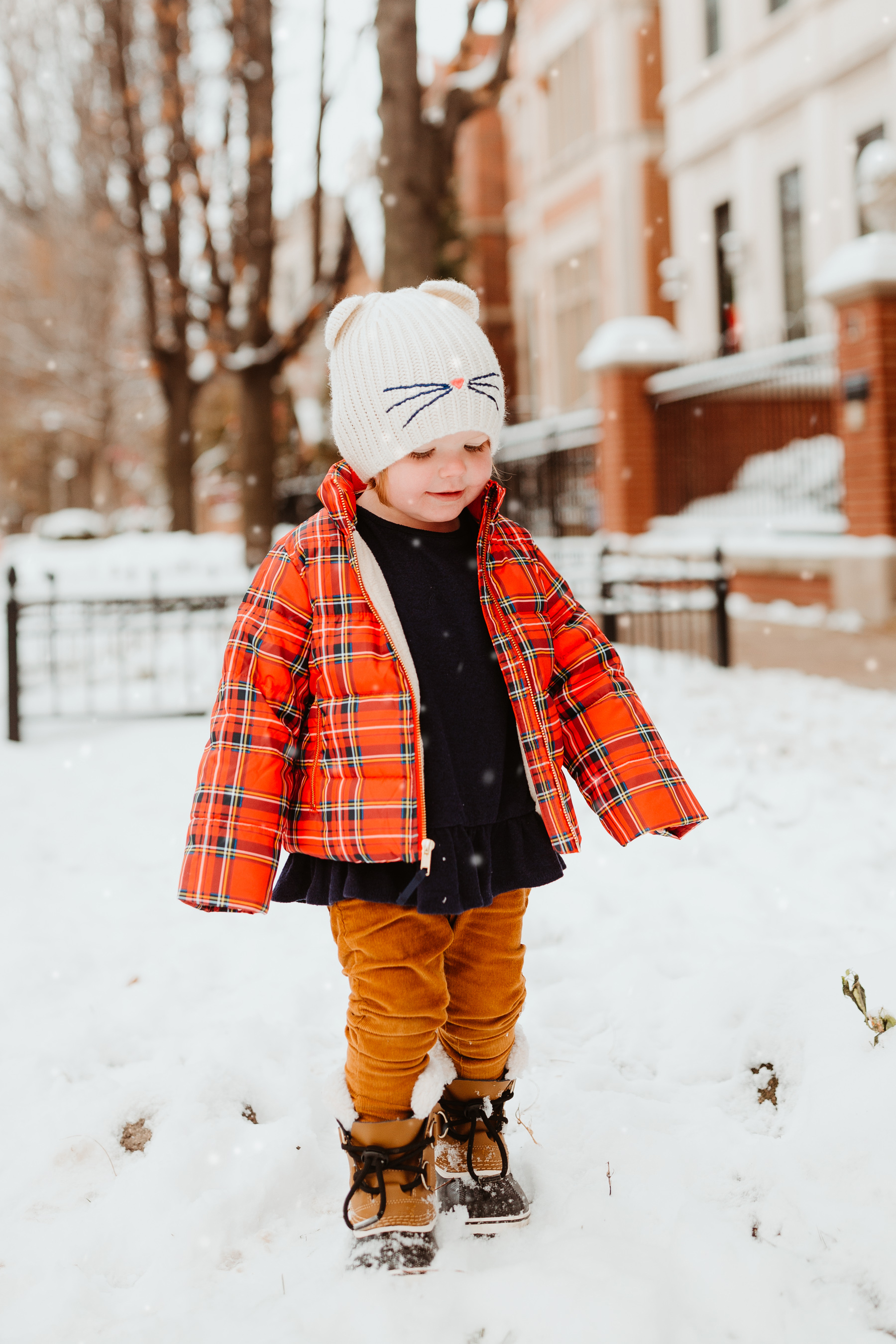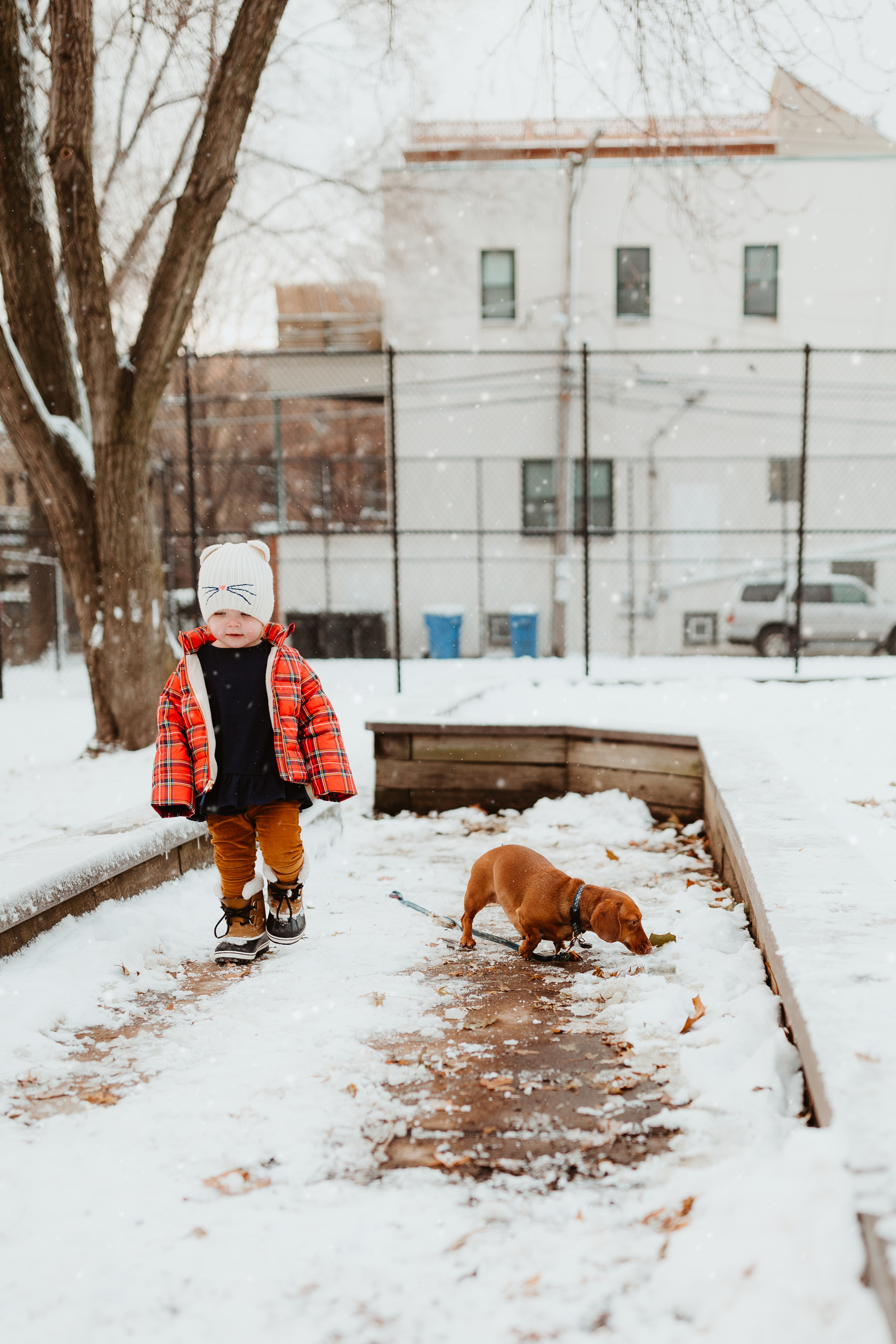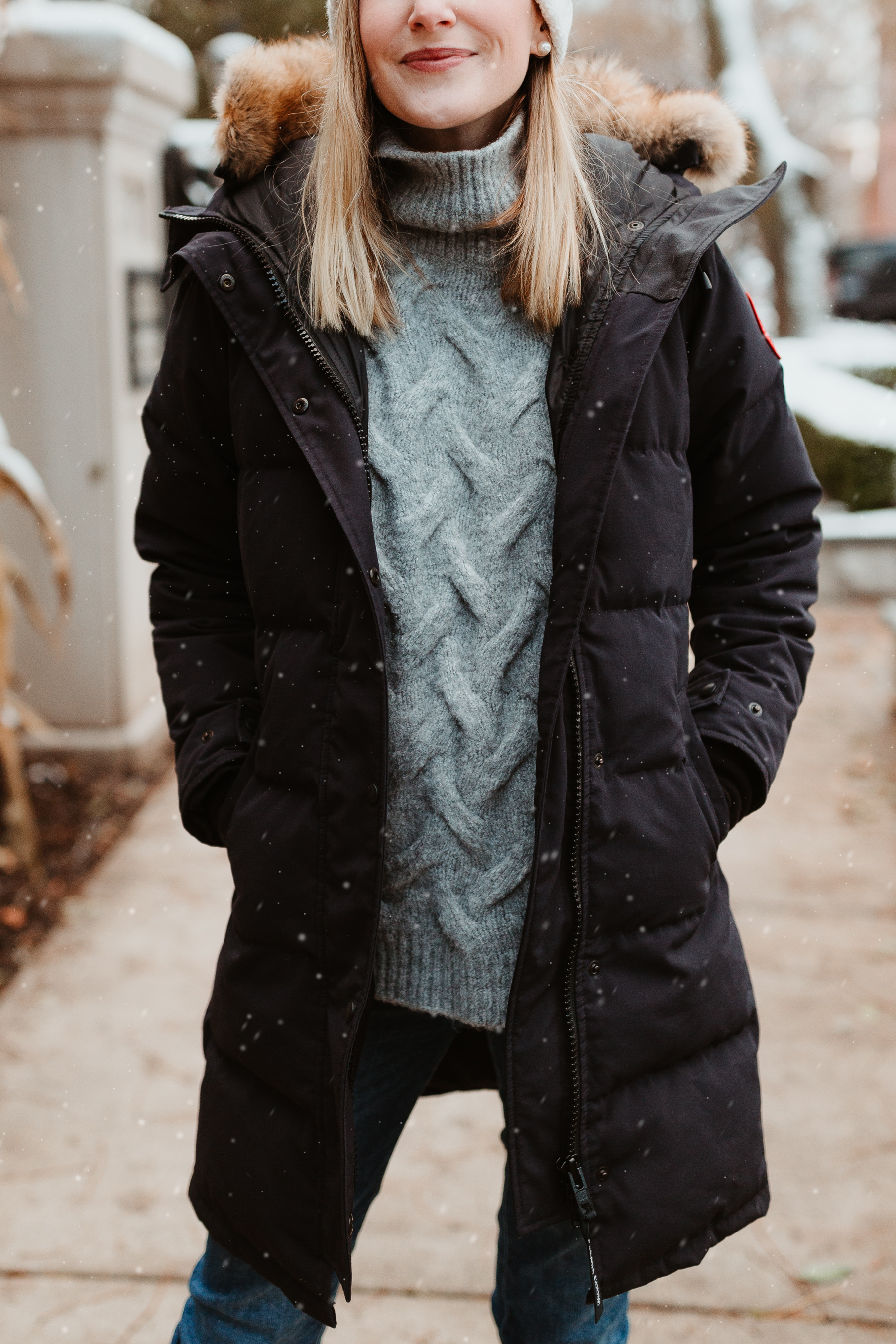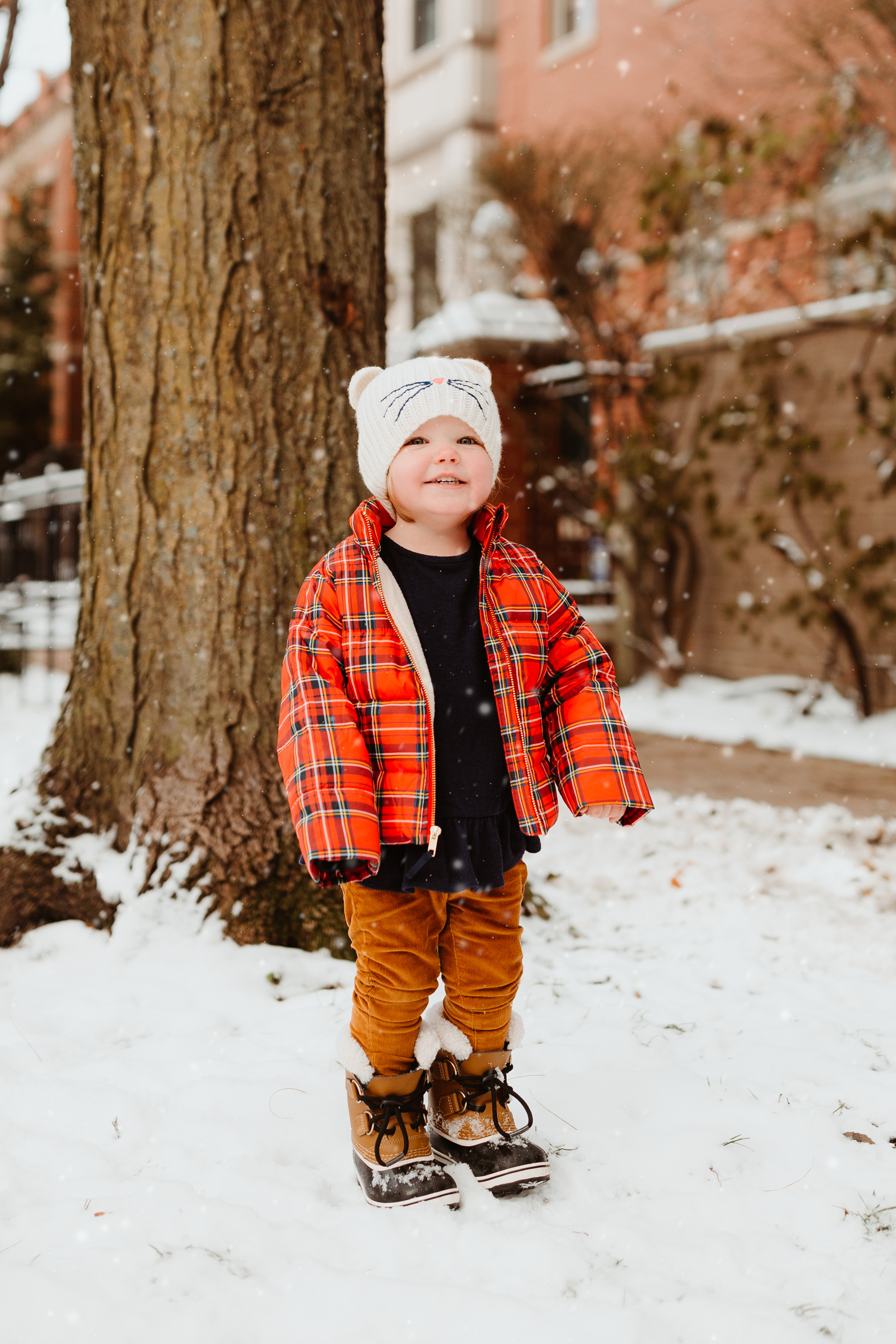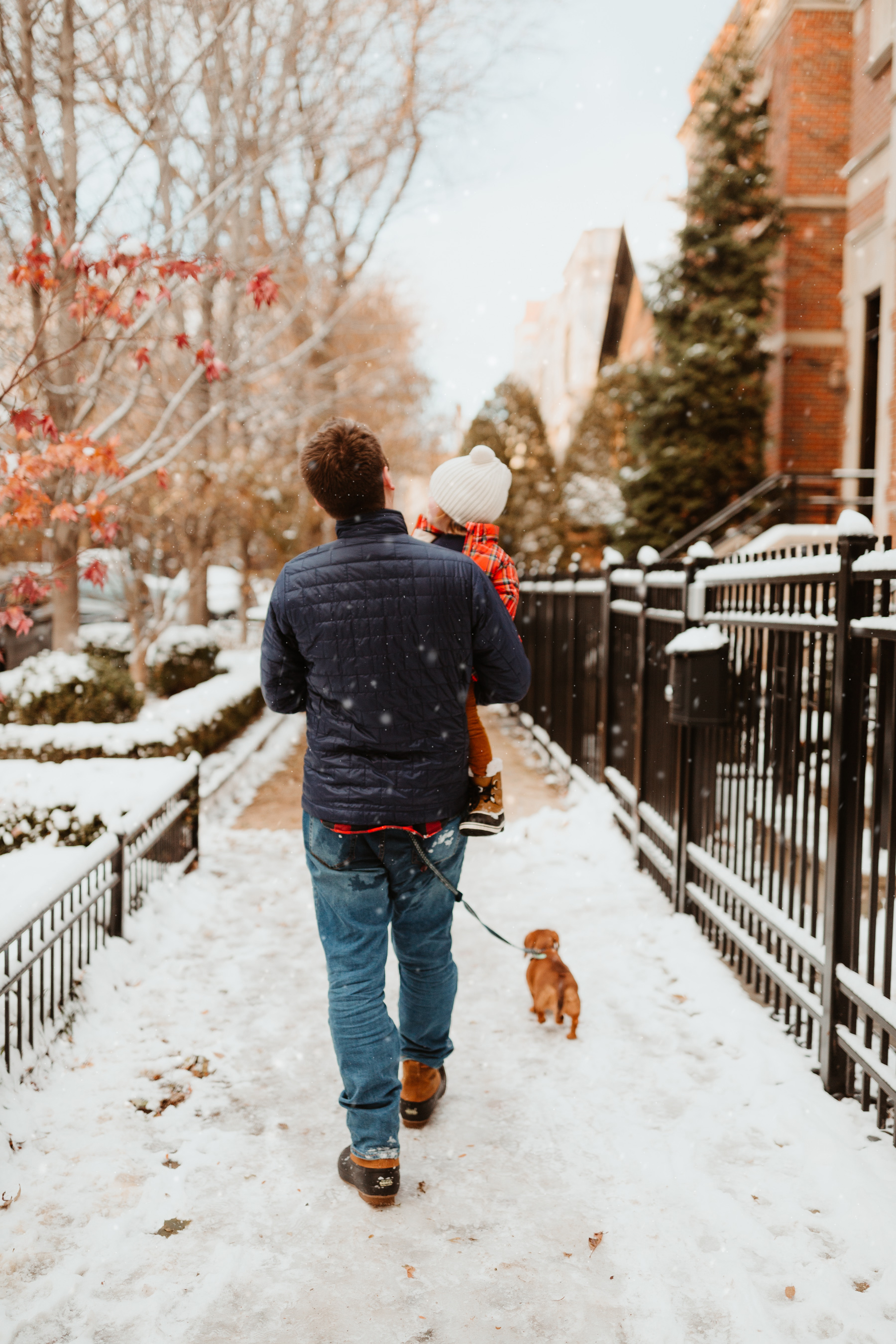 Shop the post:
Mitch: Patagonia Nano Puff and Sorel Cheyenne Waterproof Boot / Kelly: Cable-Knit Sweater, Navy Down Parka (More affordable options here and here), Sorel Tofino II Boots and DL1961 Jeans (Maternity here.) / Emma: Toddler Sorel Boots and Similar J.Crew Plaid Coat

This post is sponsored by Nordstrom, but all opinions are our own. As always, thank you so, so much for supporting the partnerships that keep Kelly in the City up and running!