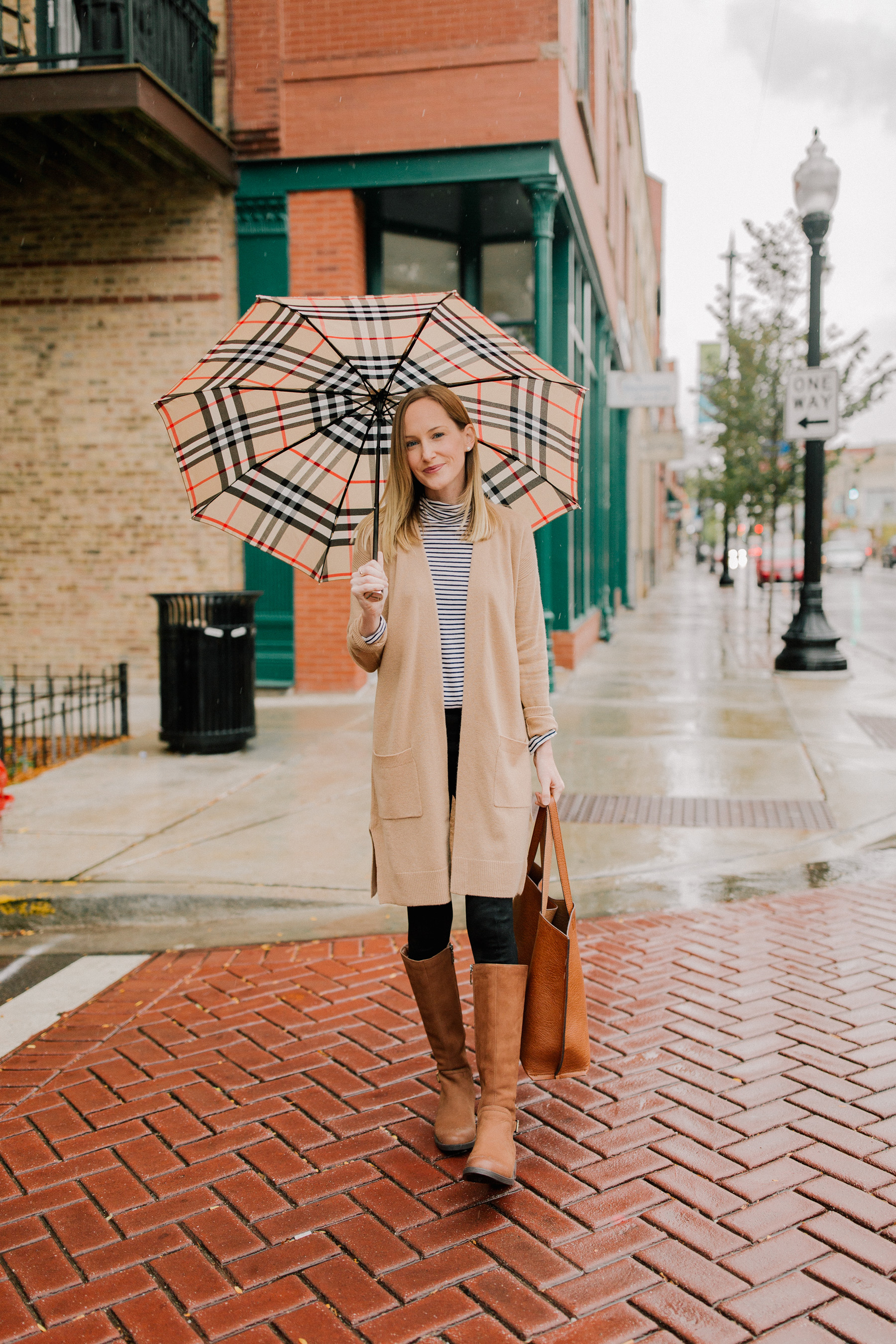 Waterproof Riding Boots (I have this pair in black leather and they're amazing, too.) / The Best Leggings (Also love the ponte pant version!) / Cashmere Blend Camel Cardigan (This long cardigan is a great deal, and you can't go wrong with this one or this one–both from Madewell.) / Striped Turtleneck (Love this crewneck striped long-sleeved tee, too.) / Faux Leather Tote / Burberry Umbrella (Love this one and this one from Barbour as well!)
I'm not feeling 100 percent, and I certainly don't look 100 percent 😂 …but I think I've officially turned a corner! We're headed down to my in-laws' lake house today since we weren't able to make it over Labor Day, and I'm beyond excited to get some fresh air and feel like myself again. It's been a while. ;)
Anyway, I thought I'd share some of my fall staples today, as the weather's suddenly grown cooler. Fifty degrees and rainy yesterday!
5 Preppy Fall Staples
Waterproof Leather Riding Boots: These are GREAT. They're actually waterproof, but are leather, too. I won't pretend to understand how it works, haha… but they're wonderfully comfy and warm, and they're a nice change of pace from rubber rain boots. I also love that I no longer have to worry about my shoes if I get stuck in the rain! And isn't the brown color gorgeous? Sizing: I went with a 1/2 size up so I could wear thicker soft with 'em. They're perfect!
The Best Leggings: I love these. They're thick enough that they provide warmth on those cooler days, but they're also flattering; those seams down the middle of the legs do wonders! Sizing: TTS.
Cashmere Blend Camel Cardigan: This is new, but I know it's going to be a favorite throughout the next three seasons. I think it would look gorgeous paired with a silky camisole, but I love how it makes even a casual t-shirt or turtleneck look polished! Sizing: It runs a little on the larger side. I went down one size.
Striped Turtleneck: My best fall and winter outfits include this turtleneck. ;) It adds a lot of punch yet is made out of comfortable t-shirt material. It's a staple. Sizing: TTS. I'd order your normal size, as you'll probably find yourself wearing it under sweaters and blazers, and don't want it to be baggy.
Faux Leather Tote: This thing is magic, and nearly every woman in my family has it. First of all, the price is unreal. Second, it's unbelievably soft. Third, I've had it for years there's literally zero wear on it–despite having a little girl who really enjoys dragging her mother's bags around. ;) Oh, and did I mention that it's reversible? Two bags in one!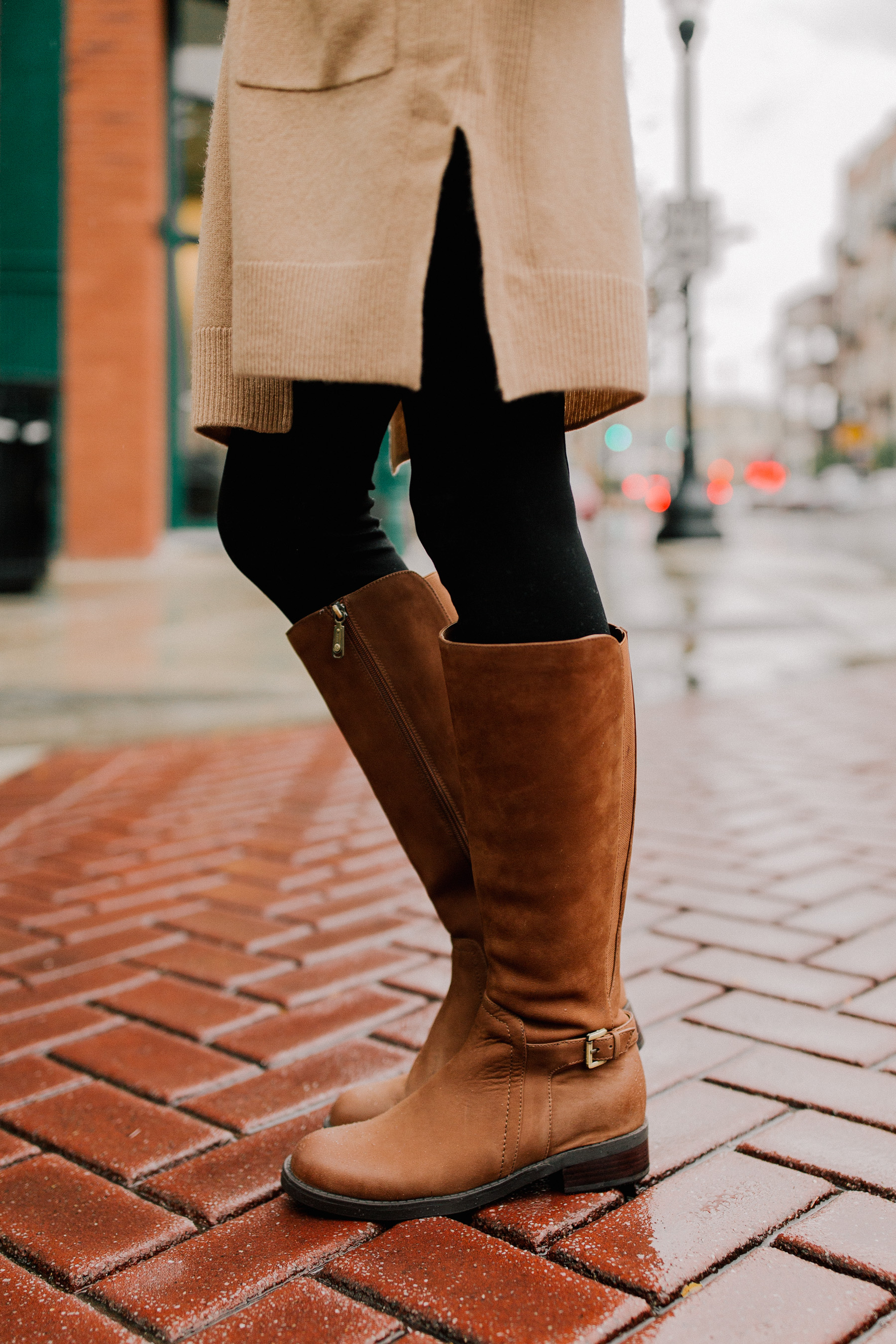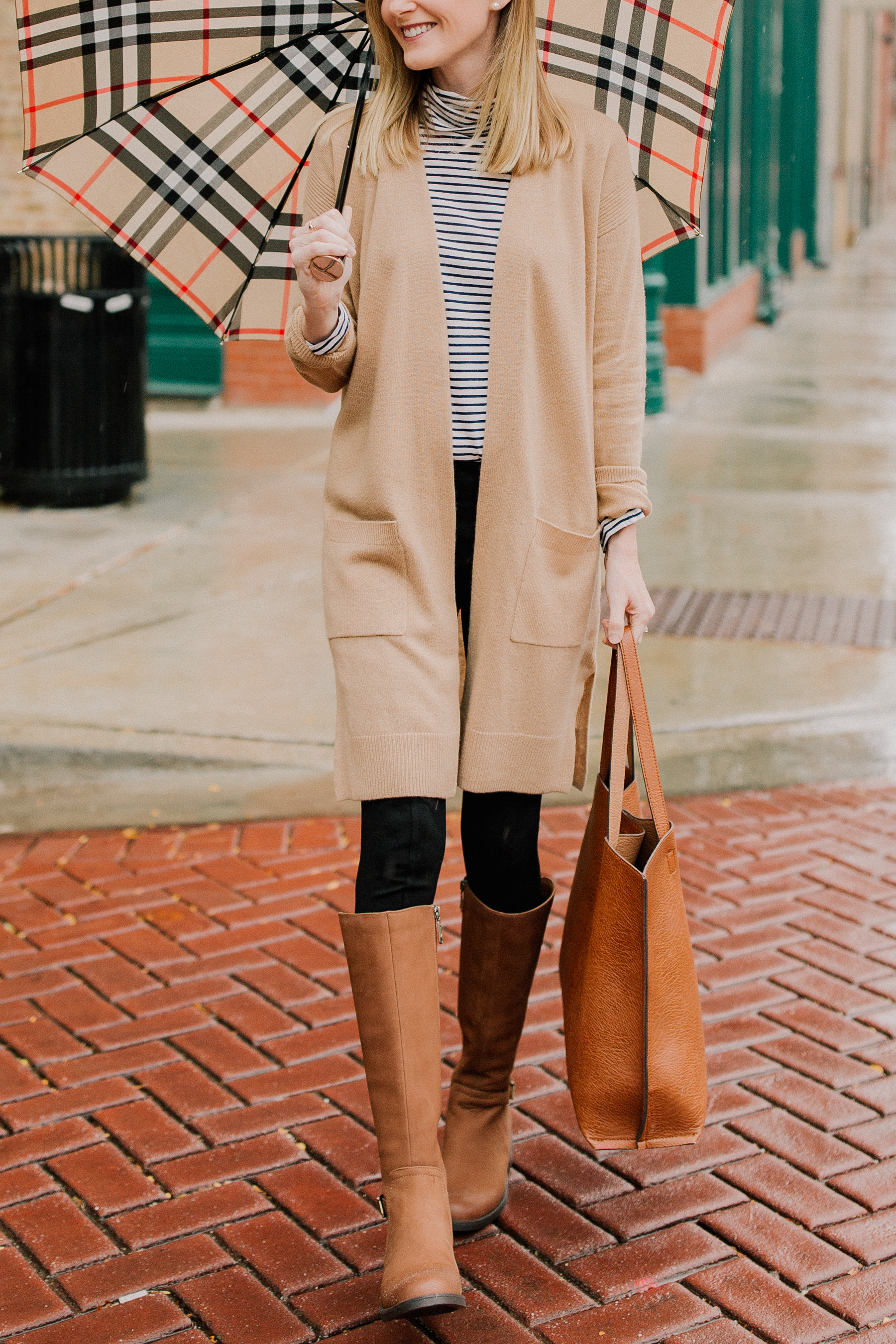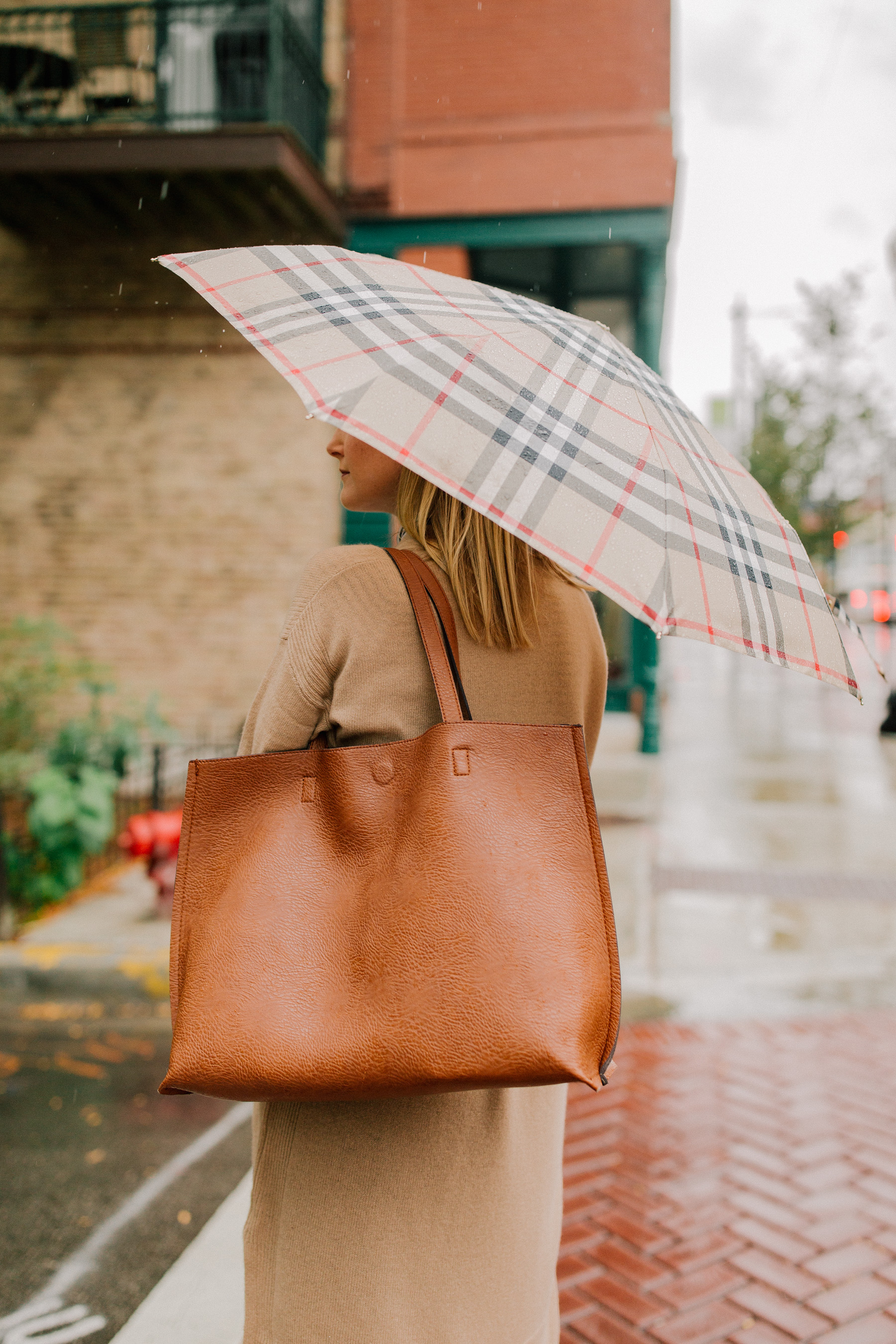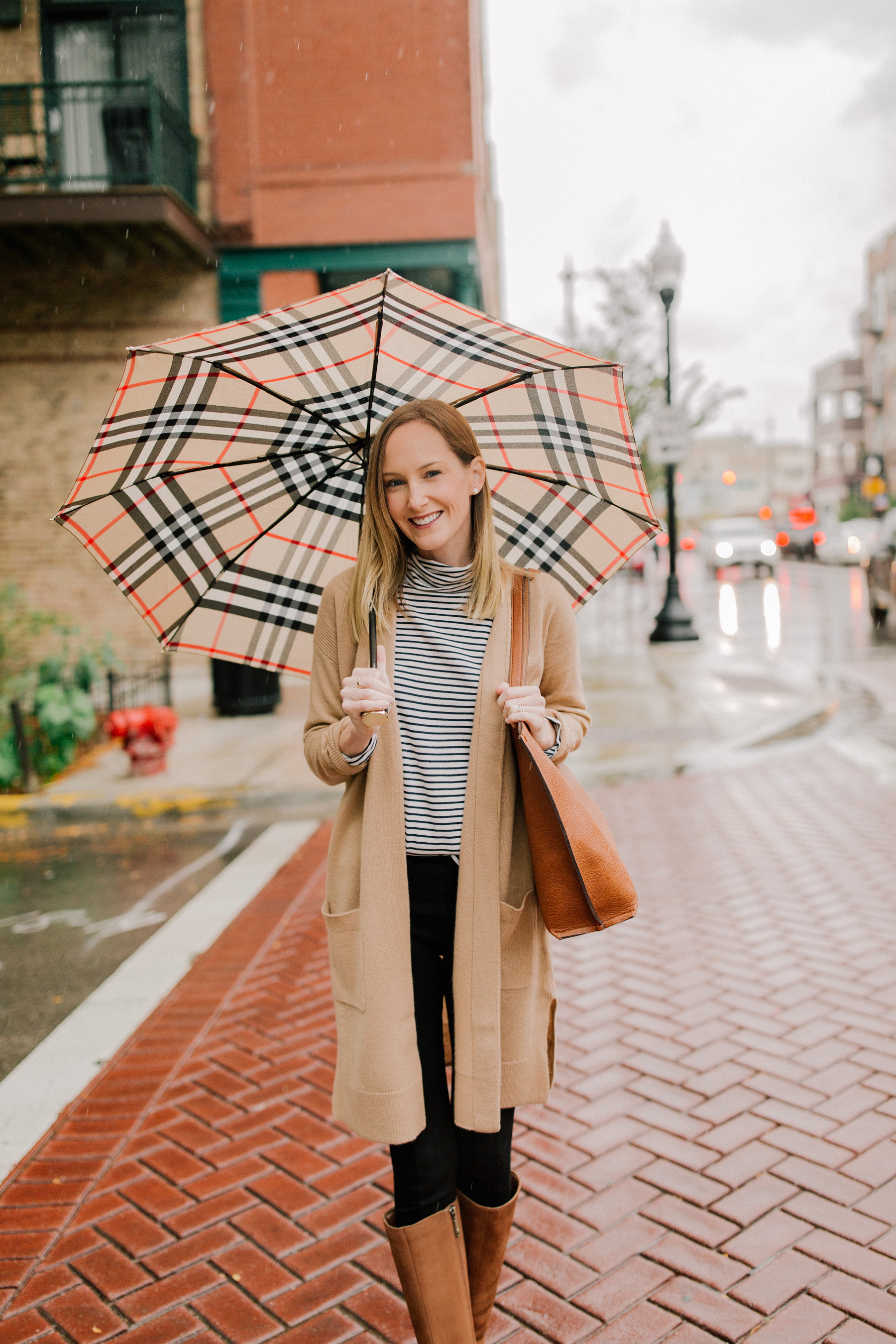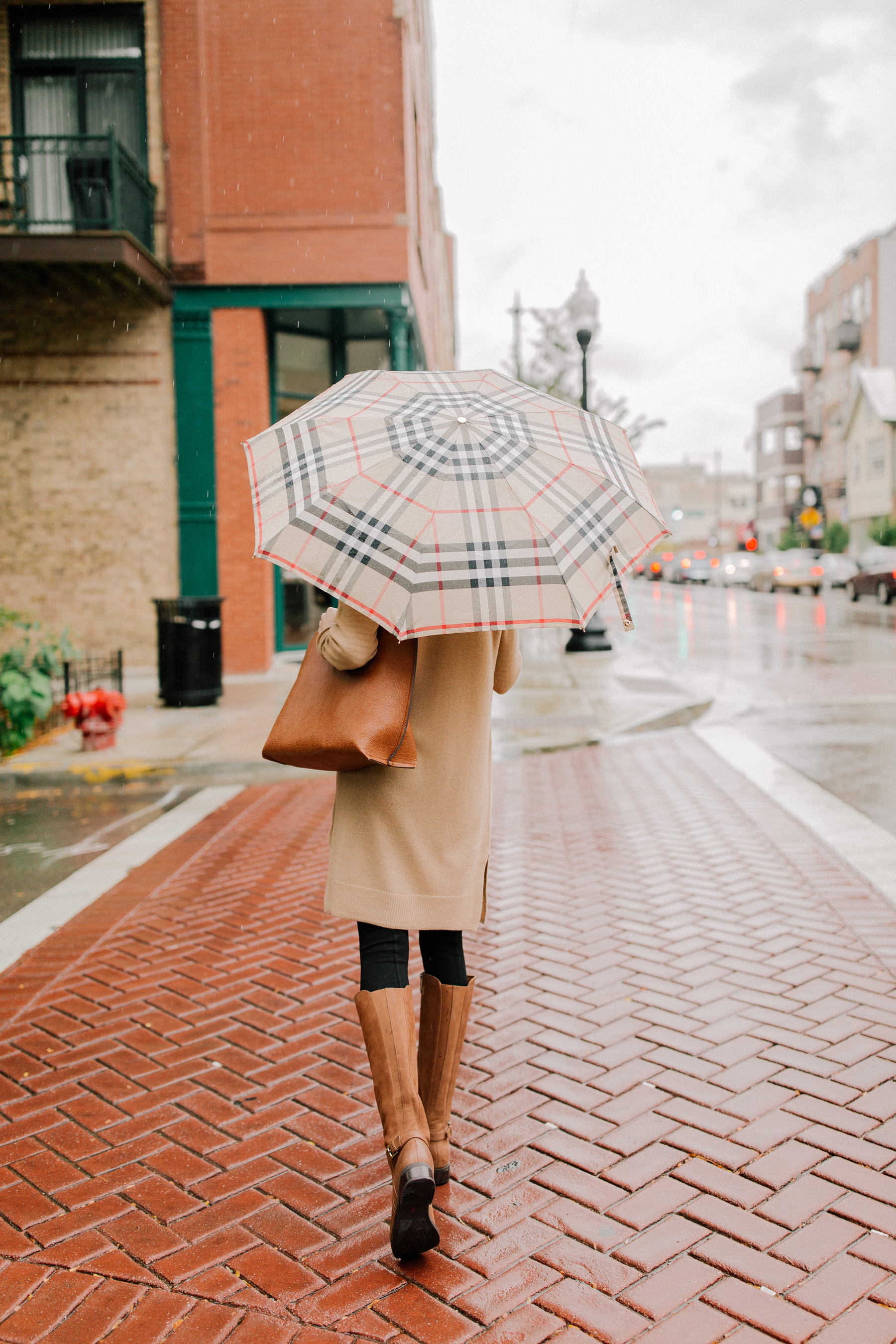 Shop the post:
Waterproof Riding Boots (I have this pair in black leather and they're amazing, too.) / The Best Leggings (Also love the ponte pant version!) / Cashmere Blend Camel Cardigan (This long cardigan is a great deal, and you can't go wrong with this one or this one–both from Madewell.) / Striped Turtleneck (Love this crewneck striped long-sleeved tee, too.) / Faux Leather Tote / Burberry Umbrella (Love this one and this one from Barbour as well!)