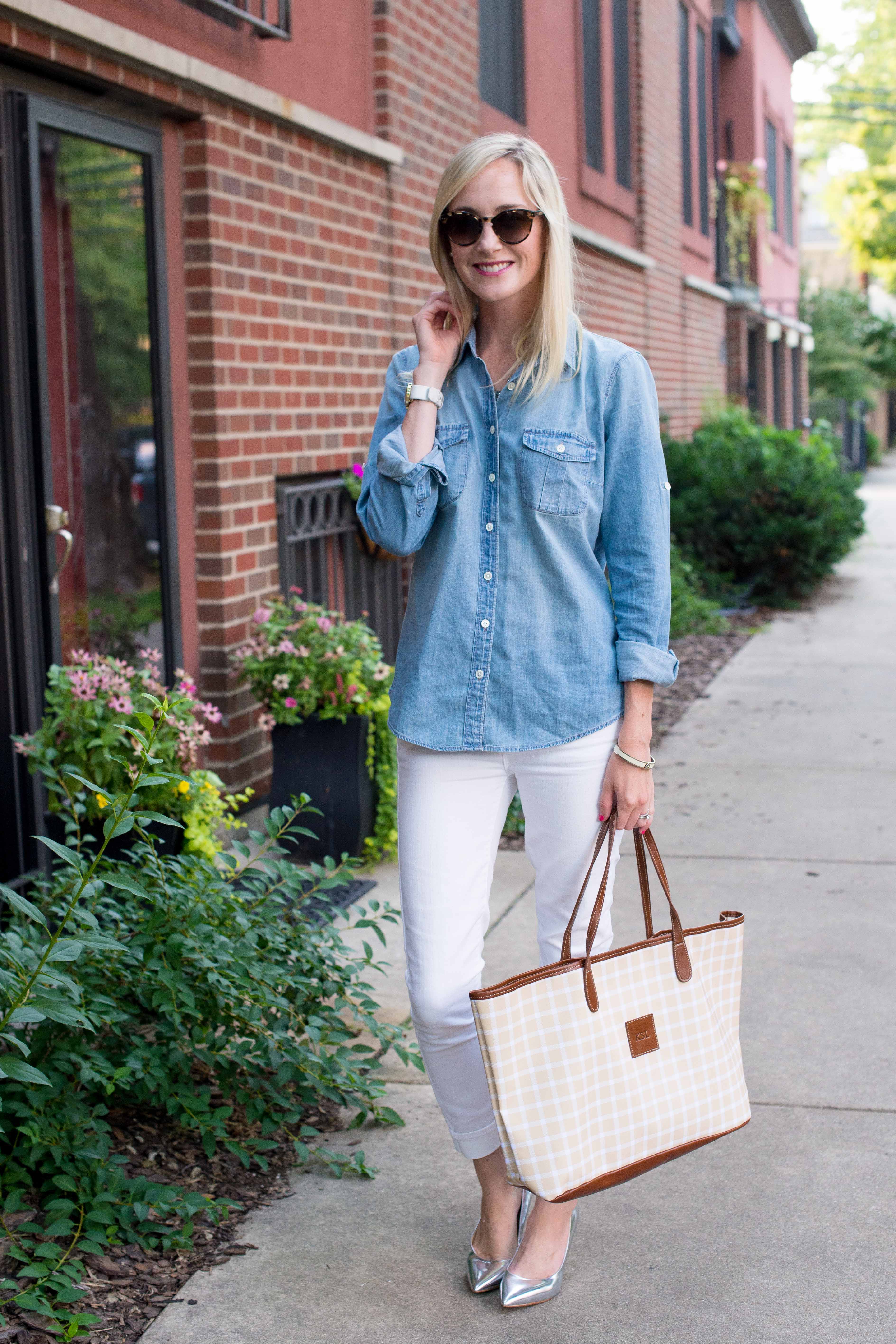 Barrington Gifts Tote (c/o) / J.Crew Chambray Shirt (Softest chambray shirt I own!) / BaubleBar Necklace (c/o — Sold out, same necklace here in different colors) / C.Wonder Pumps (Sold out, original inspiration from J.Crew here) / Henri Bendel Bracelet / Marc Jacobs Watch (Also love it in brown and black) / J.Crew Jeans / Kate Spade Sunnies (Old, similar here) / J.Crew Earrings / Clinique Lipstick ("Pudgy Peony")
These photos were snapped early Friday night before heading up to our friends' apartment in Lakeview, which I now know is really cute, vibrant neighborhood directly north of us. (#practicallyachicagoexpert) And yes, you read that correctly. We have friends! Huzzah!
Over the last month, I've learned that one of the biggest challenges of relocating is meeting people. Truthfully, I haven't really put myself out there yet, as I've been doing a considerable amount of traveling. But now that I'm back in Chicago for good and have no big trips on the horizon, I'm more aware than ever that it's important… even if I'm out of practice and a little nervous about it. ;) The good news is that my fabulous husband–kind of unbeknownst to me–has kept in touch with an impressive number of his fraternity brothers from his days at the University of Illinois! It's been a real blast hanging out with and getting to know Mitch's buddy Alex as well as Myra (Alex's super sweet girlfriend) and Dolph (their French Bulldog). Hehe. Their kindness and warmth have been such a godsend over these past few weeks! (Be sure to scroll down to the bottom of this post to see a few of the selfies I took with Dolph on Friday night. There were 53 of them in total.)
And the bag I'm carrying? It's from Barrington Gifts, an adorable company headquartered in Dallas. Their totes and bags–perfect for work, travel, baby or everyday use–are made of durable ballistic nylon, and feature premium Florentine leather trim, handles and bottoms. Products are fully customizable, and you can see can see all of your choices (colors, patterns and monograms) in realtime before you order. (How great is that?! I hate guesswork when designing a custom piece!) I'm featuring the Saint Anne Tote, but check out the company's other products below. I'm smitten!