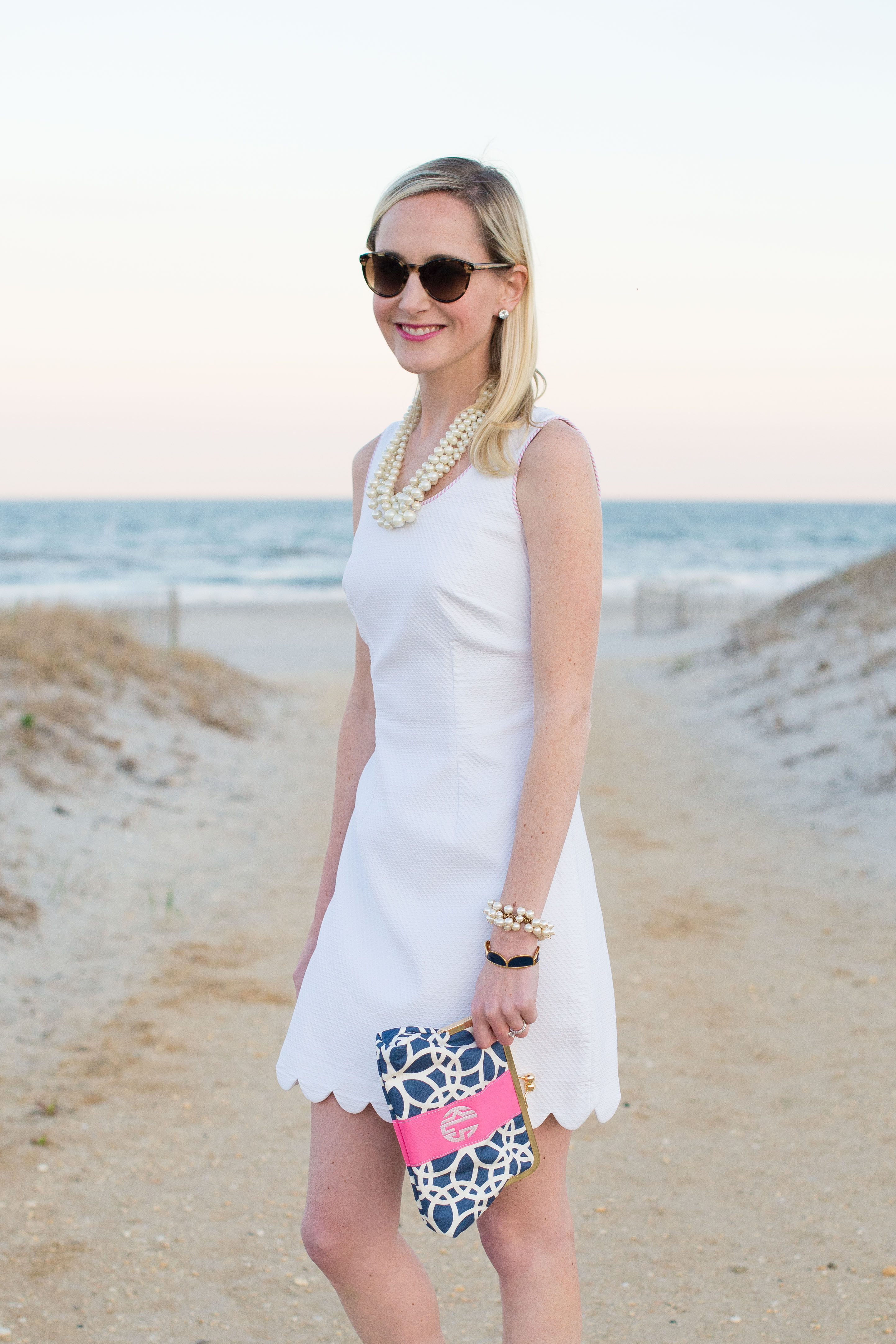 Clutch: TipsySkipper (c/o) / Dress: Lilly Pulitzer (Old), last seen here, and similar here, here, here and here / Earrings: Capwell + Co. (c/o) / Necklace: J.Crew* / Bracelets: Kate Spade (available here in silver and original version through eBay) and J.Crew* / Lipstick: Clinique / Sunnies: Kate Spade / Sandals: Franco Sarto (Old), similar here and here
*30 percent off with code "GOSHOP"
Preparing for July 20th, 2013 consumed my life for a good portion of the 15 months leading up to it, so it's hard to believe that it's been nearly a year since I was in real "wedding planning mode." But the springtime weather–and my brother's recent engagement (Eeee!)–has me missing those days. Man. I freakin' loved the whole thing.
I mean, sure. When I really sit down and think about it, there were times that I got stressed out. There was the fact that my parents' Shore town is a dry town. (Crazy, I know. No alcohol. Anywhere.) And that it was kind of impossible to find a place to host the rehearsal dinner, as most Jersey Shore establishments aren't willing to give up potential business on Friday nights during high season. And that my wedding dress ended up coming a size too small, haha. (All those things worked themselves out, by the way. We had the reception off-island, we eventually found a hotel that would actually let us host a rehearsal dinner in one of its extra rooms, and I undid the corset part of the dress once I was zipped up.) The amount of thought and care that goes into planning a wedding cannot be overestimated, whether the event is big or small. But what I truly remember is the overwhelming feelings of excitement and joy that came along with that planning process. Everything was just so much fun, and those days were filled with a whole lot of happiness. (A huge thanks to my family and friends who made it all so exciting and joyous. You guys are the best!)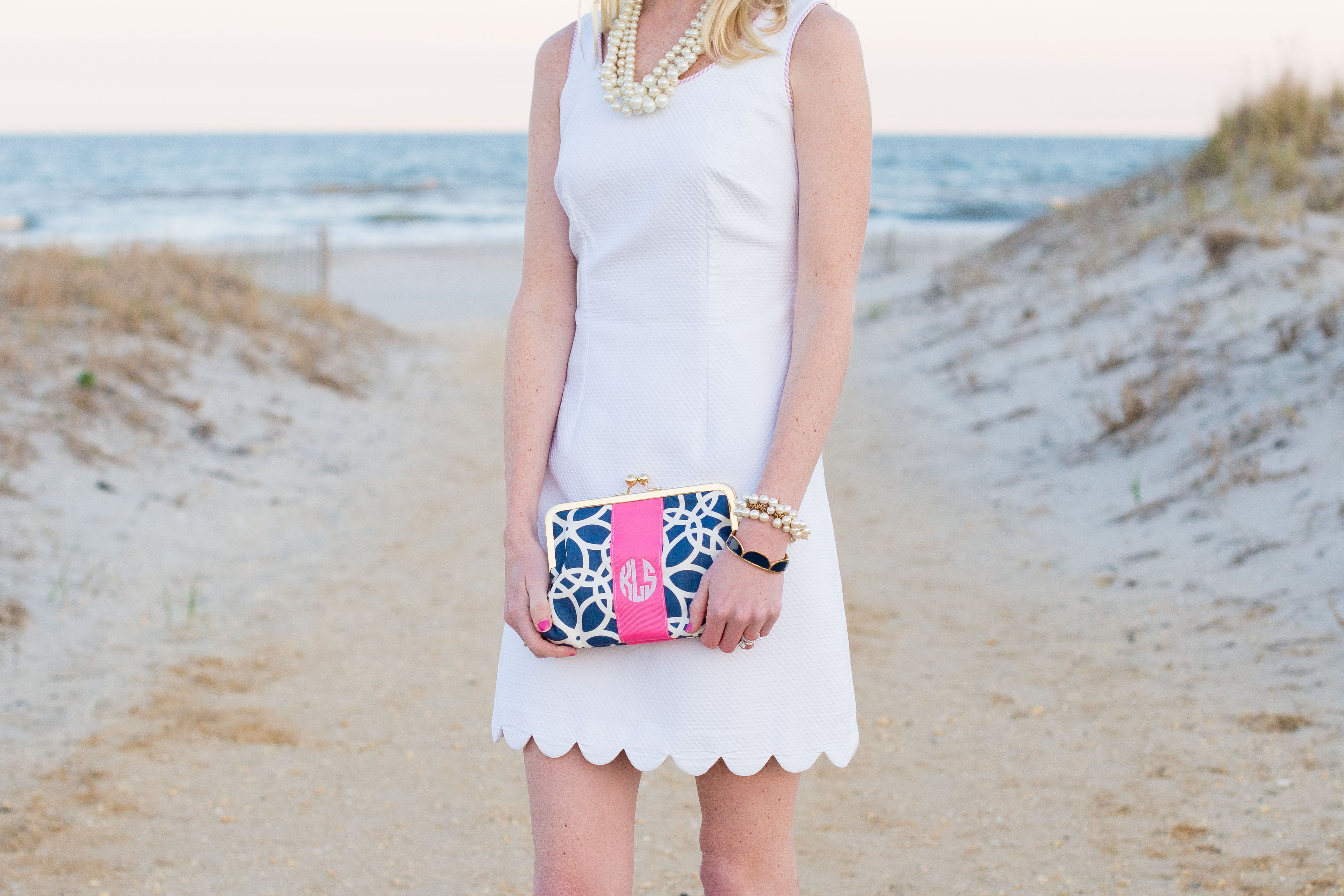 Anyway, one of my favorite parts of the planning process was selecting my attire as well as the bridesmaids' attire. I knew almost immediately what I wanted. For myself: a simple lace dress; bow-adorned gold accessories; a monogrammed necklace with my new initials; and fun, nautical shoes. For my girls: coral, scalloped dresses; monogrammed necklaces; and gold shoes.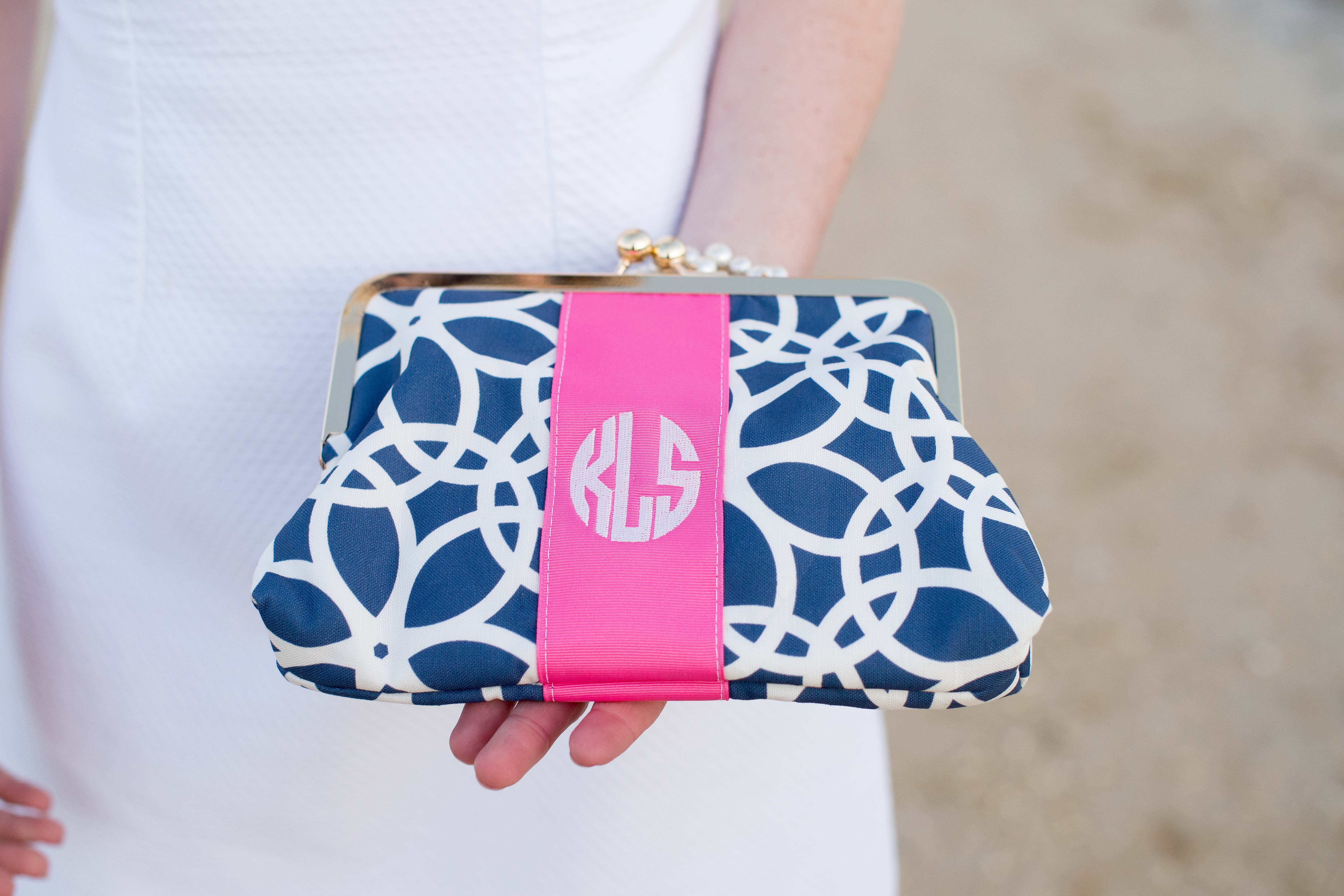 The one thing I never found? The perfect clutches for my bridesmaids. Enter TipsySkipper, an adorable New England-based company that carries the cutest clutches, flats, flip flops, totes, and accessories. Kearsley, its founder, has such a cool story. First of all, she's an actual descendant of Captain Morgan. She attended RISD, and has had internships with both Lilly Pulitzer and Vineyard Vines–experiences that influenced her own brand. What an inspirational young lady.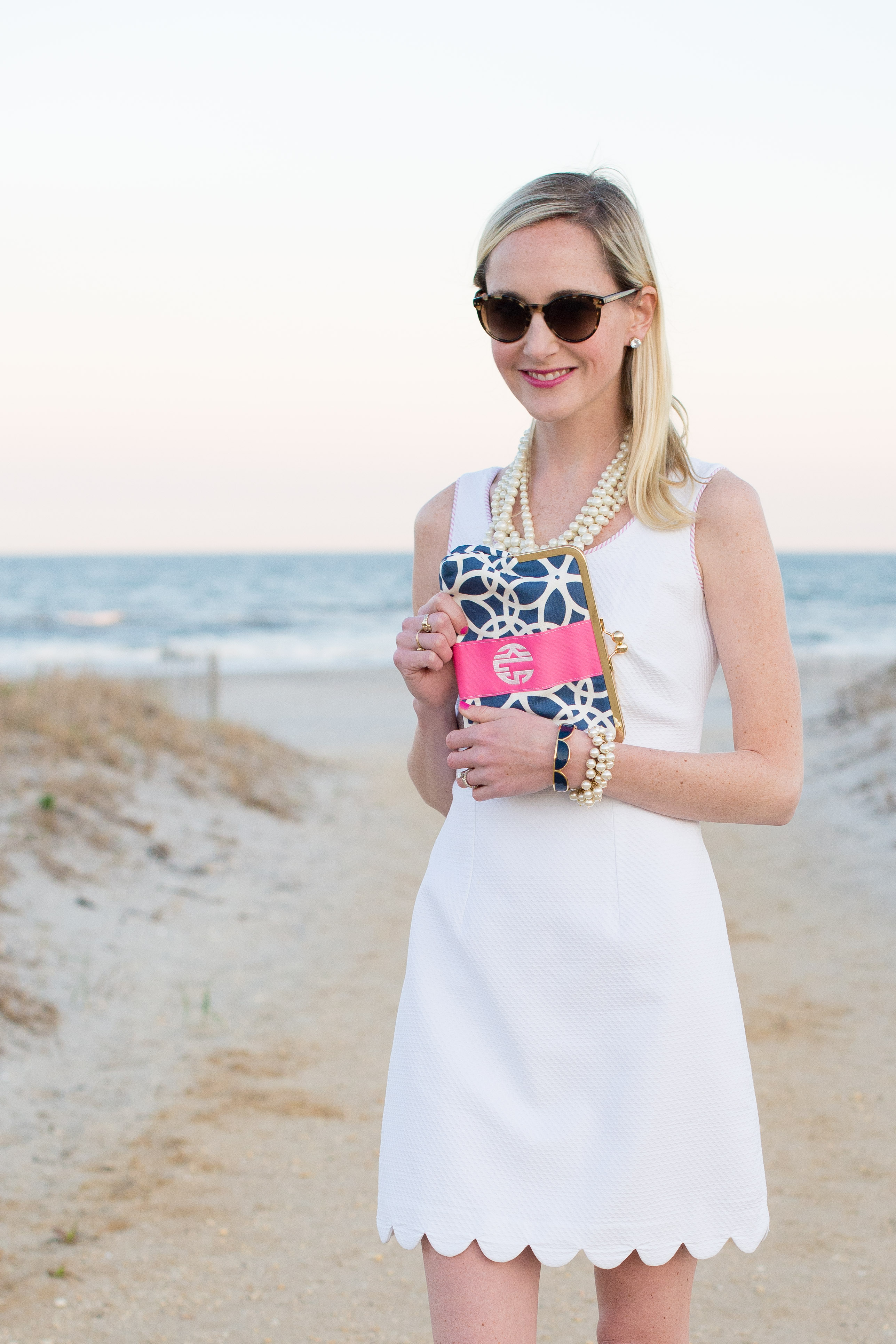 But back to the matter at hand. TipsySkipper clutches are completely customizable, which would have been perfect for my wedding. I selected my bridesmaid dresses almost immediately after I got engaged (What?! They were scalloped. And on final sale. Can you blame me?!) and locked myself into a shade of coral that was next to impossible to match. (Thank goodness for the amazing people at J.Crew. They sent me extra damaged dresses–free of charge–so I could cut them up and turn them into bow ties. Best customer service ever!) Because of this little color problem, though, I kind of gave up on finding bags that went with the dresses. I wish I had known about TipsySkipper, as Kearsley easily could have helped me accomplish this!
A couple of weeks ago, Kearsley invited me to design my own TipsySkipper clutch. I was floored by how easy, fun and personalized the process was, and how absolutely stunning the finished product was. I also had a blast pretending that I was getting married again. (Haha! I'm crazy.)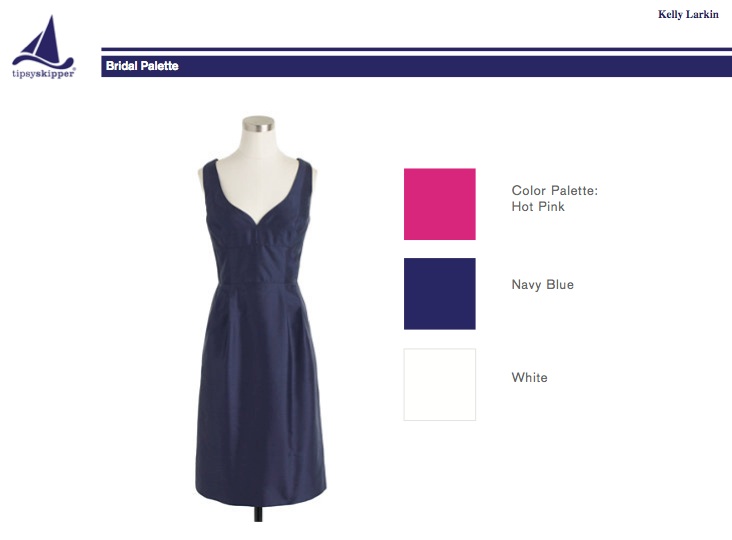 During the design process, Kearsley and I only needed to exchange a handful of emails. (So wonderful! Brevity, transparency and speed were qualities I really appreciated in vendors last year. There was so much to do! One can't spend a year on each task.) She asked me for some simple information: my bridal color palette (which would be navy, hot pink and white if I were getting married this year ;)), whether I liked gold or silver better, my material selection (patterned or solid) and what monogram style I preferred.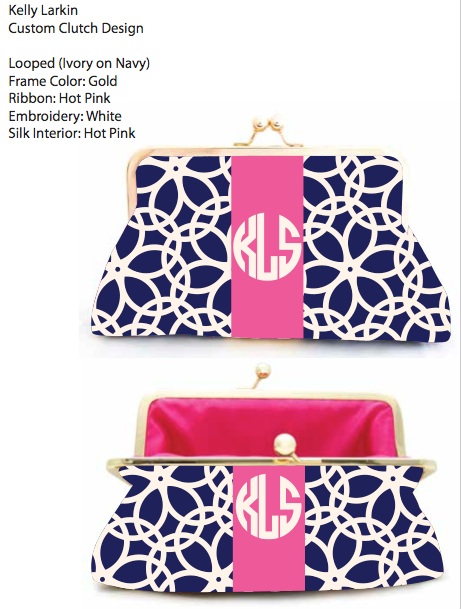 She then sent me a mockup. I made some changes–I decided to switch my monogram preference, for example, and change the color of the ribbon from white to hot pink–and we did this until I was 100-percent happy. Easy peasy. And then she created it. (See her photo below. It was obviously love at first sight.)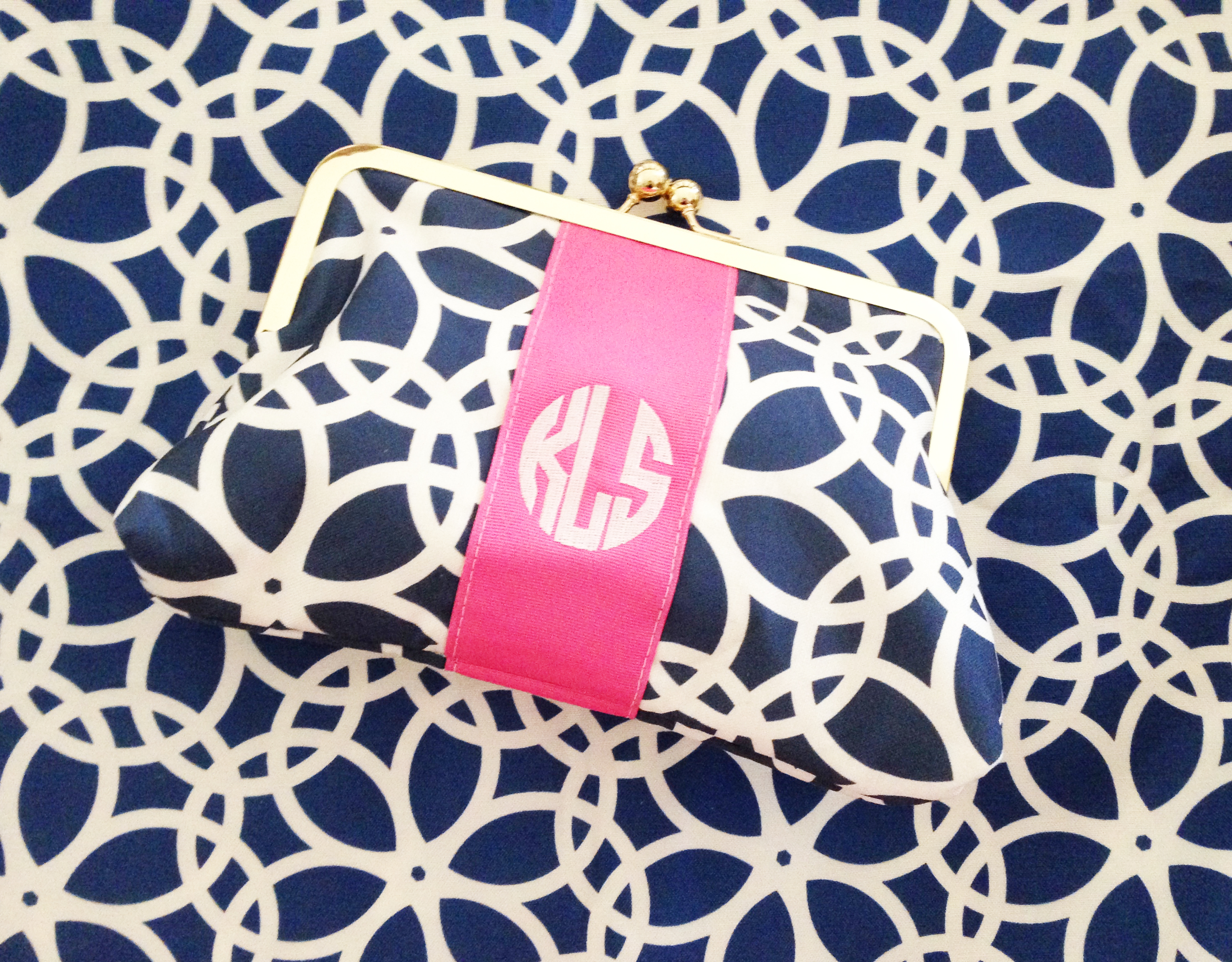 Swoon! Absolutely perfect, and created by a person who became a friend during the design process. (So special for a bride.) I love that the clutch is large enough that I could pack it with cute little day-of survival goodies for my girls… and that it's gorgeous enough that I could carry it as a bridal clutch, too. The best part? TipsySkipper clutches are gifts that you and your bridesmaids will use again. Heck, I'm in zero weddings this year, and I'm carrying mine everywhere!
Cheers to inspirational women and their amazing businesses. :) Happy shopping!