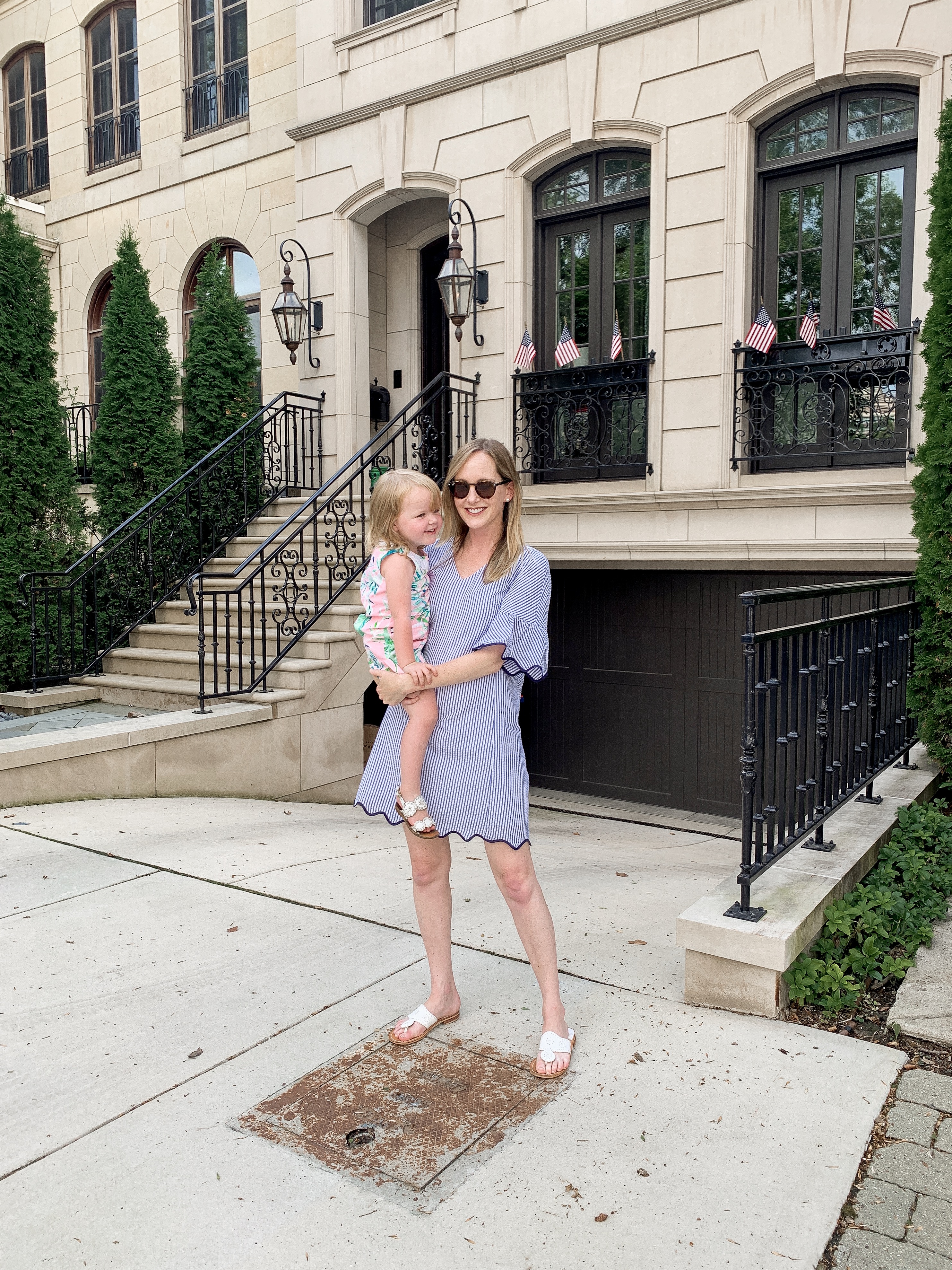 Duffield Lane Scalloped Dress c/o / Jack Rogers (30 percent off with code "FIREWORK.") / Emma's Lilly Pulitzer Shift / Newer Girls' Jack Rogers (30 percent off with code "FIREWORK.")
Happy Fourth of July, Friends!
We're down at my in-laws' lake house for a long weekend and lovin' life. While we're there, you can follow along on Instagram Stories! In the meantime, though, I wanted to highlight my favorite products from three big sales you shouldn't miss:

Three Awesome 4th of July Sales
40 percent off regular-priced items and an extra 50 percent off sale items with code "FIREWORKS."
Striped Maxi Dress: I just came across this and think it's SO. BEAUTIFUL. I love long dresses because they provide for added sun protection and they allow me some bending-over freedom with tiny tots running around. This one is so gorgeous!
Short-Sleeved Mockneck Sweater: Crazy obsessed with this. I always struggle with finding tops to wear with my skirts in the spring/summer/fall, and this is beautiful and gets the job done.
Navy Eyelet Top: The amazing top is back in NAVY! I have this in white and black and wear it all the time. Size down; runs very big.
Mixed Eyelet Popover: This is in my cart. Looks like it'll go with everything! Zoom in. Love the texture.
Eyelet Dress: SO. CUTE. I have this one and adore it but it looks like it's about to sell out.
Sophie Blazer in "Frosty Sky": NEW COLOR NEW COLOR! Isn't this perfect for summer nights out?! Runs big. Size down.
Cable Cashmere Sweater in "Shale Blue": Also in my cart. I can't believe it's on sale! What a deal. And it comes in a ton of colors.
Floral Midi Dress: Heart eyes.
Pink Blazer: I just ordered this and can't WAIT to get it up on the blog. Anyone else so into hot pink again?!
Dreamy Pajamas:  My favorite PJs, now available in a shorts/short-sleeved version. SO soft and wrinkle-resistant!

60-70 percent off and an extra 60 percent off the clearance section with code "SPARKLE."
Striped Shirtdress: This is in my cart. :) Love a good no-fuss dress that you don't have to iron!
Embroidered Dress: The neckline on this is too cute.
Jaguar Dress: Obsessed with this pattern.
Button-Front Dress: So classic! Something you'd have in your closet forever. It also comes in stripe!
Eyelet Top with Puff Sleeves: *Adds to cart.* Paired with white jeans, it's an adorable look.
Jamie Pants: If you don't own these yet, what are you waiting for?! :) These are the only dress pants I own. They feel like pajamas but are actually dress pants. SO fantastic. TTS. Can't recommend them more.
Leopard Jamie Pants: And now they come in leopard!
Scalloped Heels: The only sandal you'll ever need for weddings and other fancier events. ;) What a deal!
Scalloped Dress: Another classic you'll have in your closet forever. I'm all for getting rid of statement pieces these days and just relying on the timeless stuff!
Mockneck Tank: Anther great top to pair with skirts. Beautiful lines and easy to tuck in.
Softest Chambray Shirt: My favorite chambray shirt by FAR. So soft. Runs a little big.
Scalloped Tank: It's now available in navy! Love the stripes, too. Sad I missed out on the polka dots.
The Best Leggings: They're fantastic and hold up exceptionally well. And right now, they're $15?!

The 4th of July sale section is amazing!
Perla Blouse: Perfectly flowy and available in both black and white, this is such an easy top.
Clara Top: Another GREAT day-to-night black shirt. It's flattering and hangs perfectly on everyone.
Celeste Blouse: A Tuckernuck classic. It's available in so many different colors!
Plaid Scarf: Only $25?! I know it's summer, but this is my favorite winter scarf. Not sure if it's being discontinued, but it's a must for the winter!
Flannel Shirt: I also have this and LOVE it. It's on the longer side, which I adore… and it's so cozy.
Pink Statement Earrings: A little pop of color!
Pom Tote: Great for everyday use or to bring to the beach.
Printed Scarf: Makes any outfit look 100x fancier. ;)
Caroline Dress: I'm so tempted by this dress. Isn't it gorgeous? (Did I mention that "Caroline" was my #2 choice for girls' names this time around?!)
Quitled Topper: ADORABLE. Contemplating getting this. ;)
Winnie Dress: I picture myself taking a long walk on the beach in this number.
Happy shopping!
You might also like, Dudley Stephens New Releases + Coupon Code.