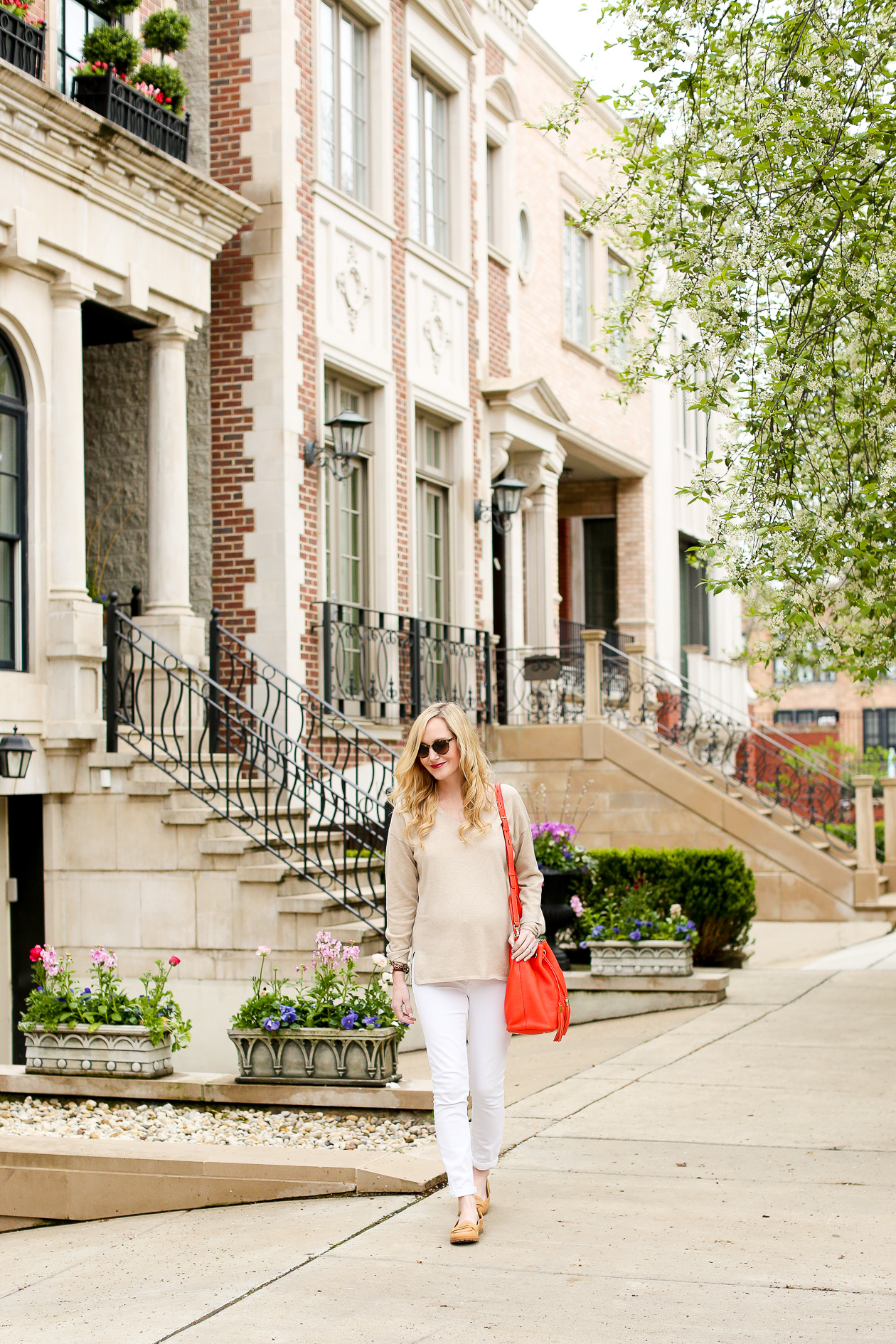 Timberland Loafers c/o Zappos / Vineyard Vines Cashmere Sweater c/o / J.Crew Jeans (Mine are the maternity version) / Henri Bendel Drawstring Bag c/o / Daniel Wellington Watch c/o / Similar Sunglasses
Before I start, I can't thank you guys enough for the outpouring of love and support stemming from yesterday's post. Truly, you guys never cease to amaze me. Thank you for sharing your stories, and for taking the time to shoot me notes. I'm a very lucky girl. And I promise that I'm going to reply to each and every message; I'm actually sitting in a coffee shop today, doing just that. :) Expect to hear from me soon, Old Friends and New!
Onto a slightly more cheery topic: Warmth has finally returned to Chicago, and I'm spending as much time out of the house as humanly possible. Today, I have a freelance photography gig, a meeting with a college student, a photoshoot on the lake, and a few hours of correspondence to wrap up. But I couldn't be happier about running to and from each activity. (No contractors today. Hallelujah!)
Let's make something clear: While you might see me in heels pretty often on this blog, I always have a pair of flats (usually loafers) tucked in my bag. Spending an entire day in pumps just isn't practical when your primary mode of transportation is your feet. I wear heels to most meetings, events and dinners… but if I have more than five blocks to walk, they're immediately replaced by flats.
Recently, I received a pair of Timberland's penny loafers–available on Zappos!–and I fell completely in love with them. While I'd built up a good collection of loafers over the years, most of them were damaged in last year's flood. (Note to self: store shoes on higher ground from here on out.) And the pairs I was left with were worn out and uncomfortable.
Growing up, my Dad always wore Timberlands while working on the outside of the house, on Habitat for Humanity mission trips with me, or on family vacations to Vermont–which is undoubtedly why I've always thought of the brand as being for the outdoorsy. And while it still is for the outdoorsy, it's also for the busy City Girl who covers a lot of ground during her days. :) My loafers have a ton of padding, and the leather is buttery soft, meaning no break-in time and no rubbing. Yet they're sturdy, well-made, and meant to last years–just like the boots.
I also love that the loafers remind me so much of Dad. Yes, they're much more "me," but they're kind of like a preppier, more feminine version of those boots I remember so well from childhood, available on Zappos as well. And their neutral color allows 'em to be paired with anything. A staple, for sure!
Oh, and who doesn't adore Zappos' fast and free shipping, and the company's 365-day (free) return policy? The company has stellar customer service, too. Just the other day, I ordered this suitcase for my upcoming travels to New York, Pennsylvania and Nantucket, and discovered that it was a tad bit too big for me. But Zappos made the exchange process SO easy. The woman helping me emailed me a return slip, overnighted me the mid-sized suitcase, and explained to me that I simply needed to drop off the larger one at my local UPS at my convenience.
I mean, why not order the loafers, right?!
Also: Please excuse the number of flower photos in this post. Can you tell that someone's excited about the return of spring? ;)
Shop the post:
Timberland Loafers c/o Zappos / Vineyard Vines Cashmere Sweater c/o / J.Crew Jeans (Mine are the maternity version) / Henri Bendel Drawstring Bag c/o / Daniel Wellington Watch c/o / Similar Sunglasses