What you wear to work, including your footwear, can have a big impact on your productivity. Seriously, wearing the right shoes is just as important as picking the right clothes. 
It's no secret that I love shoes. I actually get pretty excited when the weather, or my OOTD, calls for boots. The right pair not only instantly changes the entire vibe of your outfit, but they also ensure that you stay warm and comfortable in colder weather. 
With so many different styles of boots, trying to figure out which boots to wear with your work outfits can be intimidating. In an effort to make things easier the next time you want to wear boots to work, I'm sharing four of my favorite work-appropriate outfits that feature boots.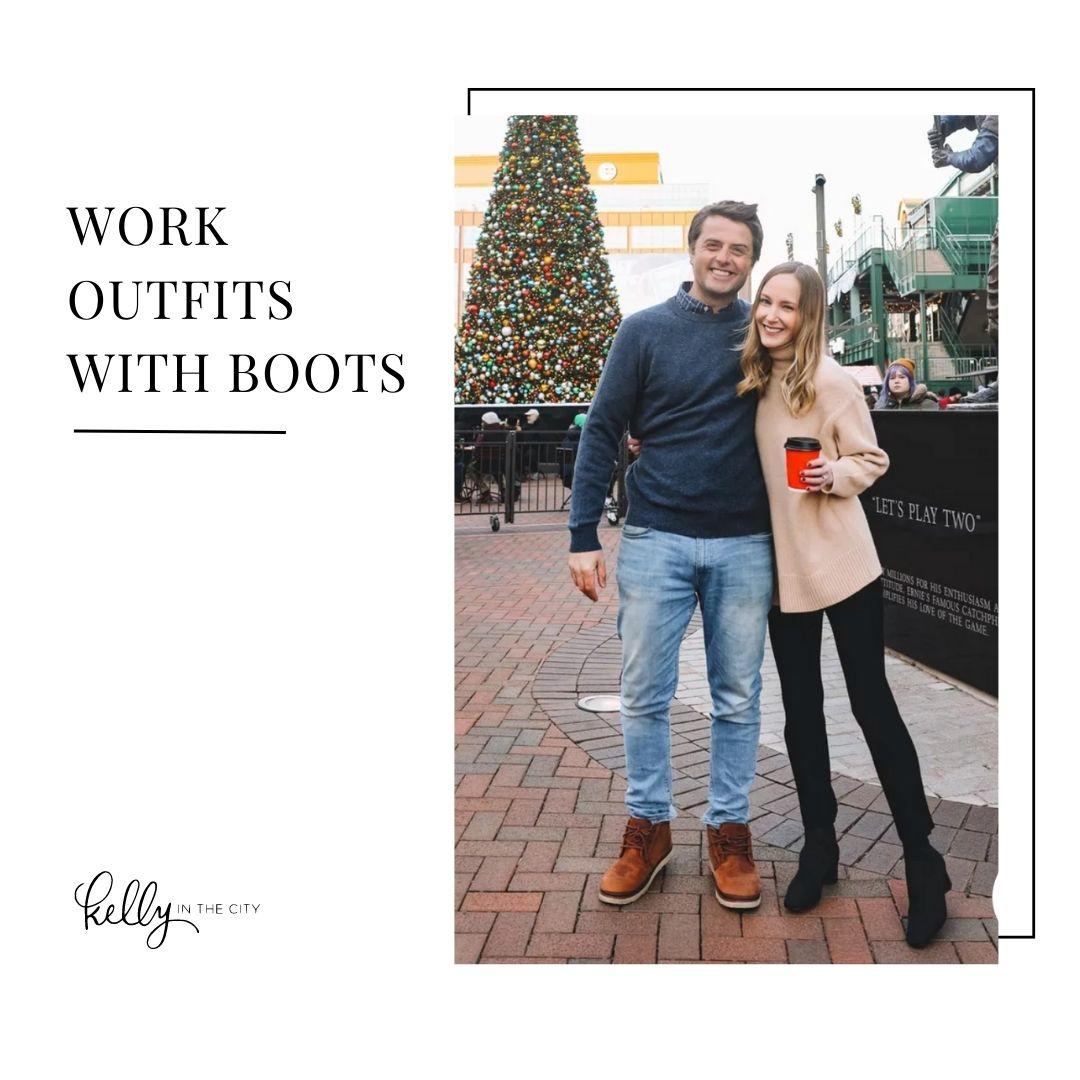 4 Work Outfits With Boots
Here are four different work outfits with boots to help get you inspired. Whether you're dressing for formal Monday or casual Friday, you'll be prepared for the next time your boots are calling your name!
Business Casual Work Outfit With Ankle Boots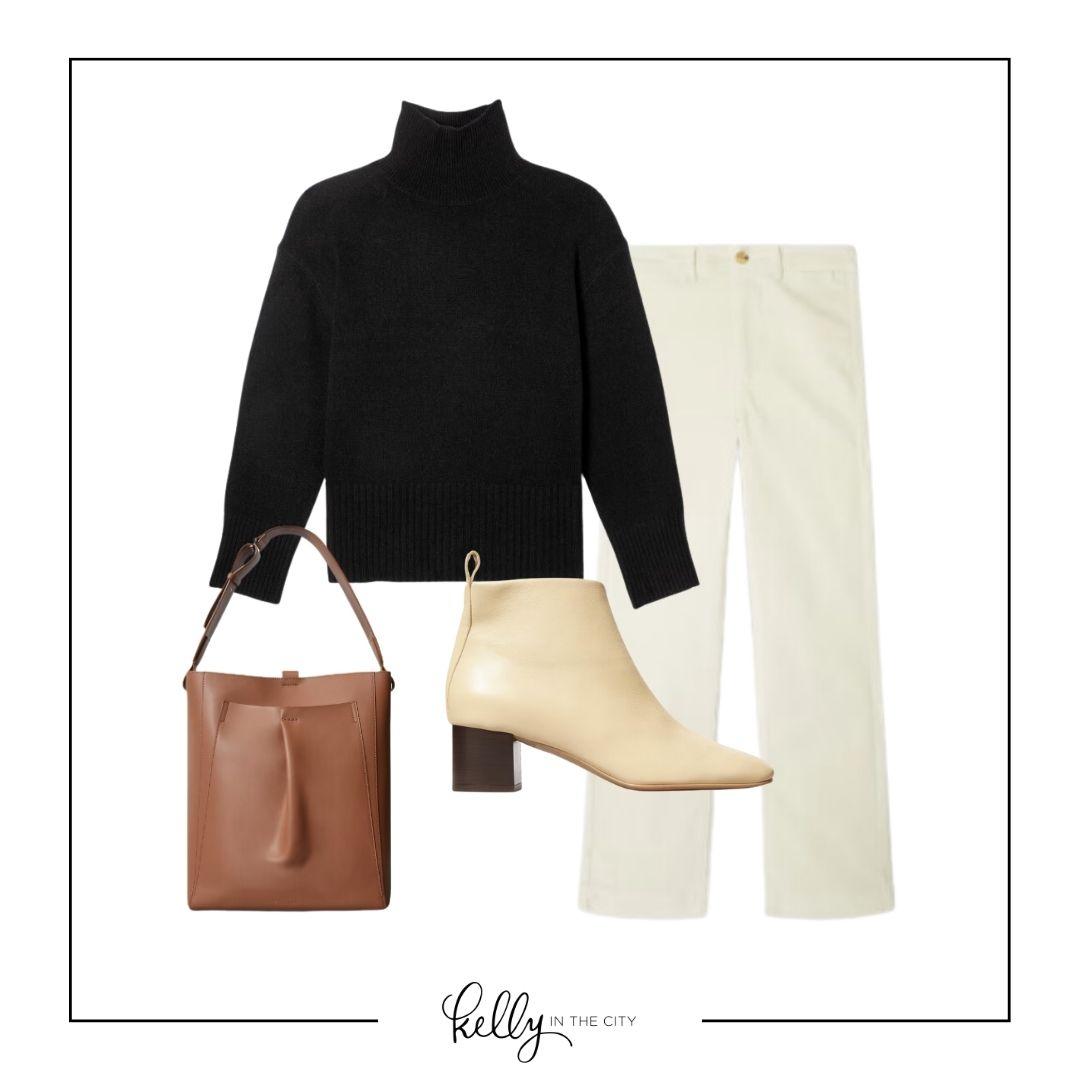 Corduroy Wide Leg Pants / Cashmere Oversized Turtleneck / Leather Ankle Boots / Italian Leather Studio Bag
This business casual look is one of my go-to fall workwear outfits with boots. The Corduroy Wide Leg Pants from Everlane are unlike any corduroys I've worn before. They're surprisingly comfortable and much more flattering than the average pair. I styled them with a luxe cashmere oversized turtleneck and ankle boots for a simple, business casual look. More fall workwear outfits HERE.
Dressy Winter Work Outfit With Knee-High Boots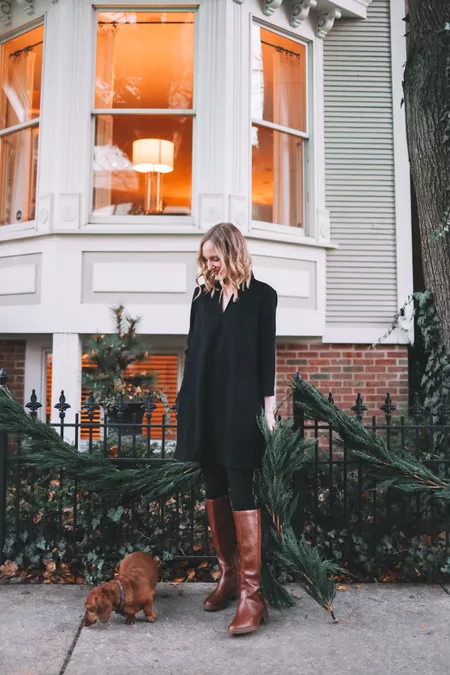 Black Terry Dress / Tall Leather Boots
This adorable black dress is one of my favorites for cooler weather. I usually style it with super comfortable riding boots and black leggings or tights. Wearing tights or leggings underneath not only makes this outfit suitable for the workplace, but it offers enough warmth in cold winter weather. And the leather boots effortlessly pull the whole look together.
Cozy Chic Black Work Outfit With Chelsea Boots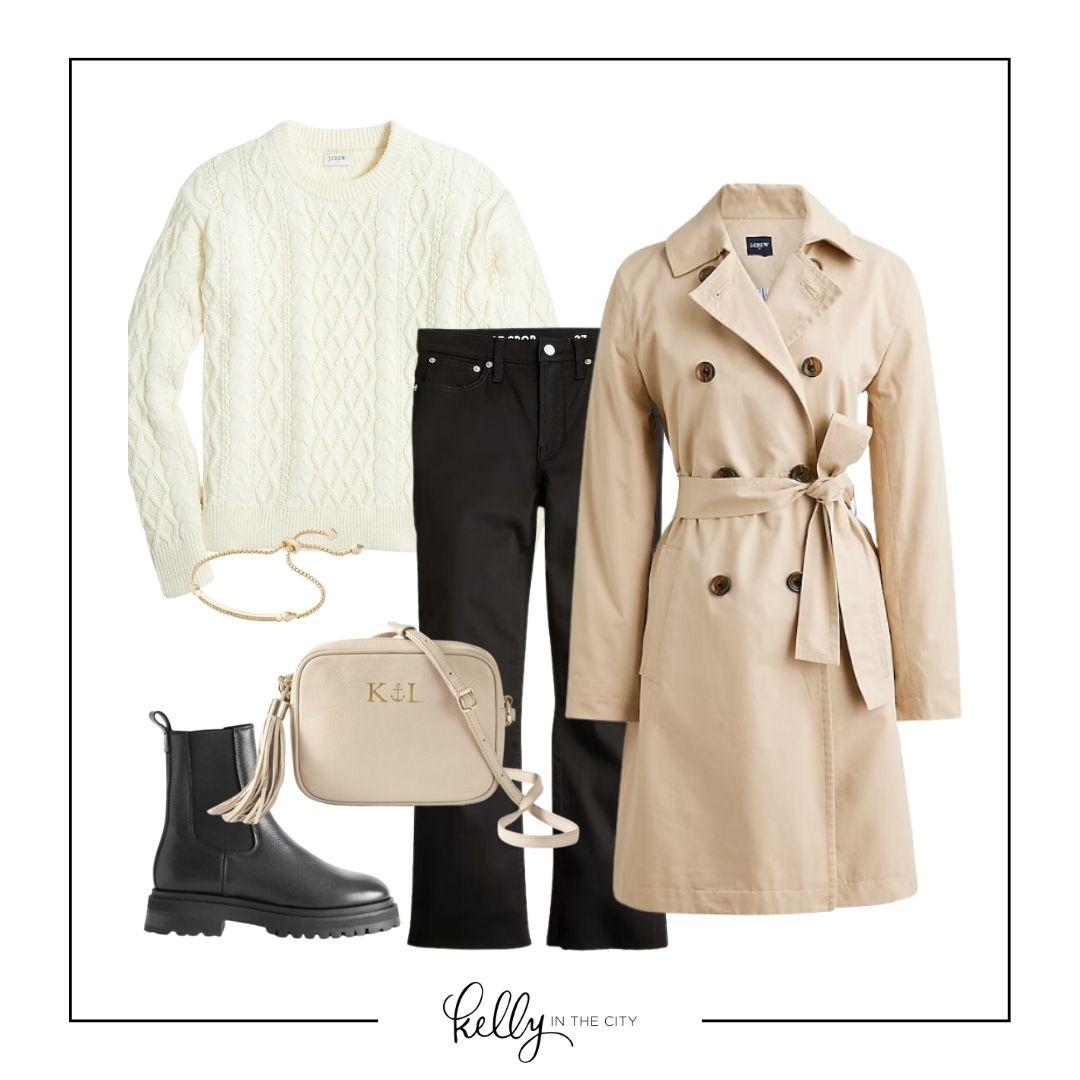 Cable Sweater / Black Demi-Boot Crop Jeans / Black Leather Chelsea Boots / Trench Coat / Crossbody Bag / Chain Bracelet
There's just something about a cable-knit sweater styled with black jeans that I really appreciate. Maybe it's the two blocks of contrasting colors? Or, more likely, it's because it's such a timeless and sophisticated look that just about anyone can pull off. I also love how versatile this outfit is in terms of footwear. 
I adore it most with Chelsea boots. Once I added them, this look instantly became one of my favorite work outfits with chelsea boots. However, you can definitely swap the chelsea boots for Hunter boots or even Bean Boots and still look just as fabulous.
Trendy Black And Tan Outfit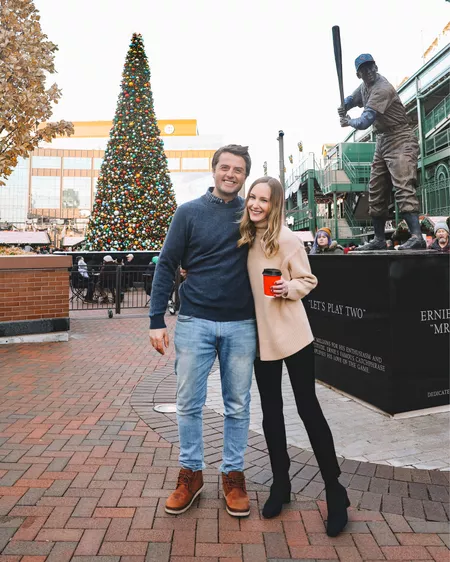 Cashmere Hoodie / Fitted Black Stretchy Pants / Black Over-The-Knee Boots
This outfit is perfect for anyone who wants to be comfortable in the office, but still look super chic. A cashmere hoodie is easily one of the most comfortable things you'll ever wear. I love these pants, too. They feel like yoga pants but look much more professional and office-appropriate. Not to mention how flattering they are!
If you're looking for work outfits with combat boots or if you simply prefer them over tall boots, you can easily swap the over-the-knee boots for black combat boots.
When styled appropriately, boots make a great addition to any work wardrobe.
If you have a favorite pair of boots that you're just dying to wear to work, don't let a lack of style inspiration hold you back. Hopefully you can use the outfits above to help you curate an office-friendly look that features your go-to boots. 
For more of my favorite looks, as well as style inspiration, head over to the blog.
Shop the Post: