Here are three versatile fall workwear outfits built from fall closet staples like sweaters, dress pants, skirts, boots, and loafers.
How to Style Dress Pants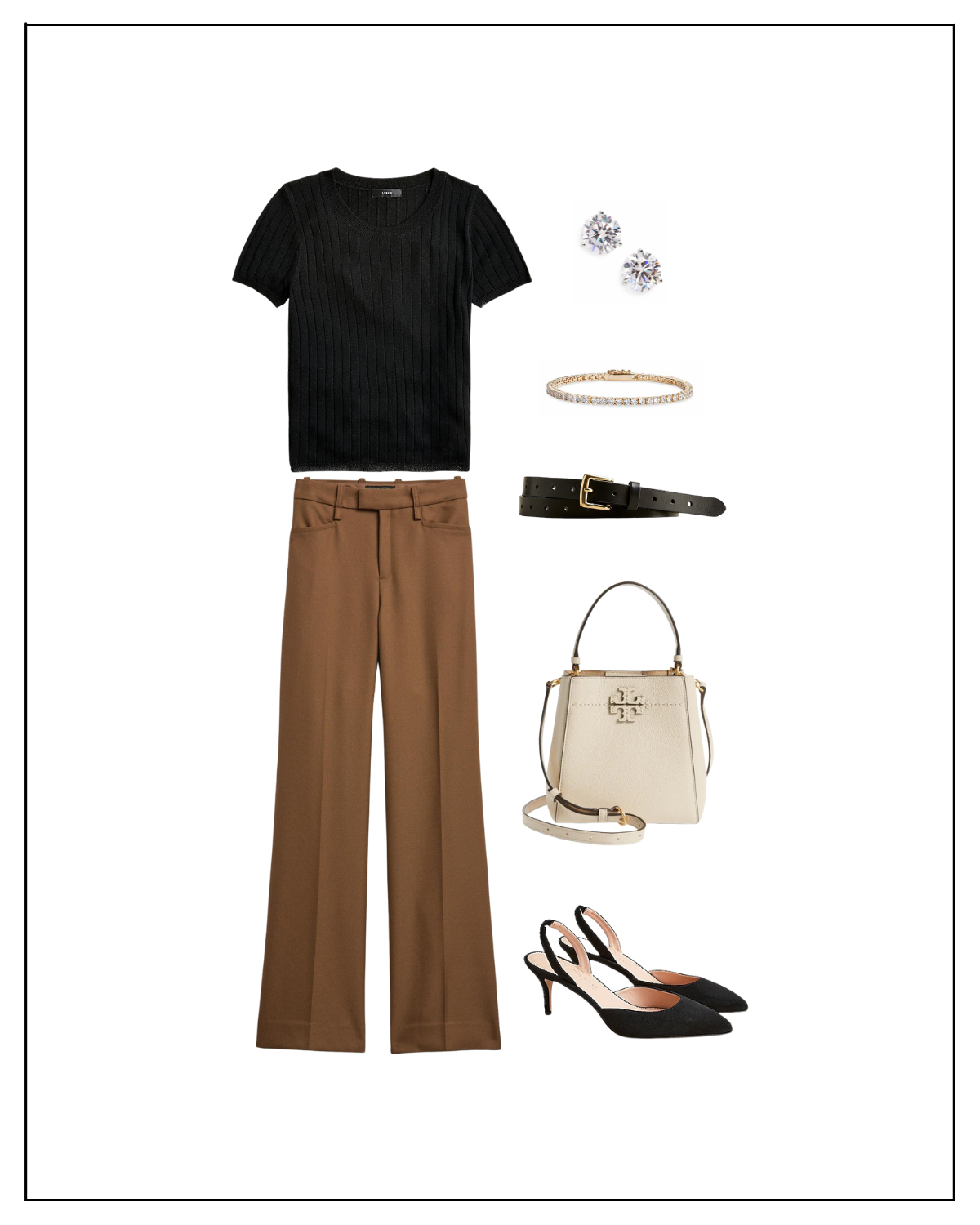 Black Ribbed Sweater T-Shirt / Tan Wide-Leg Wool Dress Pants / Cubic Zirconia Earrings / Cubic Zirconia Tennis Bracelet / Black Leather Belt / Small Beige Leather Tote / Black Suede Heels
These wide-leg wool dress pants are a wonderful business casual outfit staple. They come in a variety of colors, including black and cream. Here's an earlier post I wrote on how to style the cream dress pants three ways. For a transitional fall outfit, style the tan dress pants with a black ribbed sweater tee. Then, accessorize with cubic zirconia stud earrings, this matching bracelet, a black leather belt, a small beige tote bag, and wear it with your favorite pair of black heels.
How to Style a Skirt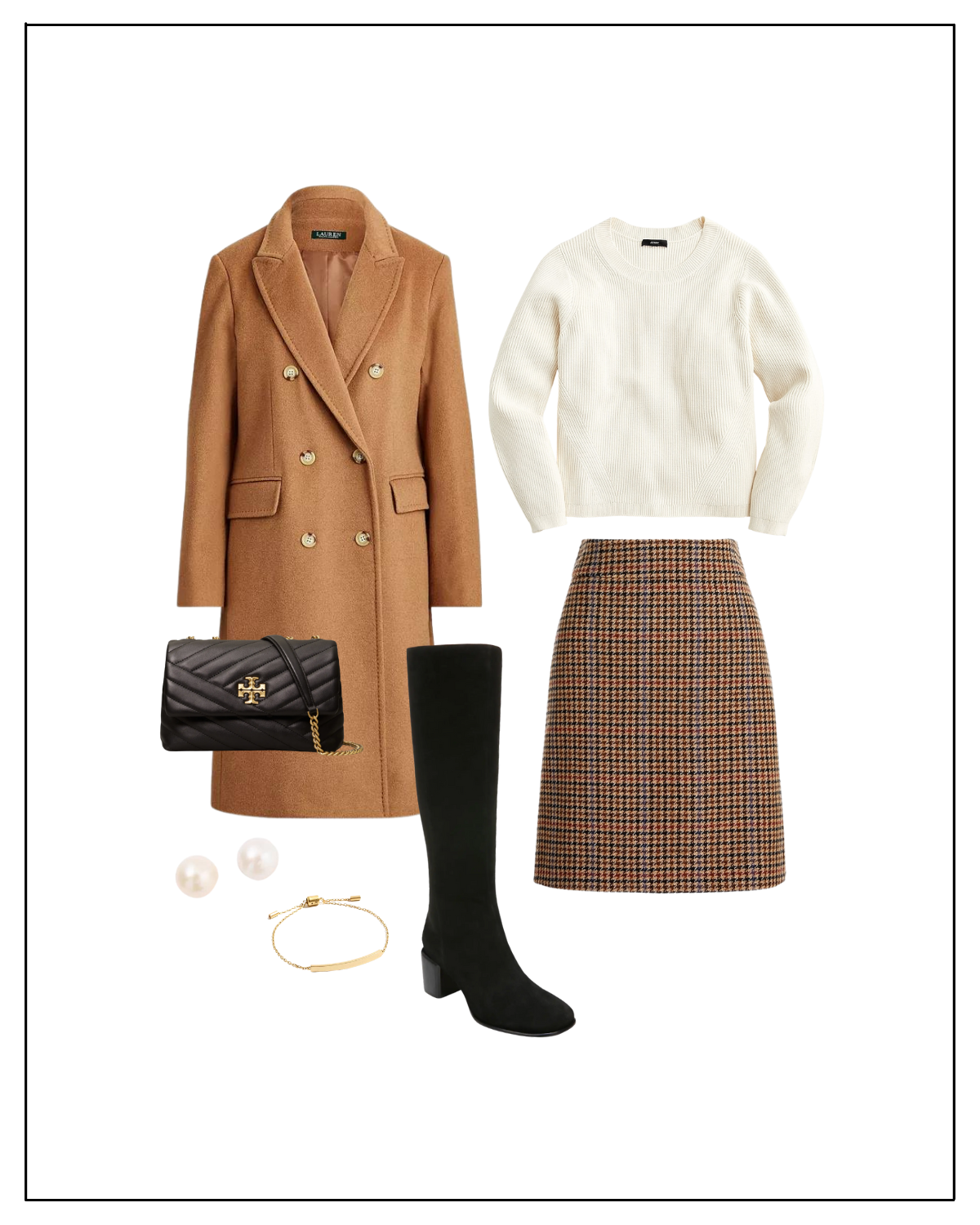 Camel Double-Breasted Coat / White Ribbed Crewneck Sweater / Houndstooth Skirt / Black Suede Knee-High Boots / Pearl Earrings / Gold Adjustable Bracelet / Black Quilted Leather Crossbody Bag
Another great business casual outfit idea is styling a skirt with knee-high boots. This houndstooth skirt is back in stock and on sale for under $50. It's one of my favorite pieces in my closet for fall. Style it with a white ribbed crewneck sweater (on sale and under $80) and this camel coat (which also happens to be on sale for 30% off right now.) Accessorize with a black leather bag, pearl earrings, and a gold bracelet. A pair of black suede knee-high boots pull this business casual fall workwear look together.
How to Style Loafers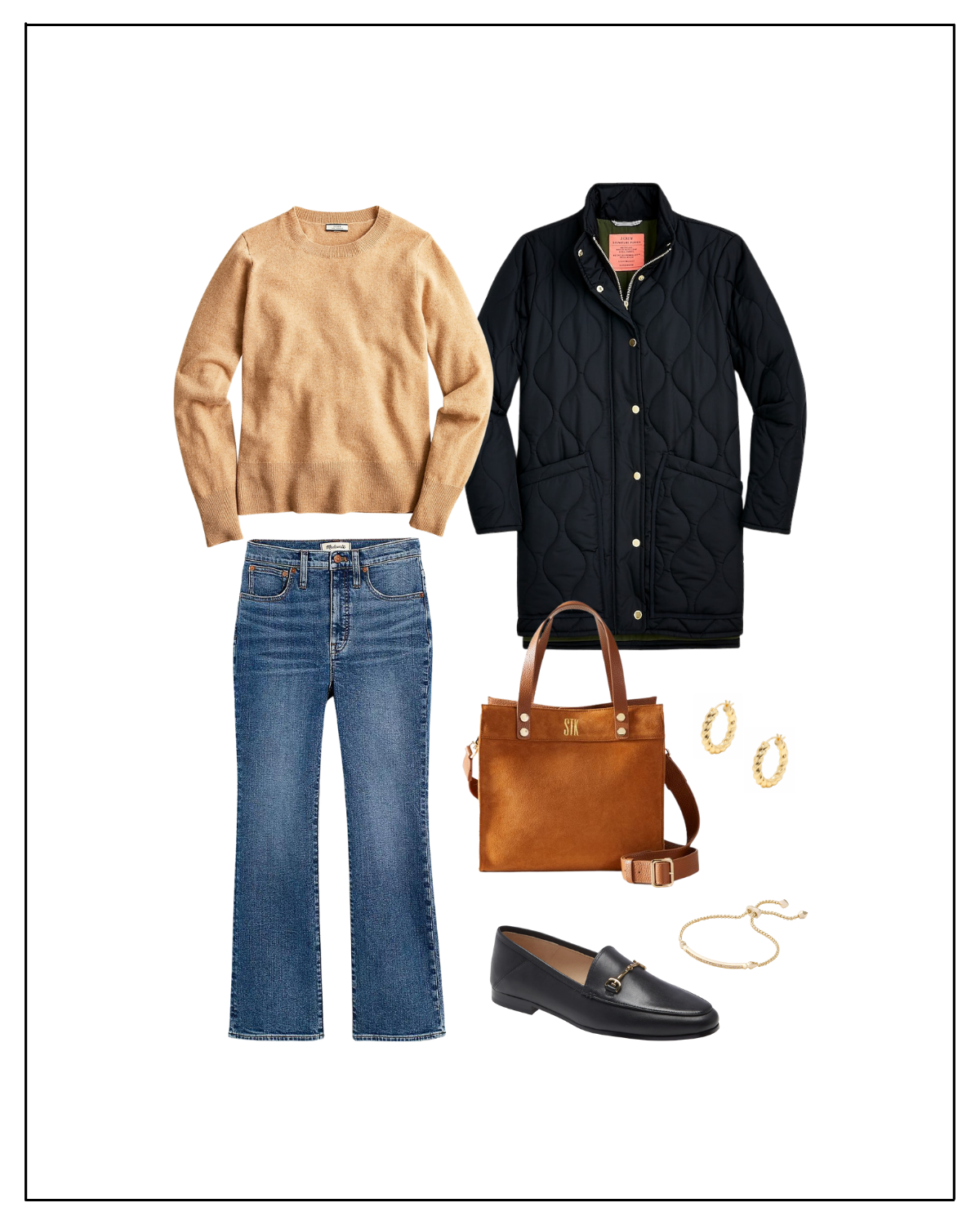 Camel Cashmere Crewneck Sweater / Demi-Boot Jeans / Black Cocoon Quilted Coat / Leather Tote Bag / Gold Hoop Earrings / Gold Adjustable Bracelet / Black Leather Loafers
If your office has a casual dress code, I love the look of demi-boot jeans with black leather loafers. It's relaxed yet still polished. Start with a camel crewneck sweater, demi-boot jeans, and black leather loafers. I love this pair of loafers because they look almost identical to the Gucci ones, but for a fraction of the price, and they're just as comfortable. Layer a cocoon coat for some warmth. Take my word, this coat is a must-buy. And it's 50% off right now. It's also great for those of us who want to wear a puffer coat in the fall/early-winter without looking insane, haha. These are my other favorite coats on sale right now. Accessorize with a leather tote bag and gold jewelry like hoop earrings and an adjustable bracelet.