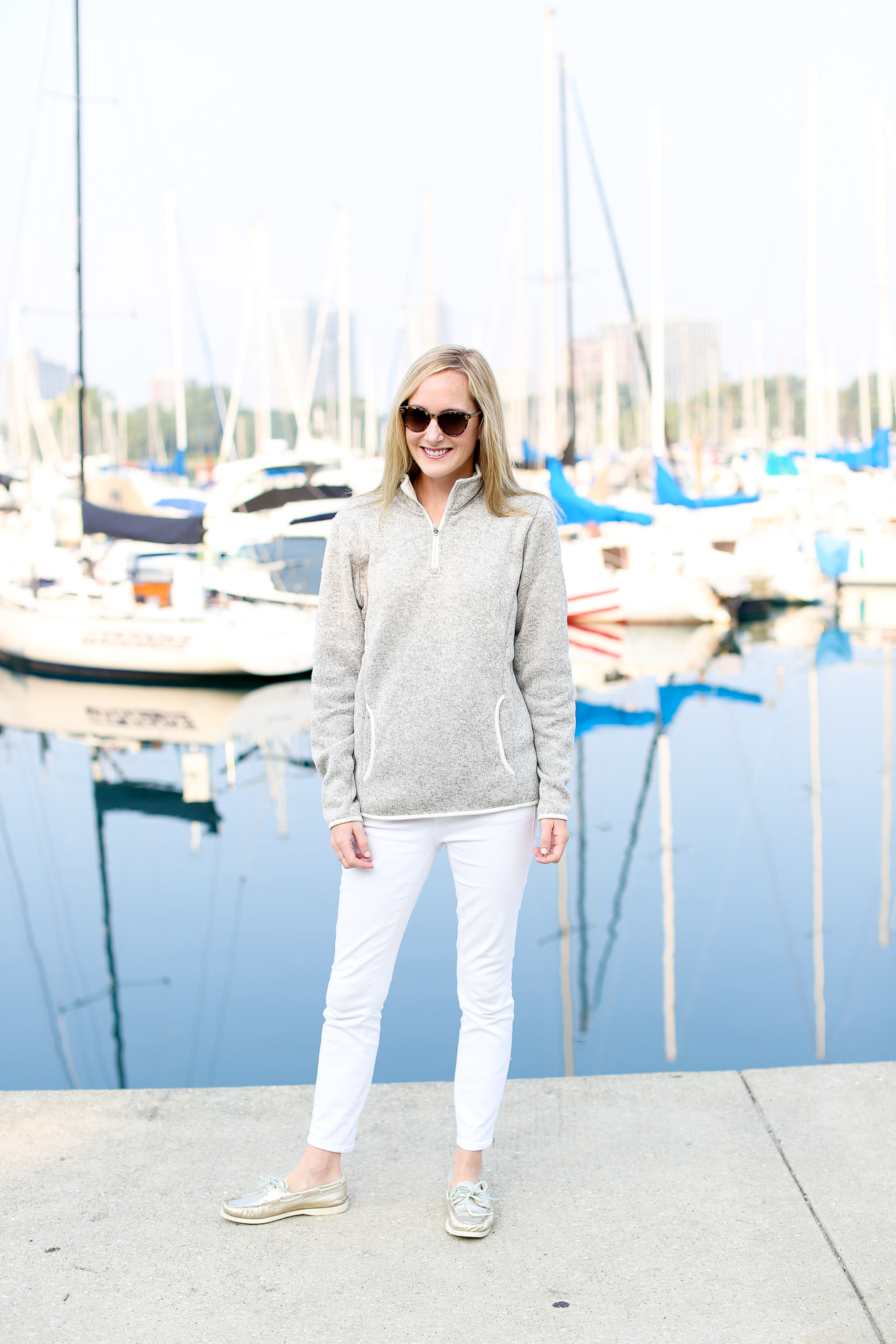 Charles River Apparel Heathered Pullover c/o / Gold Sperrys (Old, similar here, here and here) / Madewell Jeans (Old, similar here) / Kate Spade Sunglasses (Old, similar here and here) and Earrings
HOW IS SUMMER NEARLY OVER?!
And is anyone else in a full-blown panic over it?!
Ugh.
Just as Mitch and I were falling into a lovely routine of not working (heh), school starts back up and it's over. Granted, we've both been craving some sort of routine over the last few weeks, but the reality of September hit hard on Monday. No more galavanting around the country together?! No more carousing the city whenever we want?! No more late-night wine and cheese parties?! Oh, the horror.
Clearly I've had my fair share of wine and cheese tonight. But I blame my girlfriends. ;)
Anywho, Mitch and I have been making a concerted effort to make the most of our mornings this week. Of course, it entails waking up at 6 a.m. (WHAT?! #flashbacktothebronx), but it's been worth it. As Mitch's school is on the water and only about a 10- to 15-minute drive from our home, we pack up our coffees and breakfasts, and picnic on the docks in the early hours of the day. By no means am I a morning person, but I've been loving it. Quality time with one's significant other–when no one else seems awake or "with it"–is extra special. It's as if we have the whole harbor to ourselves. (Minus the old men walking around with newspapers and mini boom boxes. But they're adorable in their own ways.)
Every morning, I've been going for my Charles River Apparel Heathered Pullover, which is sweater-like on the outside but fleece-lined on the inside. It's perfectly cozy for when that wind comes rolling off the lake, yet easily pulled off when the temperatures rise. I love how I can zip it up all the way when I'm in need of extra warmth (which is nearly always), and I can't get enough of the little pouch in the front. You can fit so much in there! Keys, cell phone, doggy bags–you name it and it fits. Within reason, obviously. ;)
If you'd like your own Charles River Apparel Heathered Pullover, simply head on over to my Instagram account this morning around 8 a.m. EST. Entering to win one is easy, and it's definitely worth it!
Happy Wednesday! Hope to see you on the docks!
SaveSave