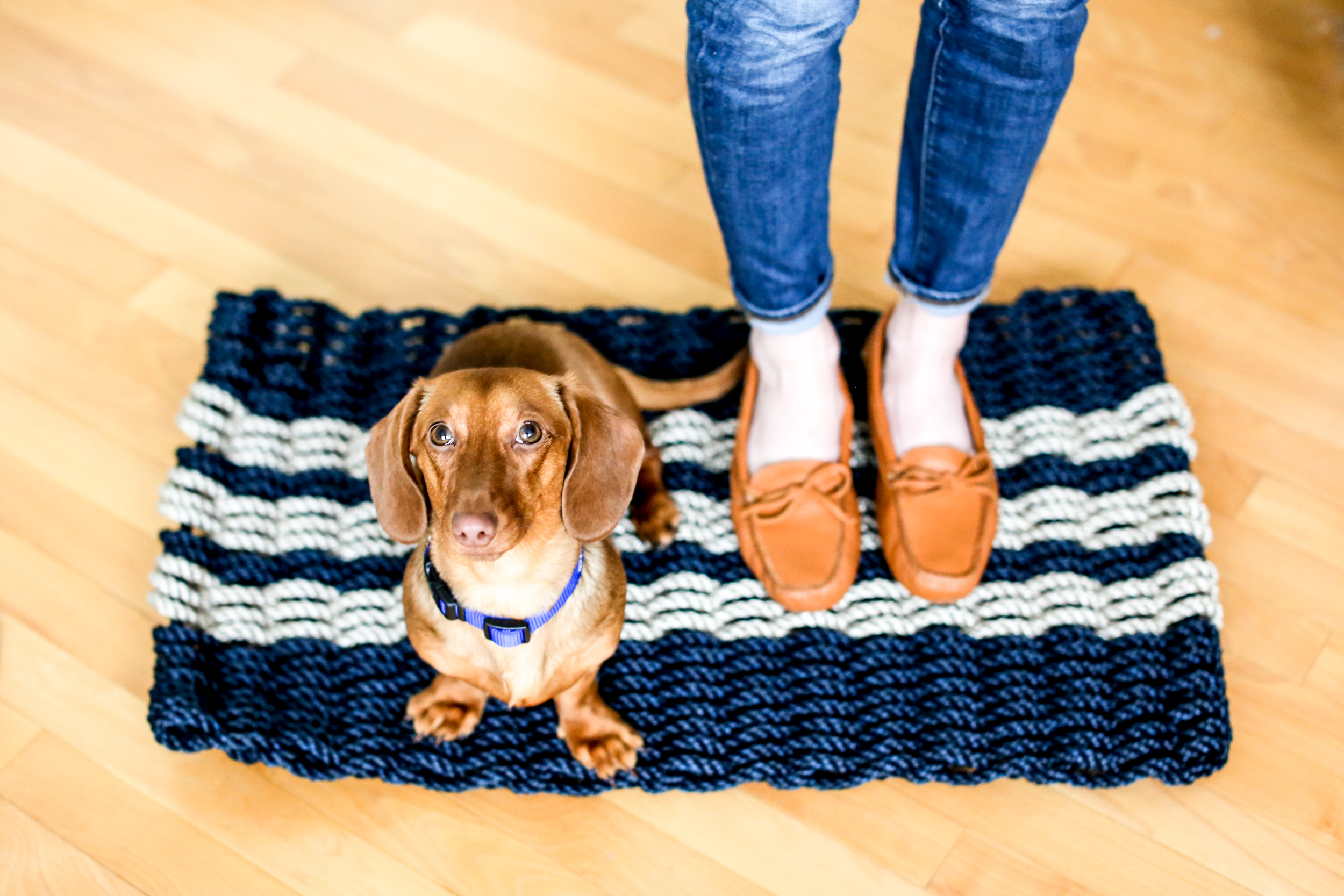 Photo by Cassandra Eldridge
In this post:
L.L.Bean Monogrammed Dog Collar (It says "@noodleinthecity"–so cute!), Navy Door Mat, Signature Driving Mocs, Signature Short-Sleeved Sweatshirt, Signature Somerset Bucket Bag (c/o) / J.Crew Jeans and Pearl Earrings / Hazel & Marie Pearl Necklace (c/o) / Alex & Ani New York City, New Jersey and Nantucket Bracelets (c/o) / Daniel Wellington Watch (c/o, Use code "kellyinthecity15″ to take 15 percent off your order!)
One of the best parts of our new neighborhood in Chicago is how friendly it is. It's nearly impossible to walk down the street without bumping into someone we know, or someone new who wants to meet Noodle or simply chat. And we love that.
Lincoln Park is a very special place. There's an interesting mix of college kids, young professionals, families, and people in their 50s and 60s–and yet it works. Really, really well.
I adore New York with every ounce of my being, and always will. But in all the places I lived while there–from three apartments on the Upper East Side to three in the Village (and we can't forget Hoboken!)–it was rare that a stranger would stop to strike up a conversation. (I mean, it happened, but those people were typically beyond crazy.) Everything was a bit more impersonal. It was a much bigger city, and there were just so many people. And everyone was in such a rush. Funny how I never noticed that until I left.
Of course, I know part of the reason I meet more people in Chicago is because of Noodle. (High five, Noods!) But there's undeniably a slower pace of life here, and residents' demeanors reflect that. I, for one, am far more laid-back this year than I ever was while in New York. (I think I'm losing my "edge," haha.) It took me a while to let my guard down, but I really like the "new me." :)
Anyway, I try to take Noodle on long walks around the neighborhood two or three times per day now that the weather is warmer. They're the best. They get me out of the home office, they provide human interaction, and they're great for Noodle. The poor thing was cooped up inside for too long this past winter. She's terrified of loud noises, and is a bit skittish around people she doesn't know. But our long walks–and trips to the dog park–have definitely been helping to let her guard down. ;) At night, Mitch and I sit with her on the front steps of our building, too. Pedestrian traffic is pretty high now that the temperatures are rising, so Noodle gets exposed to lots of people and dogs!
But on to style. A huge thank you goes out to L.L.Bean Signature for outfitting Noodle and me for our walks today! First of all, how cute is Noodle's collar?! Scroll down to see the monogram. (It says @noodleinthecity!) Adorable. And I'm wearing the most comfortable shoes I own: the Signature Driving Mocs, which require zero break-in time, are made from the softest leather, and fit true to size. I also love the Signature Somerset Bucket Bag I'm toting in these photos, as it's perfectly preppy and allows me to be hands-free.
And just a reminder that I'm taking over the L.L.Bean Signature Instagram account today! Follow along on our adventures around Chicago now through Sunday. (So excited!) Happy Friday!
Below photos by Mitch