Believe it or not – men care about fashion just as much as women do. Guys put a lot more thought into what they're wearing and how they look than we tend to give them credit for. As the warm days of spring inch closer, I wanted to take a closer look at some comfortable, functional, and fashionable outfits for men.
The right essentials can help you create outfits that are not only weather appropriate, but also super stylish. These are the essentials that every man needs for his spring outfit rotations.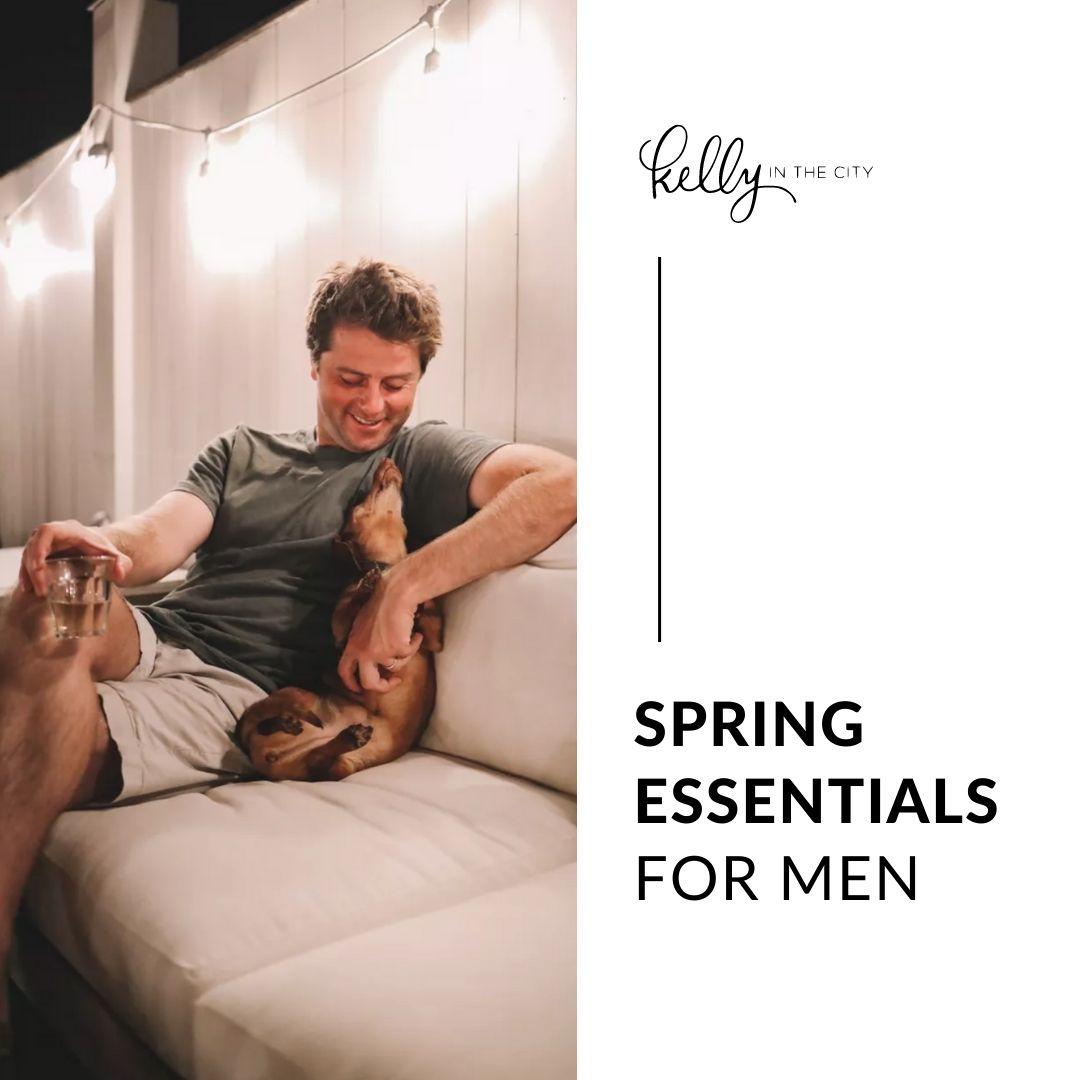 20 Spring Essentials For Men
Button Down Shirts
Nothing welcomes the warmer weather of spring like an Oxford. There's just something about a timeless blue Oxford, when styled with tan trousers and brown shoes, that I just can't get enough of. It's a simple yet stylish look that just about any guy can pull off. My favorite place to shop for casual button downs is Ralph Lauren. 
You'll want to keep more than one button down on hand. Look for shirts that can be styled with several other pieces in your wardrobe. A classic striped button down and a solid white one would be a good place to start. 
A Soft Collared Polo Shirt
There's no better time than spring to bring out the soft-collared shirt. Polo shirts, as they're commonly called, are must-haves for any guy. Even if you're not the type to care all that much about fashion, a polo is an easy way to instantly look more put together.
You really can't go wrong with a good polo shirt, like one of these from J.Crew.
A Classic Tee
A classic tee is an essential part of any wardrobe, including a men's spring collection. But just any old tee won't do. Instead, you want at least a few quality tees that look just as great on their own as they do when layered with other pieces. 
White Or Gray Sneakers
Every guy needs a pair of clean white or gray sneakers. Not only are they a comfortable footwear option, but they can be styled with just about anything in your wardrobe. 
These Vintage Suede Sneakers from Peter Millar are fantastic gray sneakers. If you prefer the all-white look, I highly recommend the V-12 Leather White sneakers from Veja.
Light Wash Denim
A great way to transition your wardrobe from winter to spring is to go a shade or two lighter in your neutrals. It's just as simple as it sounds, I promise! 
Jeans are a perfect example; swap your dark fall or winter jeans for a light wash pair of jeans. It's a simple switch that makes a big difference.
Utility Shorts
Utility shorts are considered everyday wear for guys in spring. Tan utility shorts or these Vineyard vines khaki shorts are so easy to style, crazy comfortable, and look great on anyone. For a little style inspiration, check out this khaki shorts classic tee outfit courtesy of my handsome husband Mitch. ;)
Pleated Shorts
At least one pair of pleated shorts is a spring must-have for any guy. A classic gray pair of pleated shorts like these from Madewell are like the slightly more formal version of casual khaki shorts. I love how they look when styled with a soft collared shirt, a camp shirt, or even a button down. They'd even look great with a cotton or cashmere sweater!
Tan Trousers
Often called Chinos, tan pants are another spring fashion essential for men. Tan pants are timeless and versatile, which is why I highly recommend having at least two pairs in your spring wardrobe. Two of my favorite pairs of tan pants for men are the Khaki On-The-Go Pants from Vineyard Vines and the Slim Dock Pant from J.Crew.
Sweatpants Or Lounge Pants
Every guy needs a reliable pair of sweatpants for those easygoing days spent at home or running errands. Given that you probably don't want to look sloppy, it's a good idea to invest in some luxe sweatpants, like french terry sweats or these Vineyard Vines Surfside Joggers. 
I guarantee you'll be especially grateful for a cozy pair of sweatpants once you slip them on. 
Cotton Sweaters
A good sweater is definitely a spring essential, but it's important to choose the right fabric. Cotton sweaters are much more lightweight and spring appropriate than heavier, wool sweaters. A simple gray cotton sweater, like this one from J.Crew, is a versatile piece that can be worn with several items in your wardrobe.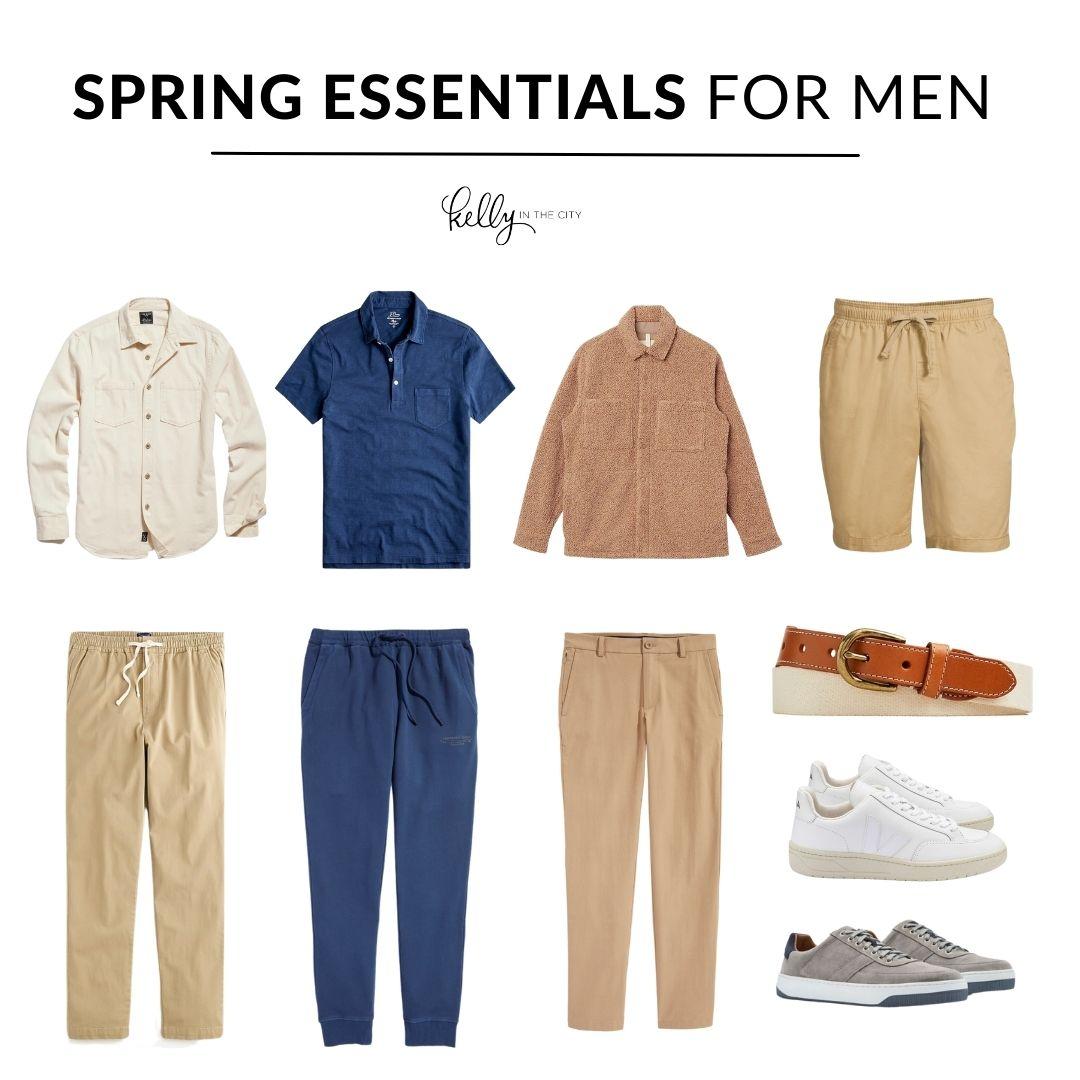 A Warm Overshirt
Spring weather is unpredictable. Even as you get into the warmer months, the days often start with crisp mornings. A warm overshirt is perfect for days like those. Throw it on over a tee to keep you comfortable and perfectly on trend.
These overshirts from Todd Snyder are wonderful.
Camp Collar Printed Short Sleeve Shirt
A short sleeve camp collar shirt from Todd Snyder like this one is one of my personal favorite menswear pieces for spring. A camp collar shirt styled with light colored chinos and sandals is a prime example of effortless spring style.
A Lightweight Jacket
A lightweight jacket, like a zip-up hoodie or bomber jacket, is a spring essential for any guy. I recommend keeping at least one lightweight jacket or work jacket in your spring wardrobe for those crisp, cooler spring days.
This sherpa jacket is one of Mitch's favorites. It's the perfect jacket for transitioning from winter into spring because it's lightweight but offers a good amount of warmth. 
Unstructured Blazer
The unstructured blazer is truly a gift to men's fashion. Especially this one from J. Crew. It instantly transforms, elevates, and modernizes any outfit.
If you're confused about what exactly an unstructured blazer is, consider that it's true to its name. It doesn't hold its shape like a traditional blazer. Instead, it's more comfortable, much like a shirt jacket, but with the look of a more formal suit jacket. 
A Trench Coat
In terms of the best jackets for spring, the trench coat is right up there with a rain jacket. Especially if your trench coat can double as a rain jacket! A good trench coat is truly timeless and flattering for any man's figure. Try this one from Banana Republic – it's high-quality, rain resistant, and very flattering. 
Mitch usually prefers a trench coat over a denim jacket for cooler spring days. Throwback to when he designed his own trench coat! How fun was that?
Desert Boots Or Chukka Boots
Desert boots, sometimes called chukka boots, are among my favorite men's footwear. They're such great looking shoes, and according to Mitch, they're super comfortable too!
How great are the Desert Boots from Clarks?
Oxfords And Derby Sneakers
Oxfords and derby sneakers are pretty similar style-wise. I recommend having at least one pair to include in your spring wardrobe collection. You can dress them up or style them with a more casual look, whatever you're feeling that day.
As for the difference between the two, oxfords are usually more formal than derbies. Derby sneakers are meant for semi-formal to casual occasions.
Sandals
Guys, don't be afraid to show off your feet once the warm weather hits in a nice pair of Birkenstocks or similar sandals! Even if you're not the type to get a pedicure, you don't have to hide your feet from the sun. Here's one of Mitch's favorite end of spring into summer outfits and his review of Birkenstocks sandals for men. He truly is a big fan of comfortable men's sandals!
Leather Belt
A good leather belt is a must-have for any season. This leather belt with a brass buckle from J.Crew is just what every guy needs to complete his look. I love the gorgeous natural color of the leather–almost as much as I love the fact that you can wear it with practically anything.
Sunglasses
The easiest way for a man to accessorize any look is with a good pair of sunglasses. A simple pair of shades is an effortless way to pull any outfit together. They instantly elevate even the most straightforward look. Here's an affordable pair of aviator sunglasses that would look great on you!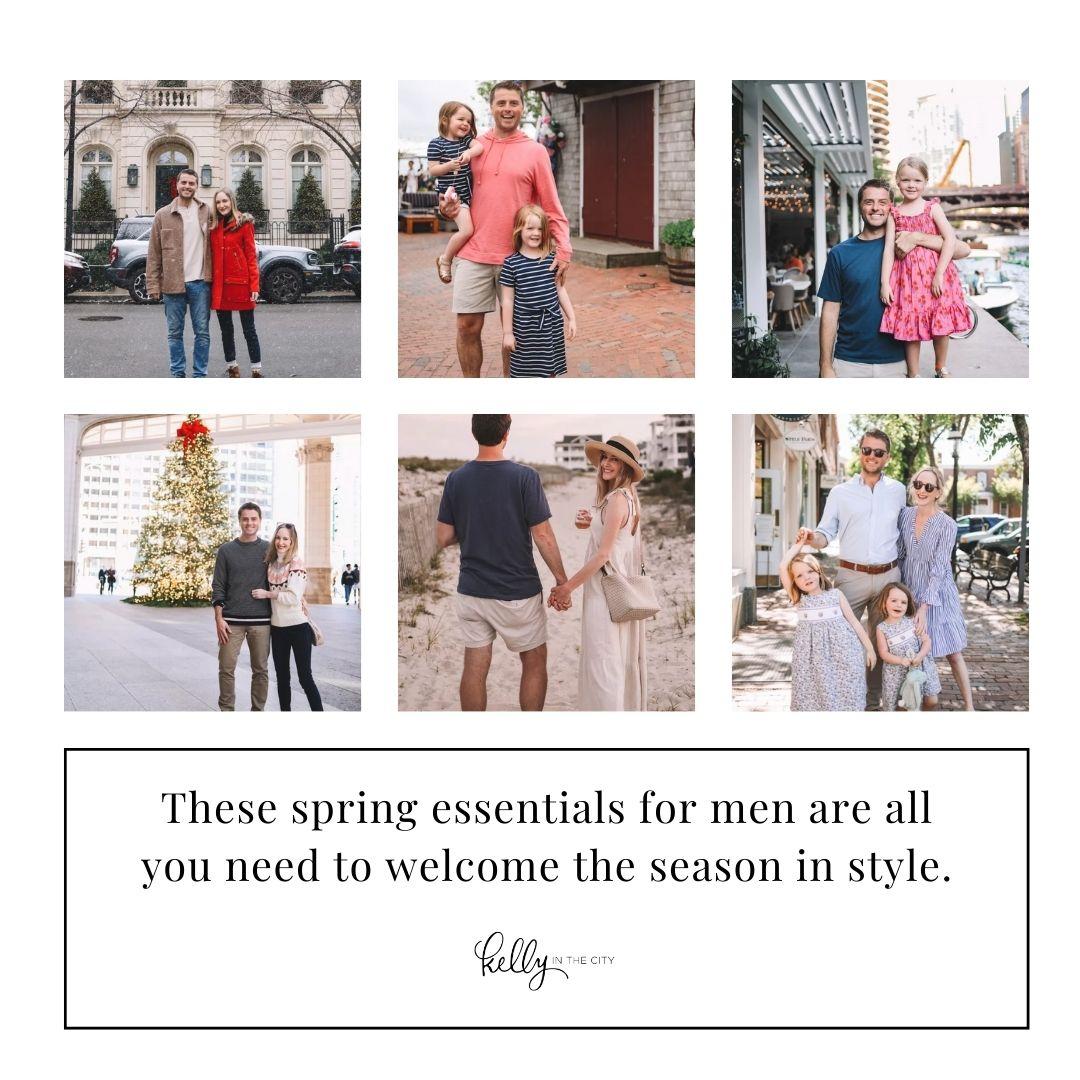 These spring essentials for men are all you need to welcome the season in style.
I hope you found at least a few items to include in your own spring wardrobe collection. If so, I'd love to hear which ones stood out to you! 
For more style inspiration and outfit ideas, check out the blog.