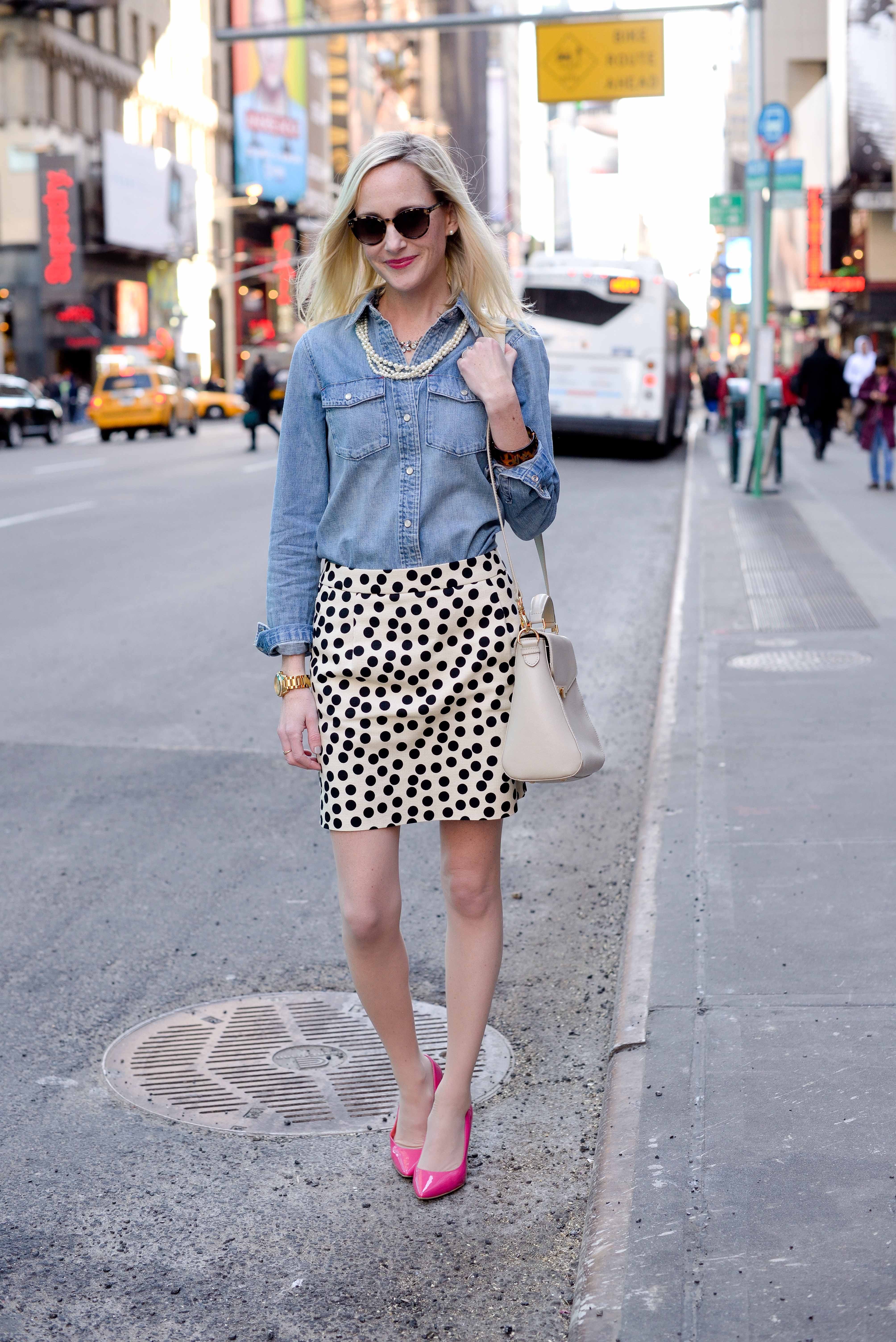 Skirt: J.Crew Factory (also available in the dress version) / Pumps: Cole Haan / Bracelet: Moon and Lola (c/o) /  Top: C.Wonder (Sold out), similar here and here / Watch: Michael Kors, but currently loving this MK watch in hot pink, this one in turquoise, and this one in tortoise shell / Bag: C.Wonder (Old), similar here / Necklaces: J.Crew (Old), newer version here; and Sassy Steals (Sold out. Buy the inspired-by-J.Crew version here!) / Earrings: J.Crew / Sunnies: Kate Spade / Lipstick: Clinique (In "Pudgy Peony")
Times Square is admittedly not my favorite place in the world. It's difficult to find the magic in the area when it's part of your daily commute, you know? Seeing excited tourists wandering its streets for the first time and absolutely loving it is really adorable (and totally brings me back to my first year in NYC), but it's just a little too crazy at 7 a.m. when you're in a rush, and a bit too much at 5 p.m. when you just want to get home. On Friday, though, Mitch and I decided to embrace the Times Square area and stop at Langan's after work for a quick bite. And you know what? We had a great time! It was really nice talking to out-of-towners and taking in the excitement of the District.
Lately, I've been trying to focus on thinking positively. So perhaps I should highlight a few things that I actually like about Times Square! :) Here we go:
♠ The View Lounge at the Marriott Marquis: Every time that we have guests in town, we bring them here. It's awesome. It's a revolving bar that allows for 360-degree views of the city. Stay for an hour, and you'll get to see Manhattan from every angle. Really, really cool.
♠ Shake Shack: For years, I got my fill of New York City's best fast food burger in Madison Square Park, where the original stand is located. But now, Shake Shack is also available on 44th and 8th, making the Times Square area a whole lot cooler. Sit next to the window with a burger, hot dog, frozen custard, shake, beer, or glass of wine, and enjoy the views and people-watching!
♠ Ellen's Stardust Diner: This is a hilarious 1950s-themed restaurant. The waiters and waitresses sing to you when they take your order and serve you your food. And they're amazing. Many of them are Broadway and off-Broadway singers! It's entertaining, to say the least.
♠ Tkts: Get Broadway tickets at prices up to 50 percent off. Quite fun going there, not knowing which show you'll end up seeing later that day.
♠ Roxy's (RIP): This is devastating, but my favorite deli in NYC has closed. I was such a fan of Roxy's sandwiches. They were huge! And absolutely delicious. I used to go pretty often with my father when he worked in Times Square, and came with high school friends regularly on trips into the city. Sadness. At least we still have Katz's!
♠ Maria Pia and Cara Mia: Best Italian joints in the Theatre District, if you ask my family and me. I can't even tell you how many times I've been to them! They're sister restaurants, so you really can't go wrong with either. But my favorite is Maria Pia. ;)