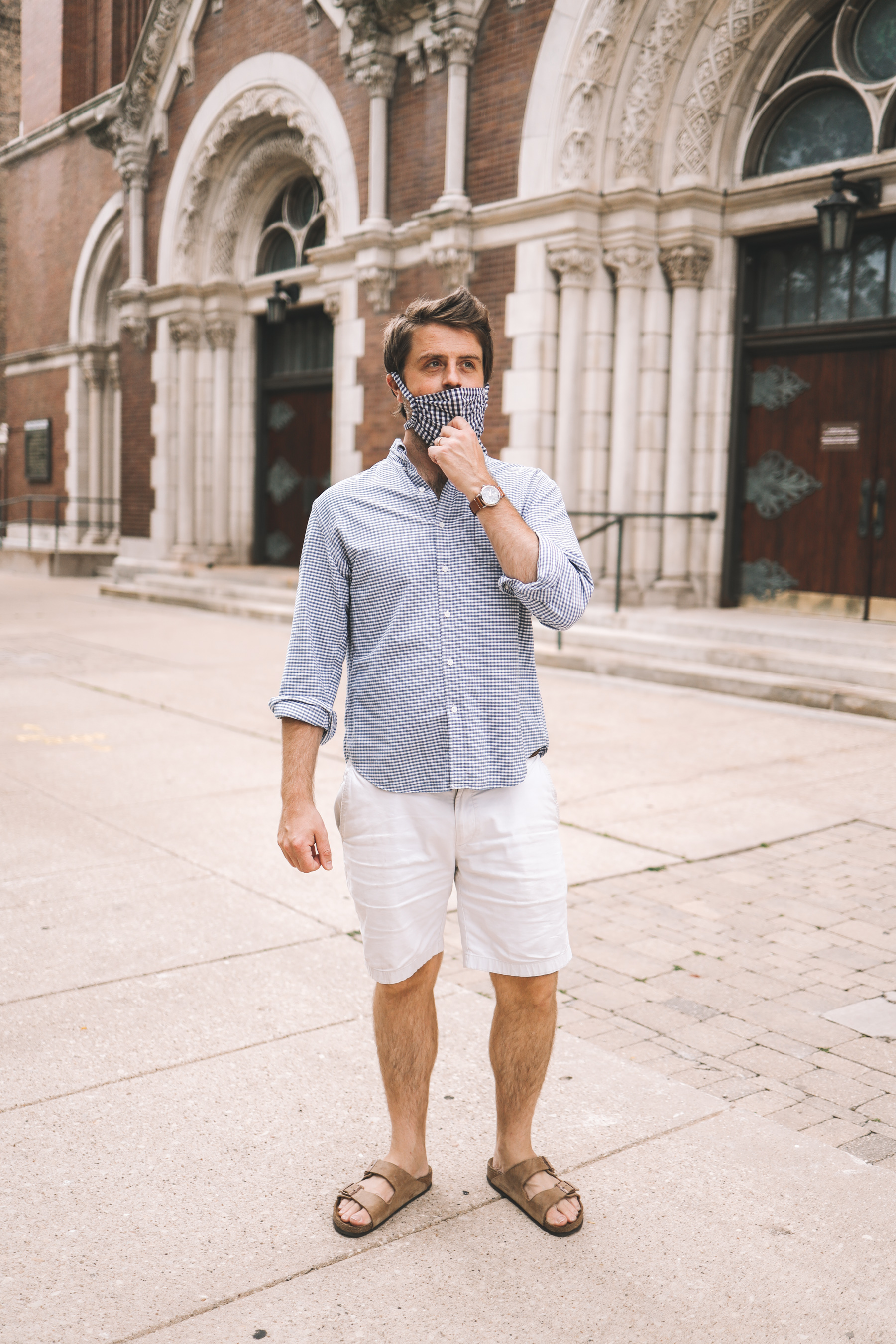 Mitch here!
I wore a pair of Birkenstock sandals every day for nearly a decade of my life. They were my primary mode of transportation. I wore them in the snow. I wore them while playing sports. I wore them to graduation. I even wore them while commuting to my first job (and immediately changed into a pair of work shoes I kept under my desk upon arriving). But something happened–I got old and forgot myself, I suppose–and my feet have gone un-Birked for far too long.
That is until now.
Birks are back bay-bay, and they're back in a big way. (Sorry.) Thanks to every blogger on the internet–including the namesake of this website–I've been made aware that Birkenstocks are cool and have always been cool. And while I'm not sure who makes these decisions, I jumped right back on the bandwagon. I made Kelly buy me two pairs: one to put near the front door and one to put near the backdoor.
I plan to wear these sandals until they freeze to my feet. It's my own little form of protest against the impending Chicago winter. No matter the season, no matter the weather–if I'm flip-flopping around, I'm probably having a pretty good time.
And now I'm going to review both pairs of Birks below for your convenience.
Buying Birks is stressful because both the size and the color change drastically as you break them in. I opted for a Taupe Suede and I sized them down for comfort and aesthetics. Oversized sandals can look a little silly, and Birkenstocks normally run one size large.
Birkenstock has an incredible array of varieties of their two-strap sandal. Honestly, they sell so many versions and colors that it's sort of infuriating. My main goal was to find a pair that would look like natural leather after a few wears and were stiff enough to let me put them on without using my hands.
This suede pair worked perfectly. There was some break-in time, but nothing too bad. (Maybe two or three days?)
I love these sandals, but they're expensive. $145 for sandals made of cork that deteriorates over time is a lot to ask. Now, I'm willing to admit that most people probably don't wear their sandals as often as I do, but still! Whatever, though. I own like four pairs of shoes and my Birks are my favorite so they're worth it to me.
This pair is available on Nordstrom, Zappos and Amazon, btw.
This rubber Birkenstock sandal is the best-selling sandal on Amazon right now and for good reason. Despite their price (only $45!), they're every bit as comfortable and durable as their more expensive counterparts. As a matter of fact, I'd even say that out of the box they made my feet feel better compared to the leather variety since they didn't need to be broken in. Not sure if it helps but I had to look down just now to see which pair I was even wearing. It's wild!
They call this color "Khaki," but I'd say it's more of a forest green. I'd considered getting the white ones, but I was afraid of them looking like shower shoes. They look great on Kelly, though.
Similar to the previous pair, I'd recommend sizing down as even a slightly oversized sandal can look clunky. I'm typically an 11.5-12 but wear a 10.5 with Birkenstocks. They're available on Amazon, Zappos and Nordstrom, and if you find your size, I'd recommend acting quickly as they sell out quickly.
Also, I forgot to take a photo of these. Ah, well. Here's hoping the boss doesn't notice.
In conclusion…
I know this post is coming at exactly the wrong time in the blog Birk-buying bonanza since the summer is nearly behind us and the godawful winter is at our very doorstep. But again, I wear my Birkenstock sandals year-round, and if you're like me and have been out of the game for a bit, I'd say it's Birk time once again.
Well this post was fun. Sort of!
Mitch. OUT!