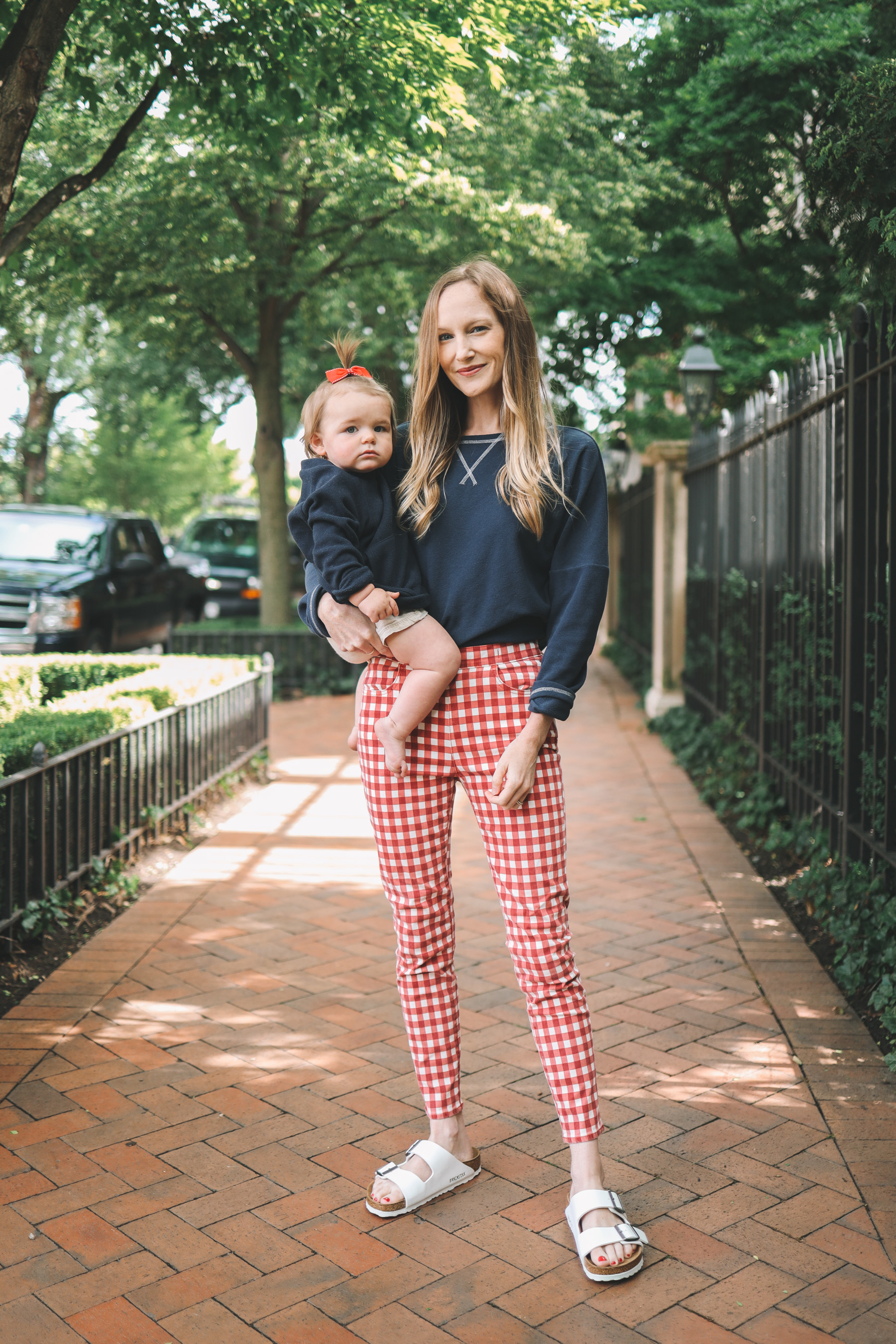 Dudley Stephens Sweatshirt and Lucy's Dudley (She's wearing a size 2T) c/o / Birkenstocks (And look into Waterproof Birkenstocks — Size down. Also available here, here, here and here.) / Old Madewell Jeans (This is my all-time favorite pair of Madewell jeans, though! SO WORTH EVERY PENNY. Also consider J.Crew's Gingham Jeans, Red Gingham Pants, and Navy Gingham Pants.) / Lucy's Shorts
BAH! I gotta be honest here:
I haven't seen my parents in six months, and they're currently driving to us from the East Coast. I'm so excited! But the house is also a disaster because it's always a disaster by the end of the week, and I was trying to wrap up work in order to take some time off to be with them. So… PANIC!
Jokes, but also serious. 😆
I'm definitely one of those people who rushes around like a mad woman before people come over and then is all like, "Yeah, my home always looks like this. Totes!" Haha. I'm fooling no one, especially considering I document my daily life on Instagram Stories.
BUT STILL. 😜 Need give it my best effort.
I have a small piece of Kraft cheese stuck to my foot as I write this. And it's been there for at least two hours. So hopefully that gives you some sort of indication as to the dire state of affairs we're in over here.
Okay, yeah. Why am I still typing? I really need to go. So please enjoy these photos taken around the Fourth of July that I never got around to sharing.
Isn't Grumpy Lucy the cutest?!
Shop the post:
Dudley Stephens Sweatshirt and Lucy's Dudley (She's wearing a size 2T) c/o / Birkenstocks (And look into Waterproof Birkenstocks — Size down. Also available here, here, here and here.) / Old Madewell Jeans (This is my all-time favorite pair of Madewell jeans, though! SO WORTH EVERY PENNY. Also consider J.Crew's Gingham Jeans, Red Gingham Pants, and Navy Gingham Pants.) / Lucy's Shorts