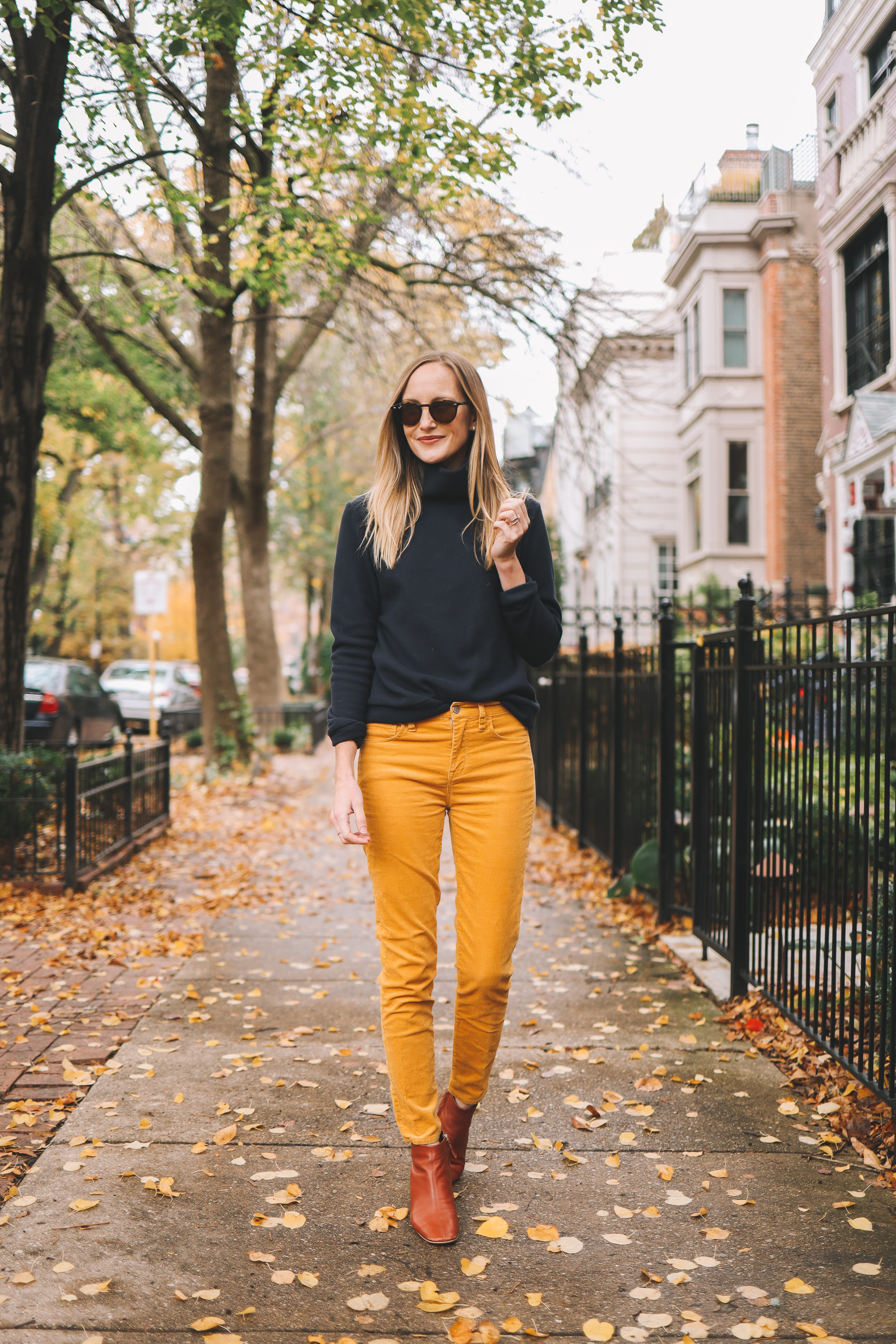 Dudley Stephens "Park Slope" Fleece in Navy (Restocking at 7 a.m. ET today!) / Emma's Dudley Fleece / Corduroy Skinny Jeans / Softest Leather Boots / Sunglasses / Bitsy the Bunny / Emma's Mary Janes / Beaufort Jacket (Also available via here) / Bitsy the Bunny
Friends! Today at 7 a.m. ET, Dudley Stephens, which makes its products with using sustainable recycled yarn, is restocking its ever-popular Park Slope fleece in Navy… so now's your chance if you've been thinking about buying one for the upcoming chillier months. (Fun fact: Saw flurries a few minutes ago out my window. It's fine. I'm not freaking out. Calm as a cucumber. 😭)
Anyway, I have to say that I really am a Dudley fanatic. When the company first launched, I wondered how much better their fleeces could be than others. But #omg I was wrong. They're unbelievably soft, they have flattering fits, an they allow me to feel like I'm in pajamas and sweats yet also look put-together. And anything that helps me do those two things is a winner in my book!
I've had my navy Park Slope turtleneck fleece for a while now, and I love it just as much as the day I received it in the mail. In case you're wondering about the difference between the two most popular styles:
The iconic Park Slope fits right below the waist, so it's perfect to "half-tuck" with. It also features super soft, non-wrinkling, easy-to-wash yarn. (So nice for busy moms!) It has a somewhat roomier fit, but since it doesn't stretch, I wouldn't recommend sizing up. In these photos, I'm wearing a size small, which is what I normally order in sweaters and tops. I think it looks perfect! And while I adore the navy, I also love the camel, marigold, natural blush, pink, red, and cobalt. You can see me in the cobalt here!
The Cobble Hill has a much longer cut, as evidenced by the photos. (You can see me in one in this blog post!) It looks amazing with leggings or true skinny jeans… and it's especially awesome while pregnant. (I just went up one size while I was pregnant with Lucy! I fit into it until the last month of pregnancy. Not bad!)

Of course, the point of this post is to let you know that you can now score a navy Park Slope fleece… but I can't help but to talk about what I have my eye on, too! Love the Brighton Boatneck Bubble Fleece in Natural Blush, the Brighton Boatneck in Camel, and the Park Slope in Marigold, Pink and "Chili Pepper Red." (Note: The Brighton top has a very similar look to the Park Slope; it simply has a lower and wider neck. Might I say that it's my favorite of the cuts?!
And with that, happy shopping, Friends!
Shop the post:
Dudley Stephens "Park Slope" Fleece in Navy (Restocking at 7 a.m. ET today!) / Emma's Dudley Fleece / Corduroy Skinny Jeans / Softest Leather Boots / Sunglasses / Bitsy the Bunny / Emma's Mary Janes / Beaufort Jacket (Also available via here) / Bitsy the Bunny

This post is sponsored by Dudley Stephens. All opinions are my own, but as always, thank you so, so much for supporting the partnerships that keep Kelly in the City up and running!