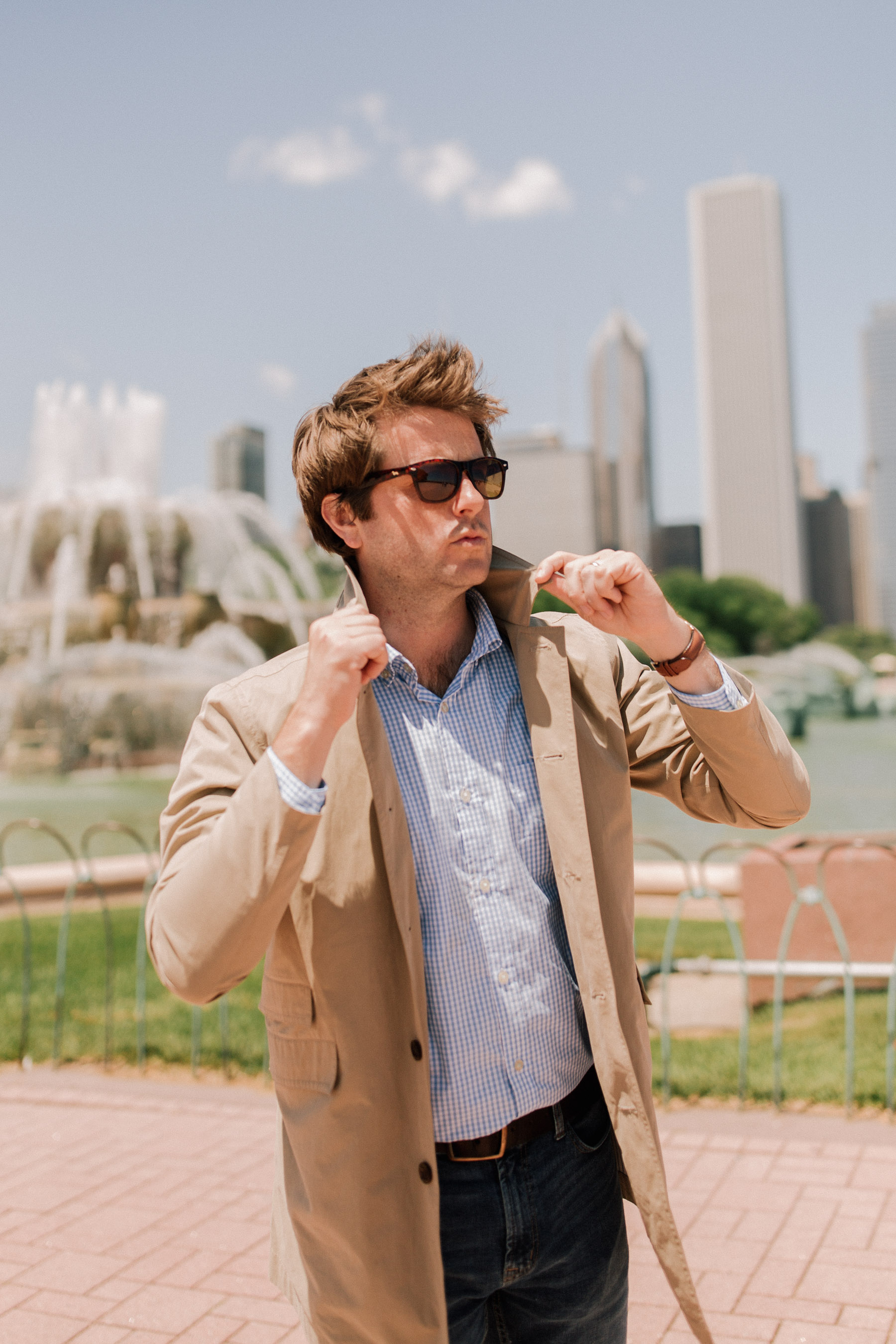 Mitch's Stock Trench (Use code "KELLYANDMITCH15" for 15 percent off!) / Mitch's Loafers , Gingham Shirt and Watch c/o / Kelly's Everyday Cashmere Sweater (Her FAVE), Bow Mules (On sale!), Favorite Weekend Jeans, Floral Tote c/o and Lined Trench (Double-Breasted Version Here.) / Emma's Trench Coat, Gingham Romper and  Huarache Sandals
I'm so excited about today's post! Because–as you probably surmised from the title–Mitch designed a trench coat! We took these photos last week on a particularly crisp (and windy) day downtown, and since it's full-on monsooning at the moment, I thought I'd share some of my faves… and hand it over to Mitch!
Mitch here!
As I descend further into this guy-married-to-a-blogger role, I've undergone a bit of a fashion metamorphosis:
I successfully ironed something for the first time. (Kelly edit: "Successfully" is a debatable term.)
I own a tuxedo (Kelly edit: He owns a tuxedo jacket.)
I don't wear socks as a fashion statement instead of not wearing socks out of laziness. (Kelly edit: It's true. He doesn't wear socks.)
I finally figured out what a dickey is. Turns out I was WAY off. (Kelly edit: Omg.)
The most impressive of my recent fashion accomplishments is that, technically, I designed a piece of clothing! And it's not like my trench was designed for some little company; it's for Stock MFG, Chicago's premiere menswear company. Stock is such a cool place. These guys–Jim, Mike and Tim–got together and built Stock as a brand that specializes in approachable clothing for every guy–even guys like me. Their site is full of quality classic looks like (ahem) this trench, which was designed by a visionary genius. ;)
Thank god we had a cold spring because I wear the Mitch Trench every day. It's warm when I need it to be, and light enough for summer wear. It fits freaking perfectly and I've received more complements on it than any other piece in my wardrobe. I'm always like, "Oh, this old thing? Funny story…"
Though, true story: While shooting these photos, another dad yelled out, "Make way! This guy is bringing sexy back!"
😂
OK. It's time to come clean. I had some help with the actual coat design. Stock's The Better Half Collection was largely put together by more fashionable men than me: namely my good friends Neal of The Golden Girl and Conor of daniel-moss.com.
Here's how the actual design process went:
Mitch: What I'm looking for is a garment I can throw on when I get chilly.
Conor: You mean… a coat?
Mitch: Right. But, like, longer.
Neal: …a trench coat?
Mitch: With nice buttons?
Conor: Horn buttons.
Mitch: Great! I think we're done here.
Neal: How about double-patch pockets?
Conor: And a preppy partial lining?
Mitch: I'm a designer!
I did, however, insist on the color as well as a double-secret interior phone pocket which has proven to be exceedingly effective at hiding my phone from Emma. And a preppy striped interior that screams my wife. That was all me!
Don't forget to check out Neal's custom henley as well as Conor's popover and chore coat: both part of Stock's Better Half Collection. And use code "KELLYANDMITCH15" for 15 percent off.
A big thanks to Jess, Neal, Danielle, Conor and the entire stock team for putting this project together, and to Kelly for helping me bring this little fantasy to life here on the blog!
As always,
Mitch. Out!
Shop the post:
Mitch's Stock Trench (Use code "KELLYANDMITCH15" for 15 percent off!) / Mitch's Loafers , Gingham Shirt and Watch c/o / Kelly's Everyday Cashmere Sweater (Her FAVE), Bow Mules (On sale!), Favorite Weekend Jeans, Floral Tote c/o and Lined Trench (Double-Breasted Version Here.) / Emma's Trench Coat, Gingham Romper and  Huarache Sandals